The Building Equity: Amplify Summer Learning initiative supports engaging learning opportunities for middle school youth in summertime who have historically been excluded from STEM opportunities (e.g., based on race, income, gender, ability). Building on the success of ULC's Partners for Middle School STEM initiative and the hard work of our first learning cohort libraries, the goal of Building Equity: Amplify Summer Learning is to position libraries as critical community anchors for learning, accelerate the public library's role in summer and reinforce the library as a place in the community for equity and inclusion.
Building Equity: Amplify Summer Learning Toolkit

The Building Equity: Amplify Summer Learning Toolkit provides methods for libraries to engage every child in high-quality summer learning, emphasizing strategies to center equity, executing effective STEM program design and targeting middle school youth.

ULC's Summer Learning Boot Camp Webinar Series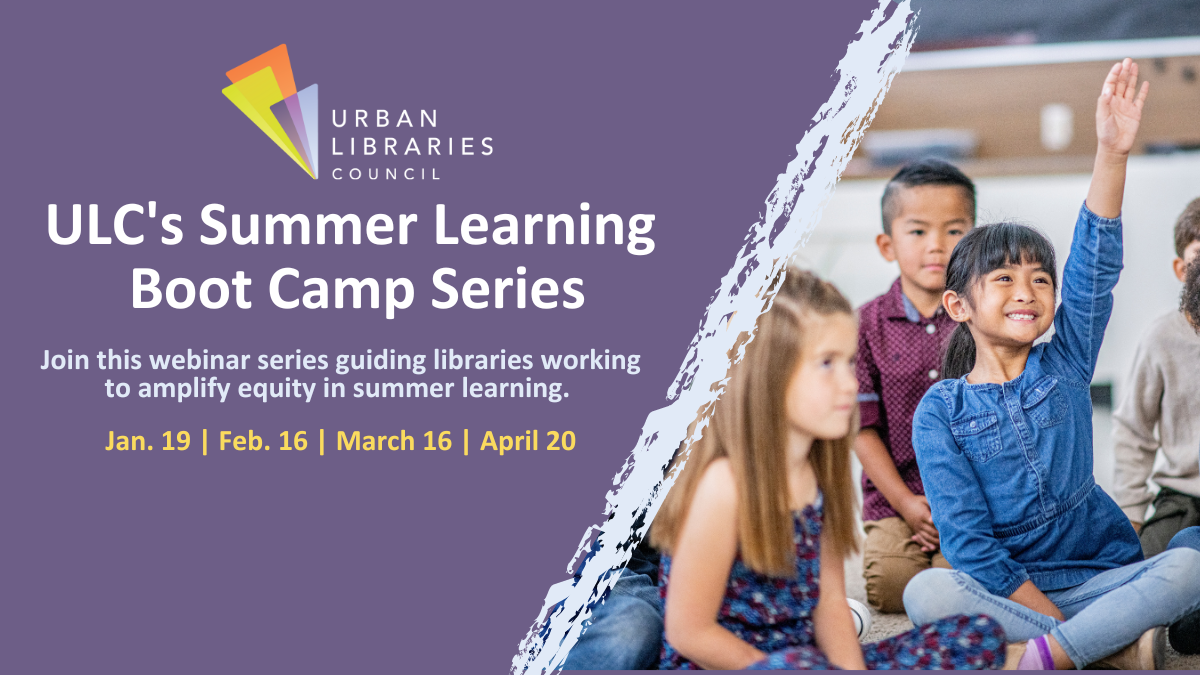 As part of the Building Equity: Amplify Summer Learning initiative, ULC invited members to participate in an informational boot camp series designed to support libraries as they work to amplify equity in summer learning.

Cohort Library Participants
The following libraries are part of the cohort:
Algona Public Library, Algona, Iowa
Boise Public Library, Boise, Idaho
Boston Public Library, Boston, Mass.
Cedar Rapids Public Library, Cedar Rapids, Iowa
Central Arkansas Library System, Little Rock, Ark
Cincinnati & Hamilton Public Library, Cincinnati, Ohio
Edmonton Public Library, Edmonton, Atla.
Enoch Pratt Free Library, Baltimore, Md.
Evansville Vanderburgh Public Library, Evansville, Ind.
Halifax Public Libraries, Dartmouth, N.S.
Harris County Public Library, Houston, Texas
Jersey City Free Public Library, Jersey City, N.J.
La Porte County Public Library, La Porte, Ind.
Lexington Public Library, Lexington, Ky.
Milton Public Library, Milton, Ont.
Orange County Library System, Orlando, Fla.
Pima County Public Library, Tucson, Ariz.
Portland Public Library, Portland, Maine
Public Library of Youngstown and Mahoning County, Youngstown, Ohio
San Mateo County Libraries, San Mateo, Calif.
Schaumburg Township District Library, Schaumburg, Ill.
Scottsdale Public Library, Scottsdale, Ariz.
Thank You to Our Supporters for This Initiative
Funded in part by the Institute of Museum and Library Services and with the support of our partners — the National Summer Learning Association, the National Recreation and Park Association and STEM expert Bryan Wunar — ULC and its strategic partners will work with the learning cohort to design and implement quality STEM summer programming. This project was made possible in part by the Institute of Museum and Library Services grant number LG-250115-OLS-21.