Digital Navigator Profile: Esmeralda Avalos
Q&A with Esmeralda Avalos, Salt Lake City Public Library Digital Navigator

Now being piloted by Salt Lake City Public Library and the National Digital Inclusion Alliance, the Digital Navigators service model positions trained individuals to provide phone-based support for issues related to the full spectrum of digital needs.
ULC is connecting with Digital Navigators for one-on-one discussions of their work on the forefront of this exciting new initiative. Read the second interview in this series below, featuring SLCPL's Esmeralda Avalos.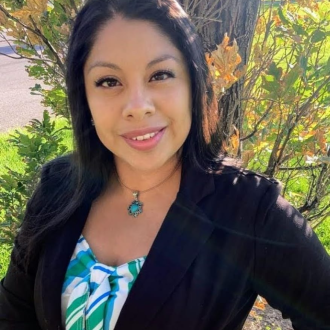 Q&A with: Esmeralda Avalos
Digital Navigator, Salt Lake City Public Library
Esmeralda Avalos was born in Mexico and immigrated to New York City at the age of three. Several years later, Esmeralda's family moved to the beautiful state of Utah seeking to better their quality of life. Being the second oldest of seven, life has prepared Esmeralda to work with underserved members of the community. Esmeralda has gained unique insights after facing the challenge of caring for two siblings with special needs, later applying those life skills as a co-founder of Mentes Activas Utah, a nonprofit born through a project of awareness for dementia/Alzheimer's within the Spanish-speaking community.
I told her, "YOU CAN DO IT. If you learned how to use your smartphone, you can learn how to use a laptop. Let me show you!"
Why is this work especially critical right now?
I believe Digital Navigators are so valuable in our communities because we are the bridge and path to the new era of technology. To have Digital Navigators in the Salt Lake City area is extremely important as it is home to a great percentage of our Hispanic community.
How has this work changed your perception of the role of libraries in meeting digital needs?
Being part of this project has given me the opportunity to serve the needs of my community in different ways. Helping them overcome their barrier is gratifying and providing solutions is fulfilling.
How do you explain your daily work as a Digital Navigator in your own words?
During the pandemic, technology has become extremely important. The way we communicate, work, have appointments and/or study has changed our daily lives. With that said, technology is very important and the intent of this project is to help you be successful in that transition.
I tell patrons, "My Name is Esmeralda, and I would love to help you navigate the internet in whatever your needs might be. I never want you to feel overwhelmed or frustrated and know I am here to help."

Can you share an example of feedback or an experience from this work that has been meaningful to you?
One impact story involved a lady in her mid-50s. She came to Suazo Business Center asking for business education classes. She was looking for one-on-one classes or even in-person classes. I explained that, due to the pandemic, our courses would be online. Her face dropped and she said that she "would come back whenever we resume classes at the center." I told her that taking classes online was very easy. I continued and asked, "Do you have a smartphone?" She said yes, and I asked if she had a couple of minutes available so I could show her the app we would use for the class. I let her know that it was very simple — "like using Facebook or texting."
She looked at me and smiled, and she hesitantly accepted to spend a few minutes with me. While conversing, she said she had missed several workshops, classes, health appointments and so on because she didn't know it was so simple. She felt frustrated that now everyone sends her links that she tries to open and when it comes to connecting, she just wasn't able. When she told me she did not have a computer, I asked her if a small Chromebook would help.
She looked at me, smiled and said "I can barely understand my phone, I will never understand a computer. I don't even know how to type." I told her "YOU CAN DO IT. If you learned how to use your smartphone, you can learn how to use a laptop. Let me show you!"
Together we set up a Chromebook and connected to Wi-Fi. The lady took notes of everything, and we logged into her account, downloaded apps and personalized her Chromebook. I spent about 1.5 hours with her. She continued to type everything that came to her mind, and she was amazed at how she could use Google Voice. At the end, she was SOOOOO happy — it was like looking at a little girl with a new toy.
What tips do you have for other Digital Navigators or library systems who are just getting started with this work?
To new Digital Navigators, I would say to be sensitive, patient and always empower the client. Never give up on their needs. If you don't have an answer, look for the answer but always go back to them. As Digital Navigators or community workers, we need to understand that if someone is coming to us it is because they TRUST us. Value their trust, don't lose it. Many referrals will be by word of mouth.
If you want to know where the needs are, join community groups, nonprofits, volunteer at churches and go into the community. Don't expect the community to come to you. But mainly, BE PART OF THE COMMUNITY and be THAT difference.
About the Digital Navigators Project
In partnership with the Salt Lake City Public Library and National Digital Inclusion Alliance, ULC is advancing a new Digital Navigators service model to help libraries address the new and intensified digital access barriers resulting from COVID-19. Now being piloted by SLCPL and NDIA through September 2021, the Digital Navigators model offers a replicable blueprint for meeting the digital needs of underserved community members via phone-based support services.
This project was made possible in part by the Institute of Museum and Library Services grant number LG-248566-OLS-20.