What We Learned from ULC's 2021 Flash Poll on Entrepreneur Support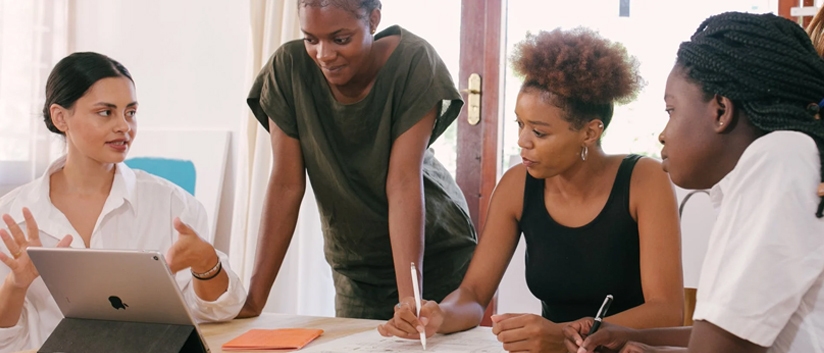 by Curtis Rogers, Director of Communications, ULC
When it comes to building robust entrepreneurial ecosystems, "It takes a community, and every community has what it takes" (to quote economic growth expert Victor W. Hwang). Every local leader for education, workforce development and business plays a critical role, and libraries are no exception.
As free and highly trusted anchor institutions embedded in every community, public libraries are uniquely positioned to reach and engage entrepreneurs who are traditionally underserved and underrepresented. Libraries are able to help dismantle equity barriers and support entrepreneurs in their journeys by convening leaders and partners in the local business community, providing one-on-one support, filling gaps in device and internet access, offering skill-building programs and more.
Strengthening libraries as entrepreneurial hubs is more critical than ever in COVID-19's wake, as communities everywhere look to entrepreneurs to drive job creation, innovation and economic recovery. To help libraries elevate their capacity and recognition as entrepreneurial ecosystem leaders, ULC conducted our second-ever member Flash Poll on Entrepreneurship Support in March 2021.
Responses to this survey illuminate how public libraries across North America are continuing to expand and become more intentional in their work to enhance opportunities for underserved entrepreneurs, including creative solutions to the increased barriers created by COVID-19. Read below to discover key findings from the Flash Poll, and what actions your library can take to level-up its work in this area.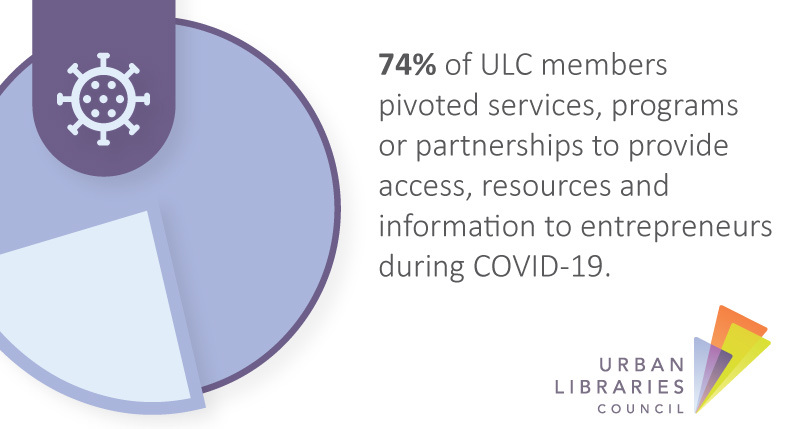 Libraries Pivoted Quickly to Support Entrepreneurs During the Pandemic
Since the rise of the pandemic, public libraries have acted quickly and intentionally to support local entrepreneurs and members of the business community who are most in need. Two-thirds of ULC's member libraries reported that they have pivoted their work during COVID-19 to provide local entrepreneurs with vital services, knowledge and tools to support their business goals.

New and adapted efforts have included financial hotlines to help entrepreneurs navigate relief funding, online incubator programs, dedicated web hubs and programming focused on emerging opportunities in the post-pandemic environment, such as the increased demand for childcare services. Libraries have also provided critical support for entrepreneurs through community initiatives designed to close broader equity gaps across the community, such as access to digital devices and training.
Forging partnerships has been especially critical for library responses to the pandemic. Over 70% of ULC members reported that they created at least one new connection or partnership to support entrepreneurs in the past year. These partners included a broad range of individuals and institutions, such as top-appointed elected officials, economic development offices, chambers of commerce, colleges/universities and even other library systems.
Read the "Mapping Out Kansas City's Entrepreneurial Ecosystem" post on ULC's blog for an in-depth perspective of how Kansas City Public Library has leveraged partnerships to maximize its role as an ecosystem builder.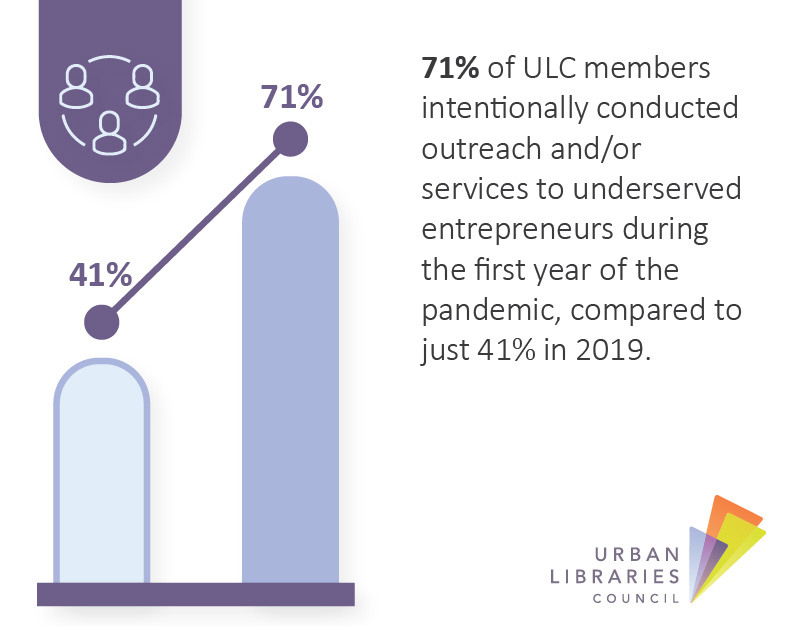 Libraries Are Increasingly Using an Equity Lens to Guide Their Entrepreneurial Support
When surveyed in 2019, just 41% of ULC members reported that they directly focused on reaching and engaging entrepreneurs from communities with the greatest need. Over the first year of the COVID-19 crisis, 71% of ULC members responding to the latest Flash Poll reported that their entrepreneurship support efforts intentionally targeted underserved populations.
Based on the Flash Poll, more than half of ULC member libraries took action in the past year to directly support people of color, women and low-income individuals on their entrepreneurial journeys. In addition, more than a third of ULC member libraries focused entrepreneurial support work on assisting immigrants and refugees, and a quarter focused on aiding veterans.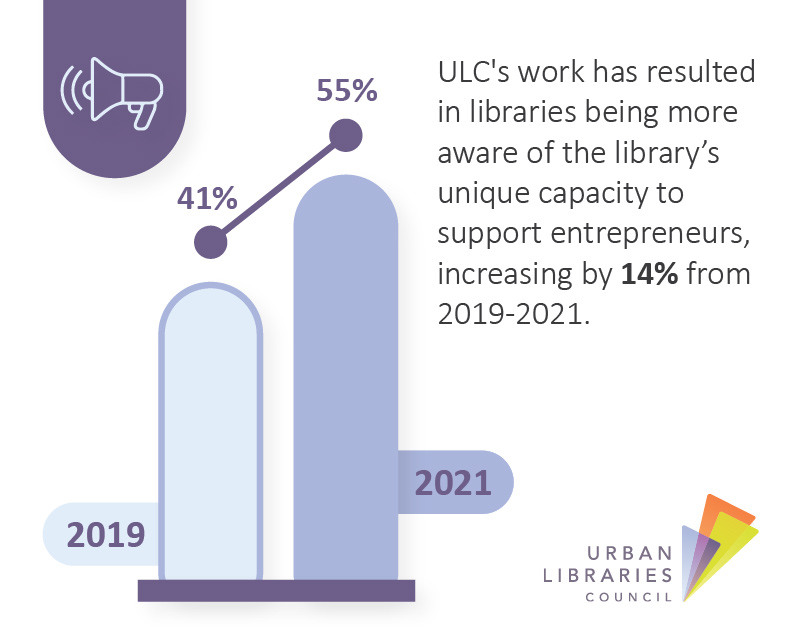 ULC's Work Has Directly Strengthened the Capacity of Libraries as Entrepreneurial Hubs
Since 2018, ULC's Strengthening Libraries as Entrepreneurial Hubs collaboration with the Kauffman Foundation has united ULC members in elevating the public library's role in nurturing and promoting entrepreneurship for underserved communities. This work — including pilot projects by a cohort of libraries across North America — has produced a ULC Leadership Brief, events, blogs and many other tools to empower libraries, which are collected in the Closing the Entrepreneurship Gap toolkit.
In June 2020, ULC launched the Entrepreneurs and Small Businesses action team as part of the Going Forward from the Pandemic Initiative. Representing diverse perspectives from ULC member libraries who are leaders in economic development services and thinking, this team is actively working to inform the future of library support for entrepreneurs by designing cutting-edge tools and frameworks. The results from the 2021 Flash Poll will be critical to informing the action team's ongoing efforts.
The 2021 survey results are also critical for illustrating how — across just a few years — ULC's ongoing work in this area has already moved the needle forward with elevating libraries as engines for economic development. Compared to 2019's results, a greater number of libraries responding to the latest Flash Poll reported that ULC has helped them:
Become more aware of the library's unique capacity to support entrepreneurs. (14% increase)
Add a new service and/or resources to support entrepreneurs. (11% increase)
Focus more intentionally on reaching and engaging entrepreneurs most in need of support. (10% increase)
Explore new ways to broaden the library's impact as an entrepreneurial hub. (10% increase)
Learn about and become more connected to their community's entrepreneurial ecosystem. (6% increase)
Create at least one new connection or partnership to increase the library's capacity to support entrepreneurs. (5% increase)
Need Help Taking Your Library's Next Step?
Explore ULC's Closing the Entrepreneurship Gap online toolkit for strategies, case studies and resources that can help your library apply a stronger equity lens to its work with small businesses and entrepreneurs. This toolkit includes strategies specifically designed to address unique challenges in the COVID-19 recovery.
ULC members can visit the ULC Knowledge Exchange by clicking here to take an in-depth webinar tour of this toolkit. This webinar includes presentations from Durham County Library and East Baton Rouge Parish Library leaders on how they have employed the toolkit's strategies to support their local economic recovery.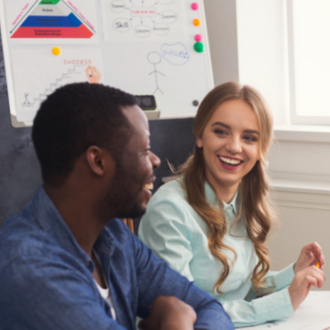 5 Ways Libraries Can Help Local Businesses During the Pandemic
Markham Public Library
Learn how Markham Public Library developed a comprehensive set of resources, programs and a marketing campaign to help local small businesses during COVID-19.
The Librarian Entrepreneur
Austin Public Library
Learn how Austin Public Library's Cassandra Stokes discovered the connections between being a librarian and being an entrepreneur by participating in the ULC Entrepreneurship Learning Cohort.