ULC Libraries Use 3-D Printers to Help Fight COVID-19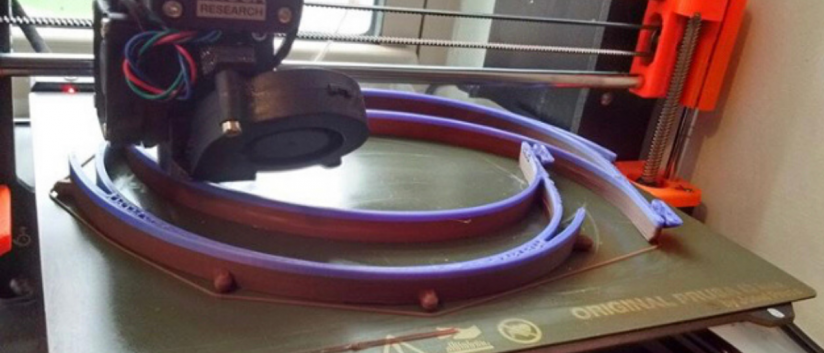 Pictured: 3-D printed headbands for PPE face shields. Source: Enoch Pratt Free Library's Instagram account.
The rapid rise of the coronavirus pandemic has led to widespread shortages of personal protect equipment (PPE), including respirators and surgical face shields needed by medical professionals, as well as over-the-counter medical masks that help protect the health of everyday citizens. These shortages have led to a rise in the creation of "DIY" masks (including recent guidance from the CDC about how to make cloth masks at home).
Library systems across North America are joining this movement to equip first responders and vulnerable community members with PPE masks by leveraging 3-D printing. Read below to learn more about how libraries are partnering with community organizations to fight COVID-19 with this innovative approach.
Is your library also using 3-D printing to created PPE parts? Email crogers@urbanlibraries.org to share your story!
Milton Public Library
In early March, Milton Public Library's Public Service Manager Lee Puddephatt came across a call for help on Twitter from InkSmith, a Kitchener-based education technology startup. InkSmith was seeking assistance for a large-scale regional effort to produce and distribute two kinds of PPE protective face shields for first-responder professionals, including a version that incorporates 3-D printed headbands donated by local makers.
Lee contacted InkSmith, and Milton Public Library was able to quickly begin 3-D printing headbands to support InkSmith's initiative. The masks containing "homemade" parts are not approved by Health Canada and are not being sold to hospitals. Instead, InkSmith donates the "community shield" masks to low-funded medical centers and social services providers, such as homeless shelters.
Milton Public Library has dedicated a 3-D printer to work around the clock in support of this effort. Each headband takes approximately two hours to print, and the library has contributed over 250 headbands to-date.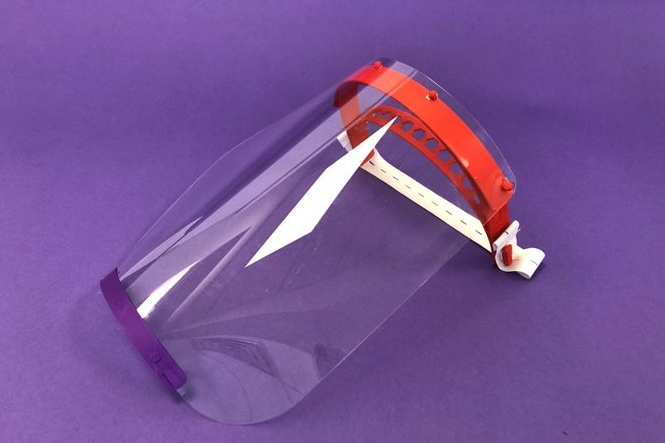 Pictured: Face shield incorporating a headband 3-D printed by Milton Public Library.
Durham County Library
Durham County Library is currently using its six 3-D printers and a laser cutter to create face shields for Durham County Emergency Management. The library 3-D prints headbands for the shields, and (using their on-site laser cutter) creates PETG plastic shields cut from sheeting ordered from Amazon.
Though Durham is under a stay-at-home order, all county employees are considered essential, and library staff members Daniel Davis (Technology Support Analyst) and Stephanie Bonestell (Public Relations Officer) have clearance to create the shield components at the Main Library facility. The library is taking precautions to keep the masks sanitary and protect staff members, including using a designated room for printing that no one is allowed to enter unless they're wearing proper PPE equipment.

Durham County Emergency Management has deemed the county Emergency Medical Services as currently having the greatest need for these donated face shields at this time. A library liaison distributes ziplocked sets of components to these teams, who disinfect and assemble the masks.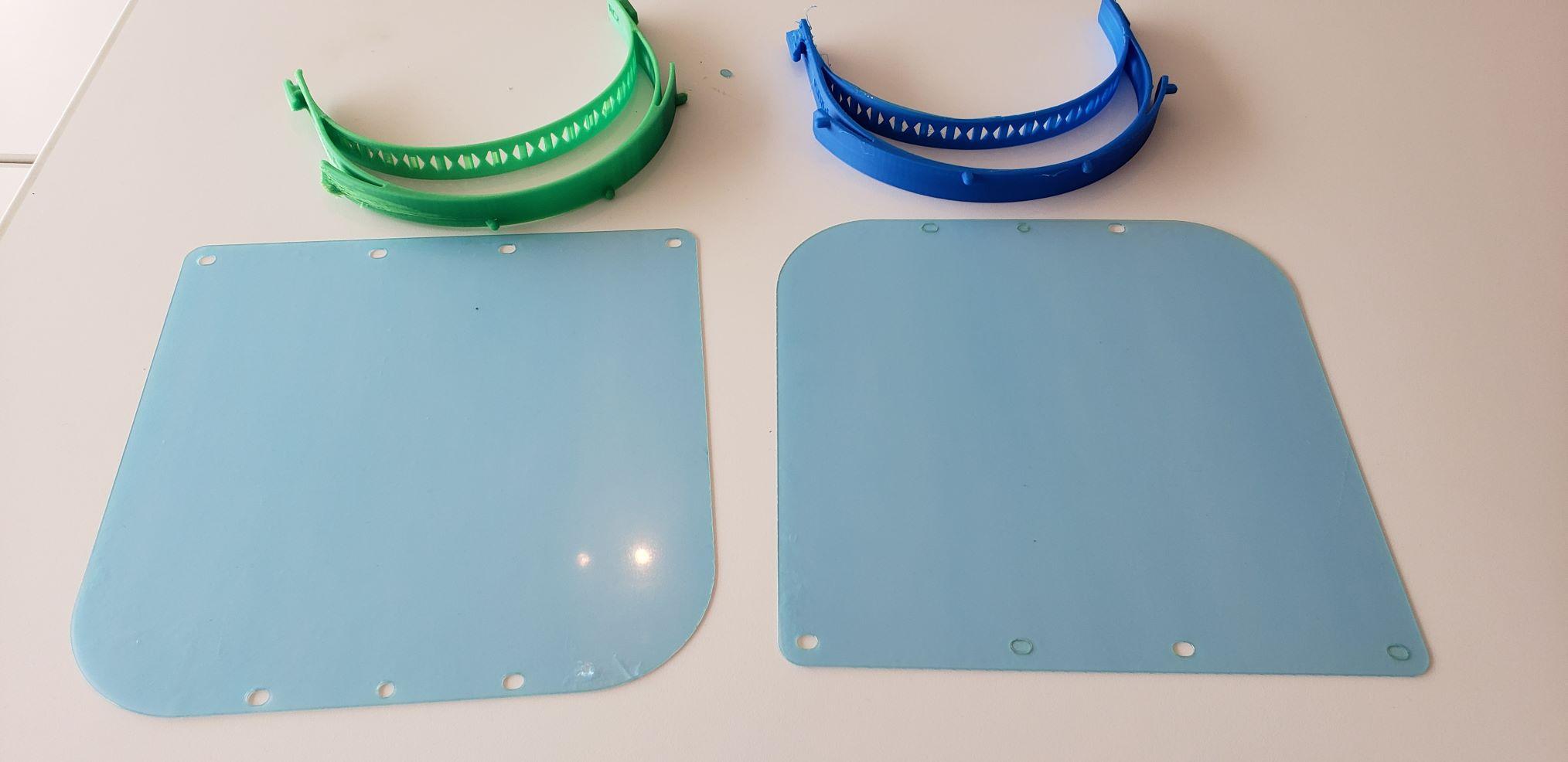 Pictured: Face shield mask parts printed by Durham County Library. The headbands are 3-D printed and the accompanying PETG face shields are cut to size using the library's laser cutter.
Charlotte Mecklenburg Library
Organizations in Charlotte, N.C. have joined forces to launch a community-wide effort to produce and supply PPE face shields to health care workers. Leaders of this Charlotte MEDI (Medical Emergency Device Innovation) group include UNC Charlotte, Charlotte Latin and Discovery Place Education.
Charlotte Mecklenburg Library has eight 3-D printers running day and night to support this effort by printing faceplate mechanisms. Staff members are operating the machines from home to produce parts for over 20 masks each day.
CML Makerspace Coordinator Aubrey Hedrick oversees the library's involvement with this project. "The most inspiring part of all this is seeing everyone come together and offer up their individual knowledge, skill, and connections to the project," said Hedrick. Visit the library's blog for more information about this work.
Enoch Pratt Free Library
Enoch Pratt Free Library regularly partners with the nonprofit makerspace Open Works to put on library programs for youth. In March, Open Works issued a request on social media for help with an effort to create PPE face shields for workers at Baltimore hospitals.
The library system immediately responded to Open Works' call for help, mobilizing staff from EPFL's Teen Learning and Leadership Center to take home 3-D printers and begin creating parts for face shields. Using patterns provided by Open Works, the EPFL has already contributed dozens of parts to this initiative.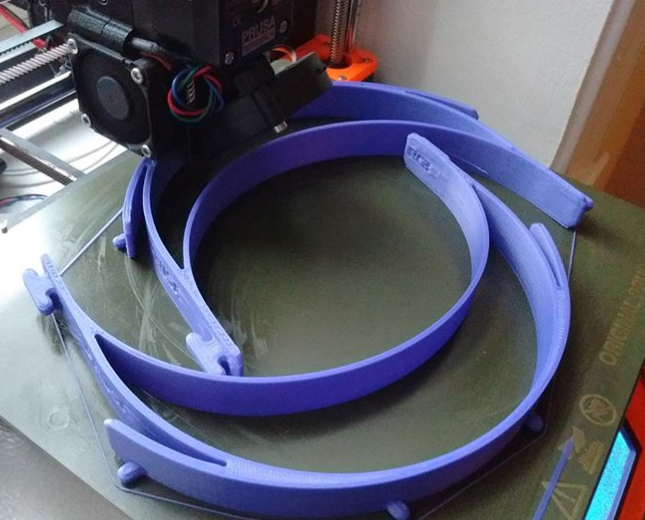 Pictured: 3-D printed headbands for PPE face shields. Source: Enoch Pratt Free Library's Instagram account.
Prince George's County Memorial Library System
Prince George's County Memorial Library System is also supporting Open Works' efforts to manufacture face shields. Using two of the library's 3-D printers from home, PGCMLS Digital Services Specialist Olivia Horvath is printing framing parts for face shields, then delivering those parts to Open Works using a dropbox.
Providing Access to Maker Tech and Programming During COVID-19
Durham County Main Library
Discover how Durham County Library's STEAM Services unit developed unique methods for engaging with the community during COVID-19.
Boosting Vaccine Confidence Through Communities for Immunity
Urban Libraries Council
Discover how ULC members utilized Communities for Immunity funding to support vaccine confidence at the local level.