Boosting Vaccine Confidence Through Communities for Immunity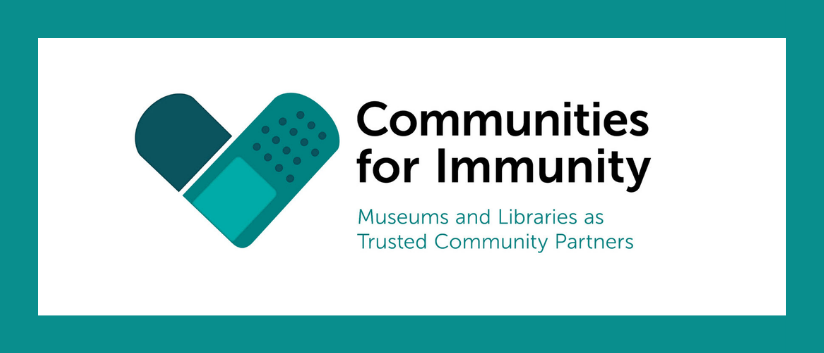 By Carsyn Fessenden, Communications Intern, Urban Libraries Council
In September 2021, ULC partnered with the Association of Science and Technology Centers and the American Alliance of Museums on the Communities for Immunity initiative. This groundbreaking program provides funding to support museums and libraries that are boosting COVID-19 vaccine information in their communities.
Libraries and museums were able to apply to participate in the initiative through two rounds of funding with applications closing in November 2021. Awards varied in their size, support a wide range of programs and have been granted to numerous ULC members to support their vaccine confidence initiatives.
Glendale Library, Arts & Culture
First-round winner and ULC member Glendale Library, Arts & Culture launched their "Vaccine Influencer" initiative with the goal of training trusted community members to help grow vaccine confidence with their family, friends and coworkers. Vaccine Influencers were trained on evidence-based communication strategies, how to handle misinformation and the basics of how vaccines work.

"Glendale has trailed behind greater LA County in COVID-19 vaccination rates by about 10%," said Dr. Gary Shaffer, Director of Glendale Library, Arts & Culture. "Our part in helping on this issue was providing reliable, vetted information about vaccines in English, Armenian, and Spanish, along with training on the best ways to engage vaccine-hesitant loved ones. Participants in the training appreciated the inclusive, non-judgmental approach to sharing this important information."
Central Arkansas Library System
Another first-round winner, the Central Arkansas Library System, used their grant to host ongoing free vaccine clinics at multiple library branches. CALS distributed free lunch, sweatshirts and blankets to those that got vaccinated and patrons could also celebrate getting vaccinated at a photo booth on site.

Mid-Continent Public Library
Mid-Continent Public Library joined the Communities for Immunity effort by hosting a virtual COVID-19 Vaccine Q&A program with three healthcare providers from the local University Health system. Following the program, the library shared a recording of the event on YouTube as well as a flyer with highlights from the event. Both the flyer and the video captions were translated into Spanish, Vietnamese, and Arabic. "At MCPL, our mission is to connect customers with high-quality information that can be used to enrich their lives, and these efforts are just one more way we've worked to accomplish this and support our community members." says Emily Becker, Community Relations Specialist.
COVID-19 Vaccine Q&A with University Health
Kansas City Public Library
ULC member Kansas City Public Library, a second-round winner, combined in-person approaches at multiple library branches and mailed materials to reach a large number of vaccine hesitant individuals in their region. In addition, the library is working to preserve and share the stories of previously vaccine hesitant individuals who were later vaccinated, translating materials into new languages, offering vaccine clinics at their branches and facilitating conversations between youth and medical professionals about the vaccine.

Jeni Starr, Kansas City Public Library's health and wellness specialist and member of its Community Reference team, shared:
"Through our partnership with KC CARE Health Center over 2,000 vaccine doses were delivered at library locations. The Communities for Immunities grant allowed us to enhance those efforts. While some of our locations experienced a significant decrease in vaccine demand over time, the location targeted in the direct mail campaign saw consistent and even increased vaccination demand. The library was proud to provide a trusted space for vaccination clinics, answer questions and concerns, develop plain language materials, arrange interpreting services, and support the health of our community."
For more information on the Communities for Immunity initiative and to see a full list of award recipients and their programs, please visit the Association of Science and Technology Centers website.