The Fundamentals of Learning & Building Community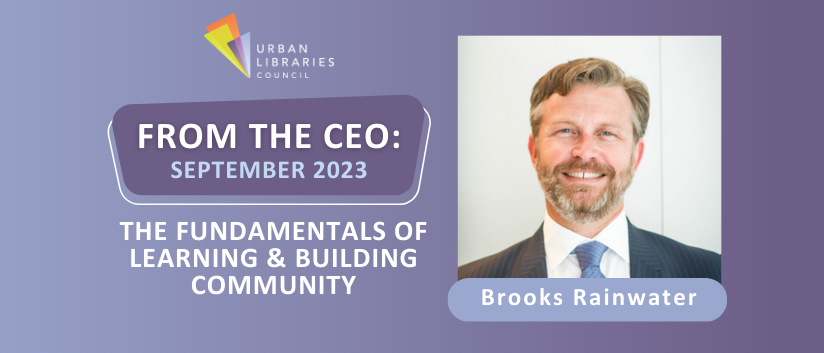 Written by Brooks Rainwater, President and CEO, Urban Libraries Council
As we approach the change of seasons, it is a time to take root in the fundamentals of how libraries encourage lifelong learning and build community. From leading back-to-school programs, providing free entrepreneurial and creative resources and connecting with other leaders in the field, this fall is about laying a strong foundation for the year ahead.
Back to School at Libraries
Libraries are important out-of-school-time partners. This past summer, dozens of ULC members sought to provide greater equity in summer learning programs for middle school youth who have historically been excluded from STEM opportunities. We are reviewing the outcomes of those who utilized ULC's Building Equity: Amplify Summer Learning Toolkit for their summer programs and look to share an impact report later this fall, so libraries can apply what was learned to 2024 planning.
With the new school year underway, libraries ensured students, parents and teachers had a strong start, including:
Anythink branches partnered with the Food Bank of the Rockies, so students have free, nutritious snacks after school every day.
Baltimore County Public Library Youth and Family Engagement staff members met with new teachers from the county to strengthen the work they do throughout the school year.
The Las Vegas-Clark County Library District provided backpacks and school supplies to more than 900 students at a single community event.
The Milliken Mills Library, part of the Markham Public Library, organized a back-to-school community clothing and supply swap.
The Nashville Public Library developed an online learning guide just for middle school students.
The St. Louis Public Library partnered with Eye Thrive to offer free eye exams and glasses for children 4-18 ahead of the new school year.
Engage and Learn with Peers
Learning this fall and connecting with peers is not just for school-aged students. ULC prides itself on the depth and breadth of its membership. Representing 170 libraries and more than 42,500 member staff, ULC is designed to be a marketplace of ideas and a supportive space for networking. If you have not joined a monthly member call or engaged with a member discussion group in recent months, now is the best time to do so. ULC's member networking groups are places for you to explore library trends and needs directly from the source — your peers!
You can get started by logging into the ULC Member Hub at https://members.urbanlibraries.org/.
All staff of ULC member libraries/organizations can create accounts and freely use the ULC Member Hub. It also includes a knowledge exchange of commonly needed documents and an event registration portal. If your library/organization is a ULC member, but you are not sure if you have an individual login, please email info@urbanlibraries.org for assistance.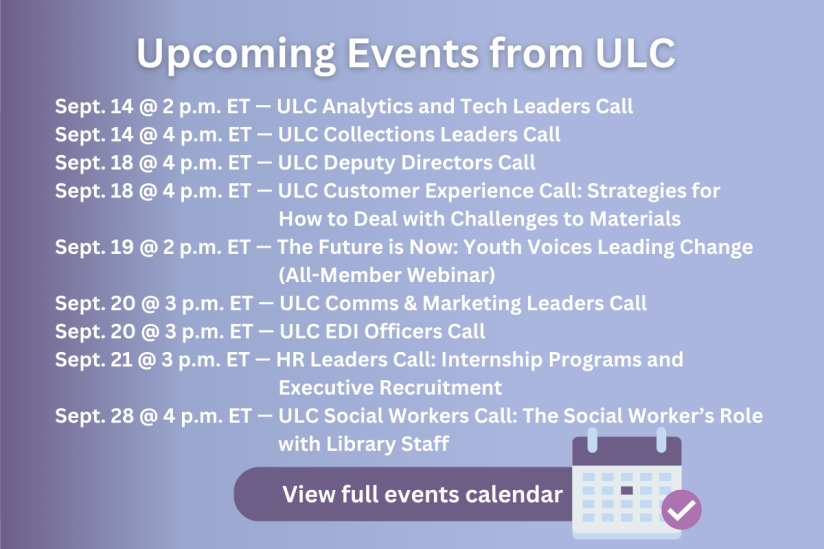 Stand United and Share Good News
Despite these positive activities and opportunities, libraries are facing unprecedented opposition from those who disparage the values and freedoms public institutions are built upon. We must remain steadfast in building policies and actions that preserve and protect democracy in our communities. And we must stand united against censorship and practices that marginalize the voices of equity-deserving groups.
The work you and your libraries are doing every day deserves to be amplified at the highest volume. We commit to that consistently as your partners, and it is why we look forward to welcoming Tracie D. Hall, Executive Director of the American Library Association, as a keynote speaker at this year's ULC Annual Forum in October. She will join me in a town hall discussion where we will chart out the communications and advocacy strategy ALA and ULC will take to support the voice and message of public library leaders and staff.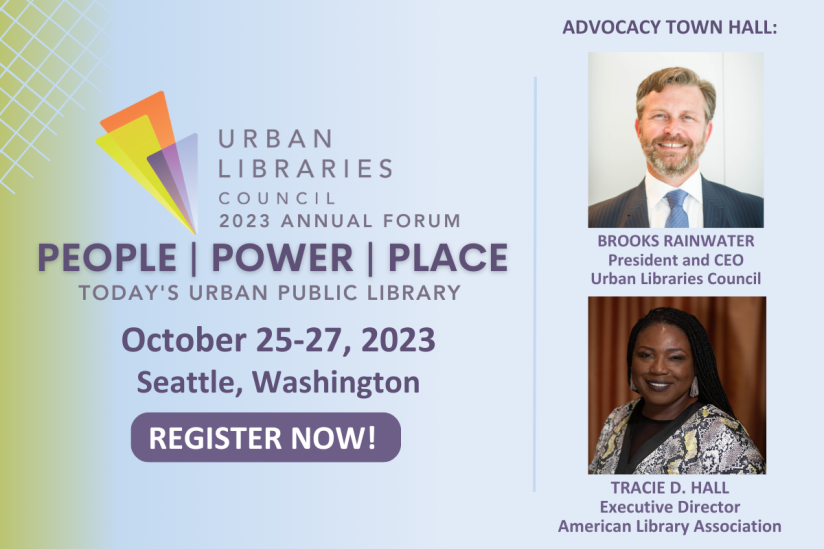 Librarians and library staff are often called upon to wear many hats. We must lean into one another and celebrate the highs and push through the lows our collective service to more than 105 million patrons in US and Canada. We all play a role, be it large or small, in enhancing the lives of each person in our communities.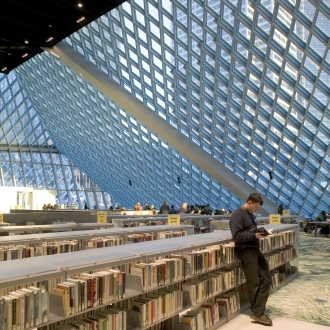 People, Power, and Place
Hear from ULC President and CEO Brooks Rainwater about the intersection of people, power and place in the scope of North American public libraries. Plus, learn more about the 2023 ULC Annual Forum.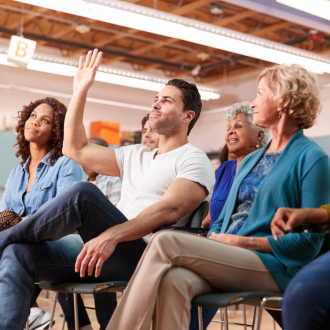 Libraries Stand for Democracy
Hear from ULC President and CEO Brooks Rainwater about ULC members' recent work to protect democracy. This blog features ULC's most recent leadership brief: Libraries as Cornerstones of Democracy.