Supporting Mental Health and Well-Being in Pima County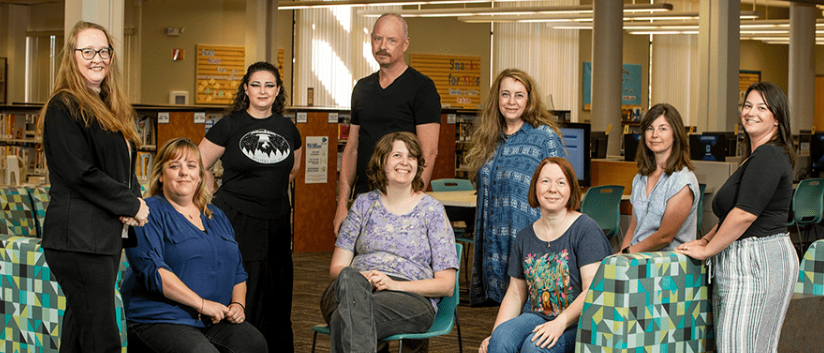 Pictured: Members of the Synapse Team at Pima County Public Library

Written by Heather Severson, Tween Services Librarian, Pima County Public Library
In March 2022, a group of likeminded library staff gathered to take action, recognizing an increasing need for mental health support in Pima County, Ariz. After enthusiastic approval from the library's executive team, we introduced the Synapse Team in October 2022. The growing team consists of staff members from across service levels and multiple branches.

Our mission is to connect patrons and staff to resources that inform optimal mental health practices, reduce stigma often associated with mental health issues, empower community members to seek necessary help and serve as a bridge to community partners.
Everyone in the diverse Pima County community has their own story. One person's mental health needs are different from those of another. We strive to work across age groups, ethnicities, disability and socioeconomic status by collaborating with the library's other affinity teams and service levels to best meet the needs of each group.
Synapse aims to bring hope to many of the one million people in Pima County who access library services. We create consistent messaging for staff to model destigmatizing, inclusive language and improve access to mental health professionals in the community. In our efforts to amplify community partners' voices — and empower library patrons to help themselves — a key message is, "You are not alone."
To create a community that feels more at ease discussing mental health topics, Synapse is committed to providing community resources, curated book lists, programs, articles from trusted sources and blog posts that highlight challenges and barriers — and ways to address them. Synapse also works with the library's Collection Development Department to determine gaps in the collection and make available materials relevant to community needs.
The Pima County Mental Health Needs Assessment Priority Report reveals that our neighbors are suffering. County residents report 3.9 poor mental health days per month. Suicide is the 10th leading cause of death in the county. Twelve percent of community members report frequent mental distress. [1]
Arizona's Health Improvement Plan for 2020-2025 describes an "epidemic of loneliness" exacerbated by the COVID-19 pandemic. Self-reported depression increased over 300% between August 2020 and February 2021. [2]
One in every five adults experiences mental illness in the U.S. One in twenty adults experiences serious mental illness. Seventeen percent of youth ages 6-17 experience a mental health disorder. [3]
Even people who enjoy good mental health need to learn how to maintain it. Those going through life changing events, grieving the loss of a loved one, dealing with changes in physical health or making a transition to a new phase in their life need support and resources to achieve resilience.
Our preliminary assessment of the PCPL website demonstrated a significant lack of items in the 212,000-record collection, as well as a lack of programs informing the community about mental health. In 2019, PCPL held 1,396 events categorized as Health & Wellness. Only 17 of those focused on mental health.
Accomplishments since the team's inception include distribution of more than 2,000 Holiday Survival Kits for children and adults, 409 tags added to materials in the catalog to assist discoverability of mental health-related items, eight blogs/news stories with over 2,500 views and 20 book lists with over 980 views.
Ongoing efforts include staff-curated lists of library resources on topics such as PTSD, neurodiversity, suicide prevention and wellness practices. News items and blogs on our website feature programs, resources and themes to support mental health and well-being. Content creation features monthly thematic rotation to focus on mental health needs of specific populations and ages. For example, May is Mental Health Awareness Month. July is Minority Mental Health Awareness Month. September is National Suicide Prevention Month. November 13 is World Kindness Day.
To honor the scope of our expertise, Synapse includes a disclaimer for content and/or library materials that cover mental health and wellness topics. Synapse advises patrons to seek advice or care from mental health or health care professionals. We can provide accurate and timely information, introduce patrons to resources and be deeply engaged in community conversations to help people thrive.
A week after the team's first email went out to 48,953 customers, Community Relations Manager and Synapse Team Member Holly Schaffer reported an 81% open rate, with more than 650 click to links contained within the newsletter. "Open rates vary from industry to industry, but according to current digital marketing stats, the average open rate for arts/culture/entertainment —the most comparable to library services— is 17.79%. Basically, we knocked it out of the park!"
Patrons and local media responded to the initial announcements with enthusiasm. A happy patron wrote, "This is an excellent idea […] I am well aware that some library users have mental health issues (and staff too, no doubt). The more avenues there are for people to get the mental health help they need, the better, both for them and for the community. Establishing a team of library staff members to address them concretely and non-judgmentally can only be a positive thing I believe. Kudos to all of you for a stellar idea."
To assess the success of the team's efforts, Synapse will examine data about the frequency of circulation of mental health-related materials, the number of participants engaged in programs about mental health and the number of collaborations initiated and sustained to support the community in achieving optimal mental health and well-being.
Explore the work of the Synapse Mental Health Affinity Team on the library's website.
Get Immediate Help
Talk to your primary care doctor or another health professional about mental health problems.
For life-threatening situations, contact Emergency Medical Services, 911
If you or someone you know is suicidal or in emotional distress, contact the 988 Suicide & Crisis Lifeline. Trained crisis workers are available to talk 24 hours a day, 7 days a week. Call or text 988 or chat 988lifeline.org. [4]
---
[1] 2021 Community Health Needs Assessment: https://www.healthypima.com/community-health-needs-assessments
[2] Arizona Health Improvement Plan 2021–2025: https://www.azdhs.gov/documents/operations/strategic-initiatives/azhip-2021-2025.pdf
[3] NAMI Mental Health By the Numbers: https://www.nami.org/mhstats
[4] Get Immediate Help: https://www.mentalhealth.gov/g...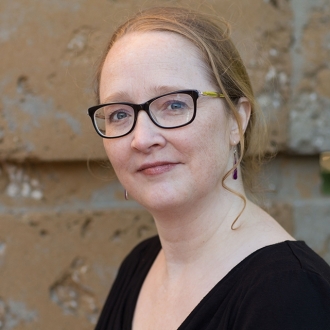 Heather Severson
Tween Services Librarian, Pima County Public Library
Heather Severson loves using her powers for good, helping people achieve their goals for personal development, career advancement, life-long learning and well-being. She received her MLIS from the University of Washington iSchool in June 2021, and currently serves as a Tween Services Librarian at the Pima County Public Library.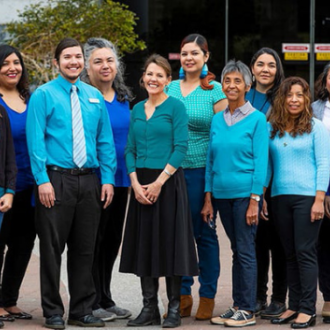 Nuestras Raíces En Pima County
Learn how Pima County Public Library celebrates and honor the culture, voice and linguistic heritage of their Latinx and Spanish-speaking communities in Pima County.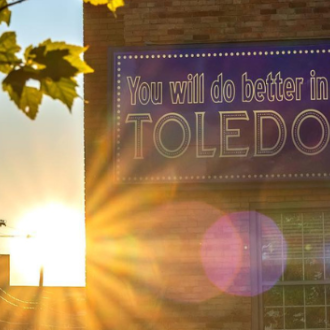 Building a Better Toledo
Discover how Toledo Lucas County Public Library's "Better Toledo: A Series" commits itself to the betterment of their community.