Salt Lake County Library Is Leading Its Community Forward in the Digital Age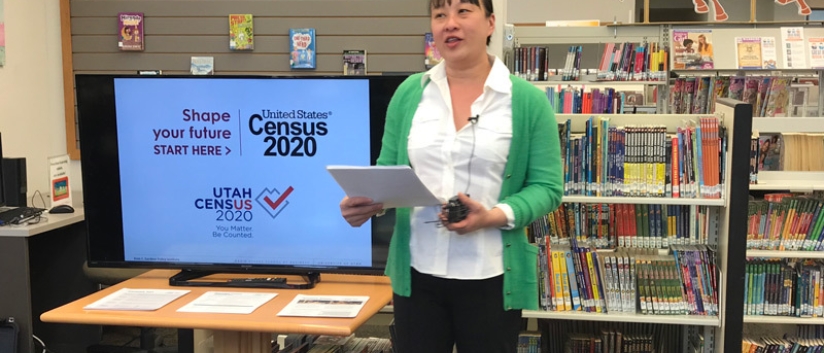 Interview with Salt Lake County Library's Jennifer Fay (Associate Director of Public Services), Liesl Seborg (Senior Librarian — Lifelong Learning) and Liz Sollis (Marketing and Communications Manager)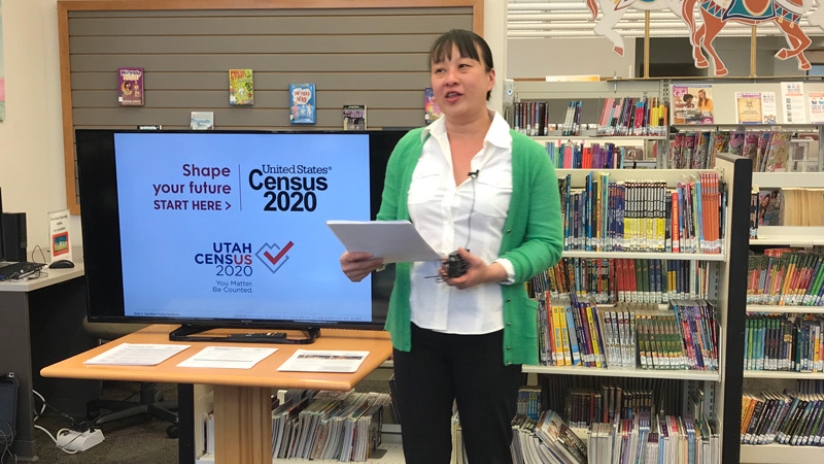 Pictured: Ze Xiao (Director of Salt Lake County Mayor's Office for New Americans) shares details about Census 2020 at Salt Lake County Library's Columbus Branch

This October, Salt Lake County Library will serve as a host for ULC's upcoming 2019 Forum: Preparing to Lead on AI + Digital Citizenship. ULC sat down with SLCL's Jennifer Fay, Liesl Seborg and Liz Sollis to discuss the many ways the library is empowering local residents to engage fully in the digital age, as well as what's on the horizon for SLCL's digital leadership. Read the full interview below!
We are thrilled to have your library as a host for our 2019 ULC Forum: Preparing to Lead on AI + Digital Citizenship. How is your library currently serving as a digital inclusion and tech leader for your specific community?
Digital inclusion is a core focus for Salt Lake County Library. Although a majority of our communities have access to technology, the public computer and Wi-Fi usage at our branches remains strong. In 2018, Salt Lake County Library helped the community connect with others and information by providing 476,473 public computer sessions, resulting in more than 397,500 hours spent on public computers, and 348,116 public wireless sessions, where 124 terabytes were used — the equivalent of 238 weeks of non-stop DVD watching. These numbers remind us of the integral role that public libraries have in digital inclusion.
Through a Technology Committee, we've dedicated additional staff time and funding to assess and address the ever-changing digital needs of our staff and patrons. We are currently preparing to roll out a staff technology training initiative to raise the current level of knowledge among staff and to equip them to better support the public with their technology needs, and at Create Spaces which will be opening within the next few months at several of our branches. The resources within the Create Spaces will include 3-D printing, media editing, A/V recording and virtual reality tools. To ensure equity, we are designing mobile technology-based programs and program boxes. We dedicate a good portion of our collection budget to digital resources — we have the largest public library digital materials collections in Utah, and we are redesigning our website to maximize the user experience on all devices. Last but not least, all of our new construction will house Create Spaces to support future technologies and skill building.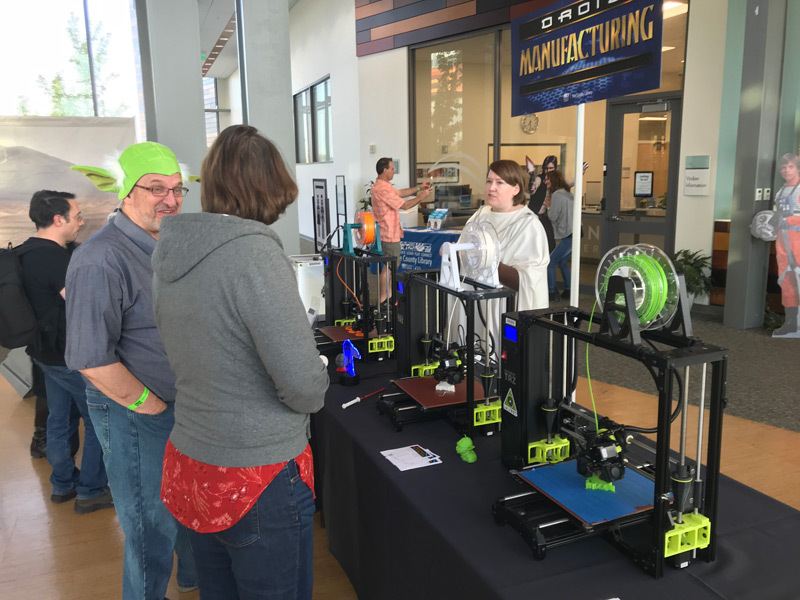 What challenges does your team face in this work? What approaches are you taking to address those challenges?
Equitable access remains the greatest challenge for us because, like many public libraries, we serve communities with diverse needs and socioeconomic backgrounds. Our digital literacy classes are designed to meet the needs of the communities in which they're being offered. In some branches, we provide foundational education, such as how to use a laptop or computer, setting up an email account, etc. In other branches, the classes are designed for individuals with more intermediate knowledge and experience (e.g., coding, virtual reality). Additionally, depending on the community, we often offer the programs in Spanish.
Salt Lake County Library partners with Utah Communities Connect, a cross-sector alliance of community partners in the Salt Lake region dedicated to advancing digital inclusion and equity across Utah. Having a seat at that table has been useful in gaining insight into national trends and different digital inclusion methods in our area.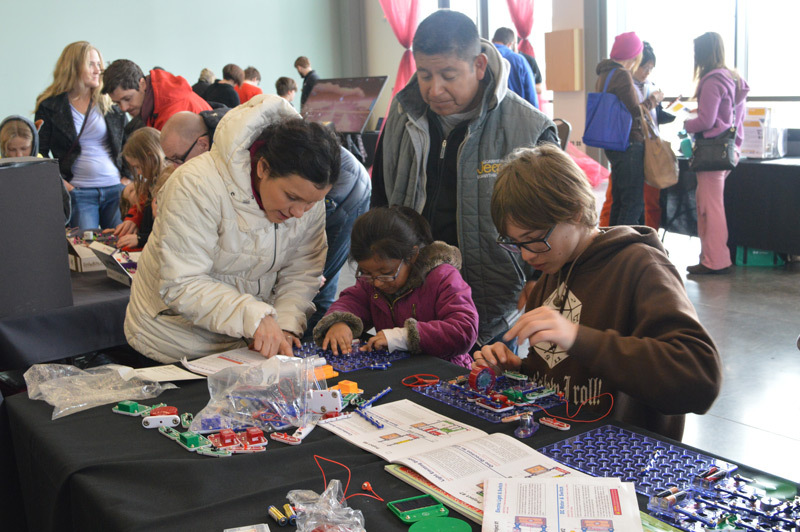 In addition to Utah Communities Connect, how else does your system use partnerships to advance tech education and digital inclusion?
Community partners are key to tech education and digital inclusion. As much as librarians want to be fabulous coders — and we do have several talented coding librarians — involving partners in the programs, and having them instruct the classes, maximizes the experience for everyone involved. Partner examples include Utah State University Extension, Salt Lake County's Clark Planetarium and the Natural History Museum of Utah. These partners provide STEM programs for various ages and developmental stages, such as LEGO® MINDSTORMS®, robotics, citizen science programming via BioBlitz, Python programming and aerial photography and drones.
We frequently combine efforts with the Salt Lake City Public Library and Murray Public Library systems here in the Salt Lake valley. Given the demographics of our communities, we often see a lot of crossover between the city and county user groups. As a result, we collaborate and cross-promote on a variety of programs, initiatives and community engagement efforts. We borrow and expand upon programs the other systems use, and sometimes even join forces to present cohesive, collective programs with an expanded reach around the valley.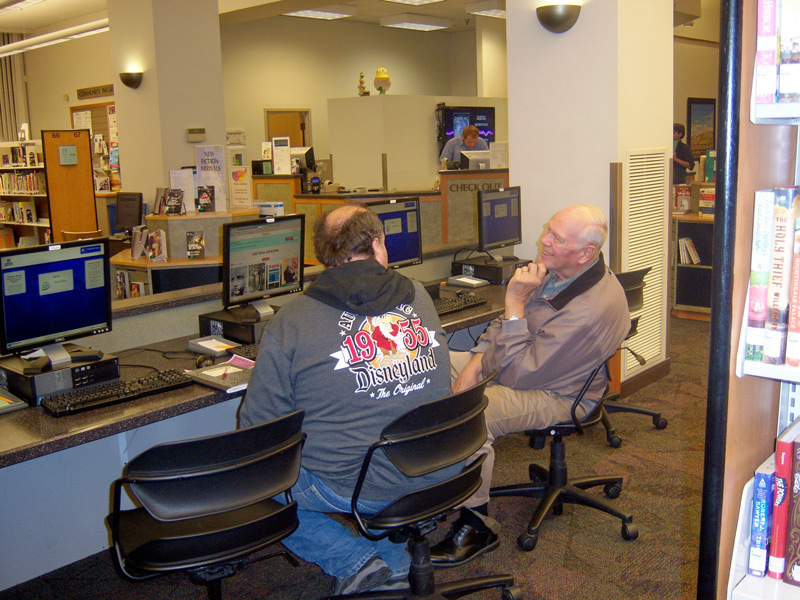 For the 2019 ULC Forum, we are focusing on "Preparing to Lead on AI + Digital Citizenship." What lessons has your team learned about its capacity for leadership in digital inclusion through its work in this area?
One important focus for us has been trying to get away from the "guru effect," where one person knows everything, every question or challenge goes to them, and when they're out of the office, no one knows anything. Although we value subject matter experts, we also value a well-trained team with the skills and abilities to provide, at a minimum, basic support with technology initiatives. The best lessons we've learned have often come from pilot programs and communications with everyone in our organization. When recently assessing tech expertise among staff, we discovered there are several staff with skill sets that are often underutilized. For example, we have a strong IS (information services) team with years of experience in technology, yet we had only really been using a fraction of their skillsets — much of the time focusing on basic IS tasks such as backend security, compliance, updates, connectivity, etc. This was an oversight. Instead of acting as IS plumbers who fix issues as they arise, our IS staff now actively engage in strategic planning and program design.
We've also empowered all branch staff to take ownership of tech issues and information, which has resulted in improved skills and an increase in confidence, which helps them to really step up as tech experts and leaders. Librarians and other employees are now guiding patrons to use technology like 3-D printers, AR/VR and basic coding. We are committed to creating opportunities for all employees to apply their passion and skills, and expand the library's digital inclusion efforts.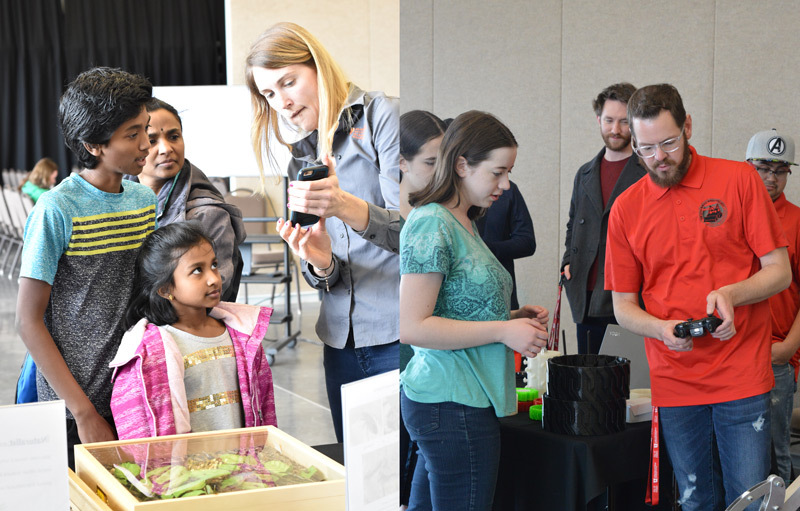 In what other ways has your library focused on staff leadership to expand its digital inclusion reach and impact?
Salt Lake County Library employs 600 individuals and a good 100 of them are librarians. For the most part, you can assume a certain level of tech competency with librarians. We also employ custodians, facilities staff, shelvers, customer service specialists, etc. Many of these professionals might not have had the same opportunities to master digital skills, and they may not require them to complete their job duties. Regardless, we want to make sure we are empowering our staff in the same way we are empowering the community.
Our involvement in Utah Communities Connect has brought to light the training gaps that often occur in agencies with a mission of educating the public — their own staff may lack the skills to support that mission. Salt Lake City, as a government agency, had been requiring online training for all staff, but a portion of their public services staff didn't have access to computers, or didn't know how to use computers. Following that realization, they launched a mobile computer lab to help all staff members access the tools they need to handle the training requirements.
We recognize the importance of providing alternate digital solutions for our staff who may be in similar situations. As previously referenced, we're currently working on core competencies for different staff positions that include digital skills benchmarks and training to support the staff so they may meet the benchmarks.
As part of our technology committee, we have an emerging tech workgroup that reviews new technologies, researches possible library application and facilitates the design and implementation of an AR/VR lab.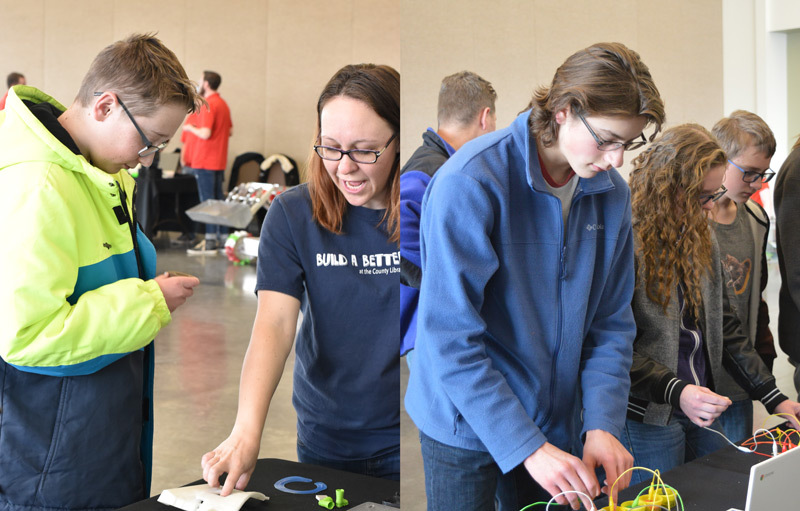 Looking ahead, what are major challenges on the horizon for your library related to digital inclusion?
The widening digital divide is a concern. As we see the Silicon Slopes — Utah's version of Silicon Valley — grow and spread technological wealth among their peers and affluent communities, we are also seeing those who are being left behind. For example, those without devices upon which to do their homework or without fast internet access at home. It is disheartening to see a student trying to do required homework on a phone outside the library, after hours. Our work with Utah Communities Connect is helping us identify ways that the library can help shrink this divide beyond what we are already doing.
The 2020 Census is a big concern for — it will be the first online U.S. Census, which may create an even greater barrier for communities that are historically hard to count. Salt Lake County Library has already begun working with federal, state, county, city and local Census 2020 partners — such as Salt Lake County Mayor's Office for New Americans, Utah Governor's Office of Management and Budget and Utah State Library — to promote the Census and to identify ways in which we can easily access and utilize public libraries as trusted partners available to help them accurately complete the Census. As with other large community initiatives, we are collaborating with Salt Lake City Public Library and Murray Public Library in these efforts.
To increase public awareness about the 2020 Census, we hosted a joint press conference with all of our partners at our Columbus branch in South Salt Lake, which is home to a large refugee resettlement community. This work is vital to fulfilling our commitment to supporting future digital citizens in our communities.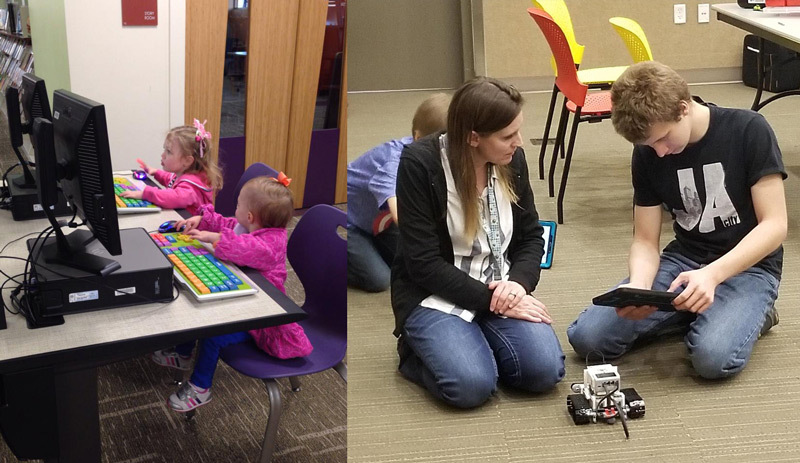 What do you hope library leaders will take away from the Salt Lake region after their time here during the 2019 ULC Forum?
We are hopeful that the 2019 ULC Forum will give library professionals the tools to support their communities as technologies continue to advance and, in some cases, digital divides seem to grow instead of shrink. Utilizing the collaborative examples provided by the public libraries within Salt Lake and Utah, we're hopeful libraries across the nation will feel empowered to connect with nontraditional partners in their communities and, ultimately, maximize AI opportunities while increasing digital citizenship among all residents.
Jennifer Fay started with Salt Lake County Library as a children's librarian in 2003, and is now the associate director of public services. She received her MLS degree from Southern Connecticut State University.
Liesl Seborg holds a Master's of Library and Information Science from the iSchool of the University of Washington and an MA in English from the University of Utah. She has worked in libraries for over 15 years in Idaho and Utah and has been the senior librarian for lifelong learning for Salt Lake County Library since 2011.
Liz Sollis is an internal and external communications strategist with strong writing, social media, branding and marketing skills. As the marketing and communications manager for Salt Lake County Library, she has rebranded the organization to reinforce public recognition and program identification. She regularly collaborates with other library systems, as well as public and private partners, on programs that promote community engagement and dialogue. She specializes in government affairs, public relations, creative direction and user experience.
Learn more about the 2019 ULC Forum!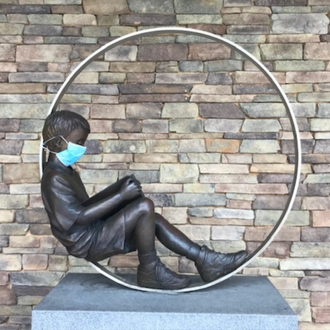 AI & Pandora: Restraining Evil, Liberating Hope
Roanoke County Public Library
Discover how Roanoke County Public Library was embracing artificial intelligence prior to the pandemic, and how the library quickly pivoted during closure to transfer programming online.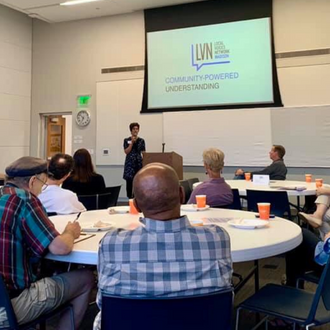 Local Voices Network: Using AI to Elevate Community Voices and Inform Library Planning
Madison Public Library
Learn how Madison Public Library partnered with Cortico's Local Voices Network to capture community conversations and make community-informed decisions.