Revisiting 2018 Top Innovators: Building Engagement to Accelerate Employee Performance
Q&A with San Mateo County Libraries Deputy Director of Library Services Carine Risley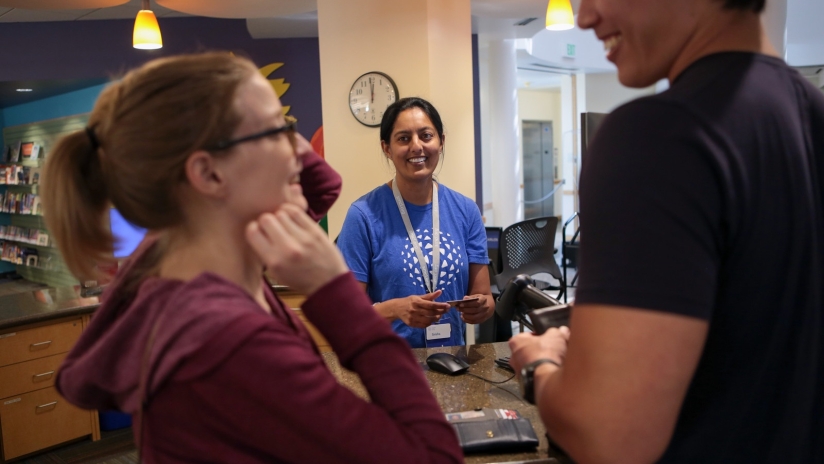 San Mateo County Libraries developed and led a countywide pilot designed to accelerate employee performance and test the success and scalability of replacing the typically performance-damaging, 20th century annual performance review. The success of the new program earned SMCL a Top Innovator Award in the Organizational Change and Strategic Management category of ULC's 2018 Innovations Initiative. ULC reached out to SMCL Deputy Director of Library Services Carine Risley to follow up and learn about how this program has evolved in the year since its Top Innovator win. Read her responses below.
Since the pilot program ended, how has this innovative approach to strengthening employee performance evolved?
Here are some updated recent numbers I can share:
We continue to routinely exceed 80% weekly threshold for survey participation
87% of staff meet weekly with their manager/supervisor
92% of staff prefer our new weekly check-ins
91% of staff say communication has improved
This last statistic is so powerful. Communication is something that is tremendously challenging and for so many of our staff to recognize improvement in this area is gratifying to see. And the improved communication is multidirectional — it has improved between the immediate supervisor and the staff that reports to them, and it has improved from an administrative perspective so that we have clear and timely insights into the organization.
I think we have learned a lot as we have gone through the process of asking questions and are increasing our intentionality around those questions that get posed in our weekly pulse surveys. We have put into place a performance acceleration workgroup that works to assess trends and recommend broad organizational responses to the data, develop questions and work with assigned groups to support their continued growth.
Now that we have built the solid habit of weekly check-ins and surveys, the workgroup plans trainings and other support to increase the quality of weekly conversations, particularly toward increasing success with strategic priorities and fostering growth mindset. Finally, we have been focusing on building a culture of appreciation — which happens in many ways but an expectation we have is that every manager or supervisor positively recognizes a staff member in our survey app each week via a "cheers" function.
In what other ways does the more agile model allow the library to support staff development beyond performance evaluation?
We can see exactly what percentage of staff have successfully celebrated completion of a strategically aligned goal (at least 89% of staff have successfully completed two or more goals aligned with San Mateo County Libraries' strategic priorities between the beginning of the fiscal year 18/19 and February 27), and it has improved communication to our stakeholders, with whom we can now share highlights and data about the performance and engagement of our employees.
How has this program had a lasting impact on the work culture of the library?
We have so many positive reports and teams are able to see with transparency how things are going. Below are a few illustrative quotes:
From a line staff member:
Weekly check-ins have not only given me a better opportunity to keep my manager updated on my projects, but it also allows me to regularly ask for feedback on certain things that I need guidance with. These check-ins have definitely helped my relationship with my manger in creating a good workflow between the two of us.
From a supervisor:
Since we work towards smaller goals and revisit/update them often I'm much more focused on understanding and implementing the organizational priorities. I feel like they are more integrated in to my day-to-day work.
From a manager:
I feel it has given me the space to develop relationships that are stronger than just day-to-day operations. Because I know I have a dedicated 30 minutes with each staff member I supervise each week, it gives me more time to be thoughtful about what our 30 minutes will look like and it gives me time to get to know them on a more personal level. It also helps with goal planning and priorities because every week we talk about this in small increments versus a once a month or year "did you accomplish?" this question. We are working more like a team to accomplish individual and system-wide goals.
The original pilot was a countywide effort. Have you seen this model influence other libraries or organizations in the county and beyond?
We recently presented our model to a packed session at ALA Annual and received a tremendous amount of follow-up interest from libraries across the nation. In the county, we are rounding up two years and are planning to selectively add departments if they meet baseline qualifications — there is more interest than can be accommodated for the planned scale up at this time.
What are some practical ways that any library – whether or not they use annual performance reviews – can become more agile in their employee feedback systems?
One essential requirement (that anyone can put into place) for us is that all managers and supervisors must meet every week with every single one of their direct reports. It's a bit of dogma for us, but it is a critical best practice for staff to have certainty about getting time with their managers/supervisors to build relationships and develop a rapport. The weekly check-ins can be as short as 15 minutes per employee, it can be on the phone or over video, but those conversations need to happen every week. The more you talk about the work you're going to do, the better the results will be. The power is in light-touch, continuous conversations.

Another essential piece of our approach is to focus on the art of the conversation. Talking about what went wrong in the past puts up a lot of blocks for people and inhibits their ability to listen and learn. By meeting weekly we can focus on what's coming up, make slight course corrections as needed, and make the most of what neuroscience suggests gives people the opportunity to do their best work.
Something we are continuing to build is a strong growth mindset culture. This growth mindset piece speaks strongly to the culture transforming aspect of this project and is critical. We are working to embrace growth mindset, abandon perfectionism and look for opportunities, week after week, to model and exhibit growth mindset as managers and look for ways to coach staff to think about challenges and work from a growth perspective rather than one that is self-limiting.
Want to learn more? SMCL was interviewed as part of Ingram Content's Two Librarians & A Microphone Podcast. Listen below!
Revisiting 2018 Top Innovators: Social Media Ambassadors
Austin Public Library
ULC reached out to Austin Public Library Branch Librarian Cesar Garza to follow up and learn about how the library's Social Media Ambassadors program has evolved in the year since its Top Innovator win.
Celebrating ULC's 2021 Top Innovators
Urban Libraries Council
Learn more about the 2021 Top Innovator and Honorable Mention honorees for ULC's 2021 Innovations Initiative.