Celebrating ULC's 2021 Top Innovators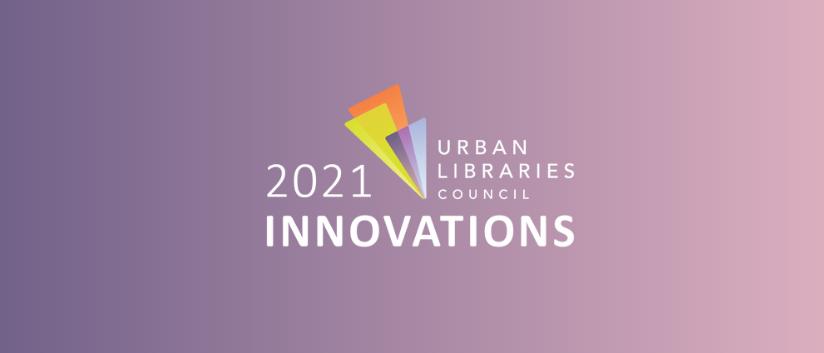 Congratulations to the 20 public libraries selected as 2021's Top Innovators and Honorable Mentions for ULC's annual Innovations Initiative. On January 21, 2022, ULC announced the honorees during a live virtual Innovations Celebration.
Discover more about this incredible group of submissions, featuring U.S. and Canadian public library programs that address structural racism, close digital divides, provide education opportunities for every age and stage of life, and meet the needs of under-resourced populations.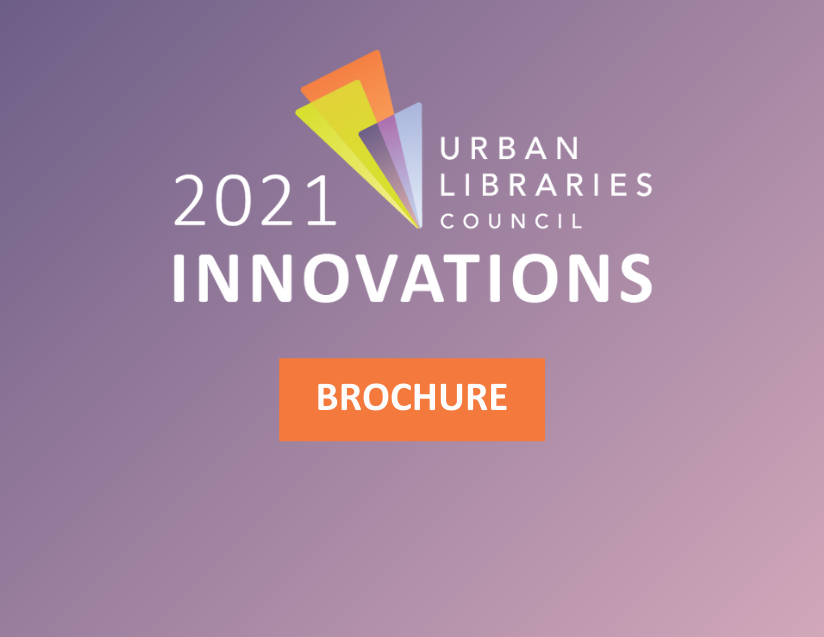 Innovations Brochure
Discover the member libraries selected as Top Innovators and Honorable Mentions from among the entries submitted to the 2021 ULC Innovations Initiative.
Budgeting for Equity
Anti-Racism, Equity, Diversity and Inclusion | 2021 | Top Innovator
"In the past few years, libraries across the nation, including Dallas Public Library have made statements and pledges against racial inequity in all its forms. The Budgeting for Equity Tool helps the library examine its processes, services, and resource allocation to ensure it is accountable for turning written commitments into documentable action. The four-part assessment has helped the library create a benchmark of its current equity initiatives as well as pinpoint areas for improvement. The assessment has also helped the library articulate its decision-making process around data collection in key services like Adult Education and Summer Reading."
— Heather Lowe, Assistant Director of Technology and Strategic Direction, Dallas Public Library
Enhanced Library Card
Civic and Community Engagement | 2021 | Top Innovator
"San Antonio Public Library (SAPL) constantly aims to create innovative programs and services that support our community. The Enhanced Library Card (ELC) supports individuals who may have difficulty verifying their identity. Living without a means to prove identity can lead to challenges with police, government, utility companies, and more. Cardholders can consult with organizations to confirm if and to what extent the ELC can be used to establish identity. San Antonio's Police Department, for example, accepts the ELC as a form of photo identification for purposes of public safety. Cardholders also have complete access to SAPL resources. The ELC empowers people in these situations to navigate a world dependent on verifying one's identity. The San Antonio Public Library is proud to offer services like the Enhanced Library Card that give people the opportunity to live better lives."
— Ramiro Salazar, Library Director, San Antonio Public Library
Spend a Day with a Library Worker!
Communicating the Library's Value | 2021 | Top Innovator
"During the hiring period of 2020-2021, CHPL had a record 525 open jobs. Our Marketing and HR divisions teamed up to create a recruitment initiative designed to bring our brand beliefs to life. By highlighting library workers of all types we put a face on the library. We showed the community the services we provide beyond book borrowing. For example, a profile of one of our delivery drivers underscored their role in CHPL's public health efforts, transporting COVID tests to CHPL locations for distribution throughout the county. These pieces showcase the unique work that our staff do for our community, and have increased awareness of the diverse jobs available at the Library. And the community is paying attention. In 2021, "Spend a Day with a Library Worker" posts received over 2,200 pageviews; the "Working at the Library" playlist received more than 2,000 views; and our engagement on LinkedIn was up 60%."
— Paula Brehm Heeger, Eva Jane Romaine Coombe Director, Cincinnati and Hamilton County Public Library
Surprise Me! Bundles
Customer Experience | 2021 | Top Innovator
"The ability to browse shelves and discover something new is one of the most wonderful things a library can offer its customers. When our branches closed as a result of public health measures, our staff knew that we had to find an alternative. The result was the Surprise Me! Bundles, each containing at least half a dozen staff-curated items based on age group or interest or media preference, any of which could be requested at our curbside pickup tables or placed on hold via the library website. In addition to introducing customers to new authors, directors and performers, we were able to tuck in some great items that had not circulated and promote their use. Customers were delighted with their new discoveries. Positive customer feedback has been so overwhelming that we have continued to still offer the bundles in locations as they reopen!"
— Margie Singleton, Chief Executive Officer, Vaughan Public Libraries
Telehealth for Older Adults
Digital Equity and Citizenship| 2021 | Top Innovator
"I am immensely happy that Nashville Public Library's Telehealth for Older Adults program successfully equipped nearly 250 older adults with the education, access and devices they need to receive healthcare, when possible, from the safety of their homes. During the pandemic, Telehealth began to grow exponentially as people were seeking safer ways to access healthcare. We knew older adults were the least prepared to do so, and the most vulnerable to social isolation. We focused our services on those who do not have the financial means to acquire computer devices, in-home internet or training on their own, allowing them to be cared for and connected. We are truly honored to be recognized by this Top Innovator Award for a program that has meant so much to our older neighbors during this most difficult time, and we share this honor with our partners who helped to make this possible."
— Marian D Christmon, Manager, Digital Inclusion Initiatives, Nashville Public Library
Caregiver Support Network
Education — Adults | 2021 | Top Innovator
"The San José Public Library (SJPL) is proud to offer the Family, Friend, and Neighbor (FFN) Caregiver Support Network program to local home-based care providers of children ages 0-8. We are raising the quality of early learning opportunities for children and families in San José by supporting historically under-recognized & under-resourced FFN caregivers through this robust program, which prioritizes wraparound individualized supports and one-on-one mentorship. Since its launch on January 13, 2021, the program has seen an 82% growth, has mentored over 150 caregivers, and currently has an interest list of more than 300 people. The ongoing success of our FFN program proves how important it is for us to provide more opportunities and concrete support that assist these family, friends, and neighbors to provide responsive, high-quality learning experiences for the children in their care."
— Jill Bourne, City Librarian, San José Public Library
Never Too Early: Reading in the NICU
Education — Birth Thru Teens | 2021 | Top Innovator
"Reading to babies in the NICU provides parents with a precious opportunity to bond with their child while also contributing to children's learning and development. This partnership between the Toledo Lucas County Public Library's Ready to Read program and the Ebeid Children's NICU parent group teaches parents the importance of reading to their newborn babies and provides them the tools—free books and guidance—without asking them to leave the hospital. It is the restoration of a parenting act through simply reading a story. It's an act that feels constructive and strengthening at a time when parents may feel anything but. It's a perfect illustration of the library's expertise in—and commitment to—early childhood literacy along with our efforts to meet people where they are with our services."
— Jason Kucsma, Executive Director, Toledo Lucas County Public Library
Project Management Office for Strategy and ROI
Institutional Change and Strategic Management | 2021 | Top Innovator
"The library often strives to have something for everyone: we want to deliver value to everyone in our communities, and there are more ideas than resources. In a 20-branch library system, those ideas and energy can often become lost or they may not include key stakeholders. Launching a homegrown project management office gave everyone in the organization a transparent, equitable process for project and program submission and approval, the ability to more strategically and intentionally implement new ideas at the locations where they might best serve our many unique communities, a clear understanding of what projects are currently active and what their timeline, scope, and budget are, and tools to help leaders successfully lead projects. KDL's PMO dashboard and processes have empowered project leaders to succeed, improved system wide communication, given our library system more organizational focus, and reduced duplication of efforts."
— Jaci Cooper, Director of Projects & Planning, Kent District Library
Resilient and Responsible Communities
Wellness, Safety and Sustainability | 2021 | Top Innovator
"Community Building and Community-Responsive Enrichment are strategic goals of the library and providing environment-related programs and activities is critical to meeting those objectives. Thank you to our community members who have participated in these programs and activities, and we look forward to continuing and expanding on them in the future. Learn more about our efforts and upcoming programs at pwcva.gov/library."

— Deborah L. Wright, Library Director, Prince William Public Libraries
Creating a Workforce Development Ecosystem
Workforce and Economic Opportunity | 2021 | Top Innovator
"PGCMLS is honored to receive the Top Innovator Award for services in the area of Workforce Development. Our team did an outstanding job of assessing community needs at a time when residents experienced an unemployment rate of up to 11%. Staff quickly put together a comprehensive program, based on partner and customer feedback, to address areas of opportunity for all customers and specific communities —like older adults, immigrants, returning residents, and Spanish speakers — to advance job readiness. By working with partners to create innovative programs and develop an engaging microsite, we were able to provide access to services that continue to be inclusive, flexible, effective, and impactful. I am proud of our team's work and the difference we are making for Prince George's County. We realize life-changing results for customers who share stories of having secured a job or advanced their education through the support received at PGCMLS."

— Roberta Phillips, CEO
Rewatch the 2021 ULC Innovations Initiative Celebration
This year's virtual program showcased the year's Top Innovators and Honorable Mentions with special video highlights along with a special retrospective video look at past winners and celebrations. Attendees heard from Innovations Celebration supporter, Pamela Smith, of Ingram Content Group with a welcome from ULC's President and CEO, Susan Benton.
We thank Ingram Content Group for supporting the 2021 ULC Innovations Celebration and providing ULC members with new and useful tools for the field. This year's Top Innovators will receive a one-year subscription to Ingram's brand new iCurate® Coming Soon service. Plus, the 2021 Top Innovator in Anti-Racism, Equity, Diversity and Inclusion category will receive a complementary iCurate® inClusive Diversity Audit of their print collection.
Revisiting 2018 Top Innovators: Lilac City Live
Spokane Public Library
ULC reached out to Spokane Public Library's Community Engagement Manager Jason Johnson to follow up on the library's 2018 Top Innovator win and to learn how their Lilac City Live event series has evolved over the last year.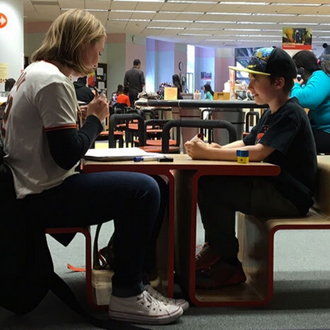 Revisiting 2018 Top Innovators: FOG Readers
San Francisco Public Library
ULC reached out to San Francisco Public Library Learning Differences Librarian Laura Lay to follow up and learn about how the FOG Readers program has evolved in the year since its Top Innovator win.