Protecting Intellectual Freedom & Condemning Books Bans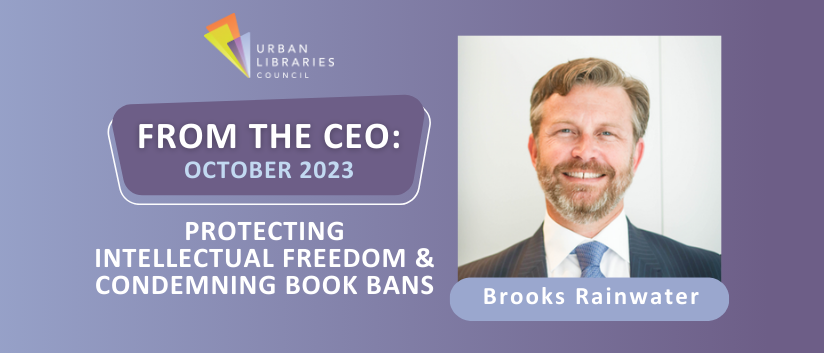 Written by Brooks Rainwater, President and CEO, Urban Libraries Council
There are new headlines every day:

The Urban Libraries Council strongly supports libraries across North America as they face these extreme challenges and recognize Banned Books Week. We're grateful to partners such as the American Library Association and PEN America for cataloging the increase in book banning attempts this year, on top of the already record number of attempts last year. These statistics are backed up by what we are hearing from ULC members who represent our largest library systems.
While book bans are not a new tactic to devalue intellectual freedom, the volume at which it is currently occurring is rightfully concerning. On September 27, ULC joined members of Congress to bring attention to book bans and support the introduction of a congressional resolution to condemn these actions. You can read more about the resolution introduced Rep. Jamie Raskin (D-MD) and Sen. Brian Schatz (D-HI) at this link. The Banned Books Resolution has the support of 40 co-sponsors in the House of Representatives and 15 co-sponsors in the Senate.
"Banning books is not the answer to challenging content. Books are meant to be engaged with, and there are millions of titles out there to choose from…. And public libraries are the spaces we go to learn new ideas, experience cultures unlike our own, be inquisitive, and become better and more empathetic citizens. They're central pillars in our communities, in our nation and in our democracy."
Brooks Rainwater, President and CEO, Urban Libraries Council
That is why dozens of libraries across the country are responding to these blatant attacks on freedom of expression and individuals' right to read by declaring themselves and their cities as "Book Sanctuaries." The movement began last fall when the City of Chicago and the Chicago Public Library declared themselves a space for endangered stories and called for others to do the same.
Since then, more and more jurisdictions are becoming Book Sanctuaries, protecting endangered books and keeping their ideas safe. ULC is tracking members joining this movement, and Arlington Public Library, Harris County, TX and Hoboken, NJ recently announced their commitment to everyone's right to read whenever, however and wherever they choose.
States and libraries are taking other important actions to protect intellectual freedom. California Governor Gavin Newsom signed a bill in September that prohibits school districts from banning books that promote racial diversity or LGBTQ figures. The Boston Public Library, Los Angeles County Library and San Diego Public Library announced in September that they are joining the Brooklyn Public Library's Books Unbanned initiative along with Seattle Public Library to fight censorship. Books Unbanned cards provide access to these libraries' collections of e-books and audiobooks to teens and young adults nationwide.
As we mark another Banned Books Week in critical times, we need to protect the public places that most perfectly embody our governing and civic ideals — the library! Thank you to all library leaders, staff, patrons and community partners who stand up for books that challenge, delight and educate us. By seeking out and uplifting books by underrepresented authors from the LGBTQ+ community, and Black, Latino, Native and Asian voices, we allow these identities, stories and voices to be seen in public spaces like libraries.
How are you celebrating the freedom to read during Banned Books Week 2023? To share with ULC, tag and follow us on social media on Facebook, Instagram, LinkedIn or X.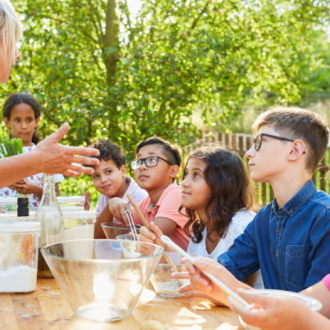 The Fundamentals of Learning & Building Community
As we approach the change of seasons, it is a time to take root in the fundamentals of how libraries encourage lifelong learning and build community. From leading back-to-school programs, providing free entrepreneurial and creative resources and connecting with other leaders in the field, this fall is about laying a strong foundation for the year ahead.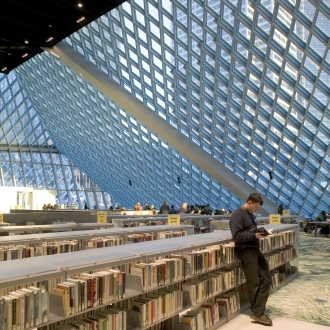 People, Power, and Place
Hear from ULC President and CEO Brooks Rainwater about the intersection of people, power and place in the scope of North American public libraries. Plus, learn more about the 2023 ULC Annual Forum.