Opening Gardens During a Pandemic in Brooklyn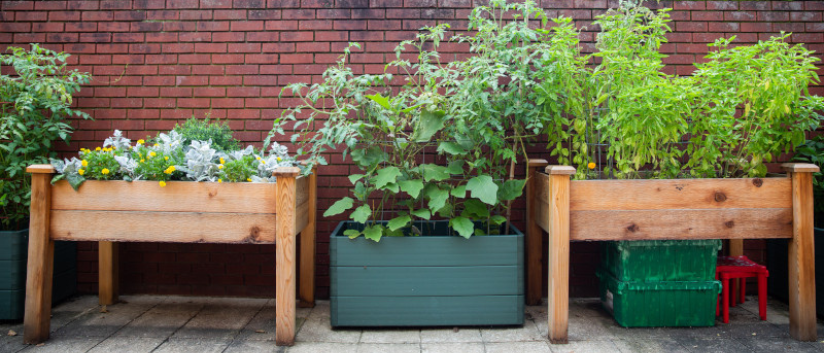 Photo credit: Gregg Richards
Authored by Carrie Banks, Supervising Librarian, Inclusive Services, Brooklyn Public Library
Opening and reopening gardens during the pandemic was a natural choice for Brooklyn Public Library. Prior to March 2020, we had been already begun gradually increasing the number of gardens at our 60 locations in Brooklyn, often in partnership with friends' groups. Being closed and then offering limited services during the pandemic gave us the opportunity to grow our presence in the community and lay a solid groundwork the future.
Part of our goal was to improve local streetscapes and it worked! According to the Branch Manager of the Canarsie library, Tom Mueller "[u]ntil we filled it with dirt and plants, no one could figure out our (vinyl) wheelchair-accessible planter. People guessed that it was a diaper-changing table, or a computer desk, or a patio table, or a piano! Now it's the home of a variety of succulents and ground covers. The other (wood) planters, once installed and planted, transformed the front of our drab building, brought it to life…. colorful insects started to hang out in our garden, which attracted birds, and now we have a little garden ecosystem where before there was just concrete!"

Photo credit: Gregg Richards

Community Space
Tracey Mantrone at the Clinton Hill library had a similar experience. After BPL closed, Tracey continued to visit the branch to feed the library outside cat, Pickles, and to water the pollinator garden. She usually had to work around people sitting on the benches in the garden, watching the butterflies, reading books and enjoying the cats and even a band practice. One neighbor weeded as she walked her dog, and another stopped by periodically to weed. Now that our libraries have re-opened, the friends' group is back helping with the garden. In spite of being closed, the library was still the center of that community.
Photo credit: Gregg Richards

Washington Irving Library's Story
Opened almost 100 years ago in 1923 and now in an under resourced neighborhood, the Washington Irving library's streetscape was a rod iron fence around a sparce lawn. Librarian Julie Zimmerman had another idea. Working with Inclusive Services staff, she created an accessible garden for children with and without disabilities. Garden beds at 3 level provide easy access to people with physical disabilities, a variety of tools and handles offer options to users and plants are chosen within a sensory friendly framework.
The garden is just inside the fence right next to the sidewalk. "I always have fun conversations with people passing by… you never know who you're going to get to chat with. It's… a joy to share… the things we've grown with our youngest storytime patrons. I've had toddlers munching on mint leaves, pea shoots, and lettuce leaves all spring. Now we're getting our first flowers blooming and it feels so good to hear kids shouting in excitement that they're so pretty, as they walk by." She also notes that "[b]y beautifying the outdoor space, we've also been able to cut down on litter because people are showing more respect for the garden…" Sam Tarlow, the Inclusive Services programming associate who worked with her commented "The new garden at the branch has lifted everyone's spirits, and we've had full houses for our programs over the last month!" The funds for the garden were repurposed from other projects that could not be complete because of COVID restrictions.
Photo credit: Gregg Richards

Inclusive Outdoor Spaces
Almost 100 years after the opening of the Washington Irving library, after a year's long wait, the new Greenpoint Library and Environmental Center opened in October 2020. An inclusive rooftop garden was an integral part of the design. Before the we returned to in-person programming, Inclusive Services, BPL's service for youth with disabilities, offered Garden Explorers, which bloomed on Zoom, and Grab and Grow giveaways which featured materials for garden and nature themed project that families could do at home. At the same time the Environmental Programming Specialist, Acaia Thompson planted the new garden beds. When food ripened, she gave it away in the library "Last summer I offered a radish to a kid, and they greatly disliked it. No surprise. But after I included them in [growing it they] took a bite…, smiled and liked it. Ownership and inclusion in the process changed the kid's palate." She has also developed some garden themed TikTok content.
Photo credit: Gregg Richards

Gardening during the pandemic created outdoor spaces that helped BPL maintain our role at the heart of our communities. Now fully open and offering indoor programs, BPL continues to reinvent library service. As the seeds we planted during the pandemic continue to grow, we know that gardens will be part of our future. After all, when you have a library and a garden, you have practically everything you need.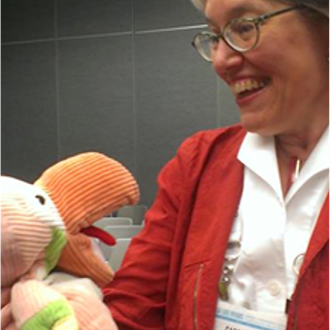 Carrie Banks
Supervising Librarian, Inclusive Services, Brooklyn Public Library
Carrie Banks runs Brooklyn Public Library's Inclusive Services. She taught Including Youth with Disabilities at Pratt. An ASGCLA past-President, she served on ALA President Loida Garcia-Febo's EDI Presidential Team. In 2014 she updated Including Families of Children with Special Needs: A How to Do It Manual for Librarians and is the co-author of Libraries and Garden: Growing Together, with Cynthia Mediavilla, and Library Programming for Adults with Developmental Disabilities, with Barbara Klipper.