One Book Baltimore - Building Connections and Bridging Communities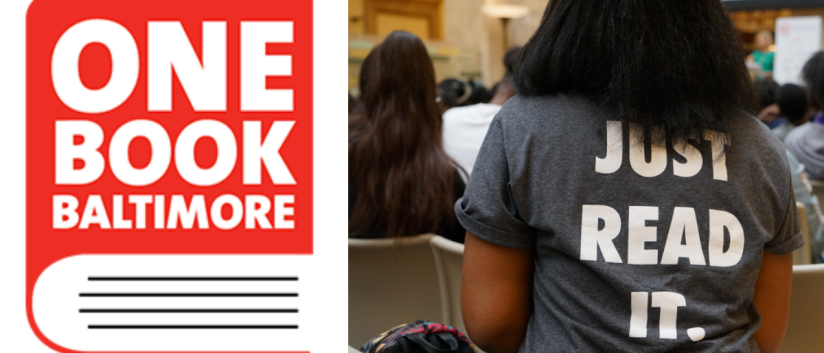 One Book Baltimore is a collaboration among several local organizations to provide opportunities for seventh- and eighth-graders, their families and community members in Baltimore to connect through literature by reading the same book. Since the launch in fall 2018, programming and discussions have focused on peace and how to promote change in our community. The first year's book selection was Dear Martin by Nic Stone. This year, Long Way Down by Jason Reynolds was chosen in the initiative funded by the T. Rowe Price Foundation and coordinated by Enoch Pratt Free Library and Baltimore City Public Schools.
Free books are given to all seventh- and eighth-grade students in Baltimore City Public Schools, and the school district determined that the themes of peace and anti-violence were meaningful with students at this age-level. As part of the program, books are purchased for all participants accompanied by a discussion guide. Author visits are scheduled at our Central Library, library branches and public schools. Programs related to the One Book Baltimore initiative are scheduled across the city at all library branches, in schools and at local community organizations.
What do we hope to accomplish?
We hope to facilitate positive change in our city through encouraging discussions that build connections and bridge communities. Our city has sadly struggled with violence. By choosing a text that explicitly deals with peace and anti-violence, our hope is that individuals may engage in meaningful open dialogue about their experiences. By discussing the challenges facing our communities, they may ultimately see a new path for themselves.
One Book Baltimore Committee
Librarians, teachers, One Book Baltimore partners and community representatives create a list of age-appropriate books related to peace and anti-violence. Our book selection subcommittee selects a short list of five to six books to read and discuss, and they determine what type of programs and activities will engage the participants. Then that group makes the final determination on which book will be selected. Members from the Pratt Library's Programs and Outreach Division, Marketing and Communications, the Department of Institutional Advancement, the Baltimore City Public Schools, T. Rowe Price Foundation, and researchers from the International Arts + Mind Lab Brain Science Institute, Johns Hopkins University School of Medicine, Baltimore Ceasefire 365, Maryland Humanities, WBAL-TV11, Maryland Book Bank and others have joined the committee.
We currently work with researchers to get feedback from surveys on how students feel about the book and how it has impacted them. We hope the data will inform upcoming book selections so each year's book will be relevant to the city's seventh- and eighth-grade students.
Securing the Author
Once the title has been selected, our Programs and Outreach staff reach out to the author to let them know that their book was selected for this initiative and invite them to come and visit our libraries and schools. Depending on the author's availability, this may be a two- to three-day visit. We found that it can be challenging securing the author to coincide with other community activities where we would like to feature them. We work around the author's availability to make the most of their time with us. At the annual launch with Jason Reynolds this year, we were able to bring in 400 students to meet the author at our Central Library. With additional visits, we expect to reach an additional 1100 students including homeschool classes and students from Maryland School for the Blind.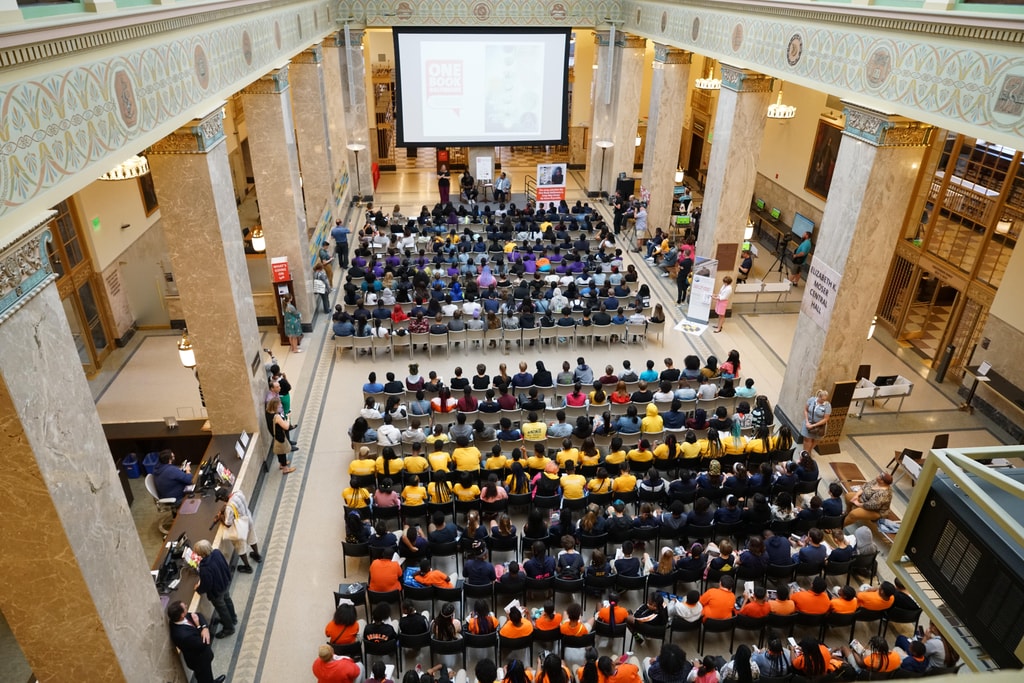 Book Purchases
Baltimore City Schools provides nearly 12,000 city seventh- and eighth-graders with a free copy of the One Book Baltimore selection. In addition, the T. Rowe Price Foundation provides funding for the library to purchase giveaway copies for customers who may not have received the book, but are interested in participating in discussion groups in their communities. Our library also purchases extra copies of the book for our collection.
Book Discussion Guide and Bookmark
This year's book discussion guide was created by a subcommittee that included teachers who determined the content of the guide. A writer was contracted to develop the questions for the guide and our marketing department designed the cover. The guide was available on our library's website for the community to print on demand and an audio version of the discussion guide was recorded in partnership with the Library for the Blind and the Physically Handicapped. We also designed a bookmark with our One Book Baltimore logo on one side and 10 questions on the flip side. Hard copies of the guide were made available, along with bookmarks, at the Baltimore Book Festival and other community events.
Programming
Beyond the author visits, our library branches are providing the community with a variety of related programming from September through December. There are currently 47 library programs planned this year including:
Community Peace Journals
Musical Performances
Spoken Word Workshops
Art Programs
Book Discussions
Theatrical Performances
Black Out Poetry, Book Spine Poetry, and Slam Poetry
Unity and Peace Movement Trivia
A majority of the programming comes from the library, followed by school and community programming. Last year we had 177 programs and served 1,928 customers from September through December. We partnered with Baltimore Ceasefire 365 to provide 87 special programs to 1,224 customers during the November Ceasefire Weekend.
Marketing
Our marketing department was integral in spreading the word about the launch and the book itself. We kept the title and the author a secret until the day of the launch to build suspense. Media coverage included three local TV segments, a PSA spot with Jason Reynolds and a mention in a New York Times article. Both our Twitter and Facebook accounts covered the event.
Lessons Learned
Coordination is key with a project like this. We have to coordinate author visits, transportation for students, book purchases and delivery. We collaborate with schools to place labels on books and make sure that students have time to read the books before the author visits. This leads to a more meaningful conversation. Collaborating with community members to impact the lives of thousands of young people is both powerful and humbling. We learn about what is important to them, their feelings, hopes and fears. We hope that this initiative will be a launching pad for the community so we can hear what they have to say and support them.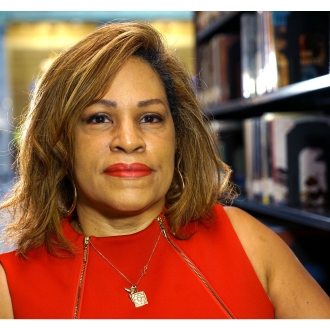 Kelli Shimabukuro
Chief, Programs and Outreach, Enoch Pratt Free Library
Ms. Shimabukuro joined the Pratt Library in 2018. Prior to joining the library, she worked for eight years in branch management before serving 12 years as community education and partnerships coordinator for Maryland's Howard County Library System. Ms. Shimabukuro has a master's degree in library science from Catholic University, a master's degree in education and a B.S. from Kent State University.