North America's Top Urban Library Leaders Convene in Seattle for the 2023 ULC Annual Forum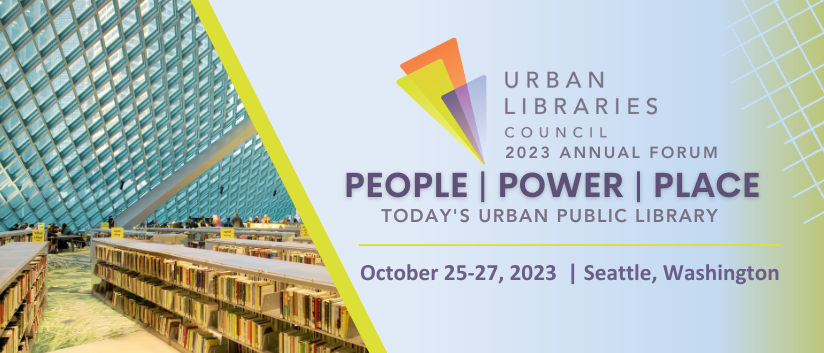 Written by Elise Calanni, Communications Manager, Urban Libraries Council
People. Power. Place.
Each year, the Urban Libraries Council has the distinct privilege of bringing together public library leaders from across North America to convene on the latest challenges and opportunities for libraries. Programming at the Annual Forum is informed by themes in member conversations throughout the year, and for 2023, ULC members repeatedly circled back to this: the essential role of libraries in terms of people, power and place.
It was around this theme that attendees connected at ULC's 2023 ULC Annual Forum: People, Power, Place — Today's Urban Public Library. Through thoughtful partnership with The Seattle Public Library and the generous sponsorship of EBSCO and Baker & Taylor, ULC convened over 200 library leaders from more than 90 North American public library systems in Seattle, Washington to network, collaborate and learn through inspiring programming and engaging activities.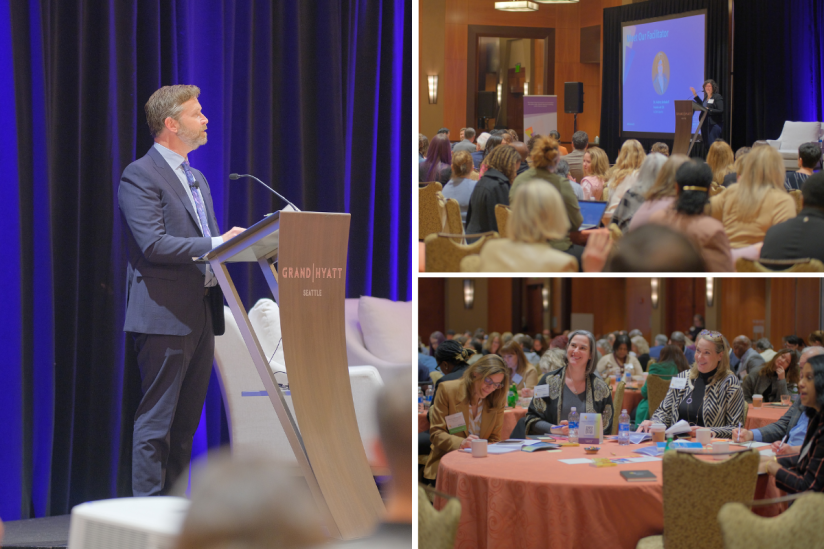 People: Strong Relationships and Effective Leadership
The 2023 ULC Annual Forum officially kicked off on Wednesday, October 25 with two concurrent Pre-Forum sessions: a discussion among library and foundation executives, and a presentation on using data to make effective business decisions.

The Library and Foundation CEO-to-CEO session gave attendees the opportunity to hear from library and foundation leadership duos who are at the forefront of fostering strong partnerships with one another. ULC President and CEO Brooks Rainwater moderated a discussion with Chicago Public Library Commissioner Chris Brown, Chicago Public Library Foundation President and CEO Brenda Langstraat Bui, The Seattle Public Library Executive Director and Chief Librarian Tom Fay and The Seattle Public Library Foundation CEO Jonna Ward.
Building strong library-foundation relationships is necessary to achieve continued, sustainable success, noted panelists. This kind of partnership grows best when that collaboration allows each partner to think creatively.
All organizations go through cycles. The bigger your vision, the easier it is for the foundation. I think we're in a time now where we need donors and advocates more than ever before.
Jonna Ward, CEO, The Seattle Public Library Foundation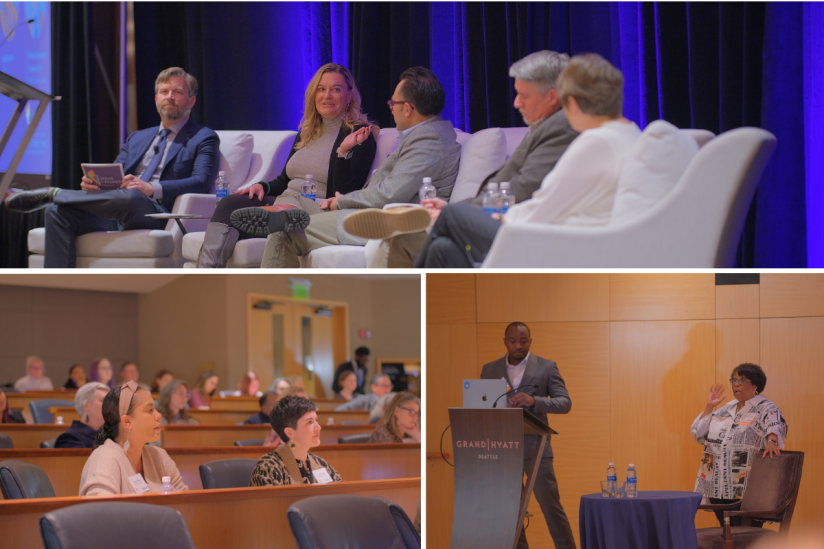 A "What is Your Superpower?" pre-Forum session, led by ULC Chief of Programs Michelle Hamiel and Director of Research and Data Femi Adelakun, took place concurrently on the first afternoon of programming. In this session, attendees dove into data and explored pathways that allow library leaders to be effective decision-makers at work. And, importantly, how to use that data to develop new and exciting strategies that amplify the library's ability to impact the ecosystems that help people significantly thrive.
We closed out the first evening of the Annual Forum with a Welcome Reception, sponsored by Baker & Taylor. We were so glad to have Baker & Taylor President & Group CEO Aman Kochar with us for the evening. His remarks about the importance of libraries as places of belonging served as a great reminder to us all.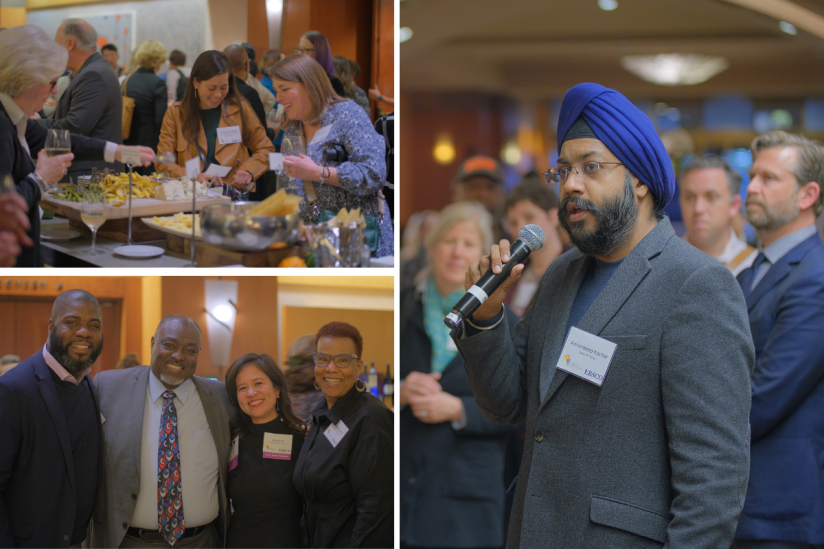 Place: Inclusion, Connection and the Future
Thursday, October 26 marked a full-day of programming at the 2023 ULC Annual Forum. We started the day with a warm welcome from our Forum facilitator Audrey Barbakoff, an introduction from ULC President and CEO Brooks Rainwater, and remarks from The Seattle Public Library's Tom Fay and Seattle Deputy Mayor Greg Wong.
As our theme "People, Power, Place" aptly summarizes, attendees came from all over North America to visit Seattle and take in the lessons of this place. As such, it was important to recognize that our libraries and meeting places are built upon the homelands and villages of Indigenous Peoples, without whom the building of these institutions would not have been possible. To begin our programming, we had a beautiful land recognition ceremony from local Muckleshoot Language Caretaker and Native Education Specialist Elise Bill-Gerrish recognizing our presence on the lands of the Muckleshoot people.

The day's programming had attendees thinking of two main themes: connection and the future. We began with a "Libraries as Place" panel, exploring how libraries can go beyond the physical space to encompass the potential for innovation and inclusion. ULC's Brooks Rainwater moderated a panel featuring Cityfi Partner Story Bellows, Brooklyn Public Library Chief Librarian Nick Higgins, Multnomah County Library Director Vailey Oehlke and LA County Library Director Skye Patrick. Panelists discussed the importance of customizing the library experience based on location.
We have to look at the actual library space and recognize that not all libraries and all programs are for all communities. We may not have Narcan at every location, we may not need a tool lending library at all branches — because those communities may not have the same needs.
Skye Patrick, Library Director, LA County Library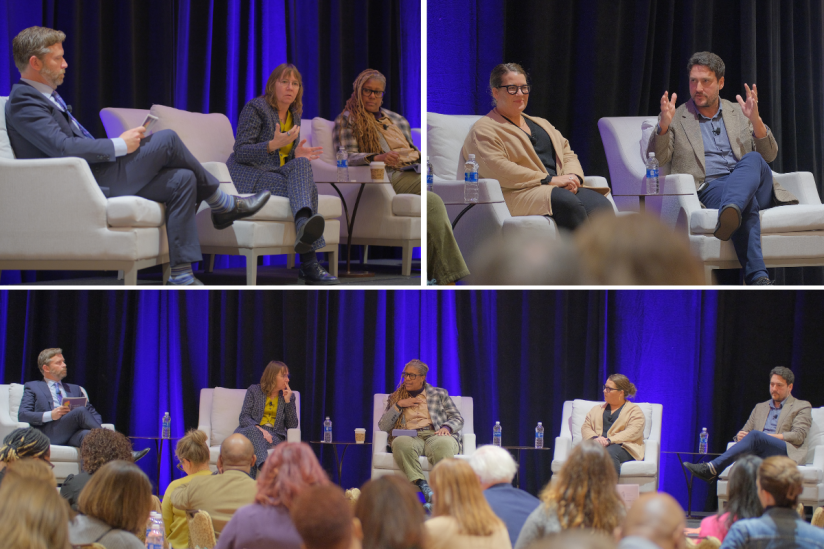 Forum attendees flexed their creative muscles during the keynote and workshop from Dr. Jeremy Nobel that focused on "The Urgency of Loneliness and the Opportunity for Libraries." This session had attendees consider the importance of connection as the possible cure for the epidemic of loneliness. As Dr. Nobel explained, as more people live alone and loneliness is at its highest rates, it is in our community spaces where people unconsciously practice being "unlonely." The Colors & Connection workshop following his keynote presentation encouraged attendees to embrace their creative intelligence and nurture peer-to-peer communications. Together, attendees created a beautiful piece of art!
We then looked to the future of libraries with our Futures Masterclass: How to Embrace Uncertainty, led by Houston Foresight futurist Laura Schlehuber, and a look into strategic planning at The Seattle Public Library with SPL's Strategy and Policy Advisor Jessica Smith. These presentations introduced attendees to the basic framework they can use to explore the future of any topic and how this foresight framework can be used during an organization's strategic planning process.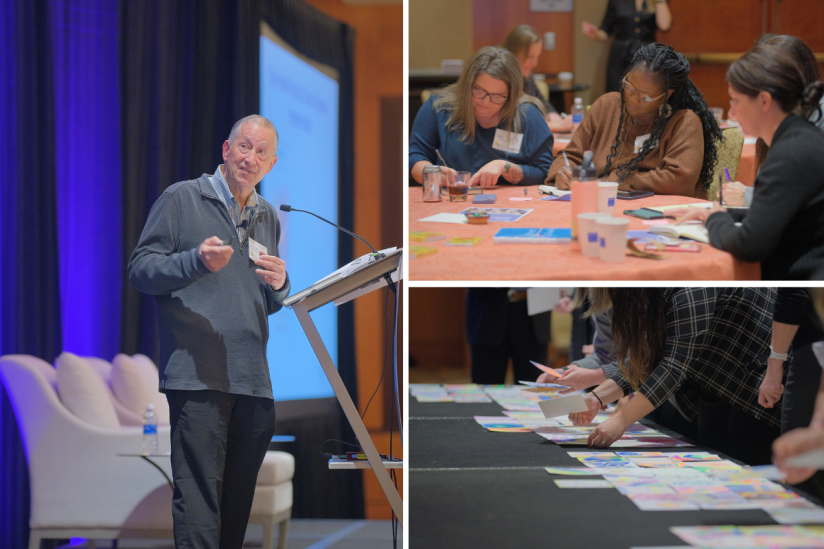 Our last panel of the day talked about a technology that is fundamentally transforming the way we engage with knowledge and information: artificial intelligence. EBSCO Chief Strategist for Public Libraries Duncan Smith moderated the "Embracing AI Technology for Organizational Advancement" panel, featuring The Seattle Public Library Chief Librarian Tom Fay, UNC School of Information and Library Science Associate Professor Mohammad Hossein Jarrahi and Microsoft Director of Growth & Incubation | Education Sadie Williams. Panelists discussed how AI is reshaping the landscape of public libraries and how libraries are poised to be a leader around responsible use of AI.
Humans need to work with AI and vice versa. There must be a presence of mutual learning. In other words: learning with AI, learning from AI and learning against AI.
Mohammad Hossein Jarrahi, Associate Professor, UNC School of Information and Library Science
We ended Thursday with a Social Hour at the beautiful Seattle Public Library, sponsored by Baker & Taylor. Beyond the gorgeous view, attendees were treated to light hors d'oeuvres, beverages and heard from SPL Chief Librarian Tom Fay, Baker & Taylor Senior Vice President of Sales Jim Smith and ULC Board Member Grace Nordhoff. We are grateful to both the library and our reception sponsor for making our attendees feel so welcome in the great city of Seattle.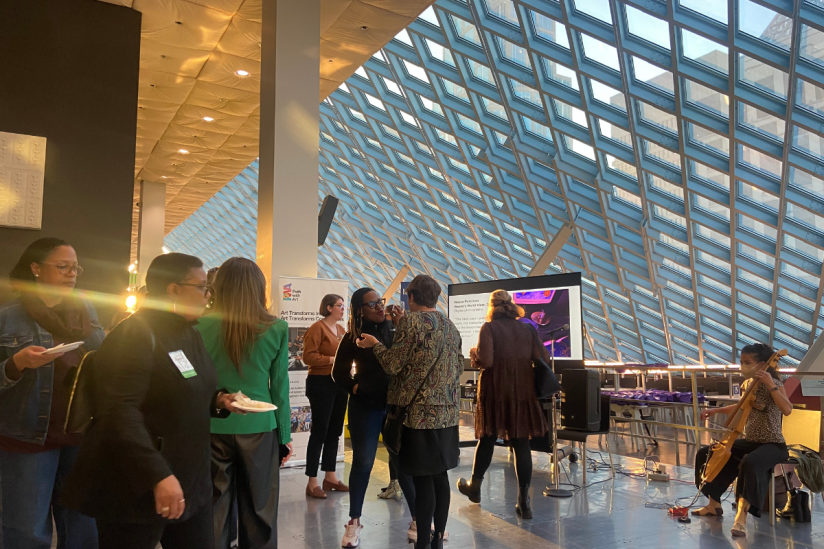 Power: Standing Tall and Rising to the Occasion
And just like that, the 2023 ULC Annual Forum: People, Power, Place — Today's Urban Public Library — neared an end. On Friday, October 27, we dove into the future of ULC's advocacy and strategic planning with President and CEO Brooks Rainwater and Austin Public Library Director and ULC Board Chair Roosevelt Weeks. They recognized not only ULC's responsibility as a convener and advocate of library voices, but also the strong individual leadership that exists within ULC's membership.
We then heard from Institute of Museum and Library Services Director Crosby Kemper and The New York Public Library's Merryl and James Tisch Director Brian Bannon for a conversation on the continuing role libraries play in supporting and driving literacy. IMLS Director Kemper reflected on his tenure at the federal agency and encouraged library leaders to tap into the data their institutions hold to advance social research around economic mobility.
The last panel of the Forum, "Libraries Stand Tall & Rising to the Occasion," moderated by Edmonton Public Library CEO and ULC Board Vice Chair Pilar Martinez, discussed how ULC libraries continue to defend intellectual freedom, ensure staff and patron safety and act as a place for civic engagement and democratic values. Martinez facilitated a discussion between Broward County Library Director Allison Gubbs, Calgary Public Library CEO Sarah Meilleur, Austin Public Library Director Roosevelt Weeks and Kent District Library Executive Director Lance Werner. Though the public library field is fraught with challenges, our panelists said, there is no better time to be a library leader.
All of here got into this industry because we wanted to make the world a better place. And our time is now.
Lance Werner, Executive Director, Kent District Library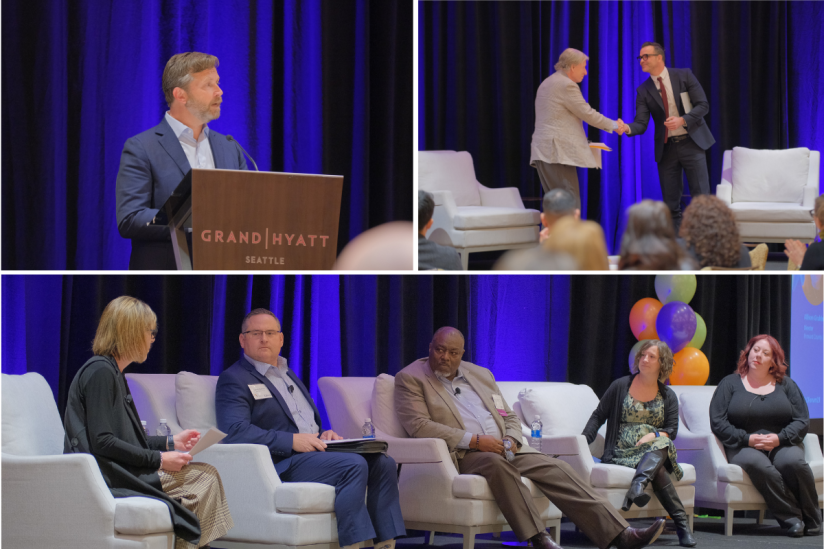 There are countless ULC library leaders across North America who continue the vital work of advocacy, but no one exemplified that commitment this year better than Lance Werner, Executive Director of Kent District Library. Lance's dedication, passion and tireless efforts have transformed libraries into beacons of knowledge, community and innovation. To close out the Annual Forum, ULC and EBSCO had the honor of presenting the 2023 ULC Advocate of the Year award to him.
Lance is a stalwart leader, both within his local community and at the national level, advocating for libraries as vital hubs of learning, creativity and a place for all. He firmly believes that libraries should be open and accessible to everyone, regardless of their background, abilities or circumstances. Lance's tireless advocacy at the legislative level has yielded real results. He has worked hard to secure funding and support for libraries; recognizing that strong libraries lead to strong communities. Congratulations, Lance!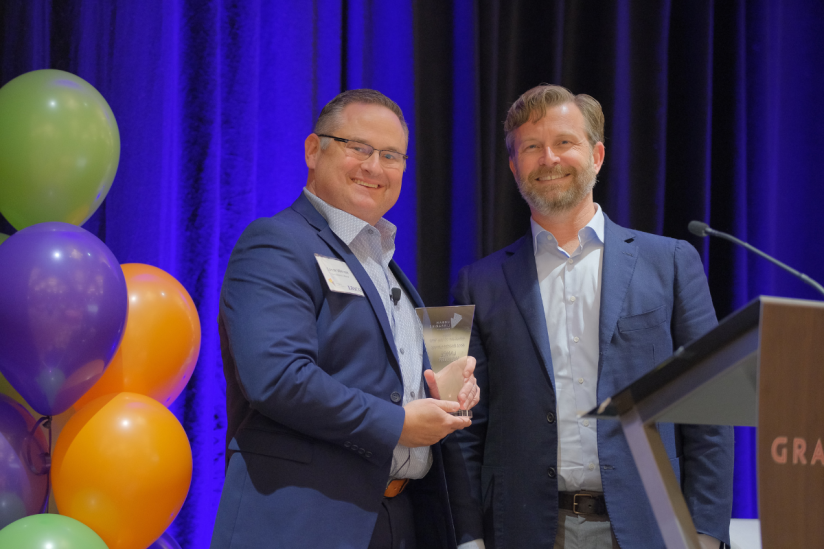 With a celebratory toast, we officially concluded the 2023 ULC Annual Forum. It was truly inspiring to see so many library leaders converge from all over North America to connect in this space and commit to the continued development of urban public libraries. Thank you to our more than 200 attendees from over 90 library systems for joining us in Seattle.

Many thanks to our generous sponsors EBSCO and Baker & Taylor for their support of this event. We especially want to thank The Seattle Public Library, Chief Librarian Tom Fay and the SPL library staff for being such gracious hosts and welcoming to our attendees.
Click through the slideshow below to view highlights from ULC's Annual Forum, or view the full album on Flickr.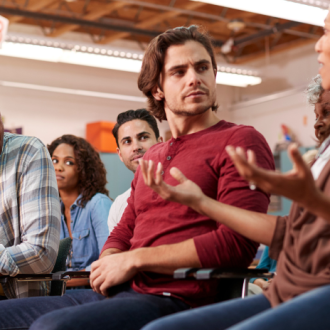 Public Libraries as Critical Spaces for Convening
Hear from ULC President and CEO Brooks Rainwater about the importance of libraries as physical convening spaces. Through creative development of these spaces, libraries can contribute to the wellness, civic engagement, and productivity of their communities.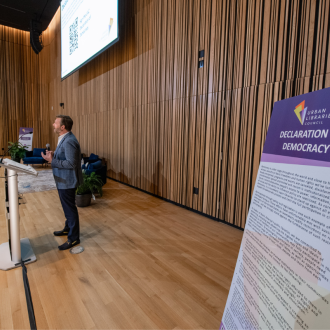 150+ North American Library Leaders Gather at ULC's Democracy Forum in DC
In November 2022, over 150 participants from 75 North American libraries attended the 2022 ULC Annual Forum: Creating a Place for Democracy. Over three days, attendees were able to network, collaborate and participate in expert-led sessions around preserving democracy.