150+ North American Library Leaders Gather at ULC's Democracy Forum in DC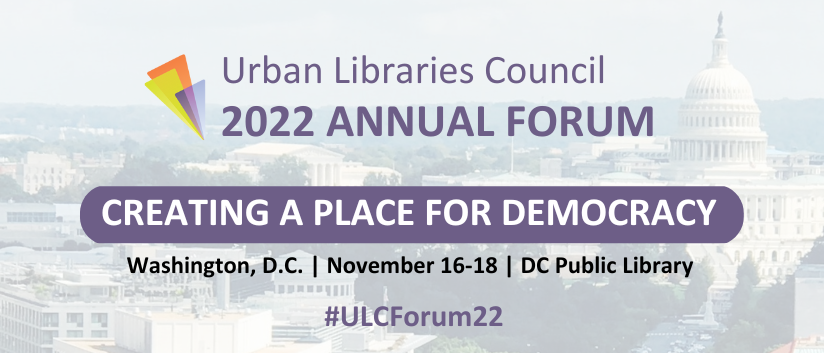 Authored by: Elise Calanni, Communications Manager, Urban Libraries Council

Across North America, libraries are facing some of their most challenging days yet. Over the past few years, hardships seemed to have come in bulk — the onset of the COVID-19 pandemic and its accompanying trauma, the public murder of George Floyd sparking a rallying cry for racial justice and real threats against democracy and free information for all. Perhaps more than ever, libraries have been on the front lines to support their communities. But with an increased sense of urgency comes the issue of sustainability and longevity. Looking forward to the future, library leadership across North America is considering:
How can North America's libraries continue to preserve democracy and position ourselves as central — and essential — pillars within our communities?
It was this question that attendees focused on during ULC's 2022 Annual Forum: Creating a Place for Democracy. From November 16-18, 2022, more than 150 library leaders from 75 North American libraries and partner organizations gathered in Washington, D.C. at D.C. Public Library's beautiful Martin Luther King Jr. Memorial Library. Over three days, attendees networked, collaborated and participated in expert-led sessions around preserving democracy.
Much thanks to Baker & Taylor, Children's Plus, Group 4 and Ingram Library Services for their generous sponsorship of the ULC Annual Forum.

Below are some key highlights and takeaways from this event. Use the #ULCForum22 hashtag on social media to explore additional event highlights and share your own favorite moments!

A Warm Welcome
To kick off ULC's first Annual Forum since before COVID-19, we welcomed back our veteran and first-time attendees with a Welcome Reception at the National Union Building in Washington, D.C., sponsored by Ingram Library Services. Many exciting reunions took place, as this was the first time in a few years that many members have seen each other in person. We were also thrilled that we had 40 first-time attendees among the participants. This reception was a great starting point for Annual Forum and energized attendees for the rest of the event.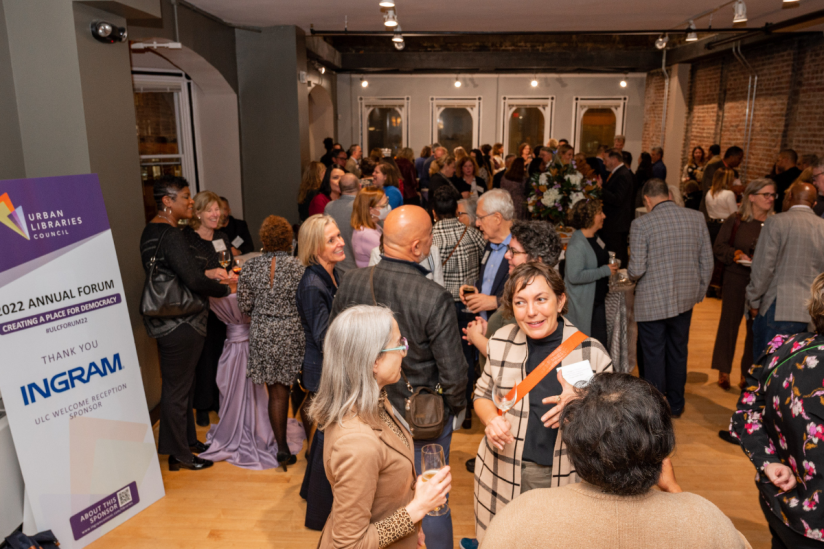 Pictured: ULC members interact at the Welcome Reception, sponsored by Ingram Library Services. | © Max Taylor Photography
Sessions on November 17
On Thursday, November 17, the Annual Forum kicked into full gear with a full day of thought-provoking sessions. Attendees of this year's Annual Forum were especially lucky to have access to the beautiful spaces at the Martin Luther King Jr. Memorial Library, the Central branch of the D.C. Public Library. To start the day, ULC President and CEO Brooks Rainwater welcomed all attendees to the Annual Forum.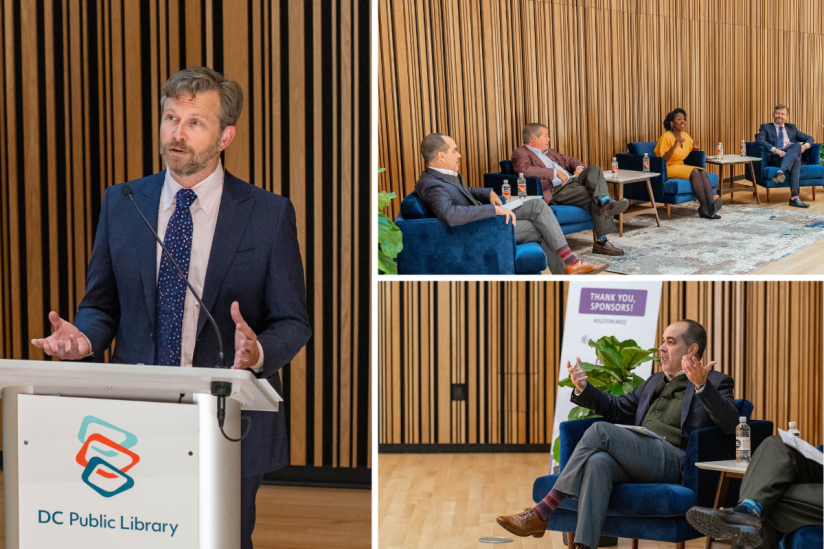 Pictured from left to right: Brooks Rainwater (left), Rich Reyes-Gavilan, UKarl Dean, Christina Henderson and Brooks Rainwater (top right) and Rich Reyes-Gavilan (bottom right). | © Max Taylor Photography
Cultivating a Democracy

The first session — "Cultivating a Democracy," — featured a panel discussion moderated by Brooks Rainwater with ULC Executive Board Chair Karl Dean, D.C. At-Large Councilmember Christina Henderson and D.C. Public Library Executive Director Rich Reyes-Gavilan. This panel set the tone for the rest of the Annual Forum, honing in on where libraries stand with democracy today. Panelists discussed the recent U.S. election and its impact on libraries' futures, how to bring people with opposing viewpoints together, collaborating and partnering with community centers and local government and — the hot topic on everyone's minds — the recent surge of book banning.
Book bans are not just an attack on our democracy but on the core belief of libraries.
Rich Reyes-Gavilan, Executive Director, D.C. Public Library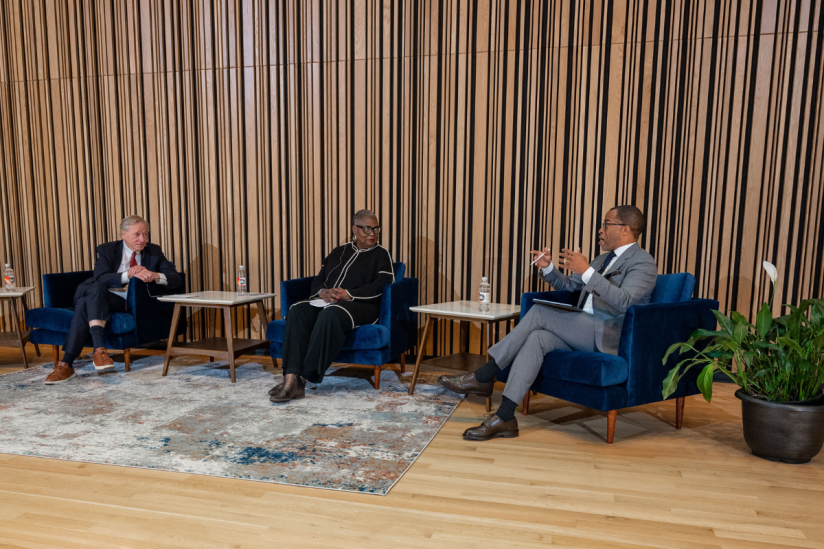 Pictured from left to right: Crosby Kemper, Dr. Rhea Brown Lawson and Jonathan Capehart. | © Max Taylor Photography
Racism in Democracy
The conversation of libraries as a place of free information and refuge continued in our next session: "Racism in Democracy." This panel featured the expert perspectives of Dr. Rhea Brown Lawson, Executive Director of the Houston Public Library, and Crosby Kemper, Director of the Institute of Museum and Library Services, and was moderated by Jonathan Capehart, anchor for MSNBC's The Sunday Show with Jonathan Capehart and associate editor of The Washington Post. Our featured speakers discussed the intersection of racism and democracy and highlighted what North American libraries are doing to address systemic racism. All of this, summarized Dr. Lawson, comes down to principles:
There's a rumor out there that libraries are neutral. We're not. We stand for democracy. We stand for intellectual freedom. The library becomes what the person needs it to be.
Dr. Rhea Brown Lawson, Executive Director, Houston Public Library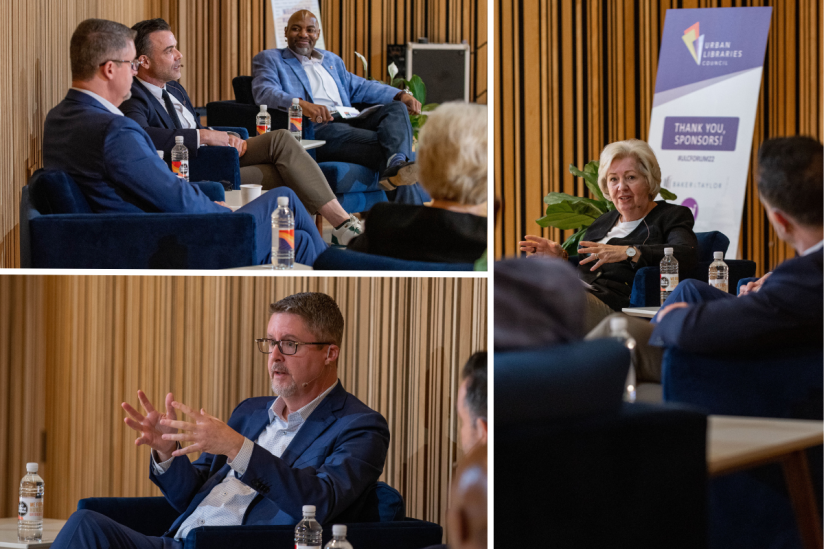 Pictured from left to right: John F. Szabo, Brian Bannon and Kelvin Watson (top right), John F. Szabo (bottom left) and Vickery Bowles (right). | © Max Taylor Photography
The Library's Role in Democracy

In "The Library's Role in Democracy," our panelists focused in on some of the tough questions. Las Vegas-Clark County Library District Executive Director Kelvin Watson moderated and was joined by Brian Bannon, New York Public Library's Merryl and James Tisch Director; Vickery Bowles, Toronto Public Library's City Librarian and John F. Szabo, Los Angeles Public Library's City Librarian. As bastions of free information, what happens when conflicting viewpoints come into play? Where is the line? As our panelists discussed, sometimes protecting free information for all and upholding the principles of our institution can be uncomfortable. Libraries must be the place where all viewpoints are protected, even if not everyone agrees. The physical space of the library, explained Brian Bannon, can even become that place where people start to understand one another better:
A library's community programs and acts of shared interest — like food security and children's play programs — can give people a common ground, and eventually allow people to have a better understanding of one another.
Brian Bannon, Merryl & James Tisch Director, New York Public Library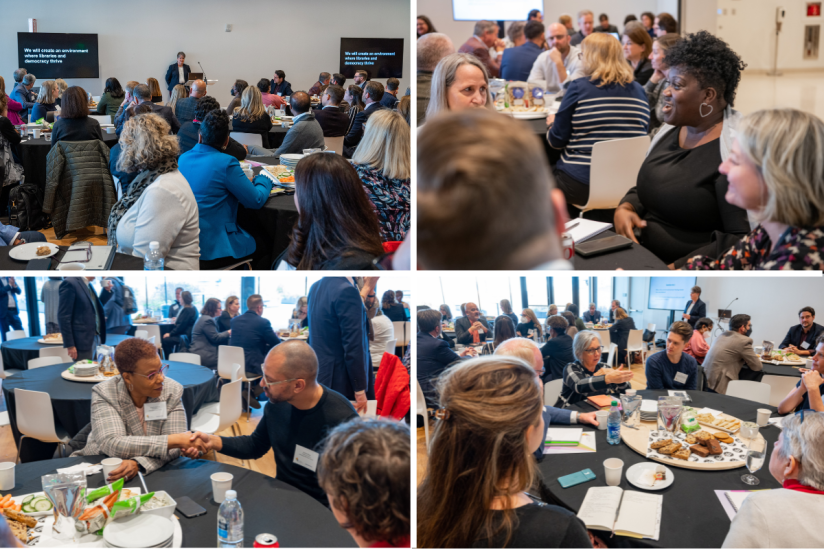 Pictured: ULC members participate in the ULConnections discussion activity. | © Max Taylor Photography
ULConnections
Before our sessions closed out for the day, our facilitators Jennifer Proctor and Sharon Rice led the attendees through one last activity — ULConnections, a World Cafe-style discussion roundtable. It is often said at events such as Annual Forum that the introductions, organic conversations and discovered touchpoints are the most valuable takeaway. Leaning into this, ULConnections was a guided discussion in small groups that invited attendees to analyze their libraries' current situations and brainstorm together. The following questions were among the prompts that were discussed: Why is the current environment feeling harder than before? How is the situation impacting you and your staff? What if we could approach our situation differently? How can we support ourselves and each other?
ULC 50th Birthday Celebration
Later in the evening, we gathered back at a transformed Martin Luther King Jr. Memorial Library space to celebrate ULC's 50th Birthday, sponsored by Baker & Taylor! ULC thanks Baker & Taylor for its steady partnership through the years and for many years to come. We were treated to delicious food and drink, beautiful rooftop terrace views and video birthday messages from some of our friends across all of North America:
The evening had a short program consisting of a message from our President and CEO and remarks from two special guests. First, Brooks Rainwater thanked all attendees and guests for their continued support to ULC over the years and toasted to the next 50. Then, we had the honor of hearing from Baker & Taylor President & CEO Amandeep Kochar who left us with an inspiring message about the importance of knowledge and libraries' direct impact. Finally, we closed out the program with a flourish with a special treat — Drag Storytime! DC resident and frequent local storytime leader Tara Hoot led us through the history of ULC with Telling the ULC Story.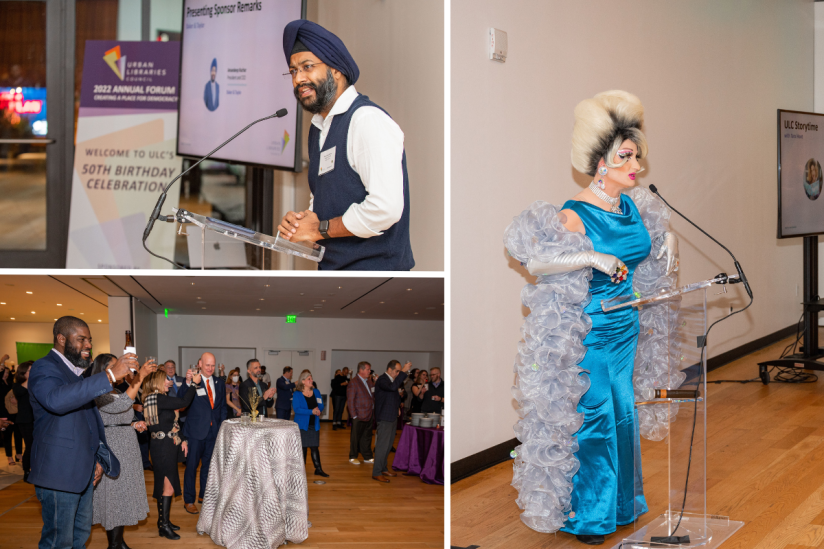 Pictured from left to right: Amandeep Kochar (top left), ULC members and guests toasting to ULC's 50th Birthday (bottom left) and Tara Hoot (right). | © Max Taylor Photography
Sessions on November 18
A Place for Us — Libraries as Civic Spaces
Momentum was still high as we moved into our final day of sessions. We began the day with our highly anticipated keynote speaker Tommi Laitio, Bloomberg Public Innovation Fellow at the Bloomberg Center for Public Innovation at John's Hopkins University. Tommi started by sharing that memories of his library experience growing up heavily influenced his path. As the former Executive Director of Culture & Leisure for the City of Helsinki, Tommi has a unique perspective of the correlation between democracy and city spaces. In Helsinki, the public library is the most appreciated public service after drinking water. He shared his thesis that in order for libraries to become successful city spaces, they must have three foundations that cannot exist without the others: content, service and place.
Without content, a library loses its soul. Wihout service, you lose the social mixing — the wonderful equity and diversity. Without place, you lose the patron's experience of self-determination. A library needs all three legs but each library must figure out what the legs are in their own community.
Tommi Laitio, Bloomberg Public Innovation Fellow, Bloomberg Center for Public Innovation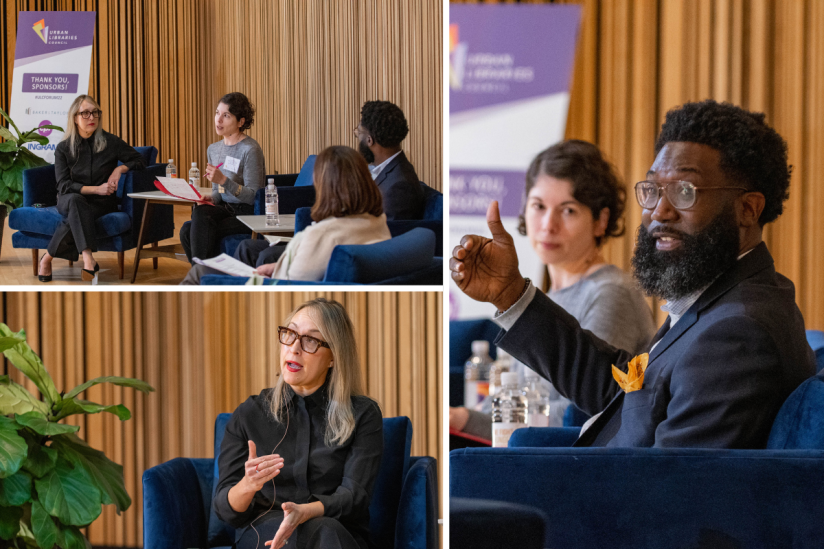 Pictured from left to right: Anastasia Khoo, Daphna Blatt and Shamichael Hallman (top left), Anastasia Khoo (bottom left) and Shamichael Hallman (right). | © Max Taylor Photography
Libraries as Bridges: Towards Civic Renewal
Our last session of the day aimed to bring the last days' thinking into action: how can libraries become bridges for civic renewal in their communities? Speaking in this session were Daphna Blatt, Senior Director of Strategy & Public Impact at the New York Public Library; Shamichael Hallman, Loeb Fellow at the Harvard Graduate School of Design and Anastasia Khoo, Chief Marketing Officer and Chief of Staff at Conservation International. Daphna and Shamichael shared the findings of a collaboration that explores libraries as infrastructure through community partnerships. Anastasia offered her expertise in marketing and shared how messaging is vital: in order to make a campaign or message successful, you must focus on the heart of what you are sharing.

Declaration of Democracy
It was clear by the end of our sessions that attendees were feeling reenergized and ready to bring what they had learned back to their teams. But before everyone did so, it was important to turn this energy into real action. To close out 2022 Annual Forum, Brooks Rainwater announced ULC's Declaration of Democracy. The Declaration is a statement created by ULC and its members to to preserve, protect and advance the highest hopes and ideals of democracy so all members of our communities may fully participate in the democratic process.
All ULC member libraries are welcome to read and sign the Declaration of Democracy here.
2022 Annual Forum: Creating a Place for Democracy was a successful reconvening of our members and it is all due to the thoughtful participation of our attendees and speakers. We sincerely hope that being able to connect with new and old friends in this space has reinvigorated our members for the months ahead, and we look forward to seeing everyone again at next year's Annual Forum.
Many thanks to our generous sponsors Baker & Taylor, Children's Plus, Group 4 and Ingram Library Services for their support of this event. We especially want to thank the D.C. Public Library, Executive Director Rich Reyes-Gavilan and the library staff for being such gracious hosts and welcoming our attendees.
Click through the slideshow below to view highlights from ULC's Annual Forum, or view full album.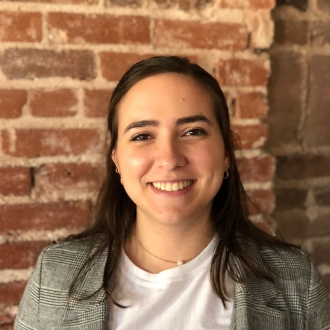 Elise Calanni
Communications Manager
Elise brings a background of resource development, messaging strategies and audience-based communications to ULC. Prior to joining ULC, Elise sat on the Communications team at Special Olympics Unified Champion Schools and led resource and communication development for inclusion-driven work. Her combination of skills and passion for community programming will drive her work at ULC. Elise holds a Bachelor of Arts in media arts and design from James Madison University.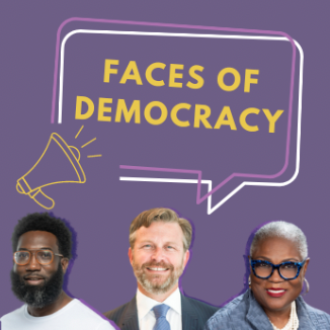 Faces of Democracy: Libraries as Leaders for Civic Engagement
Across North America, public libraries are stepping up as leaders of democracy and civic engagement in their communities. ULC is spotlighting those courageous leaders in our Faces of Democracy campaign.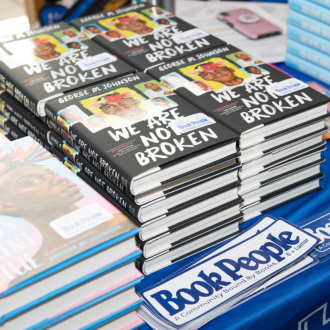 The Freedom to Read is a Right That Must Be Protected
Discover how Austin Public Library launched Banned Camp — a series of free events for the Austin community to come together, engage with books that have been banned or challenged and be part of the conversation around the freedom to read.