Inviting the Uninvited: An Unconventional Partnership Helps Bridge the Digital Divide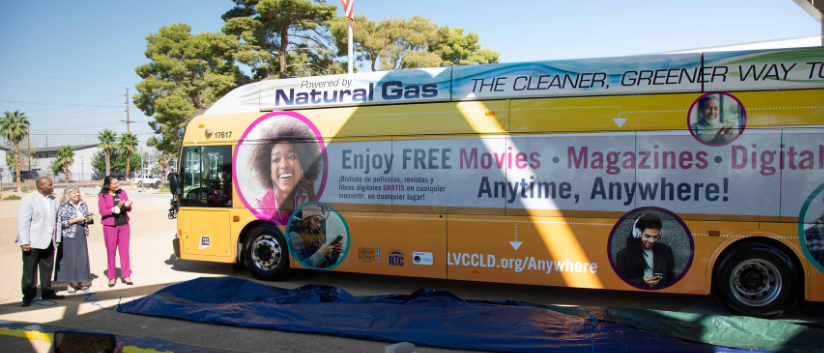 The pandemic has brought into sharp focus the urgent need for digital equity. In March 2020, as jobs, schools and social lives went virtual overnight, the Las Vegas-Clark County Library District (LVCCLD) began taking steps to provide easy access for discovery, enjoyment and remote learning outside our library walls and beyond our website. This initiative is a great example of this direction.
Use of high-speed broadband internet service increased rapidly in American homes between 2000 and 2010, according to a report in 2021 from the Pew Research Center. However, in recent years, broadband adoption growth has been much more sporadic. Today, roughly a quarter of American adults do not have broadband internet service at home.
Home broadband adoption varies across demographic groups. Studies show that racial minorities and those with lower levels of education and income are less likely to have broadband service, resulting in a lack of access to civic and cultural participation, lifelong learning, gainful employment and essential services.
Since joining the Las Vegas-Clark County Library District (LVCCLD) in February 2021, one of my top priorities has been to expand our customer base by reaching out to more underserved and diverse communities, address the digital divide and further expand our role as an essential, free resource for all Las Vegas Valley residents.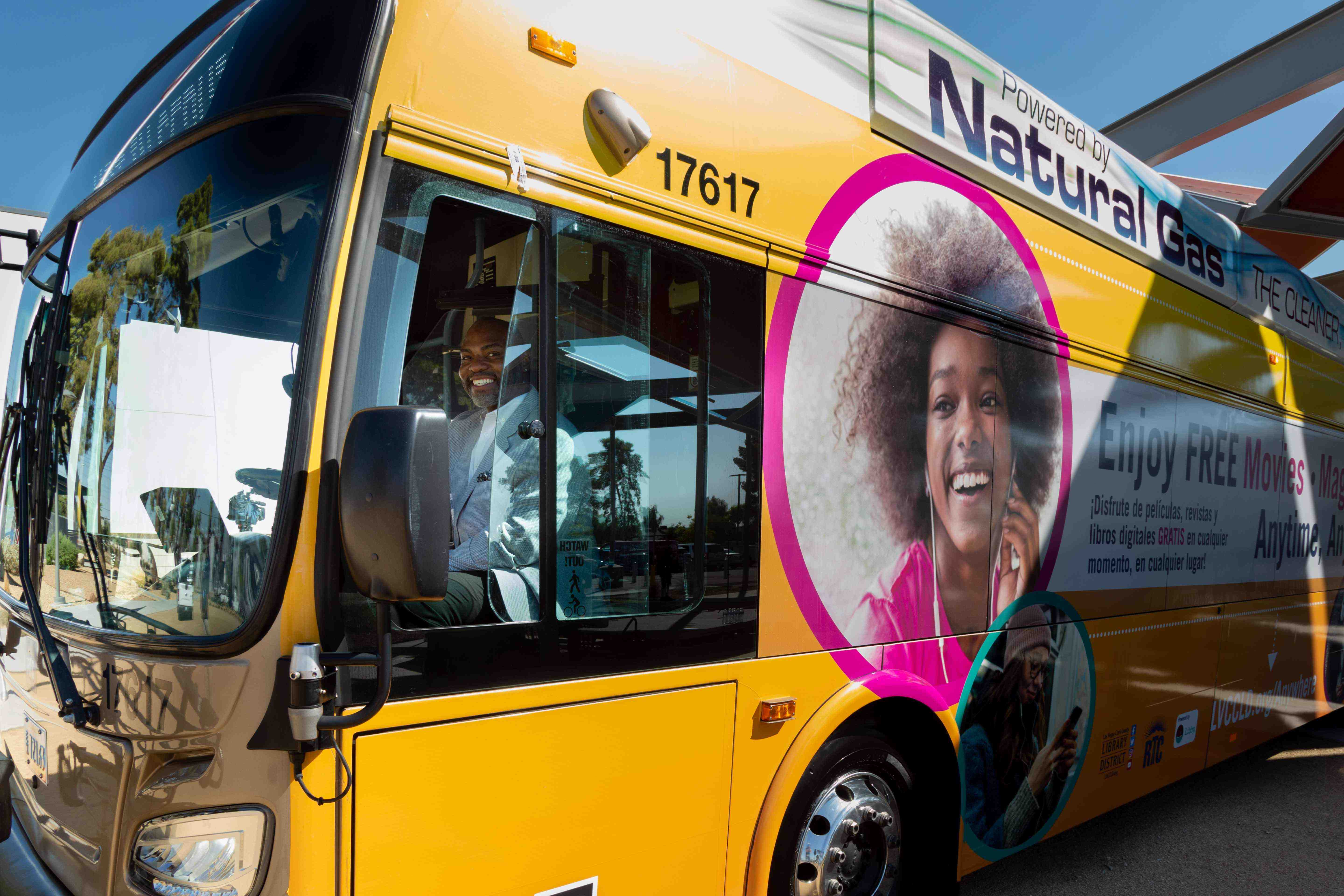 I know from experience that developing dynamic partnerships enables us to combine their resources with ours for the common good. In this case, the goal was to provide a new means of delivering our digital resources to new audiences. In March 2021, I met with M.J. Maynard, CEO of the Southern Nevada Regional Transportation Commission (RTC), and she immediately saw the benefits to her ridership. With the RTC's existing onboard Wi-Fi, we agreed that it would be simple to provide a downloadable app that bus riders could use to access movies, music or e-books and e-audiobooks at home, on their commute or anywhere on the go.
Ease of use was essential for this audience, and our branding and marketing (BAM) team designed a custom landing page with simple instructions in English and Spanish. They worked closely with the RTC marketing team, and our OverDrive representative, on the finer points and the "Anywhere, Anytime" campaign was ready to launch. The BAM team's design carried over to interior signage in 400 buses, along with the main RTC terminal, as well as bus shelter advertising in our library neighborhoods, and on a full-sized city bus, spectacularly wrapped with our colorful campaign.
The campaign also features a QR code, which takes the user directly to the Libby app instructions page on LVCCLD.org. Once downloaded, the users simply enter their mobile number and the Library District instantly verifies the new account, allowing immediate access to our digital collection.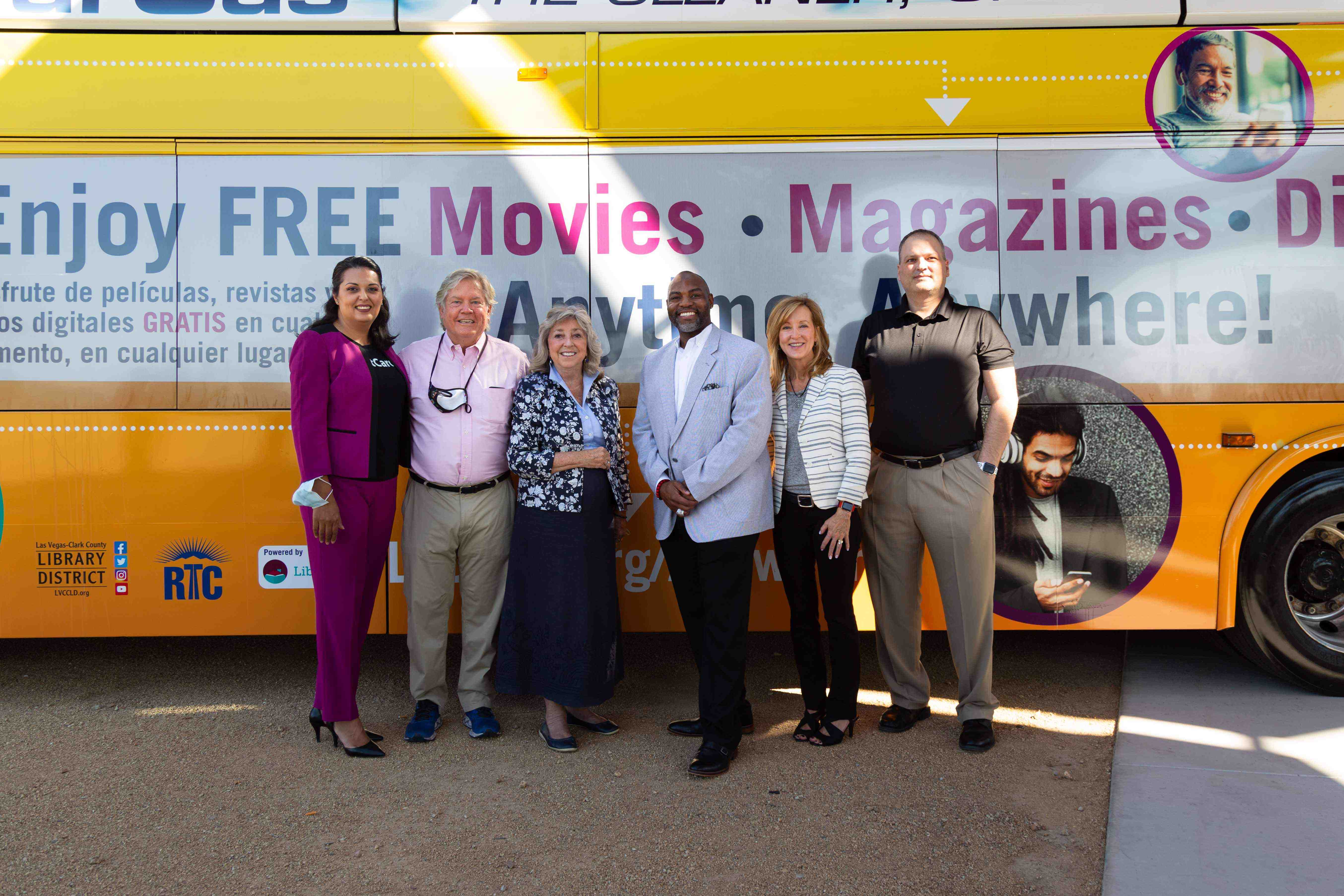 Pictured (left to right) Olivia Diaz, Las Vegas City Council; Tick Segerblom, Clark County Commission; Dina Titus, U.S. Representative; Kelvin Watson, executive director, Las Vegas-Clark County Library District; M.J. Maynard, CEO, Regional Transportation Authority of Southern Nevada; Brian Wilson, Board of Trustees Chair, Las Vegas-Clark County Library District

In closing, I believe that as librarians, we must strive to create transformative, unique service delivery methods that reach outside of our walls and beyond our websites. I remain convinced that the way forward, for libraries large and small, is to partner with businesses and organizations that have a shared purpose in uplifting and serving the underserved. We are truly stronger together.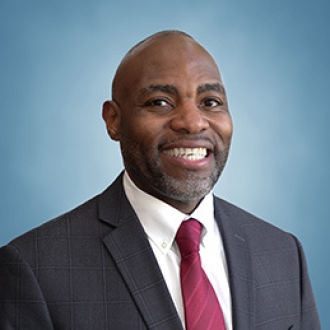 Kelvin Watson
Executive Director, Las Vegas-Clark County Library District
As executive director of the Las Vegas-Clark County Library District, Kelvin Watson oversees 25 branches spanning 8,000 square miles across Southern Nevada, a budget of $77 million, 630 employees and a collection of 3.2 million items. Mr. Watson is regarded as one of the most highly respected thought leaders in the library industry and brings innovative, award-winning leadership to Nevada's largest library system.
Bringing the Library to Transit Riders
Customer Experience | 2021 | Honorable Mention
Las Vegas-Clark County Library District was honored with an Honorable Mention award in the 2021 ULC Innovations Initiative for this partnership.

Click here to read the Innovations submission >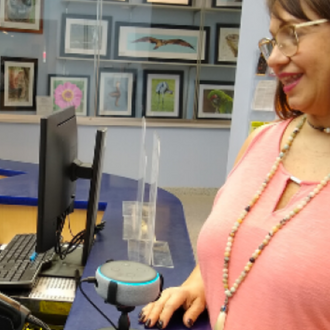 Broward County Library Welcomes Newcomers with Voice-Assisted Technology
Broward County Library
Learn how Broward County Library implemented emerging technlogy to assist patrons who do not share a common language.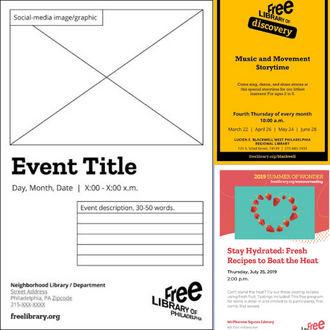 Flier Overload? How Self-Service Templates Can HelpFlier Overload? How Self-Service Templates Can Help
Free Library of Philadelphia
Learn how the Free Library of Philadelphia built self-service flier templates for to fast-track their event promotion needs.