Flier Overload? How Self-Service Templates Can Help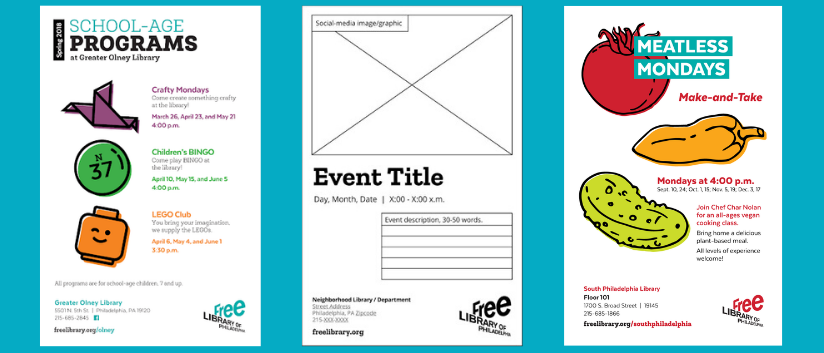 Public libraries are programming powerhouses. That's a big part of what makes us such a vital resource in so many communities. From after-school STEAM activities for teens to open-mic nights and fashion showcases, library staff are always finding new and creative ways to engage local audiences. But for a big public library system with a small communications team, this events machine presents a lot of challenges.
Making Do
At the Free Library of Philadelphia, a small four-person design and production studio assists with the print and promotional needs of 54 neighborhood libraries and several systemwide programming initiatives, like our Culinary Literacy Center and Business Resource and Information Center. From July 2017 to June 2018, our department produced more than 750 promotional fliers — a huge number for us, but still a mere fraction of the tens of thousands of programs produced by the system as a whole. Simply put, demand was greater than our two-person team could accommodate.
Looking for Relief
With so much time devoted to flier production, there was scant opportunity for the design department to focus on important informational campaigns about systemwide services and initiatives. At the same time, library staff were frustrated by long waits (typically a month or more) for print material.
In early 2018, our team experimented with ways to minimize the number of flier requests by asking neighborhood libraries to consolidate programming by audience and season. Our hope was that by combining multiple events onto a single flier we could maximize our efforts and dramatically decrease the project queue. Unfortunately, we quickly learned that these multi-use fliers were more challenging for our team to produce, thus not offering any real time savings. They also required libraries to determine their programming even further in advance, which we were discovering to be one of the greatest barriers to the existing printed flier request process.
Understanding the Problem
In order to find a solution to our problem, we needed to hear from library staff what issues they were facing around event promotion. So, we put together a survey to better understand how staff were currently handling event promotion, what print formats worked best for their audiences, where and through what media channels they were spreading the word and what their comfort level was with various software and technology.
The results of the survey confirmed that 100% of libraries were using print materials for event promotion and that more than 90% had made use of social media to promote their programs. We also learned that half-page fliers were popular among patrons, though full-page fliers worked well for on-site display. Not surprisingly, we learned that staff were looking for a faster turnaround for their flier needs to match the organic — and oftentimes rapid — nature of event creation.
Early Prototype
From our survey results, we determined that a templated flier solution was in order, one that, ideally, would be almost entirely self-service in order to allow for rapid turnaround. For our department, that meant we would need to create a tool that would preserve brand integrity while allowing sufficient flexibility to accommodate the rich diversity of programs produced throughout the library system.
In the summer of 2018, we created an early prototype — what we affectionately call "Template 1.0" — in which various aspects of the Free Library brand were locked up on a half-page flier while fillable text fields allowed staff to enter event titles, dates, times and descriptions. (Due to budgetary and systemwide technical considerations, we decided to produce our templates using Adobe Acrobat software — though a variety of software and vendor options are available for template creation.)
Onward and Upward
From the moment we started piloting "Template 1.0," we began iterating on an improved solution. While our initial version offered the benefits of quick turnaround and ease of use, it lacked the beautiful, eye-grabbing imagery that makes event fliers such effective marketing tools. We also wanted to be able to use whatever imagery would be included on a flier template across media, so that a cropped version could be shared via social media.
The breakthrough moment came when the software we were using to build our flier template, Adobe Acrobat, rolled out a new "insert image" field with its form builder making it possible to include a big space for color imagery at the top of our fliers. We used this feature in a new version — "Template 2.0" — that has revolutionized flier production at the Free Library. Library staff are now able to select their own imagery from a large bank of pre-made graphics and Free Library stock photography. We've also created a quick reference sheet for sourcing high-quality, rights-free images online in cases when staff need something beyond what our image bank offers.
After careful testing with a core group of superusers, we released "Template 2.0" systemwide in December 2018. Almost immediately, we saw our project queue cut in half. As of October 2019, we now on average generate twice the daily volume of fliers through our templates than we were able to accommodate before. And staff have let us know just how much they appreciate the new tool, regularly including notes of gratitude along with their print flier requests. They are also helping us improve the tool, offering suggestions for additions to the image bank for new and popular programs.
And we keep innovating. In summer 2019, we built a version of the template to use for our robust summer reading programming, allowing for the same easy-to-use self-service functionality while incorporating our special summer sub-branding. In the coming months, we hope to continue to build on the success of templates by offering additional self-service tools that allow our libraries to connect with communities and improve overall user experience for our patrons.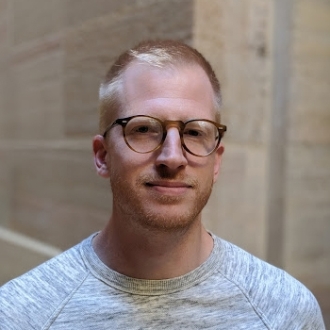 Nathanael Roesch
Senior Graphic Designer, Free Library of Philadelphia
Nathanael Roesch is a graphic designer at the Free Library of Philadelphia. He holds a doctorate in history of art from Bryn Mawr College and specializes in exhibition design. Before joining the Free Library, he worked in higher education communications and taught art history.