I Didn't Know the Library Did That!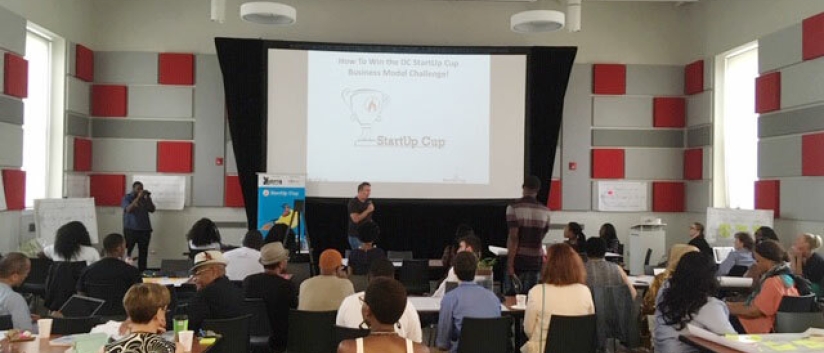 By David Quick, Adult Services Coordinator, DC Public Library
Those of us who work in public libraries have, probably more than once in our careers, told someone about a fantastic library resource and heard the exclamation "I didn't know the library did that!" For passionate library staff, this is often a moment of mixed feelings … excitement, but also frustration that people do not know about a useful resource that they have access to. Here at the DC Public Library, as we have developed a strategy for better deploying our business resources, this eureka moment has happened over and over, not just with individual library customers, but with important partners and even our own staff. Each eureka moment has brought us closer to finding our niche in the ecosystem of entrepreneurs in D.C.
As part of the ULC Strengthening Libraries as Entrepreneurial Hubs learning cohort, DCPL focused on services for justice-involved individuals pursuing entrepreneurship opportunities. Broader than the often-used "returning citizen," the phrase "justice-involved" includes individuals who are involved in the court system without having been in prison or jail. The justice-involved population faces challenges to traditional employment and may find entrepreneurship to be a more viable path to income. DCPL's operation of the D.C. jail library gives us some experience in supporting this population, and the ULC project has been an opportunity to deepen that work while building our expertise around the needs of entrepreneurs.
So, where have those eureka moments happened, and what did we learn from them?
Partner Education
We started by looking at the work that organizations in D.C. were already doing around entrepreneurship, particularly those that we had existing partnerships with. We did have a few, with groups like the Howard University Small Business Development Center and D.C.'s Department of Consumer and Regulatory Affairs. These partnerships generally involved public programming at the library and joint marketing efforts, but didn't rise to the level of robust collaboration that highlighted library resources and staff skills.
We started telling partners about the project and our plan to have librarians play a more active role in serving the business community. Though they had been leading programs in libraries for years, colleagues from other agencies and organizations responded with enthusiasm and also surprise that the library even had resources that matched their needs. Their enthusiasm was exciting, but realizing that important players did not have us on their radar was a wake-up call to get our business resources game back on track.
Each eureka moment has brought us closer to finding our niche in the ecosystem of entrepreneurs in D.C.
Connecting with Local Entrepreneurs
One of the partners who we had only lightly worked with was D.C.'s Department of Small and Local Business Development (DSLBD), a city agency that provides support and resources for new entrepreneurs. When we told other partners that we were looking for ways to serve justice-involved entrepreneurs, they told us that DSLBD was piloting a project for this community called Aspire to Entrepreneurship that paid individuals to learn the basics of business planning as part of a months-long learning cohort. We reached out to DSLBD and realized quickly that we had a common goal to hang a collaboration on.
DSLBD invited library staff to join one of their weekly meetings to demonstrate library resources and hear from the entrepreneurs about which services they would like to get from the library. This put us in the room with our target audience – we dove in and had an exciting conversation with the Aspire group. We learned that they were well acquainted with the library as a place to use the internet, use popular media and attend children's programming, but they had not seen the library providing a service like this. Not only was there surprise from the Aspire group that the public library was at the table, the librarians had a renewed sense about the role of the librarian in the D.C. business community – a new project targeted at such an important community was exciting.
Library as Convener
As we worked on the library-specific offerings for this community, we wanted to refresh staff skills and knowledge when it came to our business databases. We invited expert trainers from ReferenceUSA and Gale's DemographicsNow, and thought we'd take advantage of their presence to offer public training as well. For the public training, we invited our partners at the DSLBD, Howard University's Small Business Development Center and the Department of Consumer and Regulatory Affairs to participate and share information about their services. More than just a training around a specific resource, it became a meeting of members of the local business community convened by the library. With relatively simple effort, we made strides in meeting not only our target goal but in acting as a convener within the business community.
More than just a training around a specific resource, it became a meeting of members of the local business community convened by the library.
Staff Investment
Our most recent step in the ULC project has been to gather a small group of DCPL staff who will have entrepreneurship as one of their individual project goals for the coming year (a SMART goal for those who use that model). We identified four staff who were interested in the project and defined activities for them to lead throughout the year, mostly through outreach to groups like the Aspire cohort but also programs inside of library branches. Interestingly, this was another moment when staff perked up around a juicy new project that they may not have known they could include in their library programming. Those who signed up for the project were motivated by an interest in entrepreneurship, the justice-involved community or just a substantive new project. Additionally, our DSLBD and SBDC partners volunteered to help orient and train them. DSLBD has gone further to include library staff in the planning for the next Aspire cohort, giving us a direct line to our target audience and giving them further resources to support new entrepreneurs.
Throughout this project and in each of these moments, moving forward with enthusiasm and openness has only created new possibilities. Though we have felt very much like novices in engaging D.C.'s world of entrepreneurs, acting quickly with curiosity and willingness to try new things has gotten us far very quickly.

David Quick is the adult services coordinator for the DC Public Library and supports library staff in programs ranging from book clubs to bike tours to businesses!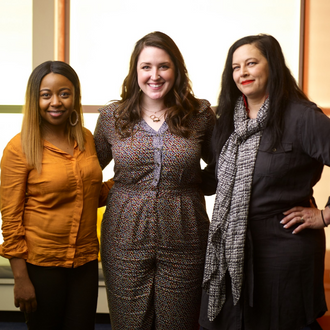 Do Space Fellowship Challenges Women Innovators to Address #Tech and #Business Gaps
Do Space
Learn how an innovative Do Space fellowship program empowered local women entrepreneurs and raised attention to the gender gap in professional technical roles.
Locally, Nationally and Now Internationally, Kansas City Public Library Pushes Digital Equity
Kansas City Public Library
Learn how Kansas City Public Library has expanded the frontiers of its digital equity advocacy.