How Libraries Can Encourage Positive Community Experiences for Disabled People
Pictured: Two students participate in gardening at the Maze Branch accessible sensory community garden.

Written by Shelley Harris, Children's Librarian, Oak Park Public Library
77% of people with disabilities do not participate in their community. [1]
When I heard this statistic at a 2019 assistive technology conference, I was struck. How could I, as a children's librarian at the Oak Park Public Library, address this? For a robust and complete community, we need disabled kids and adults to be part of it. Libraries are for the full community. We are well placed to welcome everyone in many different ways. But where to start?

Programs
Over a decade earlier, I had started supported storytime classes at the library. Our supported classes have a schedule at their foundation, with calming and alerting activities built in for accessibility.
But older kids and tweens weren't visiting. Were we already losing disabled kids to that statistic?
So I got creative. I added more supported classes: cooking, music, musical theater, yoga. I created my pride and joy, turning a small space of land outside our Maze Branch into an accessible sensory community garden. This was my direct answer to what I could do to include disabled community members. Gardening is age appropriate for everyone and offers mental, social and emotional benefits.
We reached out to our high school special education department. We invited their students to help us plant our garden in the spring, and help us put it to bed in the autumn.
In between, the garden would be tended entirely by disabled kids and tweens through a series of supported classes. We bought accessible tools, made schedules, 3D-printed Braille labels for our herbs and dug in.
The goal was to give disabled kids and teens ownership over the garden and an opportunity to be part of the community by growing herbs that people were welcome to take all summer long. They also had the chance to give back by donating extra herbs to our local food pantry. Too often, disabled people are seen only as receivers–of charity and of pity. But all people have something to share and give.
The high school visits were a great success. They helped us build wheelchair-accessible planters, and the students loved to cook with herbs we grew and harvested.
This led to a much stronger partnership, with consistent visits. These students now come once a week to browse the library's High School Services department and play video and board games, and once a month to make fun recipes, building their confidence, independence and comfort in a community setting.
With the popularity of urban gardening, even libraries that only have window sills or room for one pot can build a small garden and connect it with cooking and community.
Collections
My brother is disabled, and I often think back to when he was younger. There was so much we didn't know and had to teach ourselves about, like technology that could support him. What can I offer families now?
I love to attend assistive technology conferences like ATIA and Closing the Gap and see what's being created. That's where I learned about C-Pen scanner pens that will read text aloud, define words and, in some cases, translate. They're perfect for kids with dyslexia, struggling readers, and emergent bilingual students. Our library owns two pens that circulate.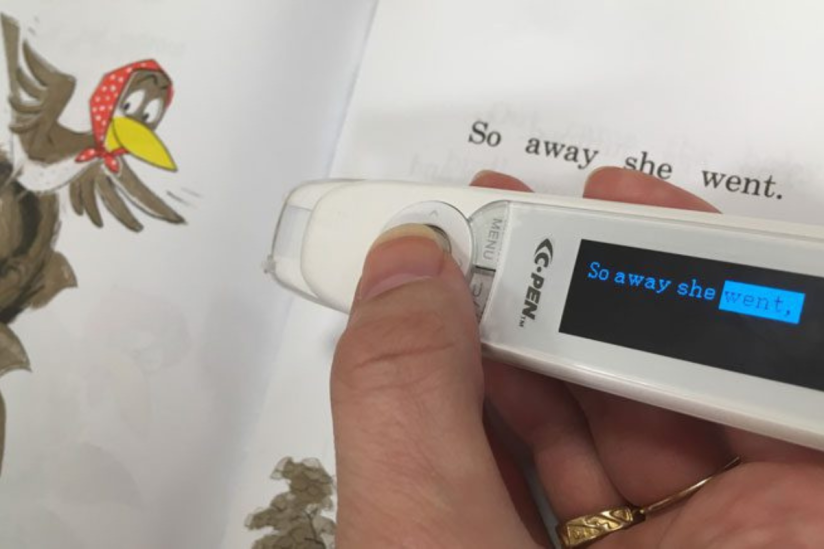 Pictured: A librarian uses a C-Pen scanner pen that reads the words "So away she went."

For years, I dreamed about circulating iPads loaded with Augmentative and Alternative Communication (AAC) apps. Everyone who uses AAC to communicate has to go through evaluations and trials to determine which of the many options will be best for them. Wait lists are long from the companies and very few community organizations that lend them out.

In 2022, that dream finally came true. With input from local speech therapists, I purchased six of the most commonly used apps: Grid, TouchChat, TD Snap, Proloquo2Go, Proloquo with Proloquo Coach, and LAMP Words for Life.
Once therapists, educators and families knew we had these, the hold lists grew. The two iPads have been consistently checked out since they launched, and at any point there are three to four people waiting. Therapists use them to trial with families, and families use them to explore what has been selected for their children. It's important for AAC users to see people around them modeling language on devices, too, and we're giving more families that opportunity.
These apps are expensive — a few hundred dollars each — but libraries can buy one or two a year. Almost every company offers half-price sales in April for Autism Acceptance Month and in October for AAC Awareness Month, which makes them more financially accessible.
Outreach
In libraries, we talk a lot about the importance of books as mirrors and windows. Well, there aren't many books about disabled kids, and most of what is published is not great representation and can be actively harmful. So how can we help all kids understand disabilities and encourage pride in disabled kids?
The Nora Project is an amazing school curriculum designed for disabled and abled peers, preschool through high school, to learn about disabilities and advocacy. It's brilliant, but expensive. However, by using their free lessons and the incredible and massive free discussion guide to the picture book We Move Together by Kelly Fritsch, my colleague Genevieve and I were able to create 60-minute field trips for K-12 classes.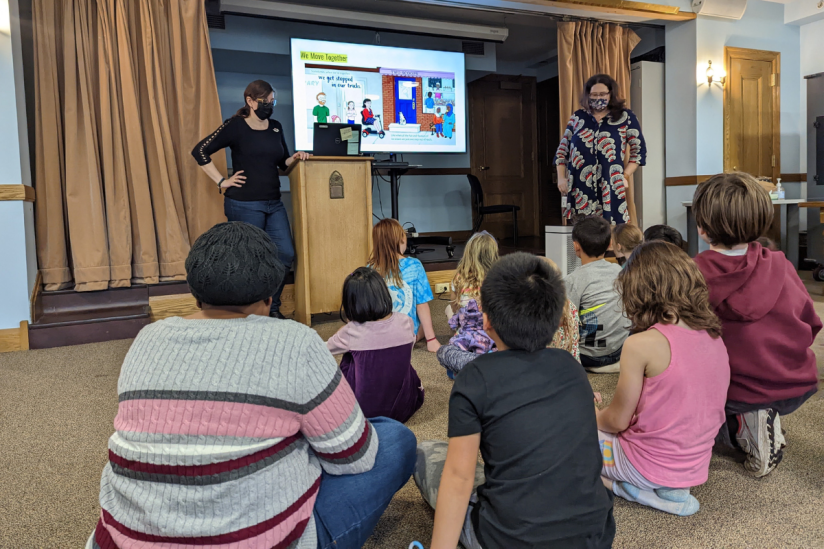 Pictured: Two librarians lead an activity on the book "We Move Together" for a group of students.

Disabilities make a lot of people uncomfortable to talk about. But when you make space for discussion and learning, kids can be amazing. We dove into what disabilities are and what ableism is. We discussed identities, and how the first things people see about us are rarely what we most want them to see. Most importantly, we shared videos so they could learn straight from disabled people, and analyzed picture books written and illustrated by disabled creators.
Part of my job is creating early learning videos, and I have created one based on our field trips, Disabilities are Normal!, and one based on We Move Together.
By creating welcoming spaces and engaging programming, and helping local children learn the importance of disability advocacy and pride, I hope that I am encouraging positive community experiences for disabled people and that more libraries can continue to follow suit.
---
[1] Wagner, M., Newman, L., Cameto, R., Garza, N., & Levine, P. (2005). After high school: A first look at the postschool experiences of youth with disabilities. A report from the National Longitudinal Transition Study-2 (NLTS2). Menlo Park, CA: SRI International.
Learn more about identity-first language: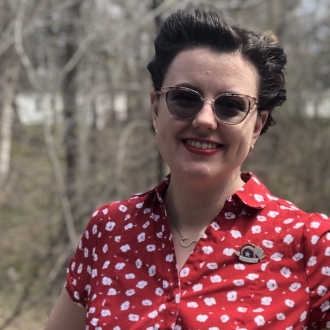 Shelley Harris, MLIS
Children's Librarian, Oak Park Public Library
Shelley Harris, MLIS, is a children's librarian with a passion for early literacy, serving and celebrating the disability community and exploring technology. She has a bachelor's degree in Speech and Hearing Science, previously worked as a paraprofessional with autistic and deaf children, and has helped support her disabled brother's education for decades. She can often be found practicing storytime songs with her black lab, Bingo. She can be reached by email at shelleyh@oppl.org and @RedLipBookWizrd on Twitter.
Supporting Mental Health and Well-Being in Pima County
At Pima County Public Library, the Synapse Team connects patrons and staff to resources that inform optimal mental health practices, reduce stigma often associated with mental health issues, empower community members to seek necessary help and serve as a bridge to community partners.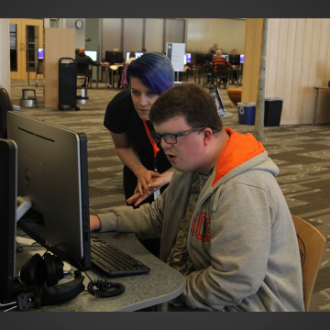 AnyAbility: Providing Inclusive Library Experiences to Adults with Disabilities
Discover how Anythink Libraries engages with patrons who are often overlooked in our society.