AnyAbility: Providing Inclusive Library Experiences to Adults with Disabilities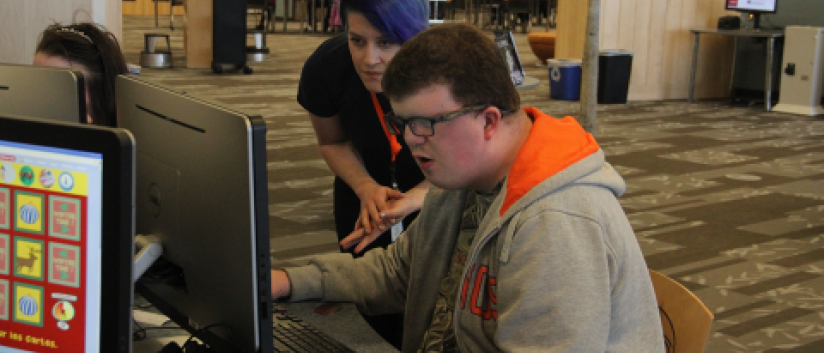 A community that excludes even one of its members is no community at all.
Dan Wilkins
When Anythink Wright Farms – Anythink's flagship branch – opened its doors nearly 10 years ago, I noticed an opportunity to further engage with customers who are often overlooked in our society. Several groups of adults with physical or intellectual and developmental disabilities (IDD) were coming into our library, but remaining isolated from the rest of our customers. We noticed that these individuals were using our spaces, but not our services. Instead of watching the direct support professionals usher community groups to corners of the library, I invited them to eat lunch at tables in more publicly visible spaces. I also encouraged them to enjoy our experience zones, participatory experiences created by staff throughout the library. As I encouraged our fellow staff to do the same, the library space naturally became more welcoming. Alongside these practices, staff were encouraged to engage regularly with this particular population, a practice that may have felt awkward and unfamiliar to both parties in the beginning. As time passed, staff began to develop relationships with direct support professionals and program participants; learning names, favorite topics and idiosyncrasies.

During this time, I delivered a staff training on tips for providing excellent customer service to individuals with physical disabilities and IDD, introducing inclusive language and emphasizing customer-centric interactions. When staff make the deliberate and conscious choice to overcome attitudinal barriers – such as pity, fear and stereotyping – and treat customers with disabilities the same as any other customer, the possibility for inclusion arises and the level of overall hospitality and customer service at the library is elevated.

By 2014, we had developed AnyAbility. AnyAbility is both a specific program as well as a philosophy. This monthly program, sometimes hosted in conjunction with community partners, provides activities and socialization opportunity for adults with cognitive and intellectual disabilities. AnyAbility philosophy highlights how the library is for everyone, regardless of any dependency on others for basic life functions due to age or ability. Part of AnyAbility's success includes its training for staff to face perceptions of this population and work on communication and interaction.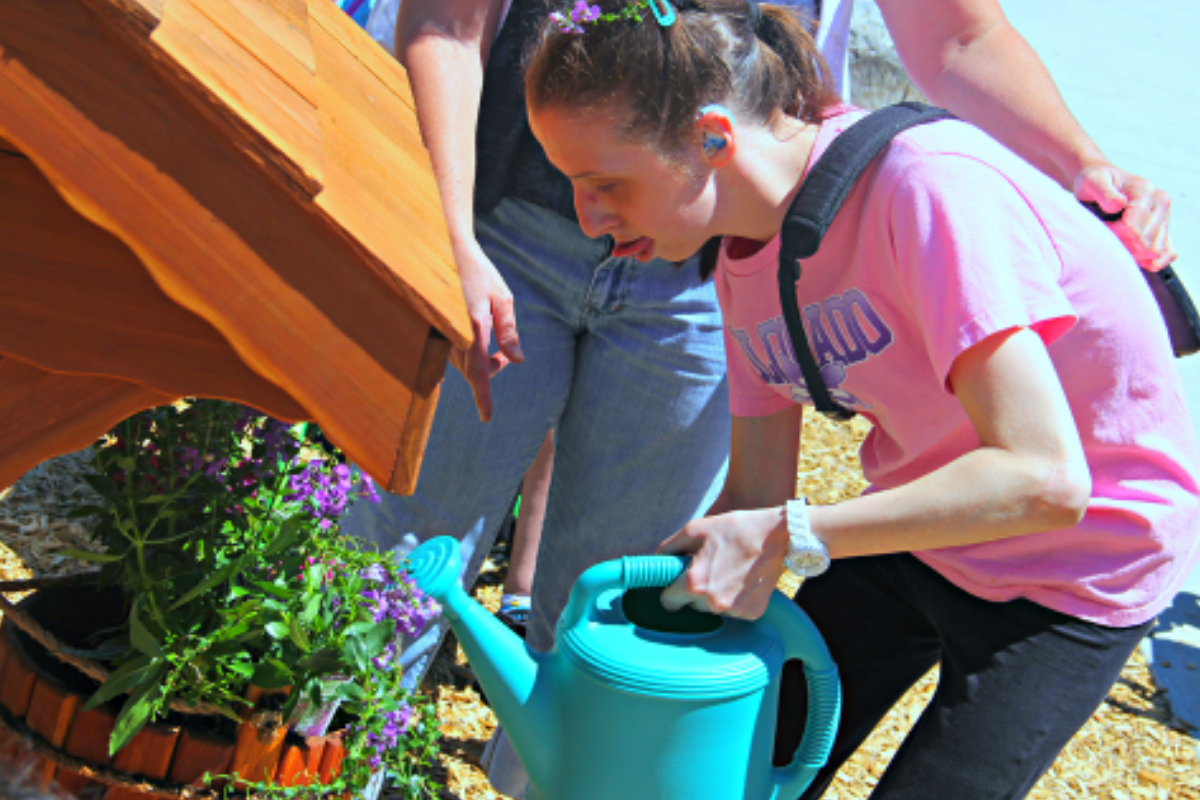 Ashlie watering flowers
Through the years, we have learned that an intentional planning process is pivotal to providing elevated programming for adults with IDD. Choosing well-rounded activities that include exposure to cultural experiences through guest performers, physical activity such as accessible exercise classes and dancing, elevated adult-level art projects and exposure to community resources and facilities through guest speakers are some program ideas to consider.

We do our best to invite guests to our AnyAbility programs on a quarterly basis. We have local artists and organizations provide acting workshops, martial arts, Zumba and aerobics, storytelling, holiday caroling, portraits and caricatures and much more. Other popular activities include karaoke, trivia, science experiments, game shows and gardening. Most AnyAbility programs include a component that is interactive and engages motor skills, along with another complementary activity that engages cognitive skills. AnyAbility hosts approximately 40 participants once a month for 90 minutes.

Socializing is a very important part of AnyAbility, which supports the development and maintenance of friendships for many attendees. In fact, we've been able to watch many friendships blossom over the years. One such friendship is between Connie and Kassandra, two participants who attend AnyAbility as individuals, not part of a larger group. These two women have spent several years nurturing their friendship through this program, as well as outside of the library.
We have found that hosting two annual programs, Camp AnyAbility in July and a community service-centered program in November, have been very successful. For Camp AnyAbility, we prepare and eat a camp-themed snack together and sing songs. In November, we enjoy pie and work on a community service project. This past November, we made dog toys for the local animal shelter.

Confidently and independently accessing Anythink Libraries, its materials and resources, combined with access to a thoughtful and varied monthly program, has given adults with IDD or physical disabilities a unique place to call their own in the community.
In September of 2019, Anythink Libraries and the AnyAbility team hosted a Career Fair for All Abilities, which drew 140 attendees from across the Denver-metro area. The team reached out to employers open to hiring persons with all abilities, as well as the county workforce and vocational rehabilitation center and other local agencies. This career fair offered attending individuals resume assistance and professional headshots, in addition to networking opportunities – all at no cost.

The career fair was a smashing success, ultimately made possible because the AnyAbility team has spent years developing relationships with service providers for those with IDD. These relationships have taken hours of personal and professional conversations: connecting on how to best facilitate AnyAbility program registration, managing library cards and accounts, visiting local service provider agencies and providing detailed and consistent information about our programming.

It's important to understand that AnyAbility's success is a product of years of hard work and intentional culture shift. Anythink administration, management and staff take great pride in AnyAbility, as both a specific program and a philosophy. Creating and maintaining an environment that adults with disabilities can confidently and independently access for free is a valuable asset to the community and something that aligns with Anythink's strategic plan.

This natural transition into elevated hospitality has spilled over into interactions, not just between all staff and customers, but between AnyAbility customers and the general public. When everyone in our libraries observe staff attending to everyone in a consistent manner, it equalizes the community and breaks down barriers. We are proud to be a fully inclusive library. Confidently and independently accessing Anythink Libraries, its materials and resources, combined with access to a thoughtful and varied monthly program, has given adults with IDD or physical disabilities a unique place to call their own in the community.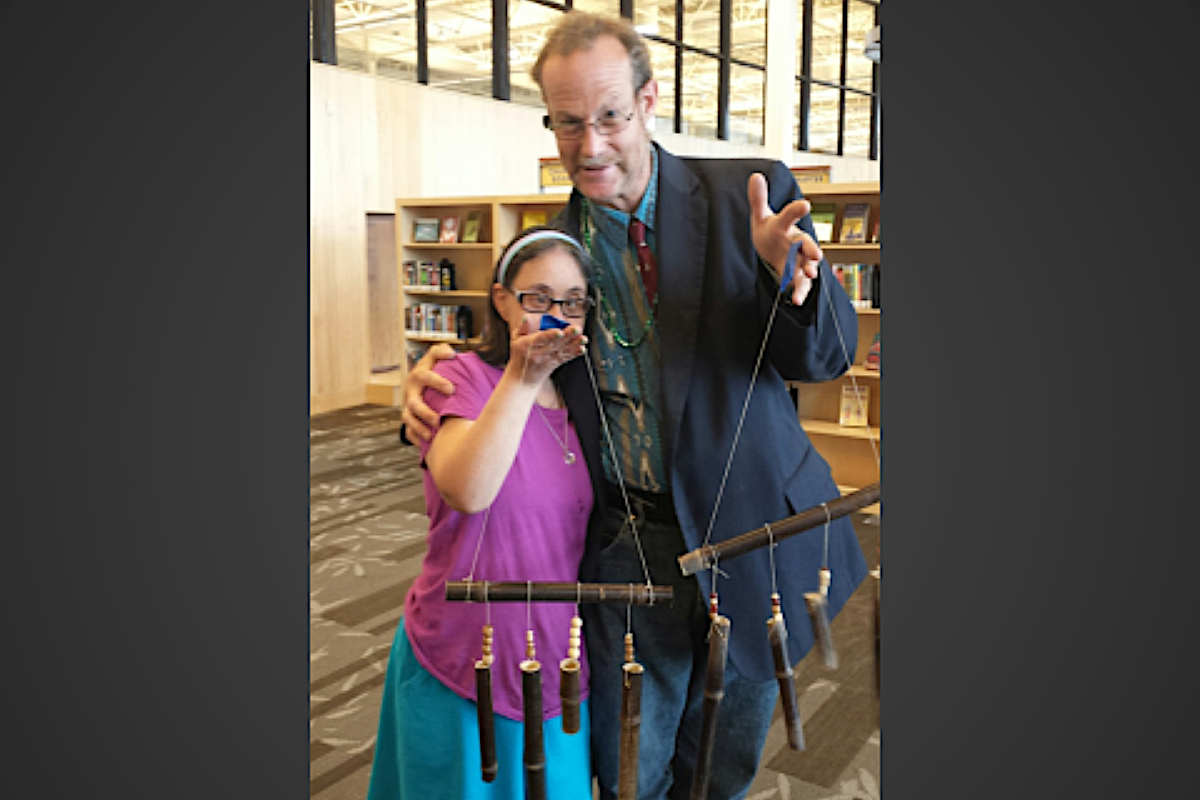 James and Denise using wind chimes
In 2020, the library had to temporarily close its doors due to COVID-19. While we were unable to physically gather with our AnyAbility customers during this time, it was important for us to maintain our connections and traditions with these individuals.

Because Camp AnyAbility is such a staple in our programming, we decided to reach out directly to AnyAbility members through the mail. The AnyAbility team created care packages for customers to explore at home. They included ingredients for s'mores and seed-planting supplies. In addition, we provided self-addressed and stamped postcards for customers to send back to us with more information about their lives during this time. We asked each person if they had spent time outside, watched movies or read books or enjoyed cooking and eating with family and friends. We also provided a space on the postcard for each person to write their name and provide any other details about their summer.
It was heartwarming to see so many returned postcards, and this gesture helped maintain a sense of connection. As we head into the fall, we plan to continue fostering these relationships through more delivery activities, including our upcoming plans to provide small pumpkins and decorating supplies to celebrate the fall season. We look forward to the day when we can safely host in-person AnyAbility gatherings. Until then, our team remains energized and dedicated to finding creative ways to support our AnyAbility members.
A concierge at Anythink Libraries, Hannah Martinez played an integral role in developing AnyAbility, Anythink's program for adults with disabilities. Hannah's desire to foster inclusion and promote dignity, combined with her passion for library services, led her to create a number of experiences tailored specifically for this group of library customers. For her work with AnyAbility, now in its fifth year, Hannah was awarded the 2015 Lucy Schweers Award for Excellence in Paralibrarianship from the Colorado Association of Libraries.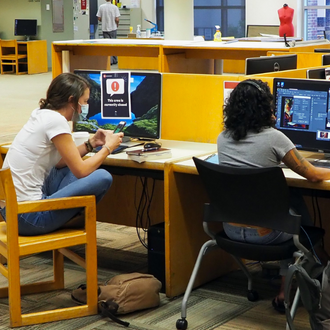 Now Is the Time for Risk-Taking & Experimentation
Cincinnati & Hamilton County Public Library
Discover how Cincinnati & Hamilton County Public Library is experimenting to figure out the best ways to serve students in a learning environment that is a mix of in-person and remote learning.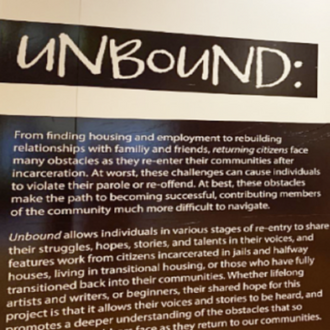 Supporting Justice-Involved Residents in Unique, Impactful Ways
Cincinnati and Hamilton County Public Library
Discover how The Public Library of Cincinnati and Hamilton County has taken on an intentional, community needs-based approach to supporting incarcerated re-entering citizens and their families.