Supporting Justice-Involved Residents in Unique, Impactful Ways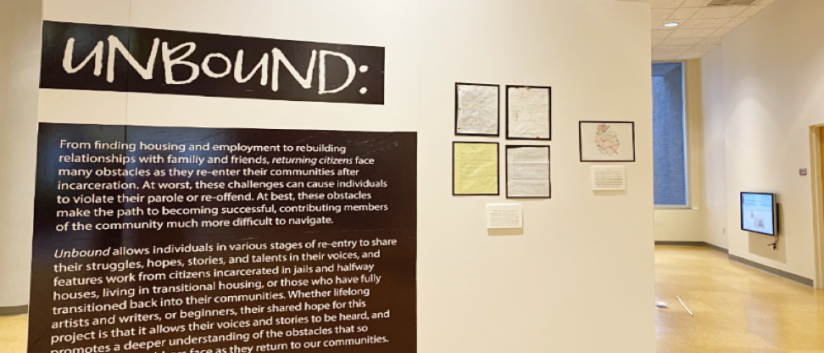 Sometimes we're fractured by the choices we make; sometimes we're shattered by things we would never have chosen. But our brokenness is also the source of our common humanity, the basis for our shared search for comfort, meaning, and healing.
Bryan Stevenson
Bryan Stevenson powerfully writes about the toxic problem of mass incarceration and what to do about it in his popular memoir, Just Mercy: A Story of Justice and Redemption. Stevenson's work on criminal justice reform made him a natural choice to serve as the inaugural speaker for the Cincinnati and Hamilton County Public Library Foundation's lecture series that aims to drive community dialogue and bring mass incarceration and re-entry services to the forefront. The annual Mary S. Stern Lecture, first held in October 2019 in downtown Cincinnati, intends to create shared experiences and dialogue to expand knowledge and understanding of our world, based on the speaker's personal experiences.

In that spirit, and to highlight our evolving role as a 21st-century public library, we have taken an intentional, community needs-based approach to re-entry services that compliments Hamilton County's support for incarcerated re-entering citizens and their families. During the past two years, our library strategically joined the ecosystem of social services organizations, faith-based supporters and transitional housing programs, which support formerly incarcerated people and connect them to our array of library resources and compassionate staff.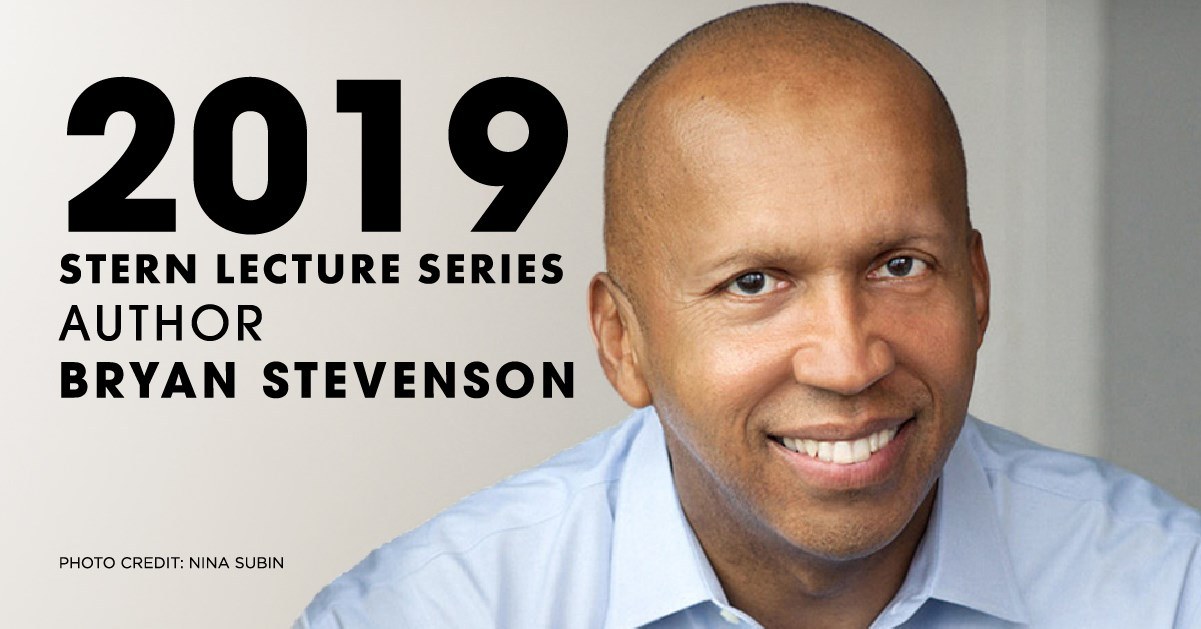 While the Stern lecture drew an immense crowd of more than 2,600, we also seek out everyday, accessible ways to support, enlighten and inform our communities on incarceration and re-entry. Our blog post — 15 ways to learn more about ending mass incarceration — exemplifies one way of providing opportunities to learn more and evoke thought and conversations. Further, we developed collaborative relationships with several community agencies doing work related to re-entry — Volunteers of America (VOA) transitional housing, Living in Testimony (LIT) faith-based transitional housing with addiction counseling and RISE Up News, an innovative newspaper and resource guide written for incarcerated and re-entering citizens.

Our library also formed a partnership in early 2018 with the Hamilton County Office of Re-Entry. Currently, library staff visit our county Justice Center prison each week for hour-long sessions. Initially, our idea was to simply promote library resources to incarcerated residents. We quickly learned that inmates wanted more: one-on-one dialogue, customized information and the ability to share each person's creativity and ideas. We adapted our service model to include opportunities to encourage listening to each other, sharing perspectives on societal issues and reading an article together each week to enhance literacy and reading comprehension. By facilitating meaningful discussions, inmates and library staff listen to each other to encourage shared understanding and deliberative thought. Our work with inmates has grown to include a "reference service" where we answer questions related to the law and the Ohio Revised Code, how to start a small business, how to achieve a patent and more. We discovered that song lyrics, sports scores, Soduku and crossword puzzles are in high demand. Providing such opportunities and resources support critical thinking skills, recreational needs and ultimately enhance well-being. During recent visits, we continued to grow together based on aspirations of residents. Library staff created new opportunities for inmates to write poetry, narratives and to draw. This approach allowed our residents to further discuss their perspectives in creative and artistic ways that promote a humanizing sense of pride, equity and inclusion.

When analyzing ways that our library can complement — not duplicate — impactful, co-existing countywide services, we joined the Hamilton County Office of Re-Entry's One-Stop Resource Center, created to eliminate barriers to accessing supportive services for all Hamilton County residents, including those with criminal convictions. Each month at One-Stop, we provide on-the-spot library cards to community members and their families, connect people to our workforce development resources (including free access to Lynda.com and Treehouse), our homework help and tutoring services for youth and families, our free faxing services of paperwork to Job & Family Services countywide, and more. We present a welcoming, compassionate face of the library that represents our diverse staff and resources.

Our re-entry services efforts culminated meaningfully in 2019 with our exhibit Unbound. Via ongoing sessions with residents at our Justice Center and transitional living facilities, we collected writings, poetry and drawings which feature each other's creative talents. With the permission of inmates to display their work in a public space, Unbound seeks to personalize and humanize the experiences of citizens in varying stages of return from incarceration. Not only does the exhibition discuss the obstacles individuals face, but it also highlights the assistance individuals receive from various local organizations in our ecosystem of support.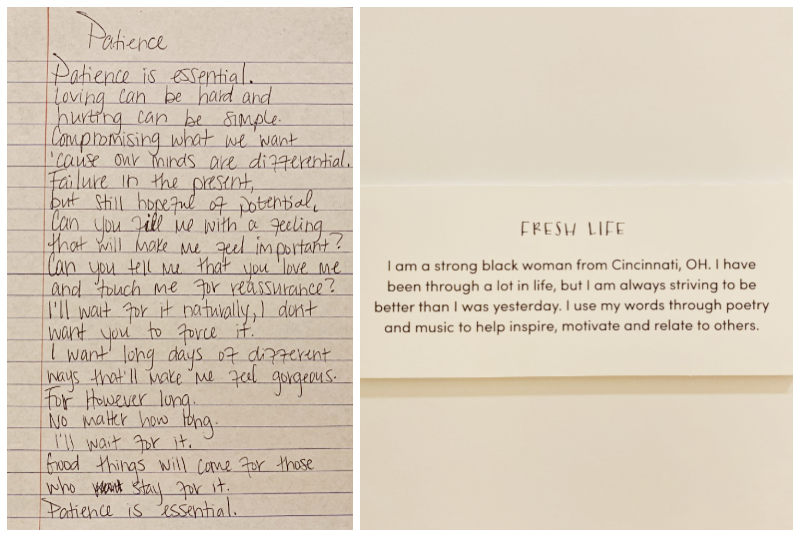 Statistics are daunting, but libraries provide resources and staff in impactful, innovative and hopeful ways. According to the Ohio Justice & Policy Center, 994,000 Ohioans have felony records, and in the past 40 years in Ohio, the number of people behind bars has more than quadrupled. Now Ohio has the seventh-largest prison population in the U.S. Our library is proud to help transform statewide community re-entry efforts along with our neighbors Cleveland Public Library and Columbus Metropolitan Library, and to propel the library profession's industry-leading excellence. Our library staff members working one-on-one with re-entering citizens in Hamilton County sum it up: "There are a lot of misconceptions when it comes to returning citizens. When we think of the criminal justice system, we think of the crime, the trial and then the incarceration," says Correna Kuhl. "But the vast majority of incarcerated people get out, whether that's in a few months or many years. So first when we think about returning citizens, we have to recognize that they exist, that they are common and that their communities are our communities." Keloni Parks adds, "A couple of the men have visited the Downtown Main Library to enthusiastically inform us of projects they're continuing, or how they are using our MakerSpace to work on a project we discussed in the Reentry Pod."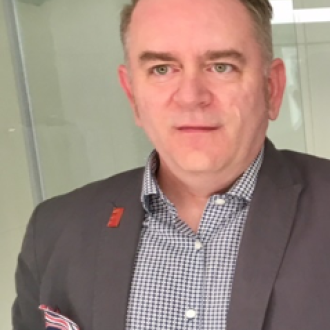 David Siders
Civic Engagement Coordinator, Cincinnati and Hamilton County Public Library
David Siders is a 30-year veteran of the Cincinnati and Hamilton County Public Library. From shelver to reference librarian to manager working in a number of library locations, David's current role is civic engagement coordinator.
Contact: David.Siders@CincinnatiLibrary.org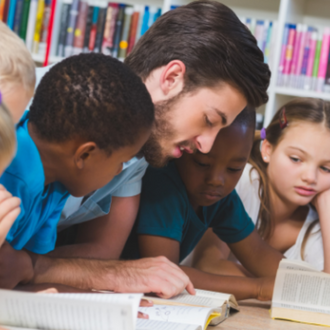 The Freedom to Read is Worth Fighting For
Anti-Defamation League
Jinnie Spiegler from the Anti-Defamation League outlines the impacts of book banning on children and the steps libraries can take to ensure free access to library materials.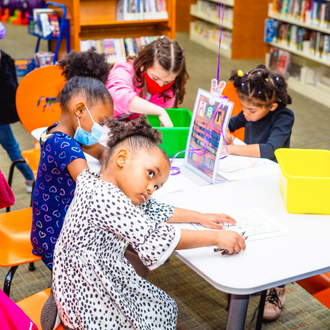 Lexington Public Library & Luna Library: Celebrating and Creating Black History
Lexington Public Library
Learn more about the launch of the Luna Library, a special collection of children's books within LPL's catalog featuring titles by, for and about Black people named in memory of Kamaria Spaulding.