Honoring Bill Ptacek, Winner of the 2019 ULC Executive Board Award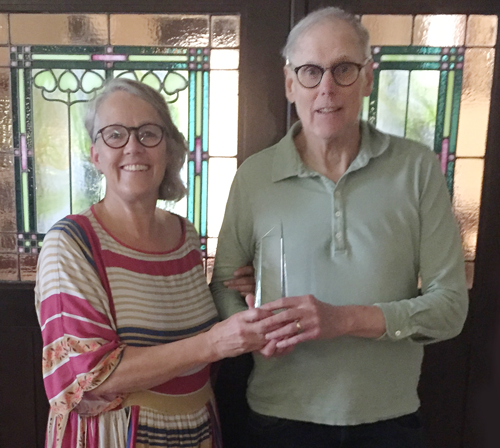 Janet Hutchinson (ULC Executive Board Member, Former Chair of the Calgary Public Library Board) presents Bill Ptacek (Former CEO, Calgary Public Library) with the 2019 ULC Executive Board Award.
Earlier this summer, ULC had the privilege of recognizing Bill Ptacek's outstanding leadership and contributions to the public library field by presenting him with the 2019 ULC Executive Board Award. Bill is the third-ever recipient of this award, which honors individuals who have made an exceptional impact on ULC's mission to elevate the essential role of public libraries in 21st-century communities.
Bill is retiring this fall from his work at Calgary Public Library, where he served as CEO for five years — before passing that title to Mark Asberg earlier this month. At CPL, Bill's visionary leadership helped revolutionize the mindset of the 116-year-old system, equipping all CPL staff to adopt an outcomes-driven approach to their work, and deepening the library's investment in patron experience. Bill worked hard to develop relationships with government and community groups and partnerships with local school boards.
His efforts led to a full rebranding, a new catalogue and website, free library cards for all, the growth of the library's Foundation and new, enhanced collections at all libraries in the CPL system. CPL opened its new 240,000-square-foot Central Library on November 1, 2018, with Bill overseeing the details and logistics for the new architectural landmark that showcases every aspect of this system-wide rebirth. The exquisite, modern library design wowed residents and garnered CPL a 2019 American Institute of Architects/American Library Association Library Building Award.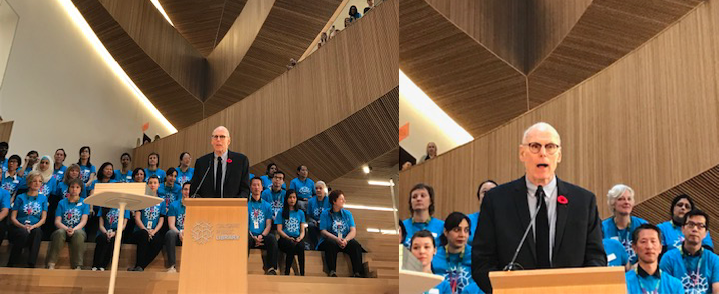 Bill Ptacek welcomes attendees of the grand opening for CPL's new Central Library.
Bill has always relished opportunities to share his innovations and collaborate with library colleagues and community members. ULC and our members have had the great fortune to learn from Bill and to experience the impact of his work first-hand, including at several occasions over the past year. ULC President and CEO Susan Benton attended the grand opening event of the Central Library last fall, sharing her takeaways in the first-ever ULC blog post. This summer, ULC members learned valuable lessons from the CPL team about "Safety and Security in Libraries" during a webinar presented on August 26.
In May 2019, Bill opened CPL's doors for ULC's second-ever Lessons from the Field event. More than 50 ULC members convened in Calgary to experience the new Central Library and to learn from CPL's innovative work under Bill's leadership. Attendees engaged with Bill and his team in interactive learning sessions, exploring how to adopt a "do-stuff" philosophy, change staff culture, incorporate system planning for strategic growth and create value from partnerships.
Beyond this past year, Bill has been a valued friend to ULC, an internationally recognized public library changemaker and a transformational community leader across his career. Before joining CPL, Bill served as CEO for the King County Library System in Washington state for 20 years, where he led KCLS to become Library Journal's "Library of the Year" in 2011. While at KCLS and CPL, Bill nominated three of his library board members to serve on the ULC Executive Board – Wai Fong Lee, Kari Glover and Janet Hutchison.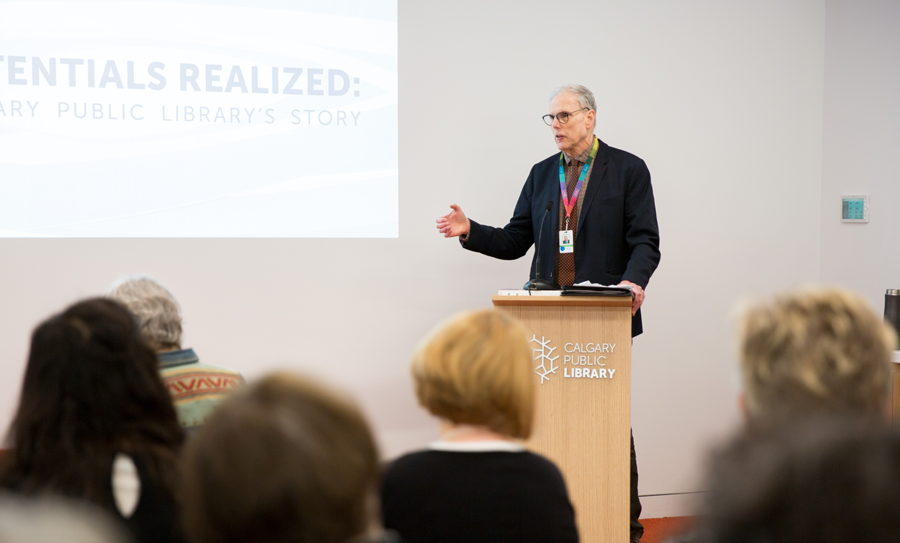 Bill Ptacek addresses attendees of ULC's 2019 Lessons from the Field convening in Calgary. Photo credit: Ricky Lam.
ULC is not alone in recognizing Bill's exceptional leadership. Earlier this summer, Calgary Mayor Naheed Nenshi awarded Bill with one of the city's highest honors — Citizen of the Year. This prestigious title is given annually to a Calgarian who, within the last five years, has made an extraordinary contribution that improved the quality of life in Calgary.
In an interview for the City of Calgary following his award win, Bill reflected on CPL's community impact: "What's really cool is we're demonstrating to the rest of the world that [the library] is an investment that's worthwhile everywhere. … [t]hat people still want to be with one another, and that places like libraries can be that place where people can come together and gather."

Bill's visionary leadership and strong belief in the power of libraries to unite and empower communities continues to inspire library leaders around the world. ULC is grateful for the opportunity to honor Bill's tremendous achievements with the 2019 ULC Executive Board Award.