Celebrating Indigenous Cultures with New Library Initiatives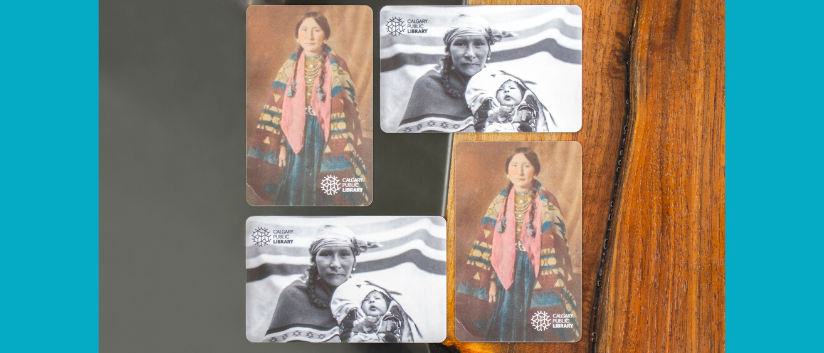 Since hiring its first dedicated Indigenous Services team member in 2017, Calgary Public Library has made strides to ensure our programs and services reflect the needs of Calgary's Indigenous communities. In the last year, we took several momentous steps toward enhancing Indigenous Services. From building a new Indigenous Languages Resource Centre to releasing new collections, artwork and limited-edition library cards, this system is showing how public libraries can be a driving force in supporting reconciliation in the community.
Opening the Indigenous Languages Resource Centre
On December 14, 2019, Indigenous Languages Day was held at Central Library. The event marked the official opening of the Indigenous Languages Resource Centre, a new space dedicated to sharing Indigenous cultures from the Treaty 7 territory on which Calgary is located.
Designed to mirror the inside of a tipi, the Centre is a gathering place for library patrons to meet with Elders, ask questions about traditional items and teachings and learn Treaty 7 languages through a variety of new programs. Prior to the opening of the Centre, the library released a series of Language Lesson videos that show what patrons can expect to learn in a language lesson here. The space not only offers Indigenous people a safe place to reconnect with their cultures, but also gives non-Indigenous Calgarians the opportunity to learn more about the original stewards of the land they now call home.
Launching Books in Treaty 7 Languages
Indigenous Languages Day also marked the launch of a new collection of books at the library: children's stories in Treaty 7 languages. The 12 brand-new titles were written by aspiring local Indigenous writers and published with help from library staff.

"Over the past year, the library has committed to learning more about Indigenous language and working with the community to understand how we can support them to celebrate and share their language," says Heather Robertson, Director, Service Design, Calgary Public Library. "A need that was apparent right away was the complete lack of children's materials in local Indigenous languages. We are thrilled to see this many new titles enter the library system that will be shared across Alberta."

Through the Indigenous Writers Workshop, participants worked with acclaimed author Richard Van Camp to create books in their traditional languages. The works have been added to the library's permanent collection and enhance library programming by promoting knowledge of Indigenous languages and traditional storytelling methods.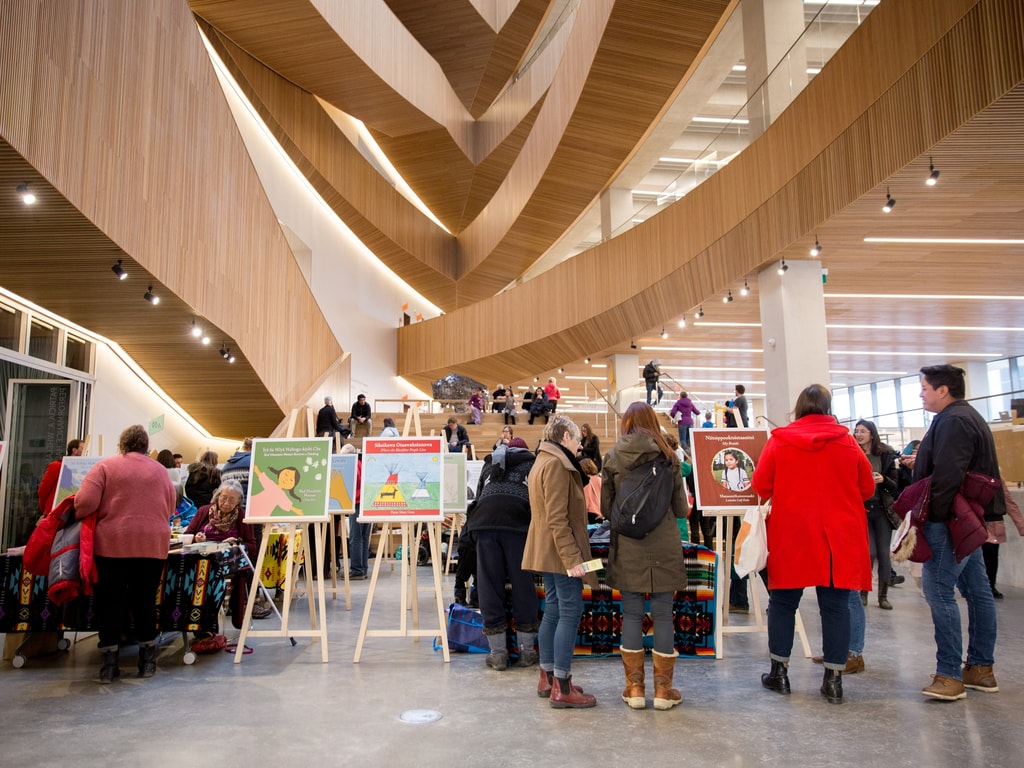 Another Round of Indigenous Placemaking
In addition to launching new initiatives in 2019, the library also continued building on previous projects, like Indigenous Placemaking at the library. This initiative originally launched in 2018 to give meaning to our public space and connect people to the community, with six works by Indigenous artists being installed in Central Library. In 2019, Placemaking grew to include community library locations."It is exciting to see our Indigenous Placemaking extend to two new locations this year," says Jared Tailfeathers, project lead for Indigenous Placemaking. "The talent we see in our local communities is inspiring and the value of permanent and prominent Indigenous art in public spaces cannot be overstated."

At Forest Lawn Library, a story robe, or winter count, by the late Rodney Big Bull recounts the tragedy of the Baker Massacre. At Signal Hill Library, Lauren Monroe's skylight mural depicting Blackfoot stories is accompanied by traditional dance regalia handcrafted by Treffrey Deerfoot. At the Central Library, an interactive augmented reality mural created by Jesse Gouchey, Tanisha Wesley and Autumn Whiteway engages patrons in the Teen Centre on level three. On level two, metal pictographs of the Blackfoot language sculpted by Adrian Stimson adorn the wall and floor.

More than just adding beauty to these spaces, Indigenous Placemaking helps the library create visually compelling and inclusive spaces for sharing and gathering of all nations and communities within the Treaty 7 area.
A Library Card for Everyone
One of the artists that contributed to the first round of Indigenous Placemaking in 2018, Glenna Cardinal, also worked with the library this year to release two new limited-edition library card designs. For many years, Cardinal tried to register herself and her family for their free library memberships. However, at the time, memberships were not free for people living on Indigenous reservations.

"This situation amounted to a fundamental institutional unfairness, in that Indigenous communities across Alberta have not had access to the free public library services available to others in almost all municipalities across the province," says Calgary Public Library CEO Mark Asberg.

In 2016, the Government of Alberta provided libraries with funding to support free membership for Indigenous communities in their surrounding areas. When Cardinal heard about the initiative, she was keen on working with the library to memorialize the change. Her card designs feature personal family photographs and create a direct and tactile connection between Indigenous communities and the library. The cards are available to new and existing library members free of charge.

These library initiatives are made possible by $1 million in funding from the Government of Alberta and a $1.6 million investment from Suncor Energy Foundation to protect, preserve and promote Indigenous culture. For more information on Indigenous Services and Initiatives at the library, visit us online at calgarylibrary.ca.

Michaela Ritchie is a fiction writer and journalist from Calgary, Alberta. In her current role, she oversees the social media accounts for the Library system she grew up adoring. She is also a prose editor for FreeFall Magazine and serves on the board of the FreeFall Literary Society.