How Howard County Library System's New Racial Equity Initiative Fosters Brave Voices, Brave Choices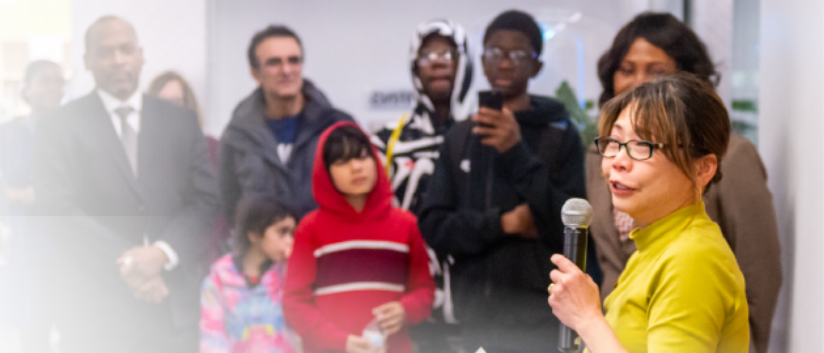 The most recent debates around redistricting schools in Howard County was the ugliest I've seen. Racism and classism were both subtle and overt. Opponents revived the 'separate but equal' sentiments of Jim Crow with 'improve don't move' signs which they littered throughout the county, including near schools with high percentages of students of color and students eligible for free and reduced meals. Bussing was a near constant refrain of why things shouldn't change.
— Story shared by a Howard County community member through the Brave Voice, Brave Choices initiative
In Howard County, Md., we pride ourselves on choosing civility and celebrating diversity. The planned town of Columbia, developed in the late 1960s as a community open to all people regardless of race, is held up as a shining example of inclusion. Our community is truly the best place to be for some, but not all. Examples include Black residents increasingly having the worst outcomes across most self-sufficiency indicators (unemployment, poverty, homelessness, evictions, SNAP benefits) and Black students being suspended from school at higher rates than students of other races. We watch as hate crimes and violence are committed against Black, Jewish and Asian community members. We tell ourselves that "things like that don't happen here" and "we're not like that." 

But they do and some of us are. 

At Howard County Library System, we condemn racism, xenophobia, misogyny, hatred and racial and gendered violence in all forms against all people. We believe in standing against racism and hatred each time it is in our midst and strategizing to enact change until America's promises ring true for all people. We believe true and lasting change requires true and lasting intention to learn, grow and act. With our new Brave Voices, Brave Choices initiative, we are acting on our commitment to move past statements and begin the work of creating the reality we want for all people. 

Over the last year, we have been actively advancing racial equity for our staff and the larger community. HCLS President and CEO Tonya Aikens formed and leads an internal equity work group which works independently and with consultants to chart the course for these efforts.

Internally, the equity work group and consultants engage staff in leadership development, staff training and REAL (Racial Equity at the Library) Conversations. All staff participated in our 2020 and 2021 Professional Development Days, led by Changing the Lens and focused on implicit biases and the history of institutional and structural racism in the U.S. Aikens invited staff to participate in REAL Conversations, where we discuss pre-assigned readings or videos and share personal experiences. Currently, Aikens is leading our leadership team through reading and discussing What If? Short Stories to Spark Inclusion & Diversity Dialogue by Steve Robbins. We are also reviewing policies and procedures (e.g., recruiting and onboarding practices, procurement policies), analyzing our collections and examining our curriculum through an equity lens (i.e., is our curriculum inclusive, does it reflect the interests of underserved communities and does it empower people?).

For the community, we have provided opportunities for racial equity training and conversation, curated reading lists and other resources, hosted speakers, led classes and organized community events. More than 200 people participated in one- and two-day trainings led by renowned trainers Racial Equity Institute and Soul Focused Group. Speakers such as former Secretary of Education John King, distinguished professor and author Dr. Jennifer Eberhardt, Pulitzer Prize winning author Isabel Wilkerson and leading immigration historian Dr. Erika Lee have explored bias and historical patterns of racism and discrimination. 
We invited 20 community leaders to join our new Racial Equity Alliance and guide us in meaningful equity work and engagement opportunities. Members of the Alliance help provide connections to their networks and provide ideas for this work. While Alliance members have been immersed in this work for years, many had not connected with each other, so this provides an opportunity to work together for greater impact. When asked why she participates in HCLS' Racial Equity Alliance, Howard County NAACP member — and VP of communications for the National Summer Learning Association — Laura Johnson says:
"Hatred simply makes no sense. I want to live in a Howard County where I don't have to explain to my young, Black son how a person could hate him because of the color of his beautiful caramel skin or the 'crown' of his kinky, cottony hair. I want him to see, through efforts like the Racial Equity Alliance, that the work, tears, voices, and bloodshed by so many freedom fighters have not gone in vain but continue in citizens courageous enough to expose racism in all its forms, heal together, and to dismantle systems that fail to uplift our common humanity, dignity and shared prosperity."
Working in partnership with local consultants Equity Matters, we began inviting the community to share and reflect on personal experiences related to racism and discrimination through an innovative story collection approach called Sensemaking. By examining stories contributed by community members and the impact they have had on people's lives, participants look for patterns that represent systemic biases and oppressive constructs that support, promote and perpetuate racism within our community and the institutions by which we are all connected. To date, community members have contributed more than 400 stories, like the one at the beginning of this post, and we continue to seek more to amplify our collective voices and make an impact.
Here are a few more examples of these stories.

"I'm one of the managers for the library system. Shortly after I got this job, a library co-worker told me that people of my race don't make good managers. The same co-worker is now working through the training as the rest of us and, maybe I'm reading too much into this, but I can see subtle changes in how she relates to me so I remain hopeful that race relations will improve through more education and open dialogues on this topic."
"My husband and I began renting a home when we relocated to Howard County a few years ago. Last year we began looking for a home to purchase here. We were shocked and saddened when our realtor suggested we not look or purchase in certain areas of Columbia (he named them) because the schools and neighbors "were bad". We purchased in Columbia with another agent. I shudder to think how many homebuyers have had similar experiences and the detriment it causes to our community."
All the stories will be shared (anonymously) with the groups contributors identify as needing to hear them (e.g., school system, law enforcement, realtors) as well as community leaders and groups. Many stories are featured on our website and social media, with new stories updated regularly.

Too often our stories and our histories are told for us by others. Stories shape narratives. Narratives shape perceptions. Perceptions shape actions. This initiative provides a necessary power shift, providing a platform for people to tell their own stories and provide the information needed for others to form true perceptions and create new narratives about the beauty within us all. 

Public libraries across the country have the responsibility to advance social equity. HCLS is one of more than 200 North American public library systems that have shown their strong commitment to ending structural racism by signing ULC's Statement on Race and Social Equity, which asserts that "libraries can help achieve true and sustained equity through an intentional, systemic and transformative library-community partnership."

Desmond Tutu, Archbishop Emeritus of Cape Town and Nobel Peace Laureate once said, "If you are neutral in situations of injustice, you have chosen the side of the oppressor. If an elephant has its foot on the tail of a mouse and you say that you are neutral, the mouse will not appreciate your neutrality."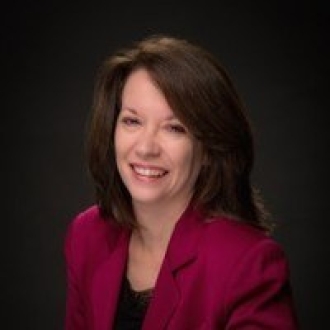 Christie Lassen
Director of Communications and Partnerships, Howard County Library System
A graduate of Leadership Howard County, Christie currently serves on the board of directors for Bright Minds Foundation, is an emeritus member of the Blossoms of Hope board of directors and an ex officio member of the HCLS Racial Equity Alliance. Christie serves on Howard County Public School System's Visual Communications Academy Advisory Council and the Local Advisory Council for Howard County's public school system and community college. She is an active volunteer in her community, brings a diversity of experience in public relations from working with nonprofits across the country, has a marketing degree from Texas A&M University and served one year in a domestic volunteer program in D.C.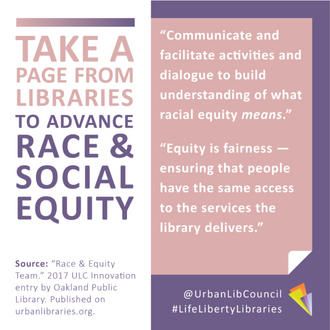 ULC Is Speaking Up for Social Equity
Urban Libraries Council
As Black History Month begins, ULC is excited to launch a special communications campaign aimed at helping library leaders discover, discuss and rethink ways they can foster greater equity in their work.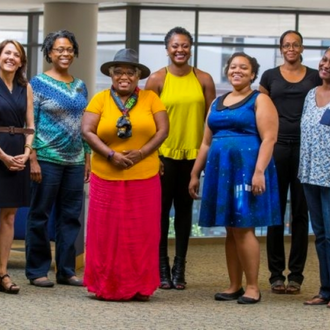 Bringing a Community Together with Octavia Butler
Pima County Public Library
Learn how Pima County Public Library's Kindred Team is working to reach, celebrate and support the library's local African American community.