Celebrating 50 Years of ULC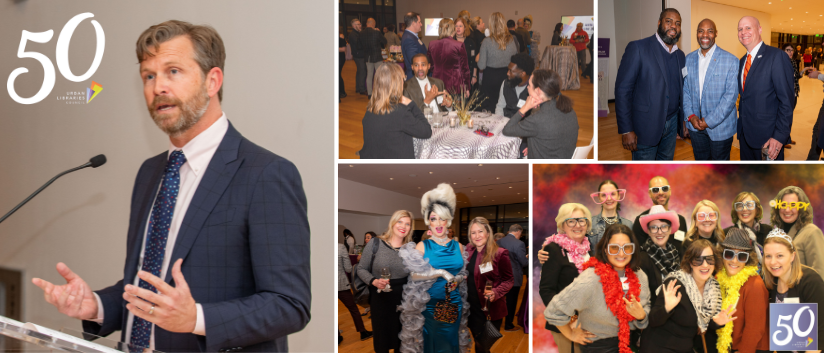 Authored by Elise Calanni, Communications Manager, Urban Libraries Council
"The 70's are remembered as an era when the women's rights, gay rights and environmental movements competed with the Watergate scandal, the energy crisis and the emergence of disco… And throughout it all, libraries remained one of the necessities of life."
Such were the words of storyteller and drag queen Tara Hoot at ULC's 50th Birthday Celebration at the 2022 ULC Annual Forum on November 17, 2022. The occasion of ULC's Annual Forum — the first of its kind since before COVID-19 began — allowed ULC's staff, members, supporters and friends to celebrate the 50th anniversary of the Urban Libraries Council's inception in the 1970's.

Originally known as the Urban Libraries Trustees Council, ULC was created with the mission to prove that libraries make better cities and, to ensure sustainability, must have lasting federal support. Over 50 years, ULC has successfully proven that fact — and more. Highlighting half a century of innovation can be a daunting task, but with the timeline below you will be able to see all the incredible work of the Urban Libraries Council from the early 1970's to today.
During ULC's 2022 Annual Forum, members and supporters of ULC were able to join our 50th Birthday Celebration generously supported by our partner Baker & Taylor. Annual Forum attendees — over 150 individuals from 75 libraries across North America — were treated to delicious food and drink, beautiful rooftop terrace views at the Martin Luther King Jr. Memorial Library and a short program featuring remarks from our President and CEO Brooks Rainwater and two special guests.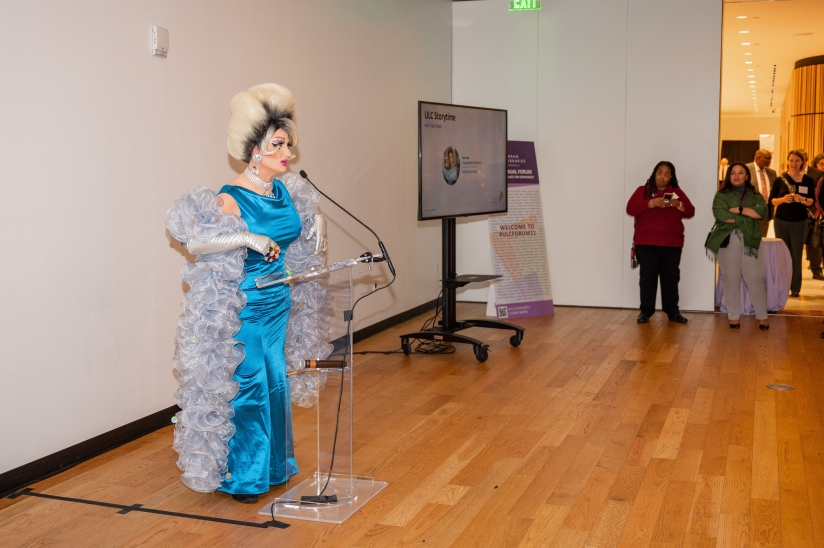 First, Brooks thanked all attendees and guests for their continued support of ULC over the years and toasted to the next 50. Then, we had the honor of hearing from Baker & Taylor President & CEO Amandeep Kochar, who left us with an inspiring message about the importance of knowledge and libraries' direct impact.
In the style of the ever-popular Drag Storytimes at public libraries across North America, the ULC story was told to Annual Forum attendees and guests by D.C. resident and frequent storyteller Tara Hoot. Tara took guests through the 50 years of ULC's history, from the early years of the Urban Libraries Trustees Council to the groundbreaking work of the last 10 years — the first ever Annual Forum, the Innovations Initiative, the White House Leaders Library Card Challenge, Trigger Terms: Harmful Detours and Healing Redirects resource, helping libraries navigate the pandemic and the launch the Going Forward from the Pandemic Action Teams... just to name a few!
All photography rights reserved, © Max Taylor Photography
After a few years of not being able to meet in person, it was incredibly special to celebrate this milestone with so many ULC members. Guests reconnected over drinks and hors d'oeuvres and took pictures at the photo booth, all to the soundtrack of hits from the 1970's to today. However, even those members who couldn't join the celebration in person had their presence felt in the form of birthday messages! Thank you to all ULC members who sent in a birthday message for our celebration! See a few highlights below, or view the full video here.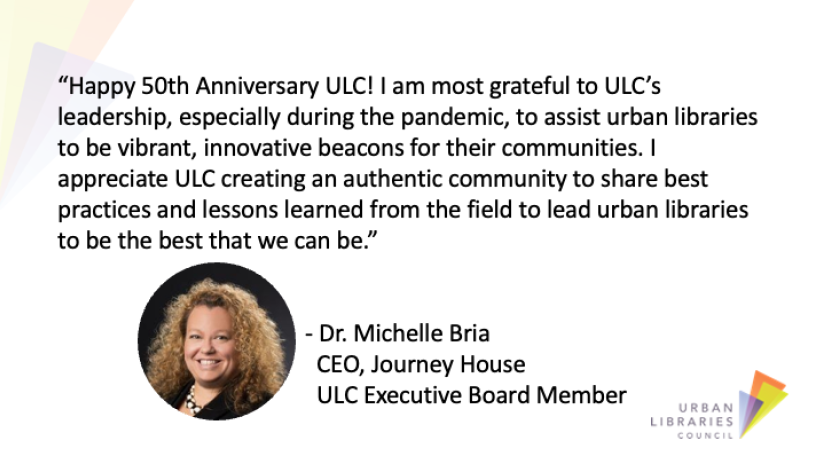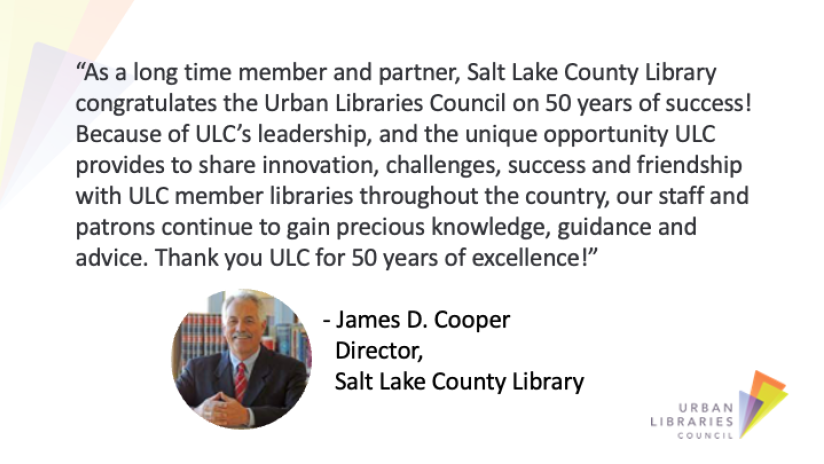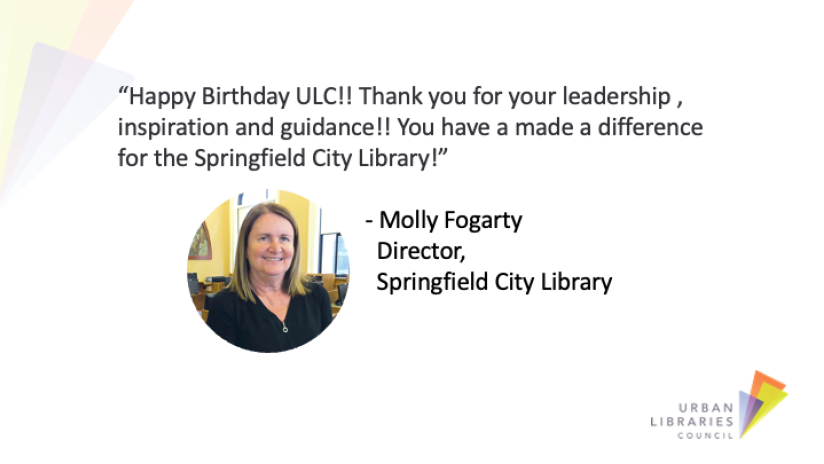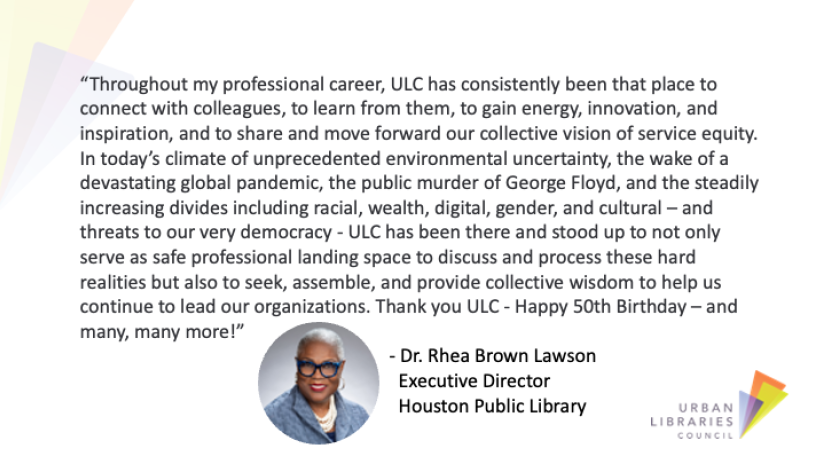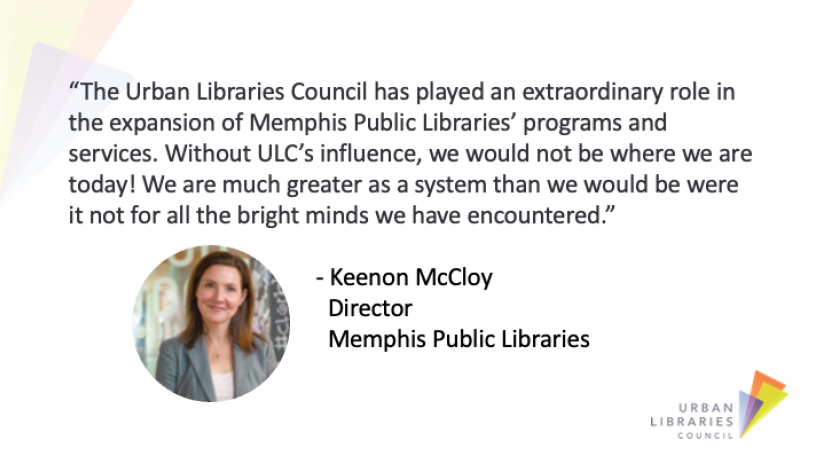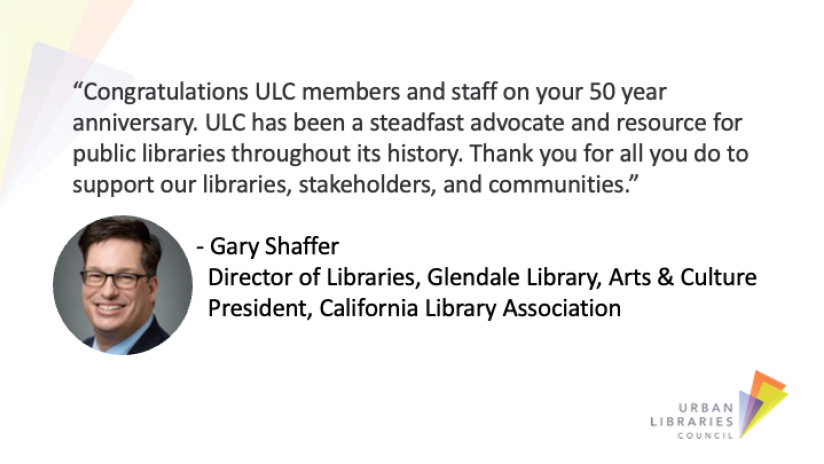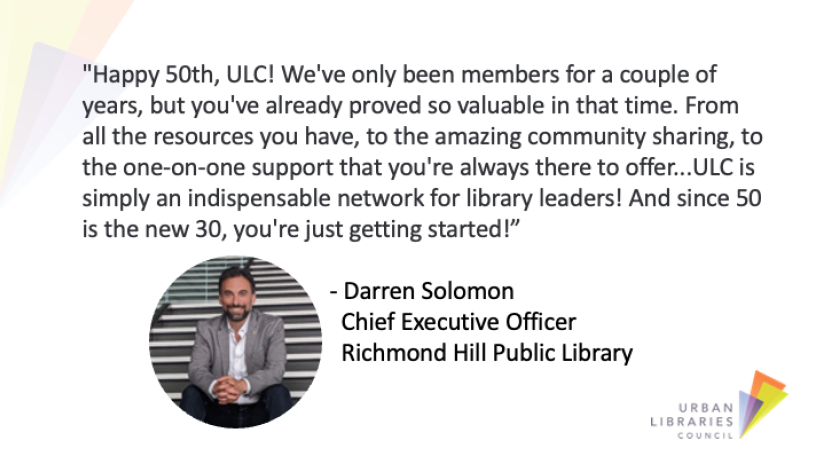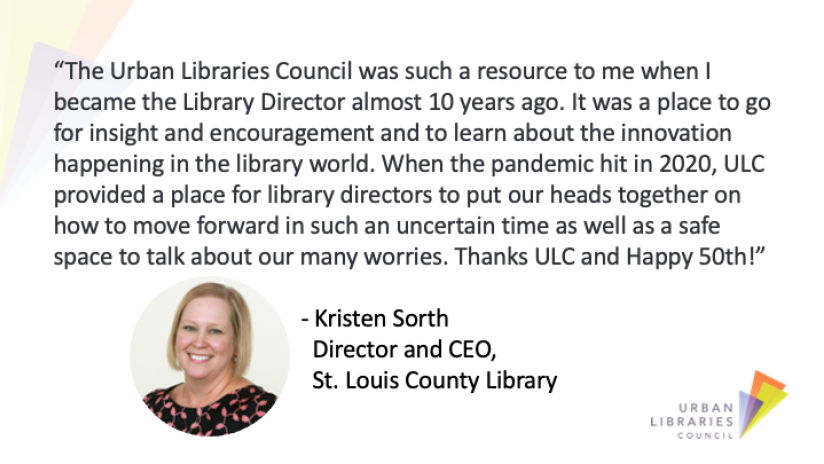 Over the past 50 years, the Urban Libraries Council has served as an outcomes-driven research and innovations network of more than 160 leading North American public libraries. ULC would not be such a successful network without the dedicated minds of our members, and 50 years of continued work is just a testament to the strength of our membership. We thank all of our members for their enlightening and inspiring participation in this organization — the best is yet to come!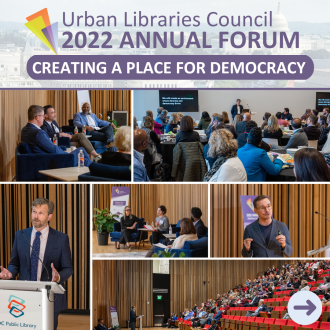 150+ North American Library Leaders Gather at ULC's Democracy Forum in DC
In November 2022, over 150 participants from 75 North American libraries attended the 2022 ULC Annual Forum: Creating a Place for Democracy. Over three days, attendees were able to network, collaborate and participate in expert-led sessions around preserving democracy.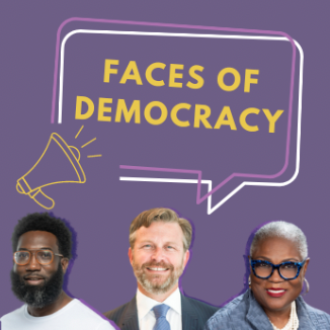 Faces of Democracy: Libraries as Leaders for Civic Engagement
Across North America, public libraries are stepping up as leaders of democracy and civic engagement in their communities. ULC is spotlighting those courageous leaders in our Faces of Democracy campaign.