Artificial Intelligence in Public Libraries: Our Civic Mission
by Cambridge Public Library Manager of Innovation and Technology Reinhard Engels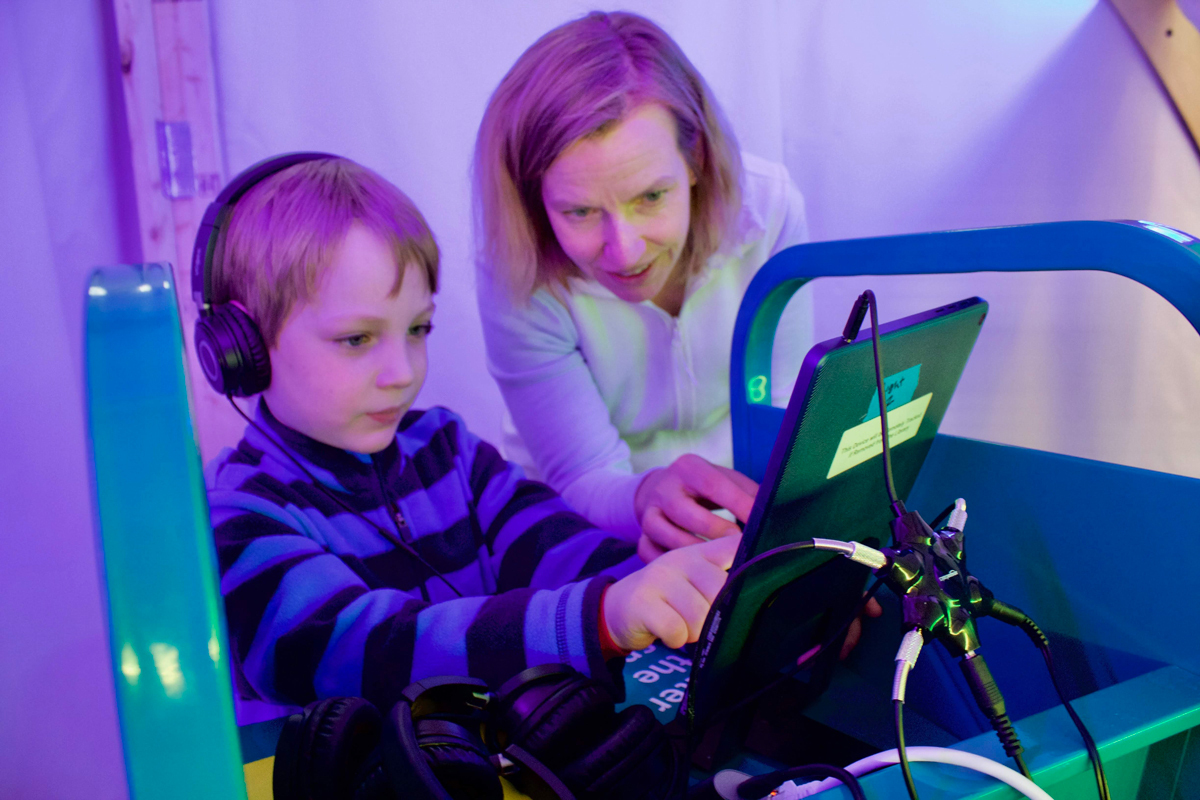 Cambridge Public Library visitors experience the library's Alterspace installation. Photo by Hannah Schoenbaum.
That AI is here in a big way, and poised to transform society in even bigger ways, is common knowledge.
But what there doesn't seem to be any common agreement around is what this transformation will look like, whether it will be on balance good or bad, or what, if anything, ordinary human beings need to know or do about it. We hear extreme — and often extremely contradictory — things.

Some authorities in the field tell us that AI will solve all our problems. Others, just as brilliant and highly-regarded, warn that uncontrolled AI poses an "existential threat" to the entire human race, beyond even the risk of nuclear war — a "superintelligence explosion."
What is a non-expert to make of all these conflicting positions? Beyond simple curiosity, there are some heavy social and ethical questions to be wrestled with here. As citizens, as voters, as consumers and as responsible human beings, we will be called on to make decisions concerning AI that we need to be better prepared to understand.
[P]ublic libraries have a critical role to play in helping their communities understand and wrestle with the big ethical and social questions raised by the AI revolution.
That's where public libraries come in. To many, public libraries are safe, familiar, treasured institutions handed down from the days of yore. AI is new, disruptive, exciting, frightening. But that's precisely why we need to talk about AI at libraries. The AI revolution is too big a development, and will have too big an impact on society as a whole, to leave it to a narrow field of experts or rampant misinformation on the web. Safe, reliable, welcoming libraries have a critical role in public understanding of and discourse around AI.
Beyond circulating books on the subject, beyond offering practically-oriented workshops, beyond providing exposure to cool robots (and these are all good, important things!), public libraries have a critical role to play in helping their communities understand and wrestle with the big ethical and social questions raised by the AI revolution — in helping them become thoughtful, well-informed, responsible and engaged digital citizens. This isn't simply a matter of dumping information. It's a matter of inviting meaningful participation and discussion.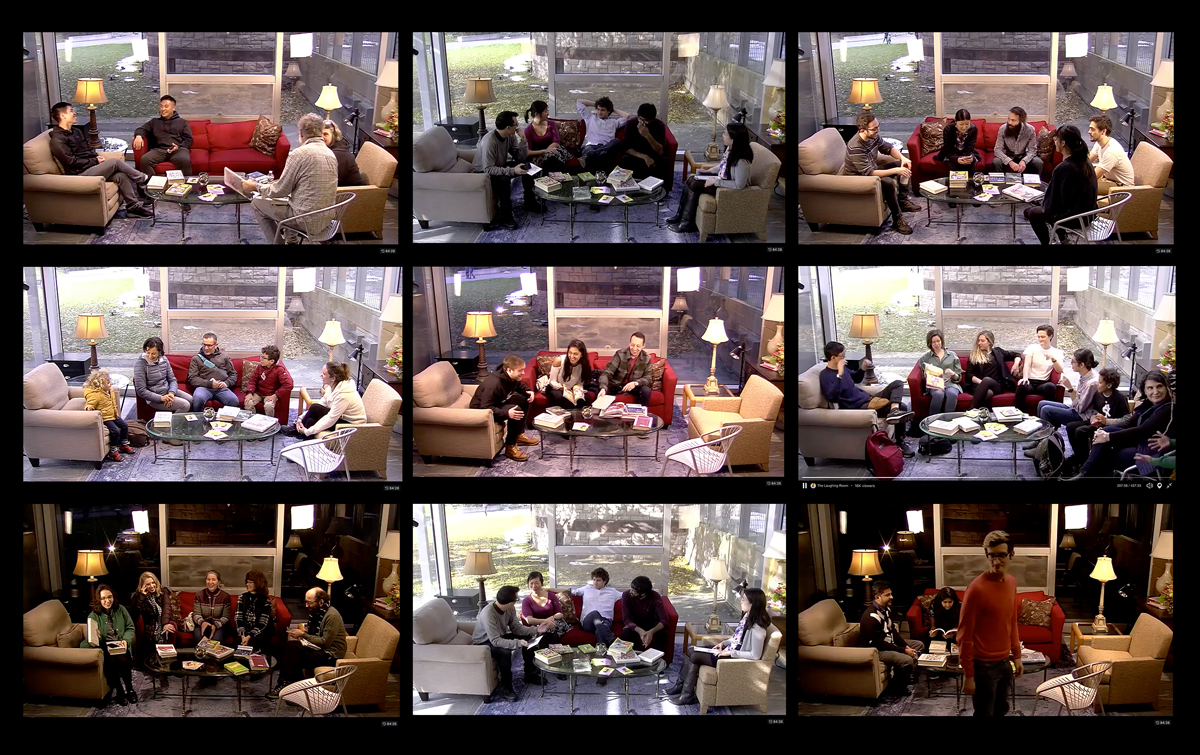 Cambridge Public Library visitors experience The Laughing Room.
How have we started doing this in Cambridge? Since we're in the mother of all university towns, and have a big commercial high-tech presence, we've played to these strengths, making partnerships with local (world class!) expertise the cornerstone of our approach. Many key developments in the history of AI have happened right here in Cambridge (and are still happening). It would be foolish not to take advantage of this local knowledge base.
We got started in earnest in November 2018, when CPL hosted The Laughing Room, an interactive art installation in which participants entered an artificially intelligent room, designed to resemble a 1980s sitcom set, that played a laugh track whenever the participants said something that the room's algorithm deemed to be funny. Statements were scored by the algorithm, and higher-scoring statements got bigger laughs. The idea was to get people to consider the impact of surveillance and AI on their lives in a new and surprising way, to get beyond the doomsday/hallelujah dichotomy — and perhaps be jolted by the recognition of how deeply and surreptitiously AI has already intruded into all our lives. After all, most of the participants were bringing their own constantly listening AIs into the room with them in the form of Siri, Google Assistant or Cortana.
Jonny Sun, the noted humorist, author and illustrator who masterminded the exhibit, said that it was intended to make people both "happy and uncomfortable." It succeeded! Roughly 600 people experienced the room in the three days it was open, sometimes waiting in long lines. A shuttle bus ran between CPL and MIT's Hayden Library, where a companion exhibit, "The Control Room," showed a live video feed of "The Laughing Room." Here, and on YouTube, viewers could watch (and still can watch) the simulated sitcom. It was eerily convincing. One really could feel for a moment that one was watching a TV show from that (technologically at least) more innocent time.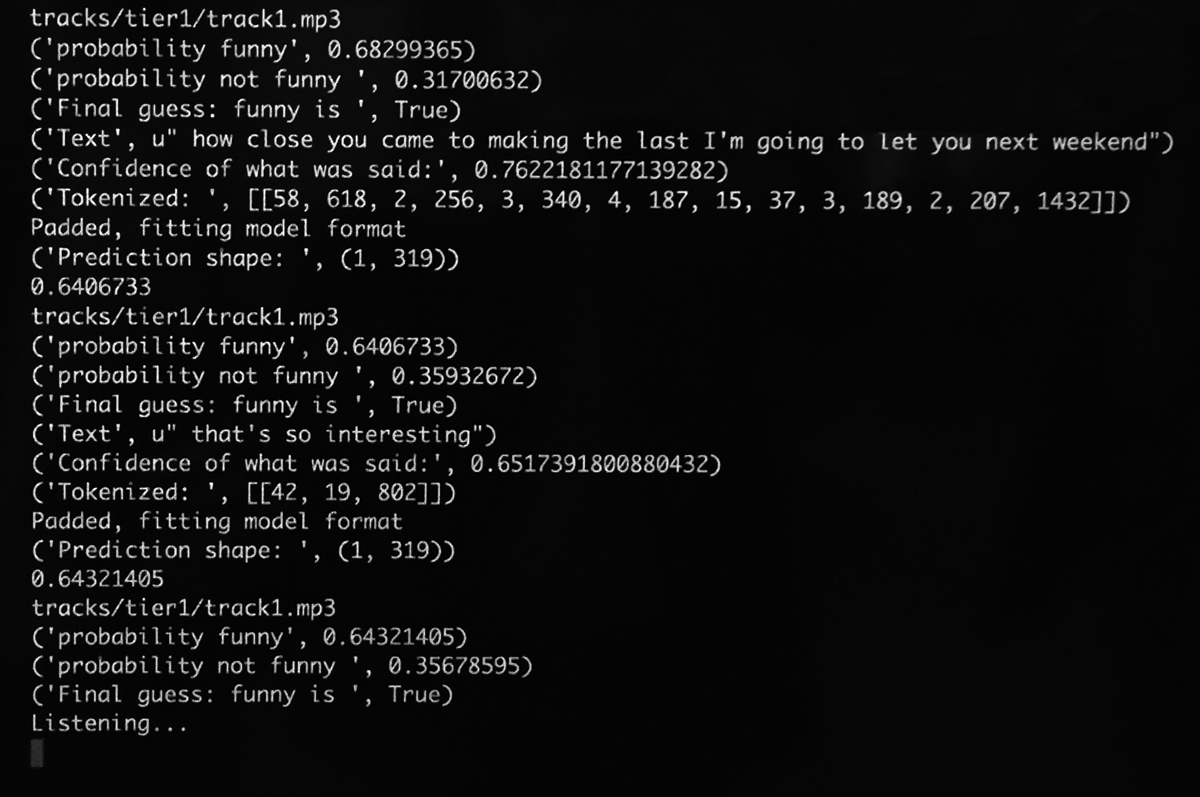 A look at the code behind Cambridge Public Library's The Laughing Room installation.
In February 2019, we held a follow-up public talk titled "Is AI Laughing at Us?" led by Jessica Fjeld, lecturer and assistant director of Harvard Law School's Cyberlaw Clinic; Jon Orwant, director of AI engineering at Google; and Nikhil Dharmaraj of Harvard's metaLAB. This talk allowed the public to delve deeper into some of the larger issues around AI and society raised by The Laughing Room.

This talk was part of a new series of lectures and discussions at CPL that we are calling Horizons: Breakthroughs in Science and Technology and their Impact on Society, with the aim of bridging the gap between the expertise at our world-class research centers and the general public. We invite experts to discuss in accessible terms not just the intrinsic value and beauty of their research, but also to explore the ethical, philosophical, social implications it might have, and the questions it raises for ordinary citizens to wrestle with as responsible members of a technological society.
We like to think of Horizons as a series of mini TED Talks for our community, but with an emphasis on conversation and audience engagement. Whenever possible, we've put videos of these talks online, and tied Horizons talks to companion, more experiential events or exhibits.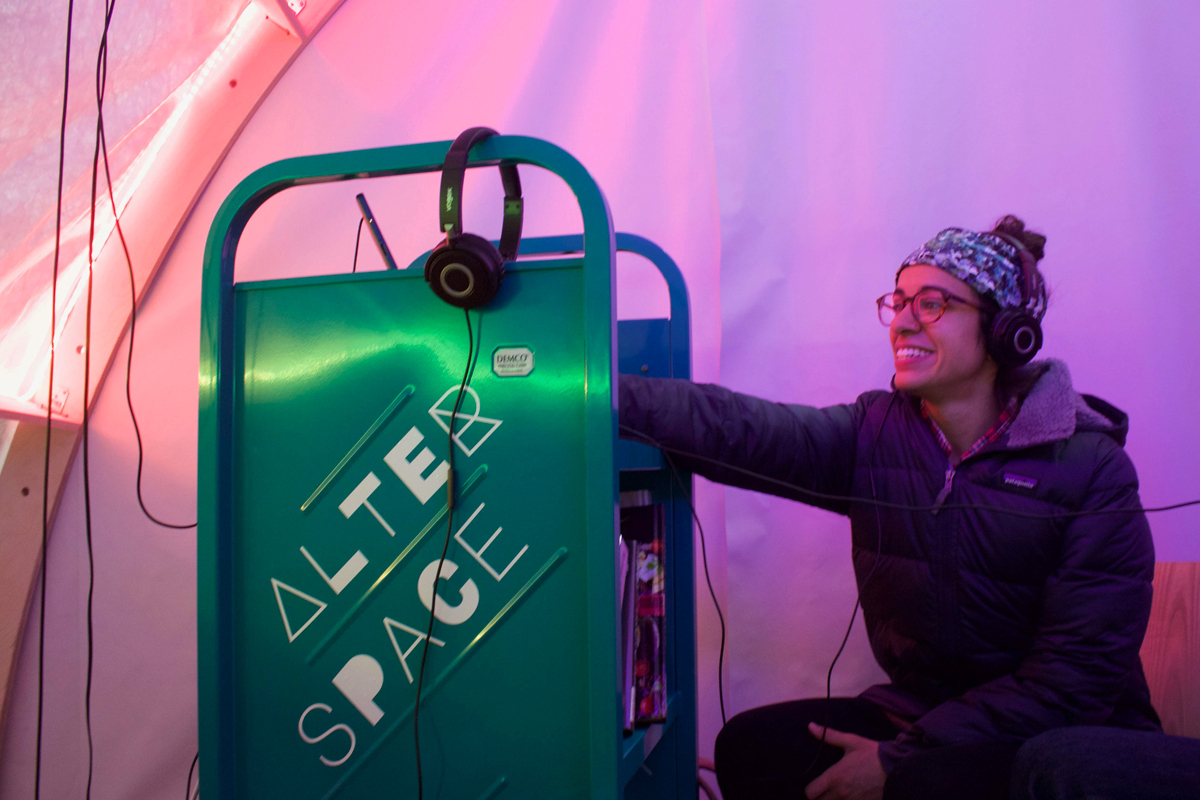 A Cambridge Public Library visitor experiences the library's Alterspace installation. Photo by Hannah Schoenbaum.
In March 2019, we hosted the world premiere of Alterspace, another interactive art installation with an AI component. Our collaborators at Harvard's metaLAB outfitted a room with technology and furnishings that allowed patrons to check out the room and transform it to their personal needs and preferences by tuning sound, color and light — a little like the "Room of Requirement" in the Harry Potter books.
A recent This American Life episode had used the "Room of Requirement" as a metaphor for what libraries do in general, so this exhibit resonated deeply. Public libraries provide spaces and resources tuned to individual interests and needs, an AI-enhanced public library might be able to meet these individual requirements with even greater specificity. To our surprise, even children (perhaps especially children) found Alterspace enthralling. Alterspace has since continued to go on tour at the Somerville Public Library and the Harvard Law School Library — but we are proud to have hosted the world premiere!

Our programming has not yet been much about the "how to" of AI, but rather "these are the issues you need to understand and the questions you need to be aware of as a voter, as a consumer, as a responsible human being in our technological society." But we are also planning a series of hands-on workshops this fall with the Berkman-Klein Center for Internet and Society which will cover AI (among other topics). And when our new makerspace opens in early 2020, we hope to do far more in the hands-on department.

Our programming has not yet been much about the "how to" of AI, but rather "these are the issues you need to understand and the questions you need to be aware of as a voter, as a consumer, as a responsible human being in our technological society."
Libraries that are less conveniently located for enticing world class presenters and facilitators do not have to sit on the sidelines. Through AI-themed book clubs and "flipped classrooms" in which free OpenCourseWare videos from leading universities throughout the world are watched and discussed (I like to think of them as "course clubs"), curious patrons — guided by librarians — can come together to learn about and wrestle with these issues. The subject matter may be novel. But the form is about as traditional as library programs get, and no special resources or physical proximity to cutting-edge researchers is required. From a mission perspective, it may be even more urgent that such libraries engage with AI, since their communities likely have fewer other options to do so.

We believe that it is critically important for public libraries to host exhibits and talks such as these. Public libraries are inviting and open to all in a way that universities and museums can never quite be, and everyone in our communities deserves the opportunity to engage with the big issues in science and technology that are shaping our society. Far from a buzzword, far from a fad, AI in libraries is an important civic mission.
Reinhard Engels is the manager of innovation and technology at the Cambridge Public Library. His responsibilities range from plugging in printers to developing new emerging technology and digital literacy initiatives. As a former software engineer with a degree in library science, Reinhard is delighted to have found a job that lets him combine his love of libraries with his interest in technology.

Want to learn more about library
leadership in the AI age?
This October 16-18, the 2019 ULC Forum: Preparing to Lead on AI + Digital Citizenship will convene our member community in Salt Lake City to engage in expert-led discussions and activities to elevate our shared understanding of the economic and social implications of emerging technologies.
Hosted by Salt Lake City Library and Salt Lake County Library, this important event will bring together leaders from major urban library systems across the U.S. and Canada. Together, we will map out how libraries can take ownership of their role at the forefront of the AI revolution, fostering and empowering digital-savvy citizens with services and tools that will strengthen democracy.
Learn More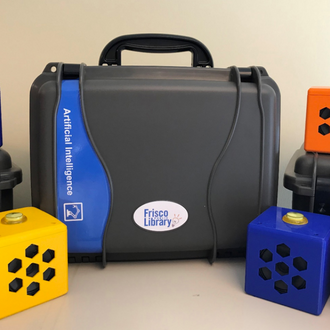 Breaking Open Artificial Intelligence for the Masses
Frisco Public Library
Learn how Frisco Public Library is teaching community members about the wide-reaching implications of AI, and preparing them for the future of work in the AI age.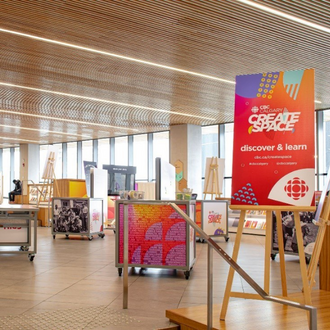 Strengthening Media Literacy in an Age of Misinformation
Calgary Public Library
Discover how Calgary Public Library has taken a leading role in fostering media literacy and building connections between the public and the media.