About This Page
This web page highlights the latest developments from ULC's Anti-Racism action team, which is working to establish new models, techniques and approaches that can help all libraries lead their communities into a stronger post-pandemic future.
ULC members: If you are interested in joining this action team, please contact Michelle Hamiel, Director of Strategic Initiatives, mhamiel@urbanlibraries.org.
This page receives ongoing updates. Please contact pnegron@urbanlibraries.org with questions or feedback.
Learn more about ULC's action teams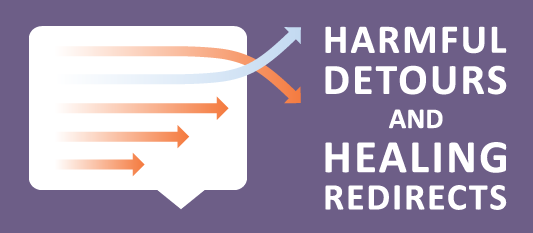 Framework Developed by This Team:
Harmful Detours and Healing Redirects
Addressing key trigger terms in the current media, social and political climates, ULC's Harmful Detours and Healing Redirects framework is designed to help leaders grow alignment, surface misunderstandings and find paths forward through difficult conversations.
Learn More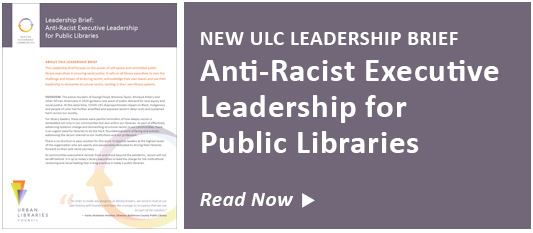 Leadership Brief Produced by This Team
ULC's new Leadership Brief, Anti-Racist Executive Leadership for Public Libraries, focuses on the power of self-aware and committed public library executives in ensuring racial justice. It calls on all library executives to own the challenge and impact of enduring racism, acknowledge their own biases and use their leadership to dismantle structural racism, starting in their own library systems.
ULC thanks Gale, a Cengage company, for their sponsor support of this Leadership Brief. Learn more at gale.com/equity.

Read Now
No one has all of the answers when it comes to dismantling the systems of racist inequity and injustice that are so deeply ingrained in our societies. However, none of us can remain on the sidelines when it comes to the human rights issues of racism and race equity.
As highly-trusted public institutions and deeply connected community anchors, libraries have an especially critical role to play in uprooting systemic racism by convening diverse voices, reaching out to marginalized communities and ensuring free and open access to information for all.
Representing diverse perspectives from libraries across North America, our team is dedicated to identifying and helping to create actionable steps and key resources that can help all libraries achieve tangible, immediate progress in shaping an anti-racist future.
Current Guiding Questions
Measuring Progress
What are the key data metrics that libraries should be using to measure and demonstrate anti-racist and race equity work?
Internal Work
How can our libraries address racism and equity gaps in our organizational cultures and internal structures?
The Words We Use
How can libraries clearly communicate our fundamental role in advancing race equity and social justice?
Sonia Alcántara-Antoine
Baltimore County Public Library
Director
Sonia Alcántara-Antoine is the CEO of Baltimore County Public Library, overseeing 19 branches, 600 dedicated staff and an annual budget of $45 million. Prior to joining Baltimore County Public Library, she was director of Newport News Public Library and held leadership positions at Virginia Beach Public Library and Enoch Pratt Free Library. Alcántara-Antoine is active in the Public Library Association, where she is currently president, and the Urban Libraries Council, where she serves on the Anti-Racism and Digital Equity action team and is a member at large for the Maryland Association of Public Library Administrators' board of directors. An American Library Association Spectrum Scholar, she holds a master's degree in Library and Information Science from Florida State University and a master's degree in Public Administration from Old Dominion University.
Leticia Cotto
Hartford Public Library
Customer Experience Officer

Leticia Cotto has served as customer experience officer for the Hartford Public Library since 2017. She has over 27 years of experience developing and delivering equitable access to quality programs and services in early childhood literacy, adult education and computer literacy. Before serving in her current role, Leticia managed one of the busiest branches in the system for 14 years in addition to co-owning of a small coffee house and bookstore specializing in the sale of books by Latinx authors and about Latinx themes. Leticia strongly believes in the power of libraries to effect change in communities in support of democratizing access to critical information and resources that help improve and enrich lives and communities.
Lisa Hathaway
Mandel Public Library of West Palm Beach
Library Director

Lisa Hathaway has worked in school and public libraries for the last 20 years. She began her career as a youth services librarian where she was known for her out-of-the-box storytimes, character impersonations and commitment to providing free homework assistance and free lunches to the library's youngest patrons. She is currently the library director of the Mandel Public Library of West Palm Beach where she encourages a love of literacy for people of all ages and backgrounds, while supporting jobseekers, small businesses, economic redevelopment and lifelong learning. Mandel Public Library is known for its distinctive programming, activities, lectures and workshops that are focused on inspiring an equitable, informed and enlightened community.
Gayathri Kanth
Palo Alto City Library
Library Services Director
In addition to serving as the library services director of the Palo Alto City Library, Gayathri is also a MidPeninsula Media Center Board member. Prior to this assignment, Gayathri was the community librarian of the Cupertino Library and the Saratoga Library. Gayathri is a Fellow of the 2017 national leadership cohort in the Public Library Association and a 2010 Fellow of the California Eureka Leadership Institute. Gayathri believes that the library's critical role is to collaborate and partner with community stakeholders and local government departments to facilitate community engagement and wellness.
​Dr. Rhea Brown Lawson
Houston Public Library
Director
Since 2005, Dr. Rhea Brown Lawson has served as director of libraries for HPL, the largest public library in the state of Texas. A strong and passionate advocate for public libraries, Dr. Lawson is keenly focused on ensuring that public libraries are equitably accessible, highly visible and vibrant organizations that provide leadership for, and remain essential to, the quality of life in their communities.
Pamela McCarter
Charlotte Mecklenburg Library
Equity Initiative Leader/Outreach Coordinator
Pamela McCarter's efforts at Charlotte Mecklenburg Library are geared to develop and promote equitable and inclusive programs for marginalized citizens in our community. She also leads diversity, equity, inclusion and social equity efforts for the library. With more than 20 years of experience working with youth, adults, older adults and non-traditional library customers, she also champions the importance of equitable library access and opportunities for Charlotte's underserved populations.
Alison McKee
Contra Costa County Library
County Librarian
Alison has worked for the Contra Costa County Library in the San Francisco Bay Area for the past 18 years. She was appointed as county librarian in February 2021 after serving as deputy county librarian in 2015. Alison is responsible for overseeing the library budget as well as many big projects including an upgrade of the Library's IT security system and moving the library to a state-sponsored broadband network that will increase internet speed at the libraries ten-fold. Her particular passion is working to provide equitable, innovative services and opportunities to underserved residents of Contra Costa County.

Karyn Prechtel-Altman
Pima County Public Library
Deputy Director of Public Services and Community Engagement
Karyn is the deputy director of public services and community engagement at Pima County Public Library, supporting programs and services at 27 locations. She works with talented staff who have designed and implemented new initiatives to expand the library's reach into the community related to workforce development, early childhood literacy, lifelong learning, health literacy and serving marginalized communities.

Karyn serves as the president of the board of directors for Make Way for Books and she is a member of the Urban Libraries Council Anti-Racism action team. She also belongs to several professional organizations including the American Library Association, the Arizona Library Association, the Public Library Association and Reforma.
Heather Robertson
Calgary Public Library
Director, Service Design

With experience in both academic and public library environments, Heather Robertson has been with the Calgary Public Library since 2005, working in various leadership roles including manager of diversity services, manager of community services and as the functional program lead for the new Central Library project. In her current role, she oversees the Collections, Information Technology and Service Design departments.
Dr. Mary J. Wardell-Ghirarduzzi
University of the Pacific; San Francisco Public Library Commission
Vice President, Diversity, Equity and Inclusion and Professor of Communication, University of the Pacific; President, San Francisco Public Library Commission
An educator, executive, author and thought leader on implementing broad-based diversity strategies, Dr. Mary J. Wardell-Ghirarduzzi (she/her) serves as the president of the San Francisco Public Library Commission, stewarding a $160 million budget for a system of 28 city libraries. Through her leadership, SFPL won the coveted National Public Library of the Year in 2018. Mary also serves as the Vice President, Diversity, Equity and Inclusion and Professor of Communication for the University of the Pacific. She previously served as the inaugural vice provost and chief diversity officer at the University of San Francisco and is a leadership, organizations and diversity studies lecturer in the USF School of Education and School of Management. Mary is the founder of the Latinas in Leadership Forum, an annual empowerment and leadership conference for emerging Chicanx-Latinx leaders based in San Francisco, and the founder and principal of The DEI Leadership Group, a leadership development, diversity solutions and crisis management firm based in San Francisco.

Roosevelt Weeks
Austin Public Library
Director of Libraries
Roosevelt Weeks has served as the director of Austin Public Library since 2017, where he leads a dynamic team and library system of 20 branch locations, the History Center and a new Central Library. He came from the Houston Public Library, where he served, most recently, as the deputy director of administration overseeing the following units: organizational development, financial services, fleet inventory/distribution services, digital inclusion and community engagement. He is a member of and serves on several committees within the Texas Library Association, American Library Association and Public Library Association.
Dr. Sadie Winlock
Cleveland Public Library
Chief Equity, Education & Engagement Officer
Sadie M. Winlock, D. Mgmt., MBA is the chief equity, education & Engagement Officer for the Cleveland Public Library for which she has served since 2019. She has developed a diversity policy adopted by the Board of Directors; increased engagement of external partners in program delivery; increased the number of programs delivered to patrons; and is currently leading their Innovation Committee, reimagining the future of the library. She also acts as spokesperson for the library in the absence of the CEO. Previously, she served as the CEO of the Akron Urban League in Akron, Ohio.
Donna M. Zuiderweg
Columbus Metropolitan Library
Community Engagement Officer
Donna is the Chief Community Engagement Officer for Columbus Metropolitan Library, a 23-location library system serving the people of Franklin County, Ohio. A member of the Executive Leadership Team, Donna leads the Development, Marketing, Collection Services and Strategic Initiative & Advocacy teams. She is responsible for planning and executing a comprehensive and collaborative strategy for engaging the community in the important work of the library.