Mission
The Anti-Racism Action Team focuses on current and systemic racism concerns as they affect library staff and the communities they serve. Over the next year, we will continue to respond in real time to the events in the world around us and their impact on library staff and the public we serve.
ULC members: If you are interested in joining this action team, please contact Michelle Hamiel, Director of Racial Equity and Community Impact, mhamiel@urbanlibraries.org.
Learn more about ULC's action teams
To broaden the awareness of library leaders about the pervasiveness of institutional racism in libraries and the trauma it has caused in our communities and to our BIPOC staff.
To convene library leaders and library EDI professionals to discuss what is needed to help dismantle institutional racism in libraries in North America.
To provide access to data, research and tools that will assist library leaders in developing plans and action steps toward becoming antiracist organizations that center the principles of belonging.
To support library leaders in their individual, organizational and community work to develop and sustain antiracist policies, practices, procedures, programs and responses to stakeholder concerns.
No one has all of the answers when it comes to dismantling the systems of racist inequity and injustice that are so deeply ingrained in our societies. However, none of us can remain on the sidelines when it comes to the human rights issues of racism and race equity.
As highly-trusted public institutions and deeply connected community anchors, libraries have an especially critical role to play in uprooting systemic racism by convening diverse voices, reaching out to marginalized communities and ensuring free and open access to information for all.
Representing diverse perspectives from libraries across North America, our team is dedicated to identifying and helping to create actionable steps and key resources that can help all libraries achieve tangible, immediate progress in shaping an anti-racist future.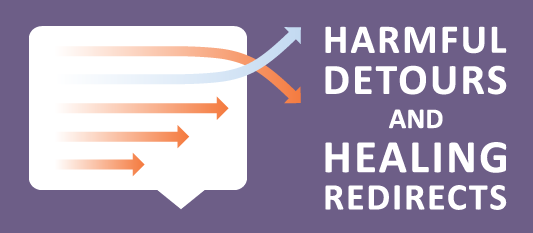 Framework Developed by This Team:
Harmful Detours and Healing Redirects
Addressing key trigger terms in the current media, social and political climates, ULC's Harmful Detours and Healing Redirects framework is designed to help leaders grow alignment, surface misunderstandings and find paths forward through difficult conversations.
Learn More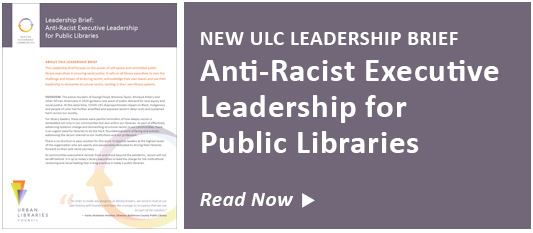 Leadership Brief Produced by This Team
ULC's new Leadership Brief, Anti-Racist Executive Leadership for Public Libraries, focuses on the power of self-aware and committed public library executives in ensuring racial justice. It calls on all library executives to own the challenge and impact of enduring racism, acknowledge their own biases and use their leadership to dismantle structural racism, starting in their own library systems.
ULC thanks Gale, a Cengage company, for their sponsor support of this Leadership Brief. Learn more at gale.com/equity.

Read Now