Whatcha Gonna Do When They Come for You? Libraries, Robots and AI
by Shari Henry (Director of Library Services) and Michael Hibben (Senior Manager), Roanoke County Public Library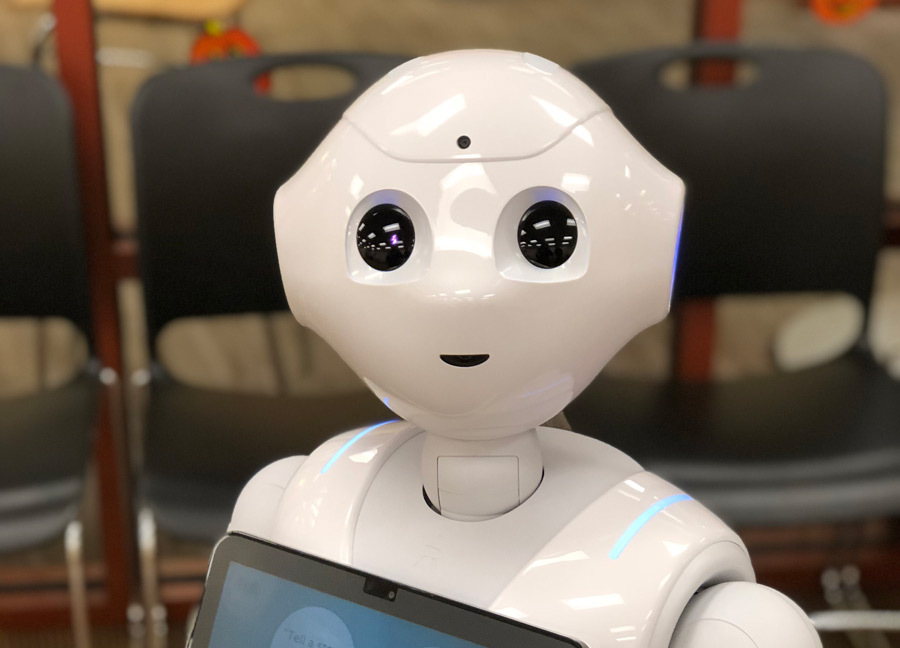 I'm guessing when Inner Circle wrote the lyrics to "Bad Boys" in 1987, they didn't imagine a world where talk about robots taking over society was commonplace. Yet, here we are. When the Roanoke County Public Library acquired the humanoid robot Pepper® by SoftBank Robotics last year, my niece shared on social media that her friends could rest easy because her aunt had an "in" with robots. Humor aside, there are real fears surrounding artificial intelligence (AI) and robots, fears about how to keep up, how to prepare the future workforce, how to continue closing the digital divide and how on earth to ensure libraries are equipped to continue to be a trusted gateway to reliable information in the digital age.
Robots are no longer coming for us — they are here, and libraries have a tremendous role to play in providing information about them and how they work. AI is everywhere, and getting better at its job every day. Just the other day I was making a call on my landline and mentioned two staff members' names in the context of setting up a meeting. My cellphone lit up as it sought to confirm the information: "Did you say you wanted to set up a meeting with Sara and Toni?" Siri asked. I immediately put Siri in a timeout drawer.
Watching Sheryl Sandberg and Mark Zuckerberg testify before the Senate Intelligence Committee seems like light years ago. We rolled our eyes, we whispered disgust to our friends, some of us even wrote to Congressional representatives, but mostly we've gotten used to reading about hacks of our favorite retail outlets, banks and companies that store our credit information. Complacency seems easier than pushing back, because we struggle with the fundamental question: where to start?
Robots are no longer coming for us — they are here, and libraries have a tremendous role to play in providing information about them and how they work.
The library. That's where to start. People need us as much as ever and we need to catapult ourselves into this Twilight Zone (2025 version). We are who the public trusts to level the playing field. We are who champions free speech. We are who protects people's privacy. We need to get busy preparing for the future.
Learning and doing will look different for each of us as we respond to our own unique communities. We hope to share what we've done, how we've done it and what we plan to do, not as a prescription, but as a data point for you to add to your queue as you explore options.
First, I think it is important to establish we are doing what libraries have always done, but now in the context of the technological revolution. It's not unusual that RCPL worked through a strategic planning process. What was new to us was including AI, robotics and coding within it. It's not new to think about best practices in customer service; what's new is how using an AI helper to serve customers changes things. It's not new to guard patron privacy; what's new is relying on so many third party vendors and helping patrons with ubiquitous online communication and feeling overwhelmed by this responsibility. It doesn't help that the United States is lagging behind the EU in creating policy to address the issue.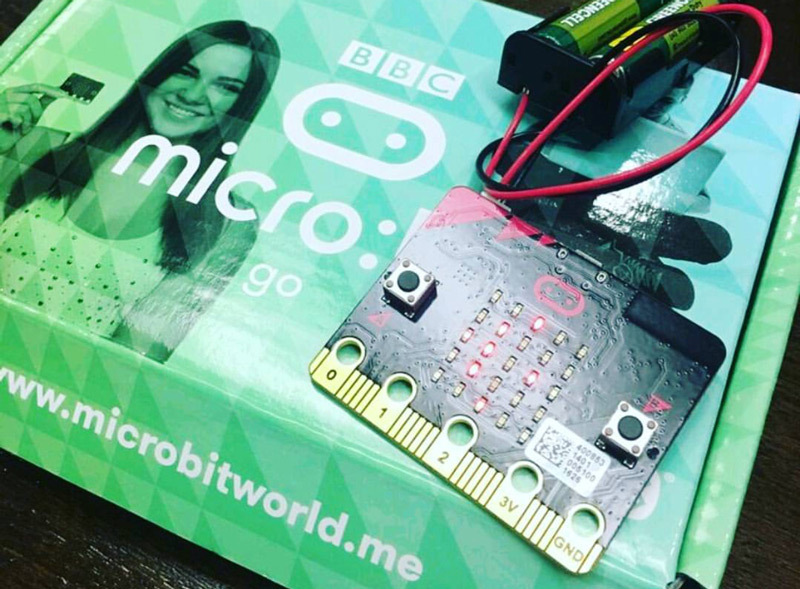 Process
How did RCPL, a medium-sized library system nestled in Virginia's Blue Ridge Mountains find itself embracing the AI world full throttle? After years of establishing a solid track record with programming, a new library strategic plan and a new tagline, "We'll Meet You at Your Wonder," we began to drive our discussions about innovation, and things moved quickly from there.
RCPL Senior Manager Michael Hibben found a video on YouTube featuring a robot that could converse, entertain and read human emotion and I became intrigued. Staff began talking about Pepper® more and soon our collective imagination had been captured. We contacted SoftBank Robotics, Pepper®'s manufacturer, who put us in touch with one of their partner companies, RobotLAB, who focuses on the educational market and had been wanting to work with a library. Our Friends group voted to fund the robot. So we entered into a partnership with RobotLAB and began creating a prototype user interface (UI). Meanwhile, finding ourselves to be the first public library in the U.S. to have Pepper® brought us a lot of attention and benefitted our community in more ways than we can count.
A year earlier at an annual Christmas Tree Lighting the library hosts, we noticed the line to see how our new 3-D printer worked was longer than the line to see Santa, indicating the community was eager to embrace more technology in the library. Now, nearly a year after Pepper®'s arrival, we have added much more, including placing Anki's Vector robot at all of our locations, working with Girls Who Code to host their clubs, circulating Micro:bits and purchasing a GlowForge for a reimagined small makerspace at one of our branches.
When you venture out onto the bleeding edge of AI, you'll be trailblazing for the profession as well as your system.
Practices
When you venture out onto the bleeding edge of AI, you'll be trailblazing for the profession as well as your system. As you move forward alone and in the dark, you may walk into a wall or temporarily lose your way. Don't be afraid to reach out to libraries implementing similar projects to glean advice and share stories. Thanks to our ULC membership, we learned about Palo Alto City Library's successful robotics program with Pepper®'s predecessor, a two-foot-tall robot named NAO. M Ryan Hess and Dan Lou, who run the robotics program, gave us invaluable guidance.
Regarding robots specifically, unless you find one that includes full conversational abilities, you'll need to install a Conversational User Interface (CUI) and create content. According to Fast Company, a CUI is "any UI that mimics chatting with a real human." CUIs are similar to chatbots, but instead of typing to interact, you speak. Specifically, you'll input questions patrons may ask your robot, and the robot's responses. Creating and inputting hundreds, or even thousands, of questions and answers with variant wording for each is a Herculean, time-consuming project. Remember, companies like Amazon, Apple and Google employ armies of developers to do this type of work. That's how you can ask Siri the same question in different ways and get answers regardless. We asked ourselves how libraries can build content for robots that compete with the rich content produced by Silicon Valley's best — content patrons expect after using these companies' virtual assistants. Then we got to work.
RCPL and the team at Palo Alto City Library have begun working on a prototype platform where librarians could access, and contribute to, content for CUIs and chatbots, saving everyone vast amounts of time. We look forward to making this widely available soon. In the meantime, factor into your plan a significant amount of staff time for creating content for your robot.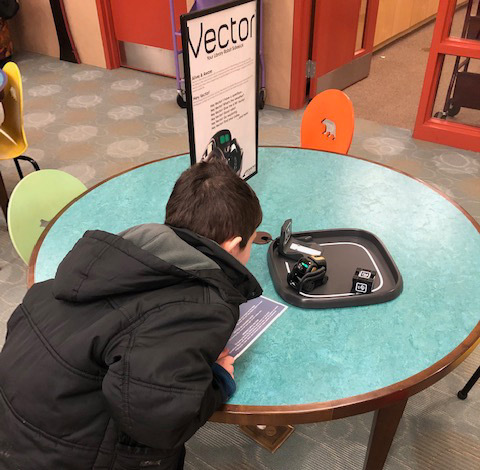 Programming and Partnerships
Being one of the first libraries to incorporate a life-sized robot into our services led to discussions about how we would use it. The software originally included allowed Pepper® to answer basic questions, tell stories and entertain patrons with dances and selfie poses. We envisioned a bigger role for Pepper®, and were eager to work with RobotLAB to breathe life into it. As RCPL's team began to develop the framework, we landed on three roles for Pepper® that could be applied to all AI robotic helpers.
Hosting/Greeting: Pepper® will greet, chat with and entertain patrons as they enter our facilities, and give basic library and directional information, including help with finding items in our catalog.
Specialized Programming: Pepper® will enrich our current programming and we will create new programming to highlight AI.
Coding: Pepper® will help with our coding education, including encouraging our patrons to create new programs for the robot.
If you don't have designated technologists or coders on your team, you can still successfully employ an AI initiative by gathering coders, students and technology tinkerers. Our local coding community has coalesced around Pepper® and we've partnered, in part, by creating a welcoming space for them to meet and host programs with us. We're already beginning to see new community-created abilities for Pepper® taking shape. For example, our successful Girls Who Code clubs are working with Pepper®, and are in the early stages of designing an early literacy app.
The AI shift will dramatically affect all communities, ready or not. Be prepared to discuss how robots may replace humans in jobs (internal to the library and in the community at large), privacy and regulation.
Privacy and Ethics
AI is evolving at an exponential rate and comprehending how it works can be daunting for the most tech savvy among us. But we ignore AI at our own peril. The AI shift will dramatically affect all communities, ready or not. Be prepared to discuss how robots may replace humans in jobs (internal to the library and in the community at large), privacy and regulation.
While we believe now is the time for libraries to launch initiatives surrounding AI, machine learning and automation, we are also driving local discussions on the privacy and ethical implications of AI, and will be collecting feedback and data to share on a larger scale.
Worries are not unfounded. Because it's true for us, we've also conveyed to community members and staff that Pepper® is not here to replace anyone, but to supplement what we do. However, this isn't true of all companies integrating AI helpers into their day-to-day operations. During a recent 60 Minutes interview aired on January 13, 2019, Scott Pelley asked Taiwanese Venture Capitalist Ka-Fu Lee about AI. Lee responded, "I believe it's going to change the work more than anything in the history of mankind. More than electricity." Lee continued to say 40 percent of the current jobs are "displaceable," meaning they are subject to being replaced by AI within the next 15-25 years. Lee added that AI is "coming faster than previous revolutions."
[A]s you meet your patrons at their place of wonder, you'll get the added benefit of enjoying wonder of your own.
Next Steps
We are planning to invite people to a series of community meals to share what we are learning on the journey and how libraries are, as always, putting them and their needs at the center of all we do. We will use the opportunity to hear from them, and remind people of the library's place in society as a bastion of all that is hopeful about democracy, and the importance of an informed citizenry in maintaining a healthy one. We also feel perfectly positioned to contribute to the economic development of the region, because our programming and facilities both attract potential residents (and help keep current ones here) and prepare the future workforce, so we will be leaning more into that space. Finally, we plan to develop library policies around these issues, inform local policies and share what we've learned and developed with others.
When you feature robots at your library, be prepared for all of the excitement and wonder that comes with it. And for the responsibility. As you hold steady adding AI information to your repertoire, wrapping it in age-old library principles, you only stand to increase the trust you have already built. Finally, as you meet your patrons at their place of wonder, you'll get the added benefit of enjoying wonder of your own.
Shari Henry began her tenure as Roanoke County's library director in June 2017. Previously she served in library administration in Arlington, as a nonprofit librarian in Hopewell, and as the PR/Programming Manager in Chesterfield County, Va. She worked for several years in urban outreach in Huntsville, Ala., and is a published writer. She is driven by the desire to impact the community for good by connecting those with resources to those with needs and interests, and by her certainty that strong libraries are fundamental to healthy democracies.

Michael Hibben is a senior manager with the Roanoke County Public Library in the heart of the Blue Ridge Mountains of Virginia. In addition to leading public services at the central library, he helps drive innovation, including the recruitment of SoftBank Robotics' Pepper®, the humanoid robot — a first among libraries in the United States. Before coming to RCPL, Michael worked in public libraries all over the country, including the Los Angeles Public Library.
Want to learn more about the role of libraries in leading AI? Join us for the 2019 ULC Forum!

Learn More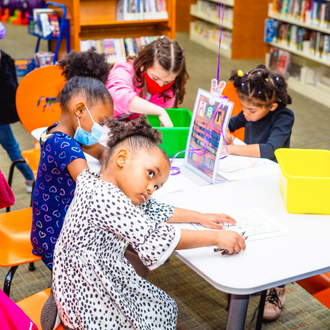 Lexington Public Library & Luna Library: Celebrating and Creating Black History
Lexington Public Library
Learn more about the launch of the Luna Library, a special collection of children's books within LPL's catalog featuring titles by, for and about Black people named in memory of Kamaria Spaulding.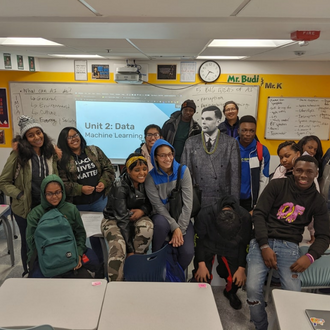 Changing the Face of AI Through Youth Education
AI4ALL
Learn how community-centered learning can be central to a vision of building the next generation of AI leaders.