'We're Here for Everyone' Is a Guiding Principle at Pima County Public Library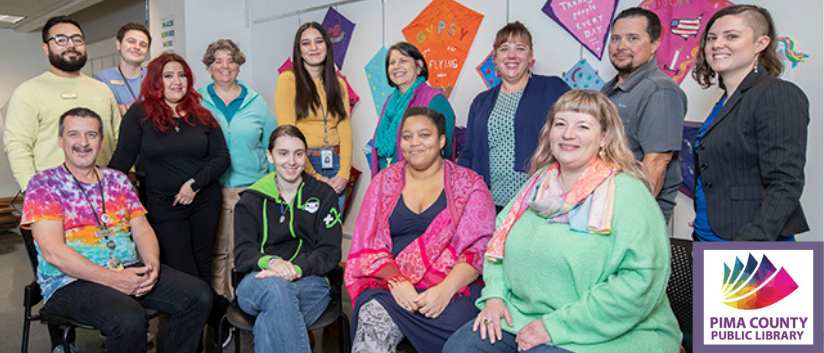 Pictured: Select members of the Library's LGBTQ+ Services Committee, February 2020
Authored by Holly Schaffer, Community Relations Manager, Pima County Public Library
It was 24 years ago on a typical beautiful Tucson day when a passionate group of library staff invited then-Library Director Agnes Griffin after work to a queer-friendly coffee shop to review a proposal for the formation of the LGBTQ+ Services Committee. "It was met with warmth and support," says Karyn Prechtel-Altman (she/her/hers), then a circulation clerk and now deputy director and a founding member of the committee, "and it was then that our great work started.
Since that time, the committee has committed itself to providing welcoming, inclusive opportunities for everyone. They've dedicated themselves to upholding the library's mission and the Library Users Bill of Rights, and best serving Southern Arizona's LGBTQ+ library users. As founding member and Library Associate Toby Wehner (he/him/his) remarks, "The committee gave me — and continues to give me — an opportunity to proudly stand with and serve our LGBTQ+ community and make our region of the world a better place!"
But how, one might wonder, does the committee do that? It ensures representation and equitable access through collection development and book displays, curated book lists, events and partnerships.
It is more essential than ever that our customers see themselves represented in the materials we make available. The committee works closely with our Collection Development Department to build and maintain a diverse collection — be it books on the history of the LGBTQ+ movement or young adult fiction featuring LGBTQ+ characters. Our E-Library is robust and provides access to LGBTQ+ magazines on OverDrive — Gay Times, Out and The Advocate, to name a few — LGBTQ+ documentaries and films on Kanopy and biographies of past and present LGBTQ+ leaders in Biography in Context.
Events are integral to our committee's success. For more than 20 years, our Annual Author Talk has brought people of all ages, backgrounds and ethnicities together to celebrate the LGBTQ+ experience. Internationally known authors, including Jacob Tobia, Alison Bechdel and Chaz Bono — often in standing-room-only crowds — have shared their poignant stories. The show even went on during the COVID-19 pandemic when we hosted our first virtual author talk featuring Robin Talley.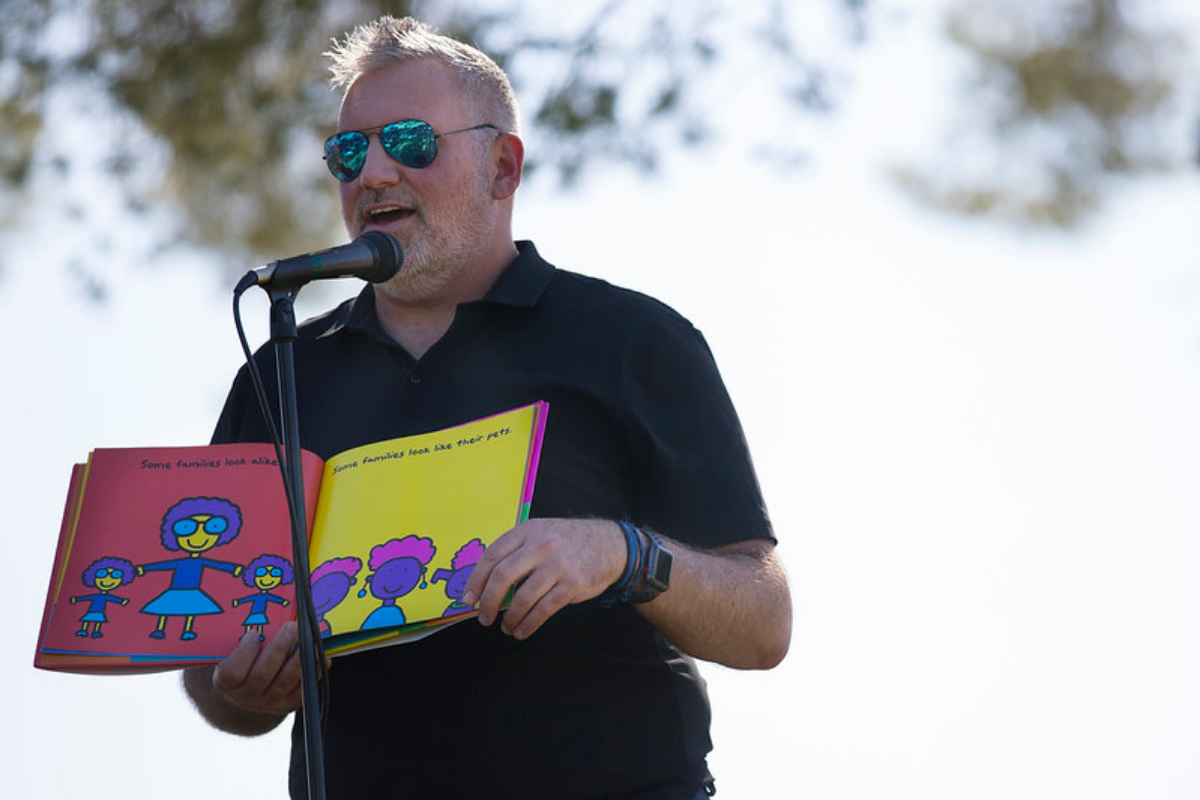 Pictured: Award-winning author Todd Parr at the committee's 20th anniversary celebration and author talk.
In addition, we offer Rainbow Reads, a monthly positively queer reading circle alternating between book clubs and book chats. Participants have remarked that this event has helped expand their knowledge of and interest in LGBTQ+-themed books. There's also Rainbow Storytime, where families come together to enjoy stories and flannel boards, sing songs and make crafts. It is a welcoming space that underscores the committee's commitment to ensuring a warm and safe library experience for everyone.
One needs not even come to the library to benefit from our work — blog posts and book lists abound! If you take a quick scroll through staff-curated lists you'll find everything LGBTQ+ from autistic characters and poets to athletes and musicians. Always up for a challenge, the committee even took on creating a list a day this June in honor of Pride Month. Taken together, these lists have been viewed by customers more than 1,100 times!
Over the years, we've increased our presence on the website through blog posts, giving people the chance to learn about LGBTQ+ issues past and present. The Stonewall Riots, how to use the right pronouns and why it matters, Transgender Day of Remembrance and what it's like being nonbinary at work are just some of the topics that we've covered.
Our work is within the library's walls and online, but it's also embedded in community. Over the years, we've established and strengthened partnerships with organizations that serve and rally around LGBTQ+ individuals. We staff informational tables (with swag, of course!) at events like Pride in the Park and Pride On Parade, but we also collaborate with the Southern Arizona Aids Foundation and the EON Youth Lounge — a safe space for LGBTQ+ and allied youth — and Bread and Roses — crisis transitional housing for homeless LGBTQ+ youth.
Recently, committee member Ray Baca (he/him/his) spearheaded an effort to get LGBTQ+-themed books in the hands of tweens and teens at the EON Youth Lounge and Bread and Roses. The donation consisted of more than 200 — mostly young adult fiction — books. We've currently got another 200+ books to send over!
According to Ray, "As a queer person, it's sometimes hard to tell which places will welcome you or not. When people go to the Eon Youth Lounge and Bread and Roses, I want them to see library books and know that we welcome our LGBTQ+ community and we are another place they belong. More importantly, I want them to pick up these books and see themselves in them and know that they have a place in this world."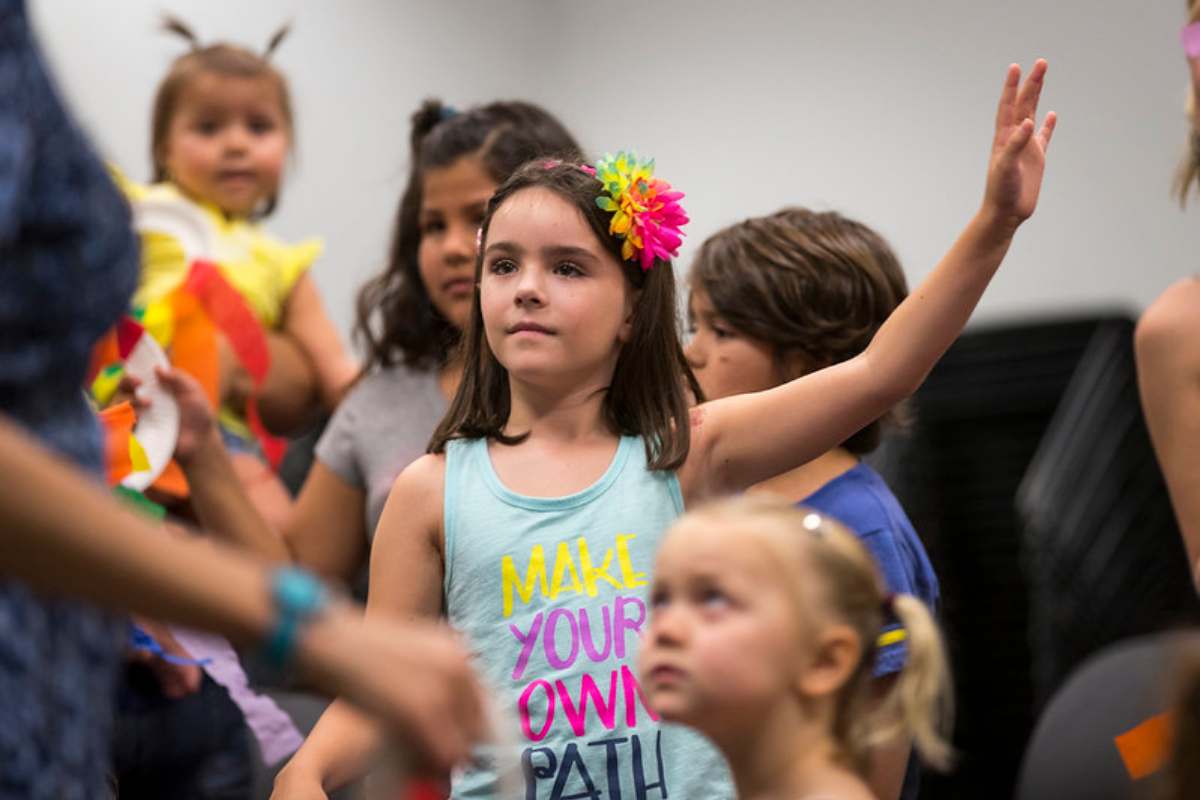 Pictured: A young customer enjoys Rainbow Storytime.
The LGBTQ+ Services Committee is just one of multiple library teams (Kindred, Biblio Lotus, Welcome to America, Nuestras Raíces, Many Nations) whose missions overlap in that they work to provide equitable access to all in Pima County. A few months ago we launched an email series introducing customers to these teams and the work they do. The feedback we've received has been uplifting. After receiving the LGBTQ+ email, one customer said, "I'm just thrilled at this news. Thank you!" Another remarked, "Wonderful to know the Library has a committee encouraging ALL to feel welcome."
It's not just our external community that benefits from our work. Pride is infused in the committee itself. When asked what they love most about their work on the committee, Library Page Tara Wright (they/them/theirs) said, "I love making an impact, and showing others that people like us are here, and we aren't going anywhere… we're all members of the same planet, after all."
The LGBTQ+ Services Committee has a rich and long past. It is embedded in our mission, vision and values. The future of the committee is strong. As Toby says when asked about his hopes for future generations of LGBTQ+ youth, "I hope you find your place of acceptance and the strength to accomplish your dreams and goals. I believe your fierce strength and unshakeable resolve will take our community to new heights of achievement and success!"
The library and the LGBTQ+ Services Committee is here — and will always be here — to help bring that future to fruition.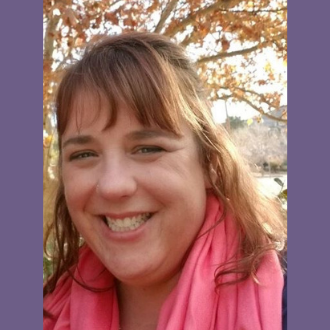 Holly Schaffer
Community Relations Manager, Pima County Public Library
Holly Schaffer is the community relations manager and a member of the LGBTQ+ Services Committee at Pima County Public Library. She has worked for the library since 2016. Some of her favorite LBGTQ+ books include Rubyfruit Jungle, Aristotle and Dante Discover the Secrets of the Universe and The Perks of Being a Wallflower.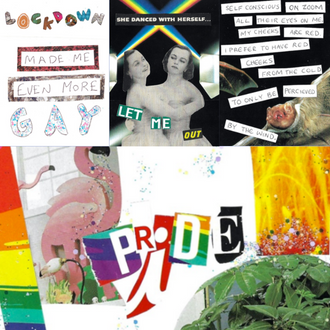 Creating 2SLGBTQIA+ Library Spaces During a Pandemic
Kitchener Public Library
Discover how Kitchener Public Library developed an initiative that provides 2SLGBTQIA+ specific programming, collections and resources throughout the whole year.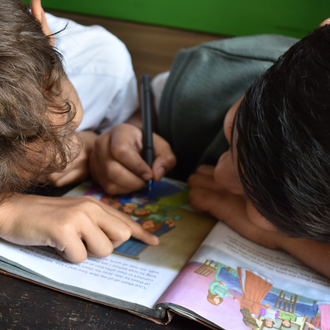 Children's Literature Opens the Door to Conversations About Identity, Race and Equity
Anti-Defamation League
How can libraries help ensure today's youth develop greater empathy, understanding and appreciation for equity? The Anti-Defamation League's Jinnie Spiegler shares the capacity for children's literature to launch critical conversations for young learners.