Creating 2SLGBTQIA+ Library Spaces During a Pandemic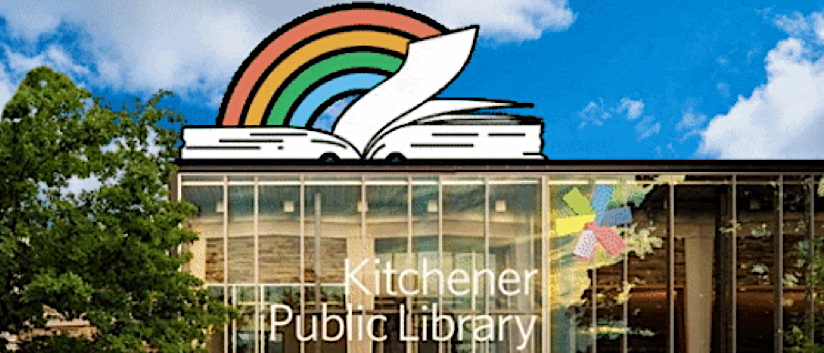 By Ellie Anglin, Senior Library Assistant, and Jarvis Sparks, Librarian, Kitchener Public Library, with help from the QueerKPL team.

We all know that libraries are massive cultural hubs of creation, innovation and inclusion. One of the ways this is apparent is that the library has always been and is increasingly becoming a queer space. We know this is the case for 2SLGBTQIA+ (Two-Spirit, lesbian, gay, bisexual, trans, queer, intersex and asexual) people in Waterloo Region; a 2018 study conducted by the Rainbow Community Council showed that libraries are the public space where queer folks feel the safest – with 57% of trans people and 64% of cis 2SLGBTQIA+ people reporting feeling safe at the library.
The need for 2SLGBTQIA+ spaces was clearly expressed during a 2019 Kitchener Public Library (KPL) event called Queer in KW, where panelists and audience members asserted that spaces for queer and trans people in Waterloo Region were vulnerable and scarce. With many staff members involved in this project being part of the 2SLGBTQIA+ community themselves, that also gave us a unique insight into this community need. But there are many other potential approaches to identifying community needs — another we use at KPL, for example, is the Inclusion Toolkit created by KPL's Inclusion & Diversity committee.
With this in mind, and in keeping with our mandate of providing responsive customer service, a group of staff came together in 2020 to form QueerKPL. That's "Queer" and our library acronym, Kitchener Public Library (KPL). This initiative provides 2SLGBTQIA+ specific programming, collections and resources throughout the whole year. QueerKPL goes beyond Pride Month and makes 2SLGBTQIA+ voices and communities an integral part of our programming and the spaces we create here, both in the physical and virtual realms. It's important to us that while we celebrate Pride Month (in spectacular style!), QueerKPL is year-round. At our library, the 2SLGBTQIA+ community is always part of what we do.
Since starting QueerKPL, we have written blog posts and held programs (including book clubs, media clubs, queer history lectures, music bingo and trivia) and connected them under the QueerKPL umbrella. By branding our combined efforts, we have increased the discoverability of the library as a place to find Queer community. We have also tagged our large collection of 2SLGBTQIA+ materials in our catalogue and highlighted them on social media to make them easier for customers to find. In many of our endeavors, we have connected with or partnered with local organizations who serve the 2SLGBTQIA+ population.
Through it all, we have worked really collaboratively with each other. We've met virtually (and when possible, in-person) to communicate and make decisions together. Everyone involved in QueerKPL is connected by the fact that we identify as queer or as allies of the queer community. Being empowered to bring our passions forward, we've been able to use our love of pop culture, graphic novels, games, drag, queer history and crafting as entryways to engage and connect with customers.
The primary goal of QueerKPL has been to build and strengthen community connections, especially through this difficult and isolating time of the pandemic. We have been delighted to see these opportunities arise in our programs, creating space for folks to share and connect.
At one of our QueerKPL book club meetings, we read and discussed We Have Always Been Here by Samra Habib over Zoom. It was a space where folks were able to share about their experiences and hang out with other queer people mid-pandemic.
The book prompted a lot of discussion about finding queer communities, coming out on your own terms (or not) and we had three participants of various ages who shared their recent coming-out stories. We shared a lot of local resources and it was a gay old time.
Jesse W., KPL staff
Another of our recent programs was QueerKPL: Let's Make a Zine. A zine is a self-published magazine, and zine-making has a rich history as an art form, a sub-culture and a tool of resistance. Because marginalized groups have historically not had access to large-scale publishing resources, zines have been a way to share their writing, art and identities with the world. This is especially true for queer artists and writers.
As we worked on our zine pages during the program, someone asked why other members were using the pronouns "they/them" or "she/they" on Zoom. This question caused a bit of discomfort for us at first, as we were worried that attendees wouldn't feel safe sharing. But, we were relieved when one 11-year-old attendee didn't hesitate to answer: "It's the pronoun that fits me the best and makes me happy," they said.
The person who asked the question thanked them for explaining it and told them they were "brilliant." Other attendees shared about their pronoun use and it ultimately became a great learning and bonding experience. When we received their zine pages, many attendees said they really enjoyed the program and meeting other creative queer folks in the region. The parent of the 11-year-old told us that they had "wall-to-wall grins for days afterwards."
The zine will be printed and distributed throughout the library to further create connection within the queer community. We have included some of the pages that were made below: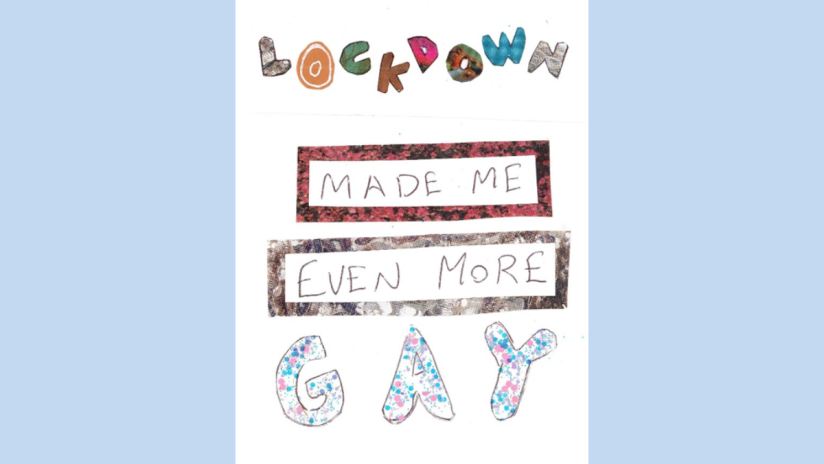 Sample zine page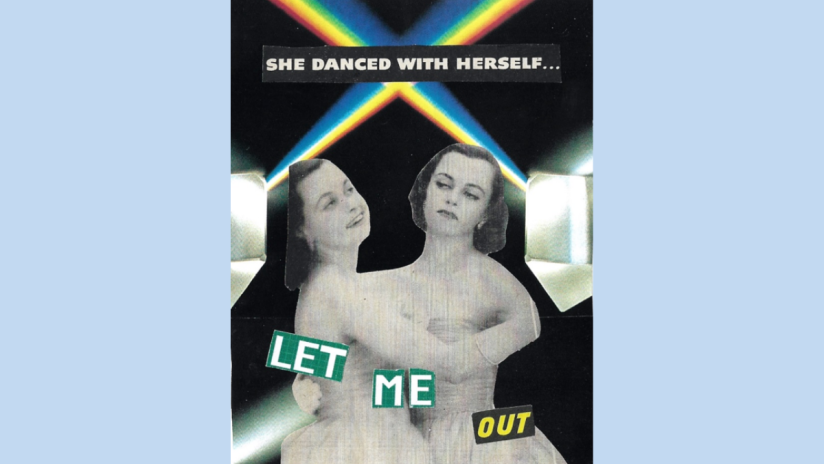 Sample zine page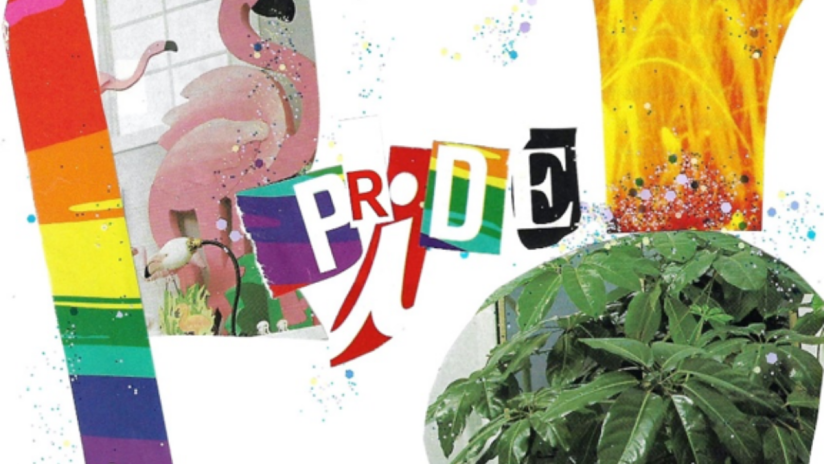 Sample zine page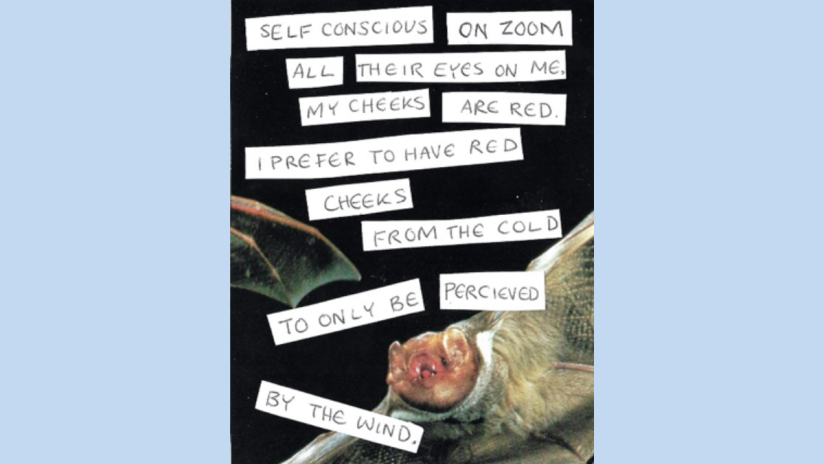 Sample zine page
In creating and maintaining QueerKPL for its first year, we've learned a lot – and we still have much more to learn. But we know now that it's possible to create community and connection even virtually during a pandemic. Creating safe spaces for personal discussions and disclosure is possible for a library and can contribute to the mental health of a vulnerable community. This approach has also been a powerful way of uplifting and supporting our colleagues to pursue ideas and projects that reflect their own identities and experiences.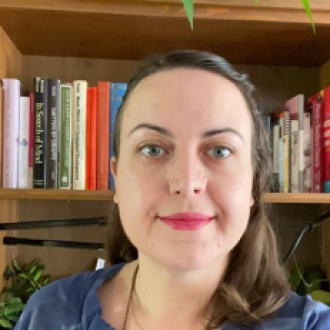 Ellie Anglin
Senior Library Assistant
Ellie has worked at Kitchener Public Library since 2017. She works in Information Services and the Marketing Department. She is also a visual artist, writer and zine maker.
Jarvis Sparks
Librarian
Jarvis started as a librarian at the Kitchener Public Library in 2020. As well as working on QueerKPL, in her current role she supports programs and services for New Canadians and ESL learners. She has previously worked in public and academic libraries in Melbourne, Australia.