The Library's Role in Climate Literacy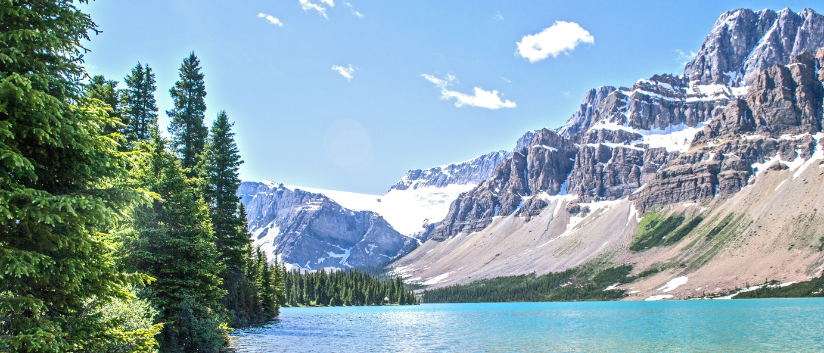 Imagine being a citizen of the Assyrian Empire, watching the first library be erected around the 7th Century B.C.E. You might be curious, amused or even excited, but it's unlikely you would have envisioned just how enduring this new institution would be or the central role it would play in the evolution of civilization. You also might not have known that the foundation for this achievement was laid 10,000 years prior to when the climate began to stabilize.
Our first ancestors emerged in what is now Africa around 200,000 years ago, but for around 190,000 of those years humans moved constantly — partially in response to changes in the climate and the environment around them. It wasn't until around 10,000 B.C.E. that the climate stabilized at a global average temperature that was just right for humans and the plants and animals we rely on.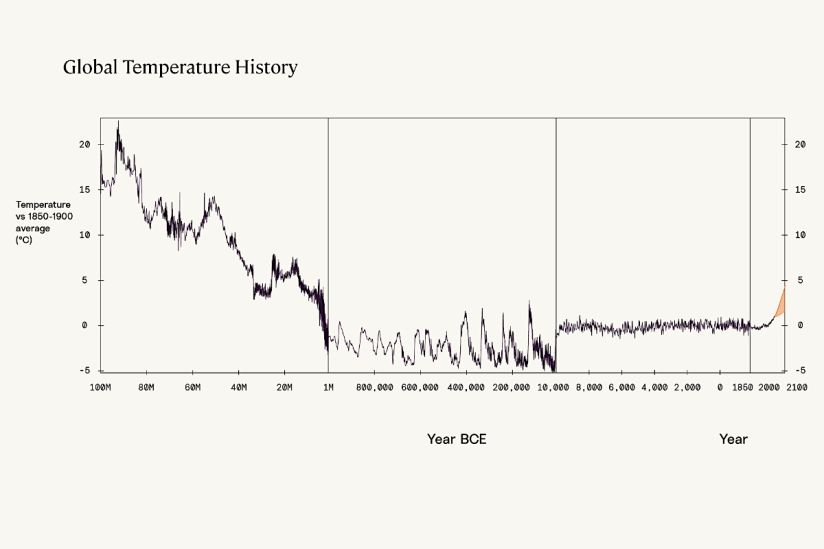 Examining the history of global average temperatures of our planet can help us better understand the significance of climate instability. Learn more about this graph by watching our 5-minute climate history video here.

This comfortable stability and the reliable weather patterns it brought allowed us to settle into permanent communities. We practiced agriculture and, over time, built cultures, governments, economies, institutions and eventually, archives and libraries that would document and provide access to our history and stories. Over time, we became so accustomed to this stability that we assumed it couldn't be changed.
Today, nearly 3,000 years after the first library opened its doors, we're on the brink of losing climate stability. We are gaining a new appreciation for how climate stability underpins our modern world. This realization inspired the creation of Probable Futures, founded by Spencer Glendon and bolstered by a team of collaborators across science, literature, design and technology –– a team that I have the great honor of leading as Executive Director. Our goal with our freely accessible platform is to build societal climate literacy and help people foster skills we all need to live well in a changing climate.
We've spent the last several years building a platform that offers interactive maps, science, historical context and stories to help us all envision a range of climate futures. We've tested our framework with leaders across industries and geographies — from executives of major global financial institutions to government leaders, primary school teachers, business consultants and television meteorologists, to name a few. Our framework has three pillars: climate awareness, preparation and imagination.
Climate Awareness
Excess carbon dioxide in the atmosphere –– primarily from burning fossil fuels –– has brought us into a new era of climate instability. Heatwaves, storms, droughts and wildfires are exposing our assumption that the climate would remain stable. We built storm sewers for specific amounts of rainfall and designed buildings for certain temperature ranges. Our agriculture relies on known patterns of precipitation and our cultural practices are often reflections of seasonal weather patterns. Even our language tends to reveal our climate assumptions. We say things like "London is rainy" and "California is nice" –– as if it always has been and always will be.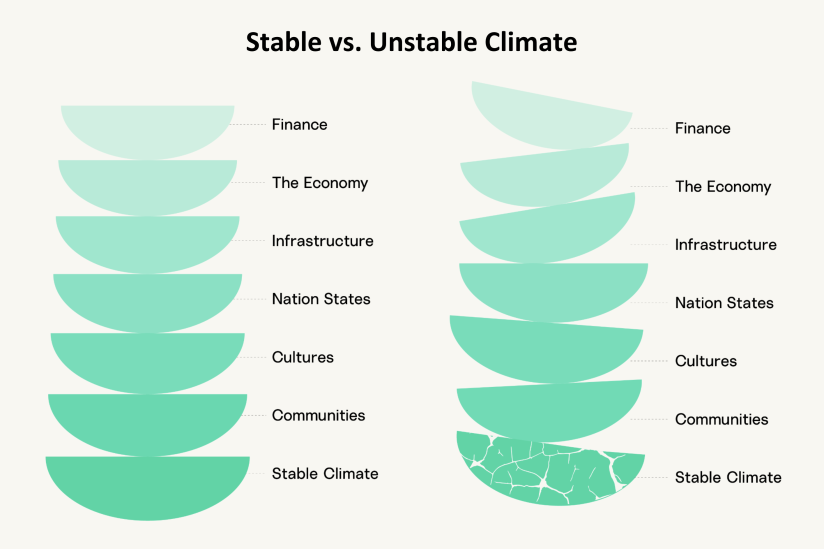 Climate stability is the foundation for civilization. As our climate begins to change, we can use climate literacy and awareness to mitigate risk.

Climate awareness starts with paying attention to the myriad ways a stable climate underpins our everyday life. This seed of mindfulness for how the natural earth intersects with our human-built world can quickly grow, helping each of us see the unique opportunities we have in our work, homes and communities to avoid the worst climate scenarios while also planning for the levels of warming that are likely. In the context of libraries, it might start by investigating possible climate-related vulnerabilities of the building and grow into curating new climate-related literature collections, hosting community programs or embarking upon renewable energy projects.
Climate change is a complex, wide-reaching, interconnected challenge and it can feel overwhelming to tackle its enormity. Practicing climate awareness is a simple yet deep-rooted way to start.
Preparation
Thanks to climate science, we know a lot about how the climate will change at each increment of warming. But we need that science to be presented in a way that resonates with people making decisions in the real world and answer relevant real-world questions. That's why a core part of the Probable Futures platform is maps — designed to be familiar, intuitive and resonant, allowing us to think ahead and prepare. We can start using the science we have at hand to plan for the warming we know will happen — and motivate society to make choices that avoid levels of warming that would bring further destabilization.
Consider this map of Dallas showing how the number of days above 100°F will increase at future levels of warming. In a past climate, in an average year there might have been a week of such days, or up to three weeks in a hotter (90th percentile) year. By three degrees of warming, the average year could bring well over a month of days above 100°F, or even three months in a hotter year. Are library buildings and HVAC systems equipped for more days at extreme temperatures? How might these trends affect library access and visitation? What role might a library have in preparing the community at large for these kinds of conditions?
We built Probable Futures to empower the user to understand climate change through their own lens by making available data about the most fundamental, first-order impacts of climate change — temperature, precipitation and drought — without any additional analysis on top. Climate change will mean different things to different communities. Leaders and citizens of those communities are best positioned to understand what the impacts will mean for them, their infrastructure, industries, schools and libraries. No one will be able to provide all of the answers about the multidimensional impacts of climate change, but what we can do is democratize access to good tools, prompt relevant questions and have a framework for thinking them through.
Imagination
The maps on the Probable Futures platform provide clarity that life under a changing climate will be different. But the ways in which our lives will be different are up to us. We have the opportunity to imagine and design a future that is truly sustainable. That imagination, however, must be bound by what we know about the limits of our planet. We can design a more resilient, equitable and regenerative future that allows us to live well under the constraints that Earth and our climate give us.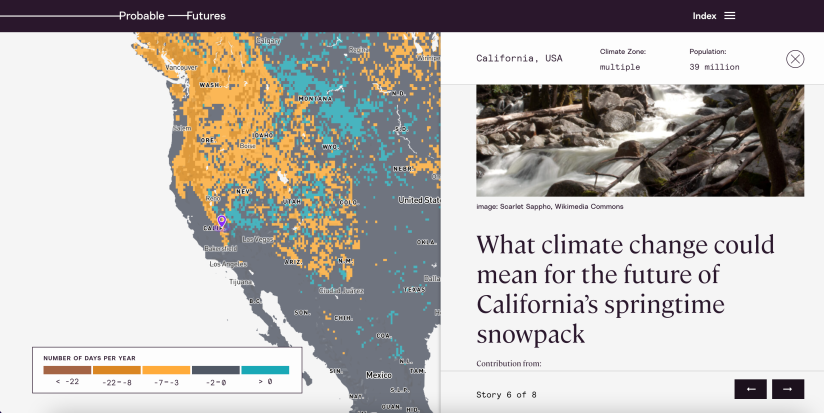 Stories of climate risk and resilience are nestled throughout Probable Futures's interactive maps, helping users expand their imaginations about everyday life in a changing climate.
There is no doubt that literature, storytelling and libraries can help in this endeavor. Novelists, poets, screenwriters, artists, musicians and other creators of culture have always played a role in helping us envision futures we would rather avoid and those we want to strive for. We need their creativity and vision now more than ever.
I started this piece by asking you to imagine being present at an important juncture in history. Today, we have the benefit of knowing the significance of this moment in time, and the power that the leaders of today hold to affect the world in which future generations will live. I am confident libraries and their leaders have a unique role to play. How? We didn't build Probable Futures to provide those answers –– we built it to help you ask good questions and empower you to start conversations in your own communities. And, at Probable Futures we are happy to help you get started. If you would like to learn more about our tools and our offerings, feel free to contact us at hello@probablefutures.org. Furthermore, if you like what you see on the site, please share it within your communities.
We can't wait to see the futures that you imagine.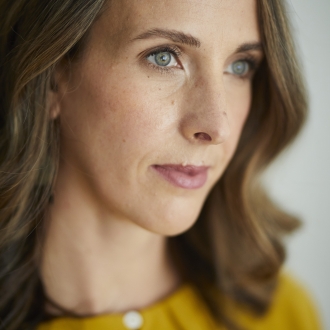 Alison Smart
Executive Director, Probable Futures
Alison is the Executive Director of Probable Futures, a climate literacy initiative that makes practical tools and educational resources available to everyone, everywhere. Prior to Probable Futures, she was Vice President for Strategy & Advancement at the Woodwell Climate Research Center. While working with Spencer Glendon (who would become the founder of Probable Futures), they connected over their backgrounds as translators and bridge builders between climate science and other parts of society. In 2020, Alison joined Spencer to help shape his ideas for Probable Futures and bring the initiative to life.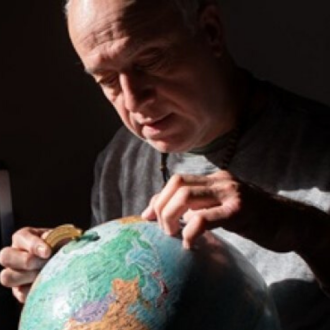 Reclamation/Reclamación — Stories of Climate Change Refugees
Learn how Brooklyn Public Library's Our Streets, Our Stories oral history project explores environmental and social justice issues.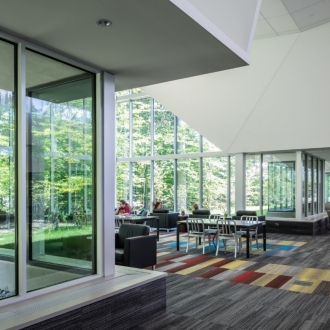 Generative and Resilient: Sustainability Beyond the Walls of the Library
MSR Design's Dagmara Larsen provides a global perspective on how public libraries can enrich the natural environments of their communities through cutting-edge, sustainable architecture.