Building a Trusted and Credible Library Presence in the Business Community
by East Baton Rouge Parish Library's Spencer Watts (Library Director), Andrew Tadman (Reference Services Coordinator) and Natalie Denby (Reference Librarian)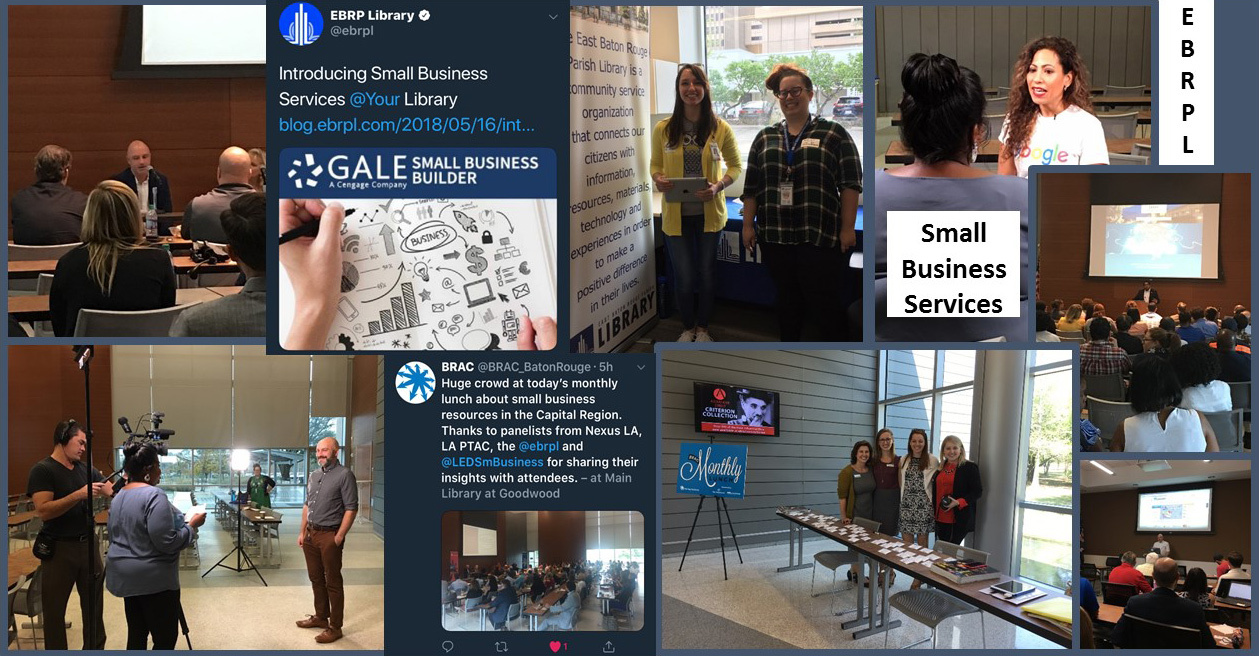 East Baton Rouge Parish Library has had the wonderfully invigorating and challenging opportunity to participate in the ULC Entrepreneurial Learning Cohort. This experience has helped us reimagine the way we bring services to underrepresented groups and realign our resources. The result is a better tuned, more proactive, dynamic effort that helps small businesses and those interested in starting a business.
We have learned a number of valuable lessons. First, you cannot build a trusted and credible presence in the community from behind your desk. Libraries that offer small business and entrepreneur-focused services are participating in an existing ecosystem in their communities; it is not enough to announce these services and wait for people to come to you. Many of the small business owners in your community will have relationships with other organizations, and may not feel the need for additional support. You must meet them where they are, and give them a reason to build a relationship with the library. You must be willing to attend a variety of local events — area chamber meetings, classes offered by those existing entities, even job fairs at local colleges and schools — and to reach out to both attendees and organizers when you're there.
Our library's free meeting rooms and collaborative spaces are used by local nonprofit groups and community organizations thousands of times each year. We were able to use these connections as a jumping-off point. For example, the Baton Rouge Area Chamber (BRAC) hosts its monthly luncheon meeting in the large meeting room at our Main Library; the library is considered a full partner in this series. We strengthened this relationship by inviting members of BRAC to attend library-sponsored business events. Eventually, Andrew Tadman, coordinator of reference services, was invited to be the keynote speaker at one of their monthly meetings, and the library's Small Business Services department was invited to attend the grand opening of the new BRAC Center for Economic Development as a vendor. BRAC further promoted the library's Small Business Services through their own newsletter and social media channels and through postings in their new building's entrepreneur/training space.
You cannot build a trusted and credible presence in the community from behind your desk.
In addition to media advertisements, geo-fencing, social media boosts and targeted marketing via Google Ads, we have sponsored several in-depth articles in Baton Rouge's Business Report, the major publication in our area for businesses and entrepreneurs. There was a cost, but the investment was worthwhile.

We've also made a point of participating in events as a paying vendor or attendee. When you pay to attend an event sponsored by another organization, you are not just buying the right to put up a table and hand out brochures, or even to get a few minutes of face time with someone (the more valuable of the two in the business community). You are putting your money where your mouth is, adding a link in your resource network and purchasing a share in the public's trust.
For example, we attended the 2018 EDA University Center for Economic Development Conference at Southern University, the Upward Bound TRIO Program's first annual college and career expo, the annual conference of the Louisiana Association of Non-Profit Organizations and The Advocate's Economic Outlook Summit. Paying to attend these events is one way to show fiscal support while also getting something back. While partner organizations receive financial support and one of their vendor tables filled, you get to be an obvious part of a new community for the library, and you have the opportunity to tell everybody who comes by all about it.
Baton Rouge has several strongly established business-focused organizations; by contrast, many people think of the library in terms of books and otherwise limited, more traditional programs and services. Being perceived as a partner of a well-known business organization helps potential clients get over some of the initial resistance to using library resources for anything other than entertainment or homework. At every event we paid to attend, we gained useful contacts with community influencers and extant or hopeful entrepreneurs, and those people later contacted us on their own. We were also able to share information about upcoming library events to a wide base of potential clientele. We held several events highlighting specific library resources, such as Reference USA and the Gale Small Business Builder. It is unlikely that they would have been so well-attended if we had not spent time at related events of which we were not a direct sponsor. The attention we garnered from attending these events also made us a draw for organizations like Google, for which we hosted the first Google training session in the region, as well as the mayor's economic development campaign, which held several events and meetings at our Main Library.
Being perceived as a partner of a well-known business organization helps potential clients get over some of the initial resistance to using library resources for anything other than entertainment or homework.
It can be difficult to build relationships with organizations that may view your effort as competing for funding and support, but it is necessary. Consistent communication is the most useful tool. Externally, relationships with existing entrepreneurial organizations can only be built through regular, sometimes persistent, contact, or by having a regular presence in shared media. In addition to regular print, radio and television contacts, we used our own resources — our monthly newsletter, The Source; our monthly local cable TV show, also posted to the library's YouTube channel; as well as our other messaging and social media platforms — to promote our services. Our community partners also helped us push out information about the new Small Business Services.
As part of the ULC cohort, we learned a great deal about cross-promotion. There are all kinds of events you can use as opportunities to tell your organization's story. Do not discount the old standards, though; several of our patrons have found us through a flyer at their local coffee shop, or have recommended that we ask their church for space on the community board. There will always be people who do not already attend the library, or for whatever reason are not aware of the resources available to them from other sources. The only way to reach those people is to go to where they are and put it right in front of their eyes, and then deliver on what you offer them.
Internally, regular updates and training for staff on our progress or on new resources helps those who are not officially part of the Business Services program feel more comfortable, preparing them to either answer business questions directly or know what to refer to our business-focused staff. Staff have demonstrated that they are comfortable learning and training on library resources or offerings that fall outside of their comfort zone, since they know it won't be totally up to them to implement it — some of the pressure is off them. We've partnered with our Career Center and our Outreach Services Department to tap into those already-robust patron bases, and that has also been quite successful. We've increased the number of staff recruited to attend vendor or database training events in part by assuring them that it will not totally be "their" job. We are even adding a new full-time position to build a bridge between Small Business Services and the Career Center, which should ease internal tensions and allow for more ambitious joint programming.
The library's most useful tool has always been its people. We know how to build relationships. Interacting with business owners and business resource groups is just another kind of relationship. It takes time, energy, intent and sometimes money, and like any new enterprise, it may be a while before you start to see returns on your investment — but it's a big blue ocean out there, and the more you get out there and learn from your community, the bigger a fish you'll be.
Spencer Watts has served as director of the East Baton Rouge Parish Library since 2013.
Andrew Tadman serves as the coordinator of the library's reference services, including Library Information Service, Special Collections, the Career Center and the newly established Small Business Service.
Natalie Denby is the library's first business librarian.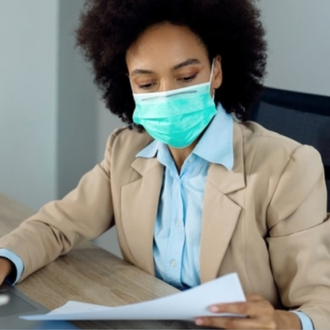 #ULCchat Recap: Reaching and Engaging Underserved Entrepreneurs
Urban Libraries Council
Our second live Twitter chat held in November was designed to raise awareness of the library's critical role in supporting underserved entrepreneurs and inclusive economic recovery.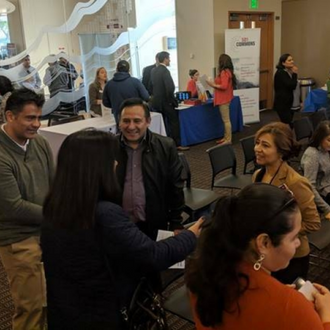 Equitable Access to Entrepreneurship for Immigrants and Refugees
King County Library System
Discover how King County Library System systematically engaged their community to better serve and learn about the aspirations of entrepreneurs who are immigrants and refugees.