Parks and Libraries for All Forever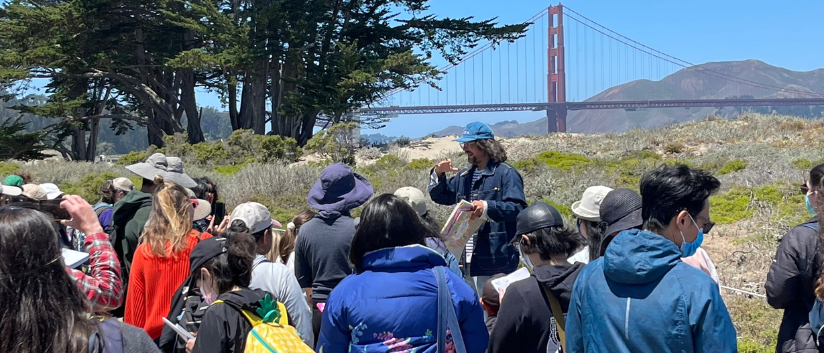 My first meeting with the National Park Service involved a field trip to Crissy Field complete with the postcard view of the Golden Gate Bridge and quintessential bay breeze. I recall the feeling of wonder and promise of a new summer for our community and our staff. It was Fall 2015 and San Francisco Public Library had a seat at the picnic table to join in the planning of the National Park Service (NPS) Centennial Celebration with the Golden Gate National Recreation Area (GGNRA), Presidio Trust and Golden Gate National Parks Conservancy.

This tri-agency collaboration together coordinates the administrative and financial support for the iconic national parks of San Francisco and surrounding areas including Alcatraz Island, Crissy Field, Ocean Beach, the Marin Headlands, Muir Woods and Mori Point. Fun fact: the Golden Gate National Recreation Area is the most dog-friendly national park and has 19 distinct ecosystems.
To mark this milestone, the Parks set a laser focused goal to increase awareness, access and usage with historically marginalized communities. Like our libraries, they have loyal and frequent visitors but knew they were not engaging communities of color, specifically immigrants and those low-income neighborhoods. As trusted anchor institutions in each neighborhood, SFPL was uniquely positioned to reach these communities. Both our organizations value inclusivity and education; together we set a shared goal to increase access and awareness of parks and libraries for all.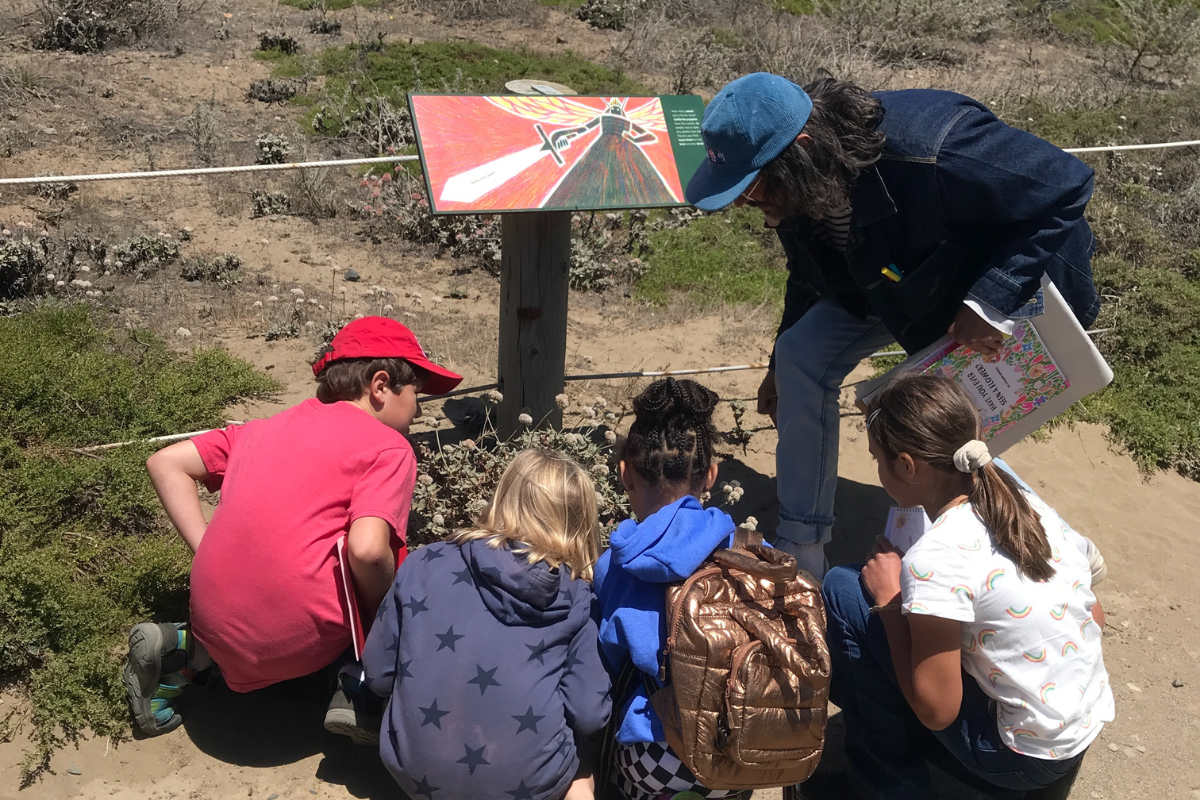 Within a few months, we had cooked up a dynamic public program series for Summer Stride 2016 with free weekly shuttles from branch libraries to local national parks with a Park Ranger, multilingual trailheads installations in libraries serving low literacy/income communities, a public program series with Ranger Talks in all 28 locations, a centerfold in the printed program guide, joint Junior Ranger Jamboree/Summer Stride Kickoff Event at Crissy Field, 11 Little Free Libraries in the parks, commemorative Reading Ranger badge and a shared marketing campaign featuring the phenomenal art of Christian Robinson courtesy of our partnership with Chronicle Books. Furthermore, we committed to sharing data to present the full story of a different summer for San Francisco residents. I look back and pinch myself thinking about the power of shared alignment.
This kickoff year would earn the prestigious John Cotton Dana Award for libraries and a sister award from the Park Alliance. Plus, this collaboration ultimately transformed SFPL's vision of Summer Stride to provide experiences beyond our brick and mortar spaces. By the second year, we had grown to expanded shuttles to Muir Woods, ferry rides to Alcatraz, trailhead installation inside the Public Knowledge Branch Library at SFMoma and our first StoryWalks at Mountain Lake in the Presidio.
Now in our seventh year of partnership, I interviewed Fatima Colindres, NPS Community Outreach and Program Ranger, to showcase our fieldtrips, collaboration, co-creation and collective impact.
"I just love the San Francisco Public Library and how they've given me a voice to be able to make these programs a reality and giving space to all these people that are here to tell their stories so it wasn't in vain. So that the younger generations can know who they are, where they come from and what are their roots. When you feel rooted in something special, then it empowers you." — Fatima Colindres, NPS Ranger
Ranger Fatima and artist Shawn Harris presented an interactive StoryWalk and sketching of indigenous plants along Crissy Field in June 2022 with SFPL.
Field Trips
San Francisco is seven by seven square miles with 49 hills, substantial public transportation and yet there are pockets of the community where traveling across the city to see the ocean takes nearly two hours. By providing transportation we remove a crucial barrier to access. We strategically schedule shuttles in libraries nestled in San Francisco's equity zones: Southeast, Chinatown and Tenderloin areas. Destinations range from Muir Woods, Mori Point, Mountain Lake, Marin Headlands and Alcatraz. After a two-year hiatus, we are reintroducing this treasured experience and prioritizing communities most impacted by COVID-19. Host libraries promote and recruit locally. All ages, abilities and means register and there is always a waitlist. Each experience begins at the library with a warm welcome before hopping onto the shuttle for the guided experience with a knowledgeable NPS Ranger. On the shuttle, participants meet neighbors, new friends and learn about the destination. The Ranger provides a menu of options which always includes a guided hike and reminder of when to gather for the return back to the library. Watch the NPS Centennial Shuttle video for one trip from the Ocean View Branch to Mori Point.

Collaboration
With positive response from community and staff, our partnership grew to include field trips in the fall and Ranger Talks aligned with systemwide programming themes such as VIVA, More Than a Month, Climate Action and Asian American and Native Hawaiian/Pacific Islander. SFPL was already at the table to plan the 50th Anniversary of Alcatraz Occupation — an 18-month long program series. This aligned seamlessly with SFPL's One City One Book selection of There There by Tommy Orange and SF Arts Commission American Indian Initiative. Many original occupiers traveled to San Francisco for commemorative events on island and in our libraries which created multiple opportunities to raise visibility of this historic movement and recognize the important members of our community of Native People. A personal highlight was hosting a breakfast for visiting original occupiers and their families, many of whom were presenting programs on the island and in our libraries. After the breakfast, our guests were invited to share stories in the Koret Auditorium where staff were invited to listen. Dr. LaNada Warjack moderated this "open mic" gathering which closed with her son offering a blessing. Our work and engagement with this community continues today.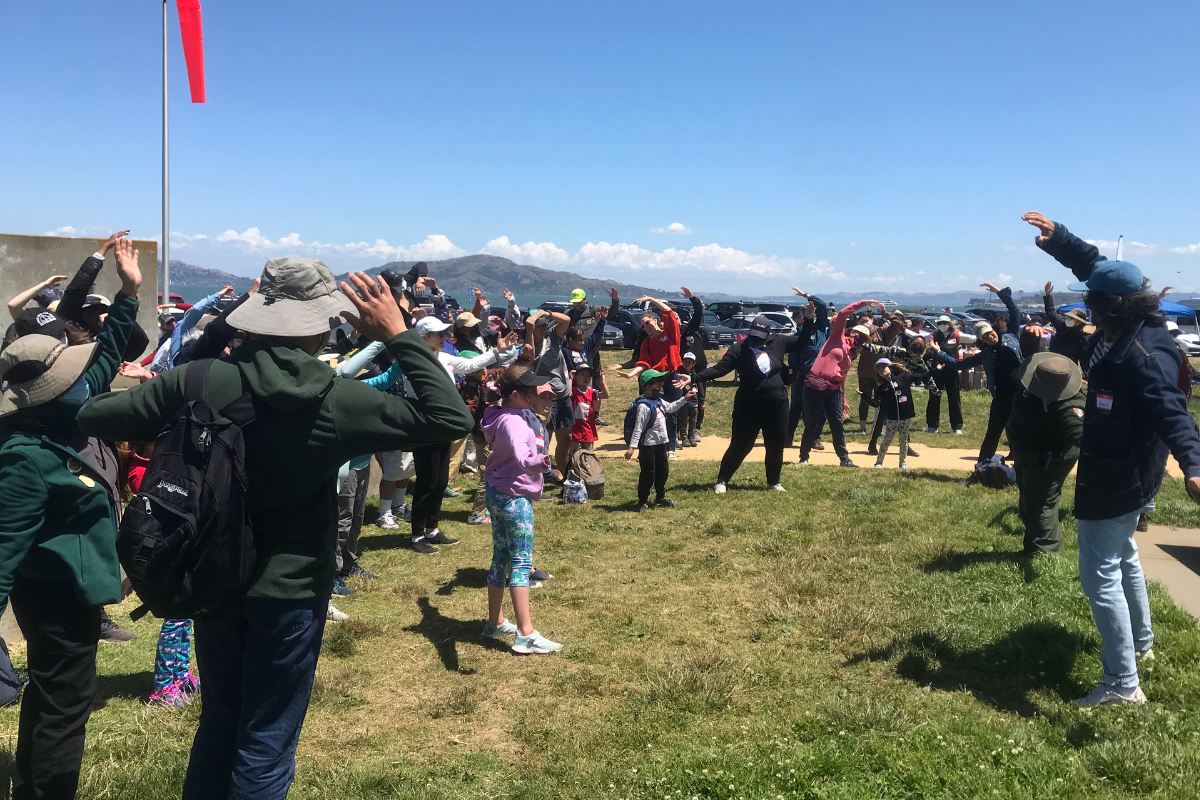 Co-Creation
With the onset of the pandemic, we worked on a shared goal of bringing parks to the people from the safety of their screens. What began as a weekly virtual Nature Boost in Summer 2020 evolved into monthly program offering. Our first event was a live virtual Visit to Lands Ends with Yakuta Poonawalla, community programs manager from the Golden Gate National Parks Conservancy, talking about the native plants. This popular series includes author talks, S'morey Stories, LGBTQIA history, Career Panel, climate change, social justice movements and more. The Uprooting of Chinatown event had more than 100 attendees and continues to be watched. Together we continue to co-create authentic original programming that honors the history, stories, culture, community and diversity of the Bay Area. Virtual events are recorded and available on the Nature Boost Playlist.
"Because of the collaboration, we were able to continue to bring the parks to the people and people to the parks."— Fatima Colindres, NPS Ranger
Parks A Plenty
San Francisco is the first city with a park within a ten-minute walk for each home. I would be remiss not to acknowledge how SFPL brings services into local city parks including Golden Gate Park. This beautiful park turned 150 on April 11, 2020 — less than a month after our city shuttered. SFPL had to unplan walks from neighborhood branches but held fast to the commemorative library card and Golden Gate Park-themed Activity Tracker for Summer Stride designed by artist Alison Farrell. "Swing into Stories" was the first in-person early learning program to be reintroduced. Every Tuesday youngsters and their caregivers flock to the park for storytime and visit from the Children's Bookmobile in the park. SFPL is participating in the State Park pass pilot with the California State Library. SF residents can check out a parking pass and visit a local State Park for free.
An extra special storytime followed by nature play at Golden Gate Park.
Photo Credit: Maria Durana, SF Recreation & Parks
Collective Impact
I credit this partnership for teaching me to think beyond the brick and mortar spaces and better understand of how to be in community. It has transformed how SFPL designs Summer Stride and taps into the social justice history of the Bay Area. By sharing data, being transparent about our resources and listening for the opportunity, this partnership will continue to grow, evolve and thrive. Parks and Libraries for All is a living part of how we serve our community. My closing advice is don't wait until the next Centennial to spark a collaboration with your local, state or national parks. Take a walk outside your library to discover these green spaces and your community partners.
Highlight from Fatima Colindres
"I am an immigrant from El Salvador and I came to the US when I was six years old. My school would take us to Bernal Heights Branch. And that was my library. I have always loved to read. I have always been into animals, plants and being outdoors have always been my thing. But as an immigrant, I did not have the privilege to go outside to visit far away parks or camping. I would see this in cartoons and shows. In sixth grade, my class went camping for the first time. I got to experience going out into the woods, outside of the city and experience a campfire program for the first time. My experience included silly songs, storytelling about the local wildlife and plants. Everything I loved.

In high school, I met my first Ranger who working with plants and nature — things that I love. Her name was Solange and she learned later she is Salvadorian/German. It opened my eyes to this as a career and inspired me. I had been cleaning houses to help my mom earn money. Instead of going to summer camps, we spent our summers cleaning house. I hated it and feeling trapped. Because I feel like I am naturally inclined person to be outdoors. Everything that made me feel happy and peaceful was outdoors.

As a child, I knew how to get to school, to the library, to the grocery store and come back home. This was my world. I wish I would have known more existed. That's why the library is so important.

This collaboration with the public library is so beautiful and important to me. Because I know from my own experience, that's where the people are. That's where I need to be so that I can help people like me enjoy their outdoor spaces." — Fatima Colindres, NPS Ranger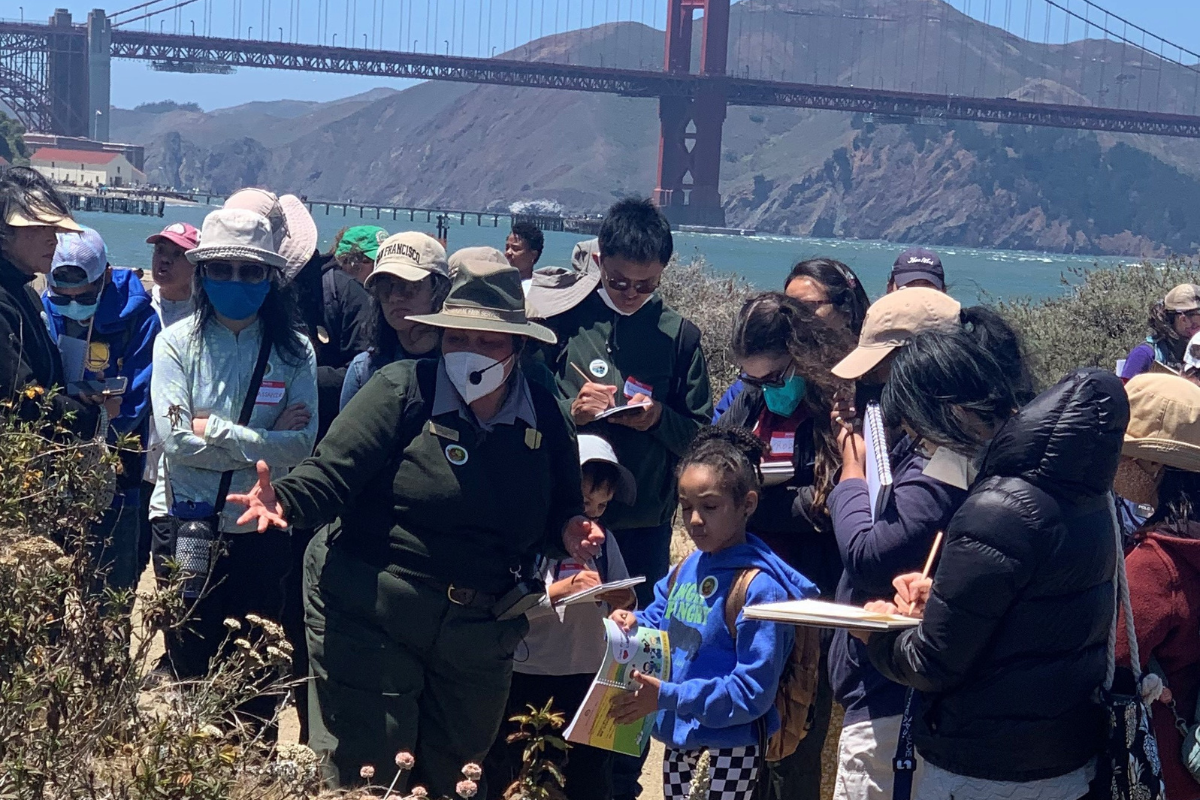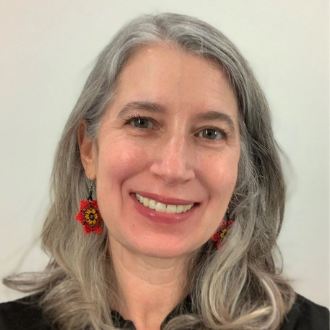 Christy Estrovitz
Youth Services Manager, San Francisco Public Library
Christy Estrovitz (she/her/hers) leads programs, partnerships and key initiatives for children, youth and their families as the Youth Services Manager for San Francisco Public Library. She is known for building authentic and expansive partnership with museums, parks, city agencies, schools and more to create shared experiences to strengthen communities. As the go-to for SFPL's award winning Summer Stride program, she collaborates with the National Park Service to connect people of all ages with the majestic outdoors. Christy is a frequent speaker at state and national conferences on the topics ranging from summer learning, learning environments, youth leadership and SFPL best practices. In her free time, you can find Christy hiking with her family in a local national park.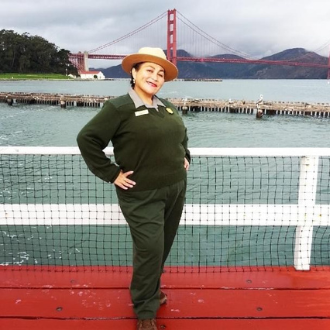 Fatima Colindres
Community Programs & Outreach Ranger, Golden Gate National Recreation Area
Fatima Colindres (she/her/ella and they/them/ellos) works as a community programs & outreach ranger at the Golden Gate National Recreation Area. She has been stationed at the Presidio of San Francisco for the past 23 years. She is part of the Community Outreach team and is passionate about providing a rich experience for underrepresented communities in the Bay Area of San Francisco who have not traditionally visited national parks. Fatima uses her storytelling abilities to engage Spanish and English-speaking audiences of all ages in fun and interactive experiences that help them gain a new love and respect for their national parks.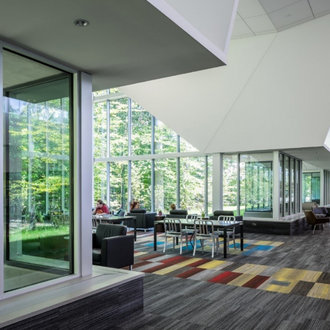 Generative and Resilient: Sustainability Beyond the Walls of the Library
MSR Design
MSR Design's Dagmara Larsen provides a global perspective on how public libraries can enrich the natural environments of their communities through cutting-edge, sustainable architecture.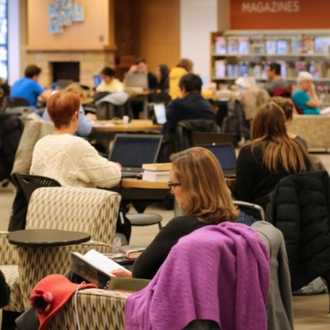 Scaling Up Library Services in Times of Need
Arlington Heights Memorial Library
ULC sat down with Mike Driskell to talk about the lessons learned in responding to a recent snowstorm in Arlington Heights and how the library continually pivots to serve its community.