Libraries Overcome Barriers and Identify Opportunities for Service to Youth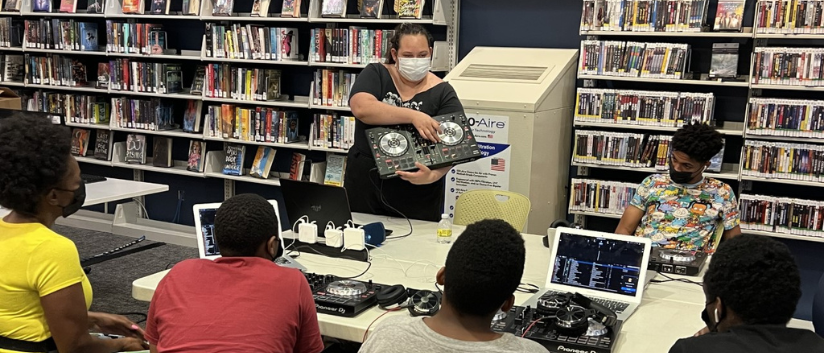 Photo credit: DC Public Library

Written by Katie Sullivan, Program Manager, Urban Libraries Council
Opportunity youth, often defined as young people between the ages of 16 to 24 years old who are disconnected from both school and work, frequently face challenging home or community environments. Opportunity youth are overwhelmingly Black or Latino, and research further demonstrates the disparities these young people are facing. According to the American Bar Association, historically, Black youth are three to five times more likely to be suspended or arrested than are white youth in school. The public library presents an opportunity to improve the social and economic outcomes in life of opportunity youth and disrupt the school-to-prison pipeline.
Through ULC's Creating Youth Opportunities Initiative, 11 libraries participated in a peer-learning cohort and developed individualized program plans to specifically reach opportunity youth in their communities.
Conversations with the cohort libraries allowed ULC to identify barriers faced by libraries as they explore work with opportunity youth, including:
1. Lack of support or understanding of what role libraries play
Public perception continues to see libraries as a hub for books and literacy initiatives, and as a result, potential partners often overlook libraries as a key asset to their programming. Libraries that are successfully working with opportunity youth often have to have the capacity and resources to launch new programming and/or seek out partners.
2. Internal library systems and structures
In many cases, programming for opportunity youth falls outside the traditional framework of services libraries are accustomed to providing. Some staff members may even demonstrate discomfort with the presence of this demographic in the library. Just as library staff that want to work with opportunity youth may need to build relationships with community members and partners, they may also need to persuade library staff and internal stakeholders of program value and provide relationship-building training for staff who may not be used to working with this population.
Additionally, the youth that frequently enter library spaces are the most accessible for programming, but in many cases are not the youth most in need. This means that libraries may need to increase or tailor their outreach efforts, which may or may not already be within the library's services. A lack of experience working with opportunity youth may also limit a library's ability to provide tailored, co-designed programming.
3. Lack of resources
Public libraries received more than 90% of their funding from the government over the past 30 years, yet between 2019 and 2020 libraries received the smallest annual increase in library funding since 2013. As various library services compete for funding within a library budget, new initiatives for opportunity youth may not be prioritized.
Successful programming for opportunity youth requires sustainable funding, library leadership and staff investment, reliable and deep partnerships, tailored outreach services, authentic youth engagement and skilled program design and delivery.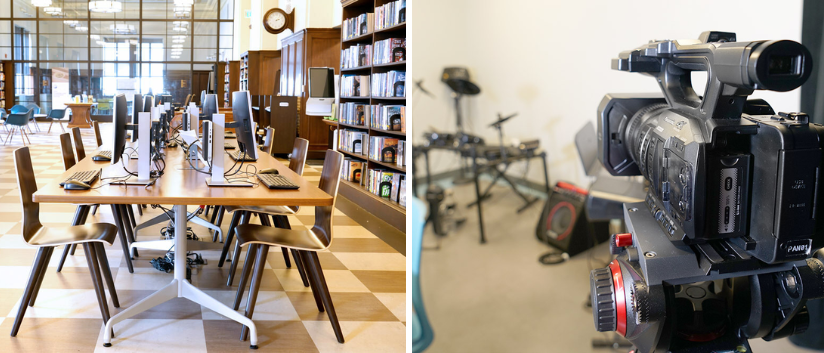 Enoch Pratt Free Library's Teen Center is an inclusive, safe space aiming to enrich the lives of Baltimore city teens through reading materials, STEAM programming, and multiple literacy workshops. Credit: Enoch Pratt Free Library
Library Program Examples for Opportunity Youth
However, libraries have worked to overcome these challenges and identified a number of areas in which they have the unique capacity to make an impact on young people. Libraries in the peer-learning cohort identified the following types of programming to serve their community:
Career Development
There are a range of programs and services that libraries can offer to enhance career opportunities. Job and skills trainings, internship fairs, career panels, supporting teen volunteers and even offering direct employment opportunities are all strategies that have been employed by libraries.
Columbus Metropolitan Library is planning a comprehensive approach to expanding career services including a trauma-informed care learning track for library youth services staff, an internship fair to connect 1,500 teens with opportunities across the city, hosting career panels for teens and supporting more than 900 "volunteens" in summer 2024.
Pioneer Library System hopes to expand upon successful internship and employment opportunities provided by the library, incorporating career exploration and skill training and targeting more diverse young adults for the opportunities.
DC Public Library is looking to expand an existing internship program by building restorative justice principles and practices into supervisor training for library employees and creating professional development opportunities for youth.
Cedar Rapids Public Library is planning to employ an opportunity youth leader to develop a weekly program for tweens at the Union at Wiley apartment complex. This residential site is a known resource desert and replaced apartments that were lost during the derecho of 2020.
Memphis Public Libraries is looking to work with a range of community partners to host an Opportunity Youth Fair. It is set to include resources such as local college writing programs, music initiatives and a Memphis Bar Association Summer Law internship program.
Mentorship
There is sufficient evidence that having a strong mentor improves a young person's outcomes. Libraries with the resources can support and empower teens to lead peer mentor programs. Mentorship can also be as simple as positioning yourself as a reliable, consistent, positive figure in the lives of the young people with whom you work.
Prince George's County Memorial Library System looks to build new as well as expand existing programs for youth. This includes holding weekly Teen Action Group meetings, hiring of at least five youth at risk of incarceration as peer mentors and launching a Teen Council to advise the library on teen services and initiatives at a system-wide level.
Oak Park Public Library plans to support young people through diverse programming that runs in concert with the school year, offering mentorship programs, police partnership programs, and online resources. The library will identify participants through referrals including from schools, the police department and the library itself.
Trauma-Informed Emotional Support
Many opportunity youths have experienced trauma on their path to disengagement. Libraries can develop skills to work authentically with traumatized youth through methods such as trauma-informed care. Staff can be trained in trauma care, and libraries can host sessions such as healing circles and trauma-informed book groups.
Chicago Public Library hopes to expand their Trauma Informed Book Groups program, targeting specific teen populations that do not readily access library services including incarcerated youth, youth in the foster care system and youth with disabilities.
Out-of-School Time Learning
Opportunity youth are some of the most impacted individuals by the learning gap. Libraries should strive to engage youth in the library productively, identifying learning programming that is both educational and engaging.
Richmond Public Library will convene members of their teen population and other stakeholders to commit to and launch up to five new programs for teens across a number of issues. The library will map community relationships and assets and host open conversations for teens that acknowledge and respect their experiences.
Greensboro Public Library is looking to implement the Boundless Pages Program, a strategic initiative aimed at providing fun, educational and creative resources for youth with an intergenerational approach. The initiative strives to bridge the gap between children and their elders to foster a sense of community and support. Through the program, the library will deliver resources, workshops and classes that promote educational and creative growth.
Physical Space with Human-Centered Design
Libraries can develop and maintain dedicated teen spaces in the library that are welcoming, comfortable and productive. The library is ultimately a safe space for teens to spend time, and should not be discouraged.
Enoch Pratt Free Library will use collected community and patron data and a human-centered design approach to develop a teen space in the Main Library that is welcoming, comfortable and productive for teens.
The Creating Youth Opportunities Initiative concludes its research and planning phase on October 31, 2023. ULC hopes to begin a pilot implementation phase with the 11 participating libraries in early 2024.
Related Webinar: "Deepening Community Engagement to More Effectively Serve Your Community"
On October 17, 2023, ULC hosted a webinar on building strategic community engagement operations to reach under-resourced communities that may not already utilize the library. Representatives from libraries participating in two key ULC initiatives, Barbershop Books and Creating Youth Opportunities, presented on how they have accomplished innovative engagement programming.
View Webinar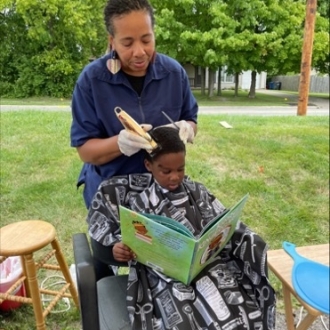 Four Libraries Pilot Community Engagement Programs with Local Barbershops
Charlotte Mecklenburg Library, Cleveland Public Library, Columbus Metropolitan Library and Shreve Memorial Library are participating in the Barbershop Books Pilot for Libraries, an initiative in partnership with the Urban Libraries Council and Barbershop Books and supported by the Institute of Museum and Library Services.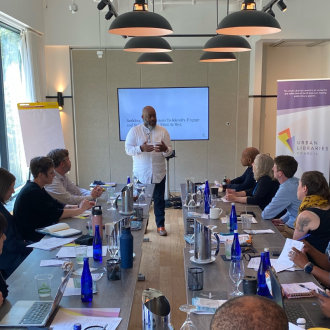 Libraries Build Tailored Program Plans to Improve Youth Outcomes
Eleven representatives from leading libraries gathered in Washington, D.C. from May 31 to June 2, 2023, for a convening focused on developing program plans that will effectively serve opportunity youth. Opportunity youth are at the highest risk of involvement with the criminal justice system.