Fighting for Food Justice: The Words We Use Matter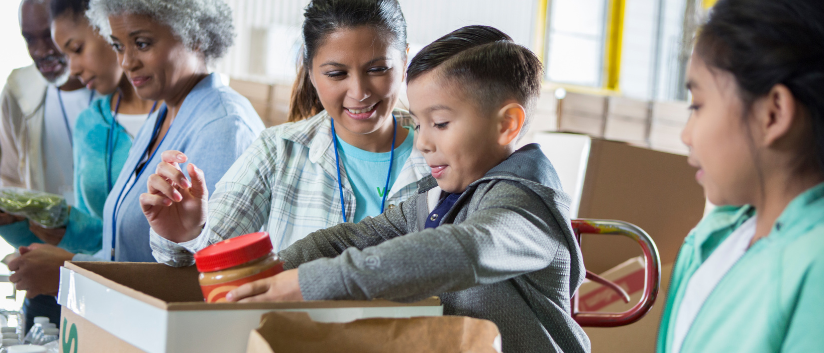 Authored by Shari Henry, Director of Democracy and Community Impact, Urban Libraries Council
I once participated in a strategic planning process where the facilitator led the team through a values-driven process to inform our mission and vision statements, and accordingly, the entire strategic plan. The process was solid and engaged staff across all levels of the organization. Where we got stuck, for several hours in fact, is deciding between two words in one of the statements. We finally agreed we would not be unanimous in this one instance, and the majority opinion reigned (with no hard feelings; we were all ready to move on!).
It should surprise absolutely no one that librarians are particular about words. In fact, it's one of the things I love most about the profession. Words matter; we need to use them wisely. We are driven by equity and human dignity and want to use words that feel inclusive rather than exclusive, always moving toward growing the number of seats around our table. This is not new work to ULC; most of you are familiar by now with our award winning Trigger Terms: Harmful Detours and Healing Redirects created by the Anti-Racism Action Team.

Recently I facilitated a Food Security Initiative where we convened around 20 organizations from around the United States, including a balance of rural and urban libraries, and a handful of outside food experts. Libraries from as far and as rural as Sitka, Alaska to as large and urban as San Antonio, sent representatives to discuss the library's role in food security, the work they are doing, their aspirations for doing more, and the practicality of making it happen. The findings will soon be published in a White Paper and shared widely.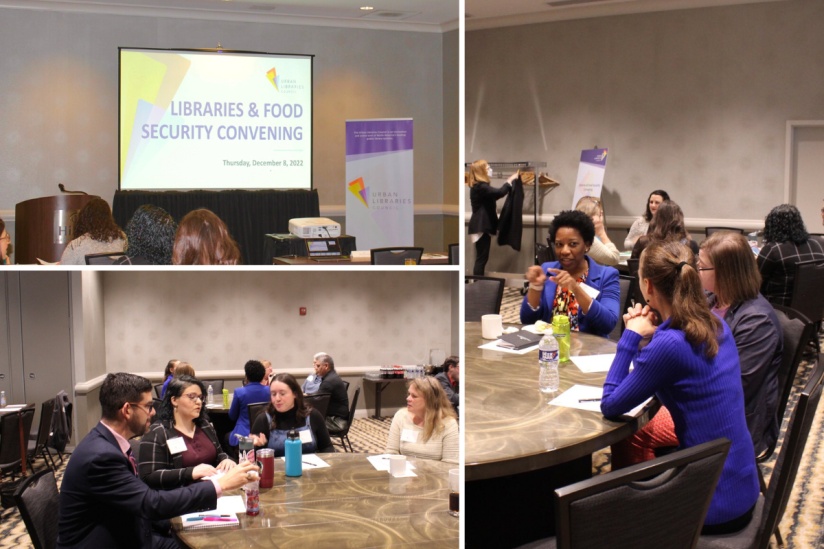 Pictured above: Representatives from libraries across the United States gather at the Libraries and Food Security Convening in Alexandria, Va.

It became crystal clear early on that words we used in our discussions and upcoming publications matter... a lot. Sometimes the conversation became difficult — learning new things and hearing your "old" ways challenged because they may be hurtful to others can cause some wincing — but the group honored one another and created a safe and warm environment where all views were shared.
First, we discussed the values driving the work, and were encouraged to see how large the circle is in the Venn Diagram of library and food security values.
Here are some of the values that rose to the top.
Food is a Right
Librarianship, like all professions, is guided by core values and principles. Drawing on these values provides the "why" of the work and helps define the library's role in food security work. These were the top values we identified:
Intellectual Freedom - Libraries provide a wide array of resources and let people make decisions for themselves, free from judgment. Food should be provided in this manner.
Privacy - People's bodies are their own; as are their choices in what to eat.
Human Dignity and Access for All - Everyone deserves to eat. Food is a right.
Reliable Information - Libraries provide education as a means to empowerment to encourage responsibility. Many libraries report providing an array of educational programming, from nutrition education to hands-on gardening workshops.
Community, Free and Open to All - Everyone is worthy of having a place at the table: a place to belong.
Equity - Libraries are growing in awareness about working with trusted messengers, working "with" rather than "for" people and providing culturally relevant food programming.
Commitment - Libraries are listening and learning as they commit to this work.
Justice - Libraries reported the belief they are in a place of reckoning, and that they need to be honest about where they are in order to continue to center human rights.
The word work was more organic, and wove throughout the entire convening. Often, I would write something a participant said on the board, to be met with another convener offering a helpful redirect.
Words Matter
Libraries recognize the evolving nature of language, and the need to evolve with it. At our convening, it became clear that we were shifting the way we walked about food justice. Terms library leaders discussed included:
Rather than referring to food deserts or using other "deficit" language, conveners chose to use food justice, a term that evokes hope and the power to change things.
Conveners representing rural, indigenous, Black and Brown communities reported the word "healthy" sometimes carries a stigma and can feel judgmental and moralistic. The group chose to use nourishing instead.
Solidarity rose as the preferred term to convey the relationship between those with food resources working alongside those in need to pursue food justice.
Acknowledge abundance. Like information, there is plenty of food. No one in America should be hungry. The challenge is getting the food to those who need it.
Sovereignty needs to be recognized, amplified and honored.
The group was energized by remembering and focusing on the core values of their work. It provides a sustenance for their everyday tasks as they remember the "why."
It didn't take long at all for all the participants to begin using the new terms; in fact, as we continue to communicate, they seem to come naturally to us. Members of other ULC groups and action teams have embraced them as well. And so, we agreed that no one in the United States should go hungry, food is a right and food justice can be incorporated into our work as we press toward an ever-more perfect Union.

To learn more about ULC's Food Security Initiative, click here.

Food is a Right: Libraries and Food Justice
White Paper, Libraries and Food Security Initiative
© Urban Libraries Council 2023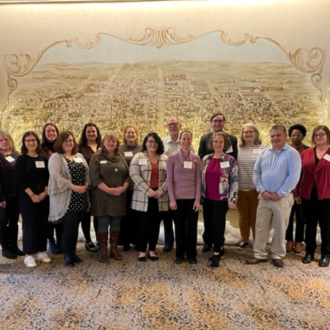 Libraries and Food Security: Bringing Together Grassroots Efforts, Cultural Relevance and Innovation
On December 7-9, 2022, library leaders and partners from 20 organizations gathered for a convening on the role of libraries in food justice. The convening emphasized how libraries of all sizes can support residents who lack access to nourishing food and nutrition information.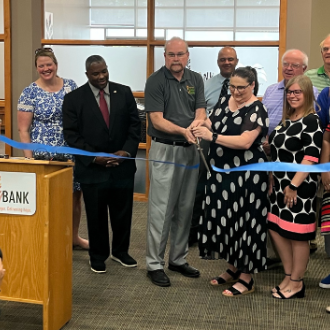 Launching a Food Pantry in Lexington
Discover how Lexington Public Library's is combating food insecurity due to the COVID-19 pandemic head on. Written by Brian Hocevar, Assistant Manager, Northside Branch, Lexington Public Library.