Finding the Right Partner Leads to Magic
By Emi Johnson, Business Process Consultant, Austin Public Library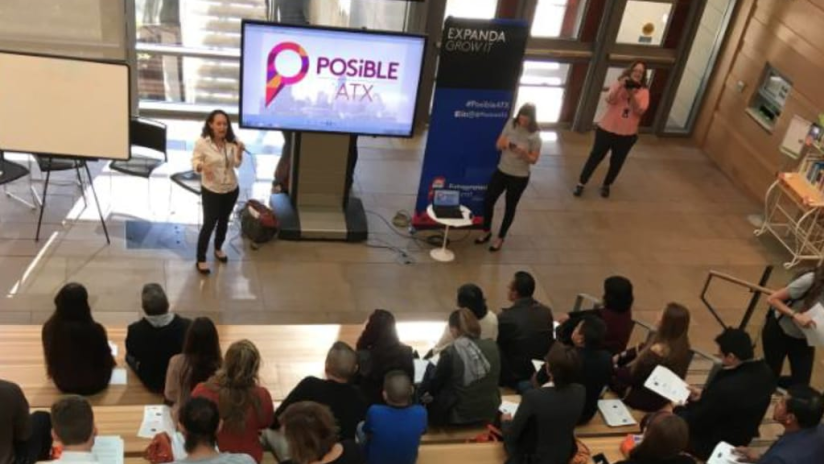 Attendees gathered for the POSiBLE ATX Entrepreneur Summit 2018, held at Austin Public Library's Central Library on November 3, 2018
This post provides a perspective on Austin Public Library's experience as part of the ULC Entrepreneurship Learning Cohort over the past eight months.
Getting Started
Austin Public Library was new to the concept of serving as a hub for entrepreneurship. In hearing where our cohort libraries were in this space, my hands got clammy. Did we jump in too early? How big of an impact is expected? We began this journey not knowing our ecosystem and how to find our way into it. However, in a short time, we gained a seat at the table through partnerships and by leveraging our space, hours, multiple locations (including our new state-of-the-art Central Library) and valuable resources to give businesses a reason to partner with us.
Finding the Right Partner
We have long partnered with a local nonprofit committed to providing financial literacy classes across the Austin area, including offering classes in multiple branches. Class topics range in financial complexity from balancing a check book to recovering from a financial hardship like bankruptcy. After evaluating the success and limitations of these classes, such as customers' reluctance to discuss personal financial matters in a public setting and the need to tailor the topics according to the neighborhood, APL revamped the classes to provide greater participant privacy and neighborhood-specific education.
These efforts resulted in a City Council member taking notice of the classes being held at one library branch, and giving the library $35,000 to expand the classes to other branches serving underserved neighborhoods. After we shared this good news with the public, our nonprofit partner received additional sponsorships, which led them to hold their first Financial Literacy Summit at our Central Library, inviting speakers from the Federal Reserve and banking industry. The partnership has continued to evolve, and now the nonprofit has agreed to develop financial literacy curriculum for entrepreneurs and be our financial consultant "in-residence." It just snowballed! When you find that right partner, magic happens!
When you find that right partner, magic happens!
Working with Local Leaders and Departments
When we first got started, we felt we were encroaching into territories long held by our city's Economic Development Department. We wanted to work intelligently in this space and knew we needed time and experience to find our niche. So, we took a back seat and asked our EDD to be our partner in this project so that we could help them get the word out about their Small Business Program. The SBP staff realized they hadn't been reaching all parts of the city, especially our underserved neighborhoods. Voila! We had a mutual goal. However, we hit a bump in the road early in our planning. SBP charges a small fee for their classes and, of course, we frowned on that. Needless to say, their classes are free when offered in our libraries. We were near the end of the project before we reached a symbiotic relationship.
Building the Library's Credibility
To increase library impact, it was important to be visible in the ecosystem. For me, that means taking this work seriously and investing time and resources. It means mingling in those networking sessions, asking for referrals to fill gaps in services and finding ways to say "yes" to pull off a signature event that stretches us like taffy, but puts us on the radar. We've come a long way in becoming entrepreneurial ourselves. It wasn't intentional, but it's the nature of this work and it's a critical skill set to move forward in this ecosystem. I think the real test is how we sustain our presence, adjust and continue to move about the ecosystem as the economy and demands change.
To increase library impact, it was important to be visible in the ecosystem. For me, that means taking this work seriously and investing time and resources.
Why This Work Matters
Working with entrepreneurs has become a high priority for APL. Library Director Roosevelt Weeks summarizes the library's role this way: "Many small and startup businesses lack the resources and knowledge to become successful or survive. Libraries can be the catalyst for helping them become successful and contribute to the jobs in the community."
Emi Johnson is the business process consultant for Austin Public Library where she guides strategic initiatives, performance management and systemic innovation as part of the library system's continuous improvement process. For more information, contact Emi at emi.johnson@austintexas.gov.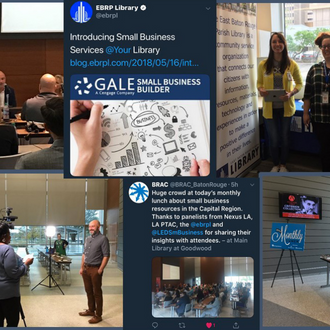 Building a Trusted and Credible Library Presence in the Business Community
East Baton Rouge Parish Library
Learn how East Baton Rouge Parish Library built powerful new connections to the local business community through their participation in ULC's Strengthening Libraries as Entrepreneurial Hubs peer learning cohort.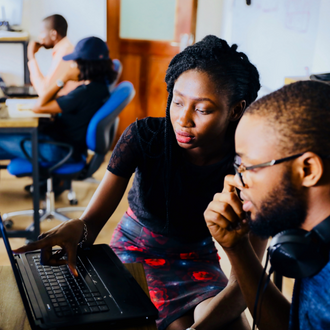 Discovering Key to Collaboration
Baltimore County Public Library and Enoch Pratt Free Library
Gain a perspective on the experiences of Baltimore County Public Library and Enoch Pratt Free Library as participants in the ULC Entrepreneurship Learning Cohort.