Four Libraries Pilot Community Engagement Programs with Local Barbershops
Written by Katie Sullivan, Program Manager, Urban Libraries Council
This summer, four library systems launched new initiatives focused on expanding reading opportunities for children with the help of a vital community hub, the barbershop.
Charlotte Mecklenburg Library, Cleveland Public Library, Columbus Metropolitan Library and Shreve Memorial Library are participating in the Barbershop Books Pilot for Libraries, an initiative in partnership with the Urban Libraries Council and Barbershop Books and supported by the Institute of Museum and Library Services.
Barbershop Books is an award-winning literacy nonprofit that inspires Black boys and other vulnerable children to read for fun through child-centered, culturally responsive and community-based programming and content. Numerous research demonstrates that an endemic cycle of inequitable policies has made Black boys "among the most marginalized groups of children in the U.S." Yet, a culture of care at school and in the community that includes activities such as mentoring can provide a path for excellence for Black boys.
The Barbershop Books program model centers the barber as a trusted messenger for Black boys that enter their space. The encouragement of reading by a Black male role model may contribute to increased reading motivation and therefore reading performance. This is especially critical in 2023, as the U.S. reckons with racial disparities in school performance that have been deepened by the impacts of the pandemic.
Libraries participating in the pilot program with ULC are working with local barbershops in their communities to provide stocked bookshelves in each shop, hosting events and providing other engagement opportunities focused on expanding reading access and supporting the development of reading identities for children. Additionally, Barbershop Books is providing expert training sessions so that libraries and barbers are positioned to help young readers develop literacy skills and a love of reading.
Barbershop Books is building a model to support libraries in cultivating the reading identity of Black boys and other vulnerable children.
Barbershop Books Founder & Executive Director Alvin Irby
The launch events took place in June, July and August 2023 and provided an opportunity to encourage community members to visit the participating barbershops, where children will have access to engaging and age-appropriate reading materials while they or a family member receive a haircut. Libraries were also able to use the opportunity to connect attendees with other library services.
"I met a host of passionate library professionals who are committed to bringing books and fun reading experiences to underserved communities," said Irby of the recent launch events. "Witnessing local families experience the joy of reading in a barbershop for the first time and having the opportunity to distribute free books were memorable mission moments that demonstrate the transformative power of this innovative collaboration."
Charlotte Mecklenburg Library (North Carolina)
On June 3, 2023, Charlotte Mecklenburg Library hosted its kickoff event at Just for You Barber/Styling Academy, a barber school located in one of Charlotte's Corridors of Opportunity. Barbershop partners offered free haircuts to children in attendance. At the event, the library led story times, offered face painting and brought its "MoLi" mobile library, so children and families could borrow books and sign up for its summer reading program. Mecklenburg County Parks and Recreation also joined the event and shared valuable family-friendly resources.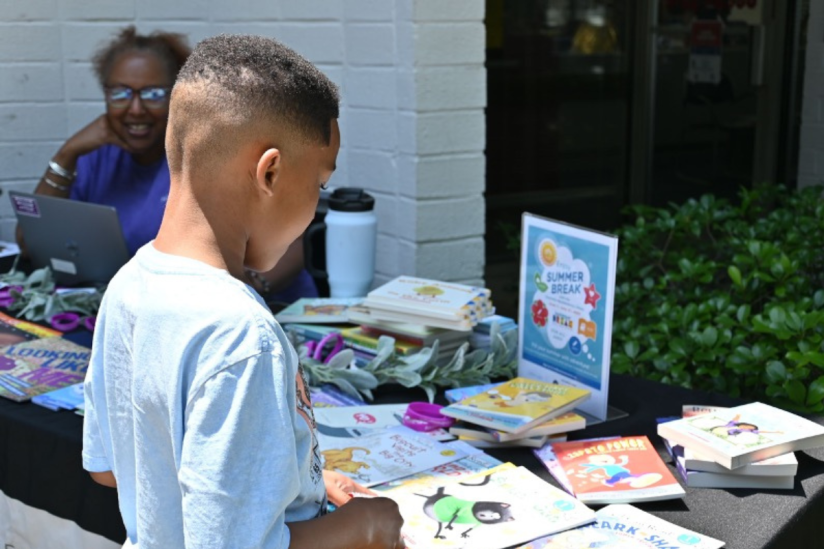 A child examines free books provided at Charlotte Mecklenburg Library's launch event.
"The Barbershop Books program is an evidenced-based program that can help us expand our reach into the community by putting books in the hands of young Black and brown boys and get them excited about reading." said Meryle A. Leonard, Assistant Director of Outreach Services at Charlotte Mecklenburg Library. "We are honored and very excited to bring the Barbershop Books program to our community."
Shreve Memorial Library (Louisiana)
Shreve Memorial Library also hosted its launch on June 3, 2023. The library connected with community figure Bos-Man and hosted the event at Bos-Man's Barber College in Shreveport, Louisiana. The family-friendly event introduced attendees to the program and featured free haircuts and book giveaways.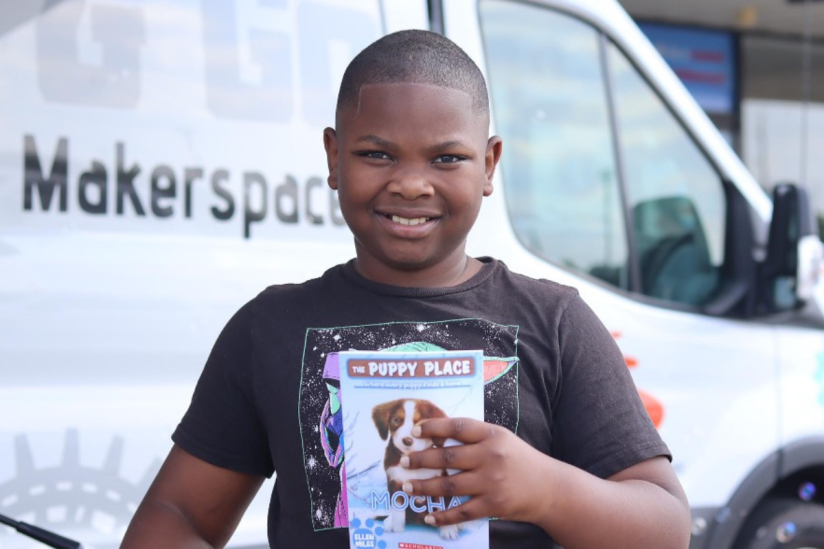 Children selected their own book to take home at Shreve Memorial Library's launch event.

"Shreve Memorial Library's partnership with Bos-Man and his enthusiasm to participate in Barbershop Books has positively impacted our outreach endeavors to reach more underserved communities in Caddo Parish," said Lauren Metzger, Programming and Outreach Librarian at Shreve Memorial Library after the event.
Columbus Metropolitan Library (Ohio)
Columbus Metropolitan Library celebrated the launch of its Barbershop Books programming on July 29, 2023. The event featured free haircuts and books for children in grades K-12. The library coordinated the launch with Barber Chevez Moman for his annual Back-to-School event called Backpacks and Belts which provided; providing free backpacks to kids, as well.
This launch was a homecoming for the Barbershop Books program in Columbus. Barbershop Books originally launched in the city in 2018 but faced challenges maintaining the work throughout the COVID-19 pandemic. Now, the involvement of the library provides new opportunity with a goal of sustainable support and resources.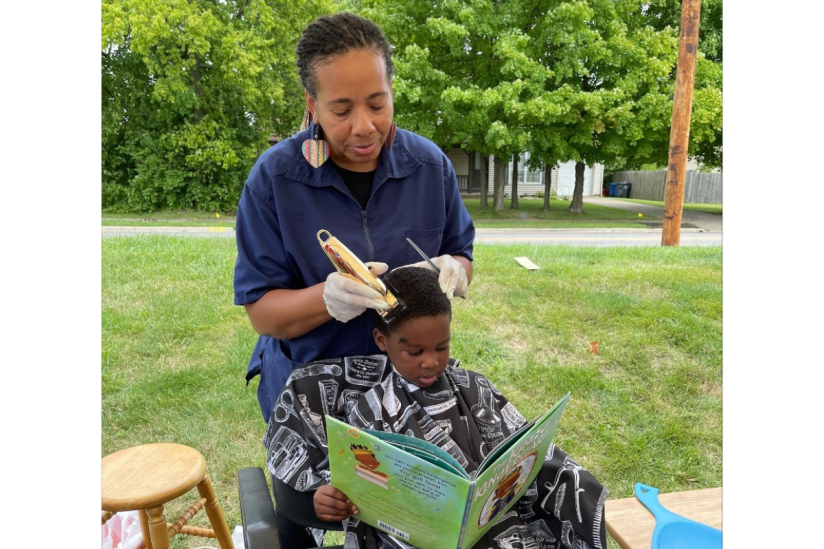 A child reads while receiving a free haircut at Columbus Metropolitan Library's launch event.

"This event allowed us to see many different families who were unaware of all of the resources we have at the library," said Brooke Thomas, Youth Services Manager for Columbus Metropolitan Library. "I am excited to continue this work and presenting literature to children in unconventional ways."
Cleveland Public Library (Ohio)
Finally, Cleveland Public Library hosted their launch event on August 12, 2023, at the Glenville Hip Hop 50 Festival in Sam Miller Park. Similar to other program launch events, free books and haircuts were provided by local barbershops. Library staff also encouraged families to sign up for Cleveland Reads, the citywide reading challenge launched by Mayor Justin M. Bibb.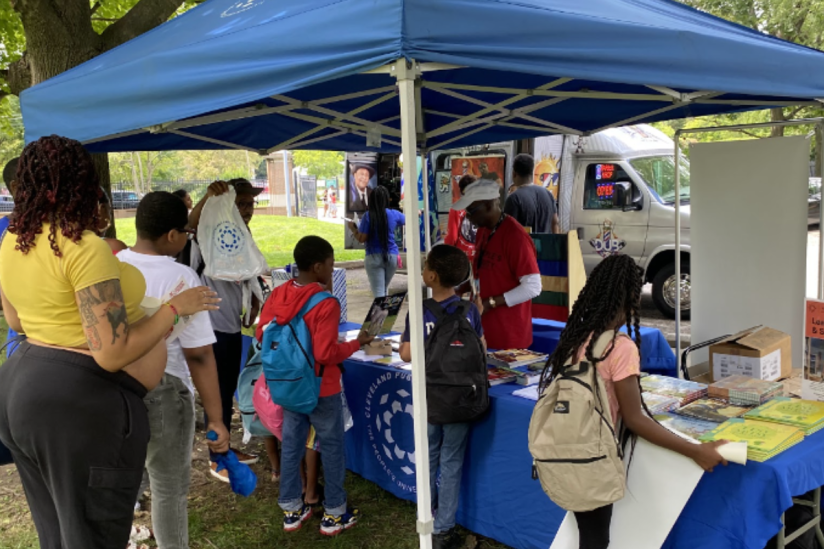 Children gather around the Cleveland Public Library booth at the Glenville Hip Hop 50 Festival.

"Cleveland Public Library is empowering young minds through the power of words and representation," said Charles Byrd, Director of Education at Cleveland Public Library. "The Barbershop Books program will foster a love of reading and provide children access to diverse stories and characters."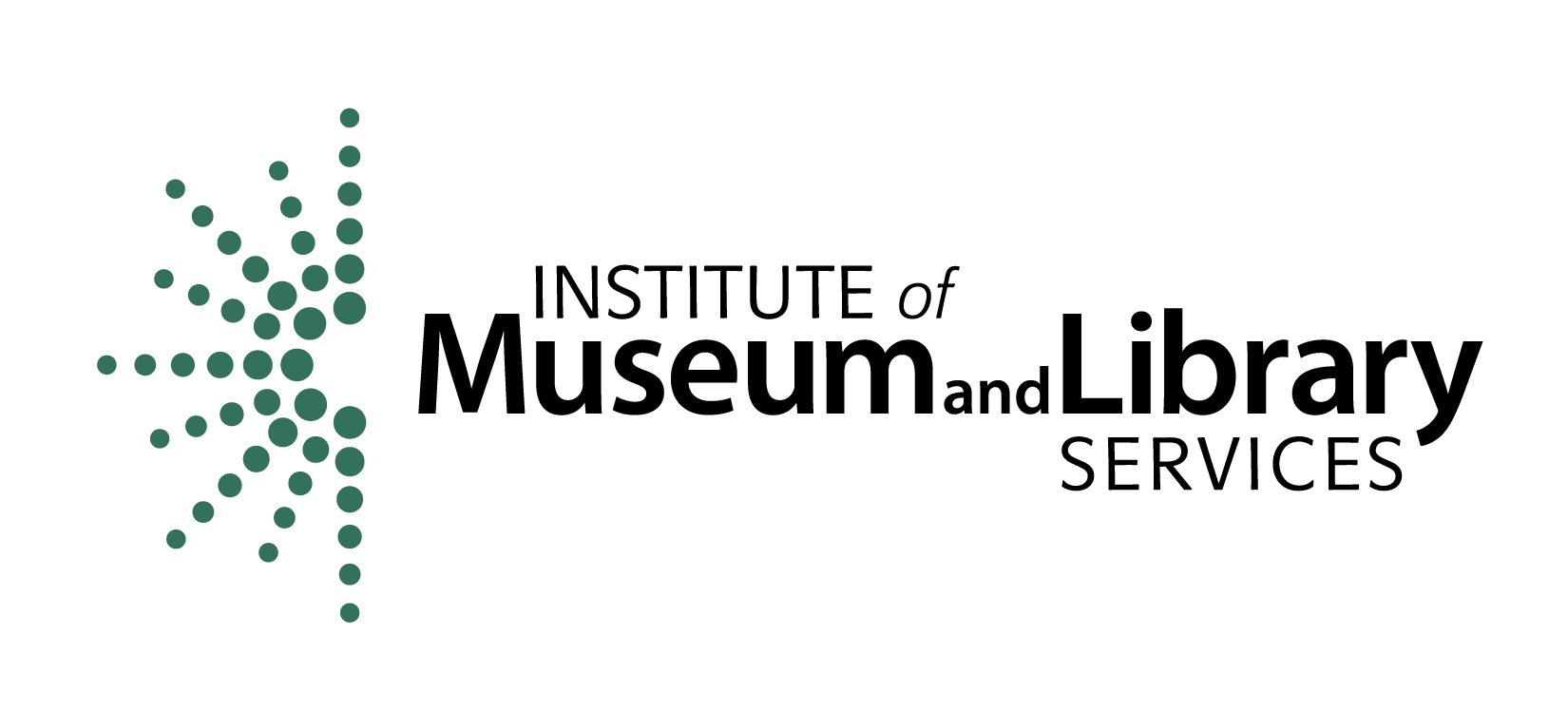 This project was made possible in part by the Institute of Museum and Library Services grant number LG-252555-OLS-22.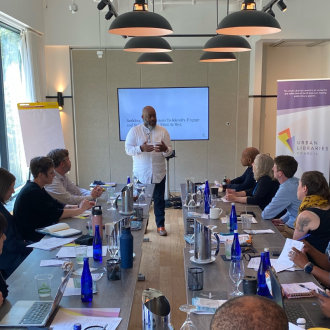 Libraries Build Tailored Program Plans to Improve Youth Outcomes
Eleven representatives from leading libraries gathered in Washington, D.C. from May 31 to June 2, 2023, for a convening focused on developing program plans that will effectively serve opportunity youth. Opportunity youth are at the highest risk of involvement with the criminal justice system.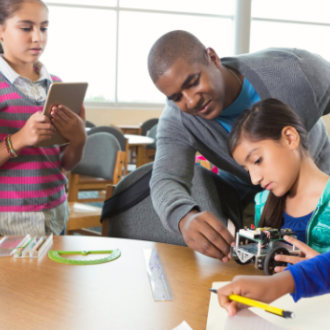 The Power of Libraries Addressing Inequities in STEM
There is a lot of work to be done in cultivating more equity in STEM careers. Who better than librarians to help move the needle, ensuring all of the patrons we serve have the ability to compete for jobs in the STEM field?