Connecting the Dots: Mapping Entrepreneurship Ecosystems with Public Libraries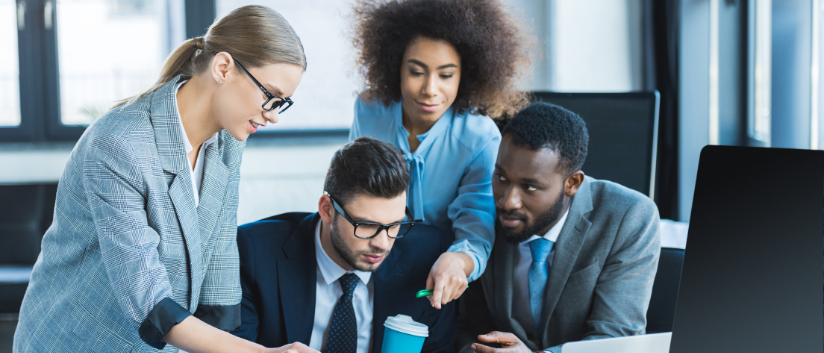 In 2018, ULC launched the Strengthening Libraries as Entrepreneurial Hubs initiative with the support of the Ewing Marion Kauffman Foundation. This initiative sought to understand the role public libraries play in nurturing and promoting entrepreneurship in their communities. Following a national scan, this work was deepened around a peer-learning cohort that piloted, pivoted, evaluated and scaled their local service models for entrepreneurs. This cohort brought together 12 public library systems from across the U.S. and Canada to explore ways libraries can reach and engage entrepreneurs in their communities — particularly people of color, women, immigrants and veterans.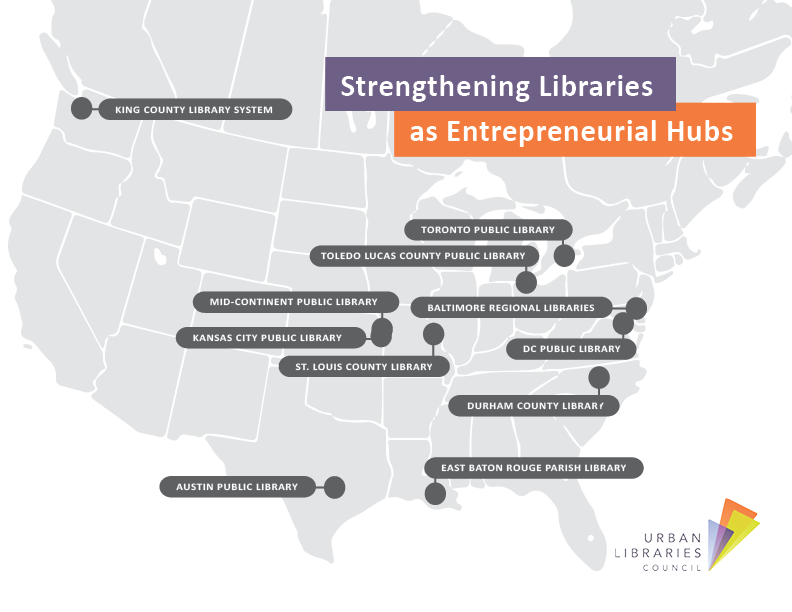 Over the last three years, these 12 libraries have laid the groundwork for service models for entrepreneurs and small business owners. And when the COVID-19 pandemic closed businesses, these libraries accelerated this work tenfold to meet the needs of small business owners, their workers and entrepreneurs. The library teams changed their service models overnight to reach and serve business owners and entrepreneurs in new ways. These teams developed new partnerships, set-up large scale call centers, supported countless business owners in applying for relief funding and much more.

As we've learned from these library teams, public libraries can play a key role in reaching those who have the greatest access barriers to entrepreneurship, including women, people of color and entrepreneurs from low-income communities. Libraries have shown that they are uniquely positioned to create access to resources, mentors, information, digital skills and business training that ultimately lead to business ownership. During the pandemic, these library teams were particularly attuned to the economic and digital divides that were more likely to affect these underrepresented entrepreneurs and made efforts to intentionally reach these particular audiences with information and resources.
What have we been working on this past year?
While this cohort has been hard at work since 2018, with renewed support from the Ewing Marion Kauffman Foundation, we have spent the last year diving into entrepreneurship ecosystems and the role of the public library within the ecosystem. And we've been busy. In addition to launching the Business Value Calculator, we've worked with library teams across our peer-learning cohort to define the unique role in their local entrepreneurship ecosystems and map their local ecosystems partners and players.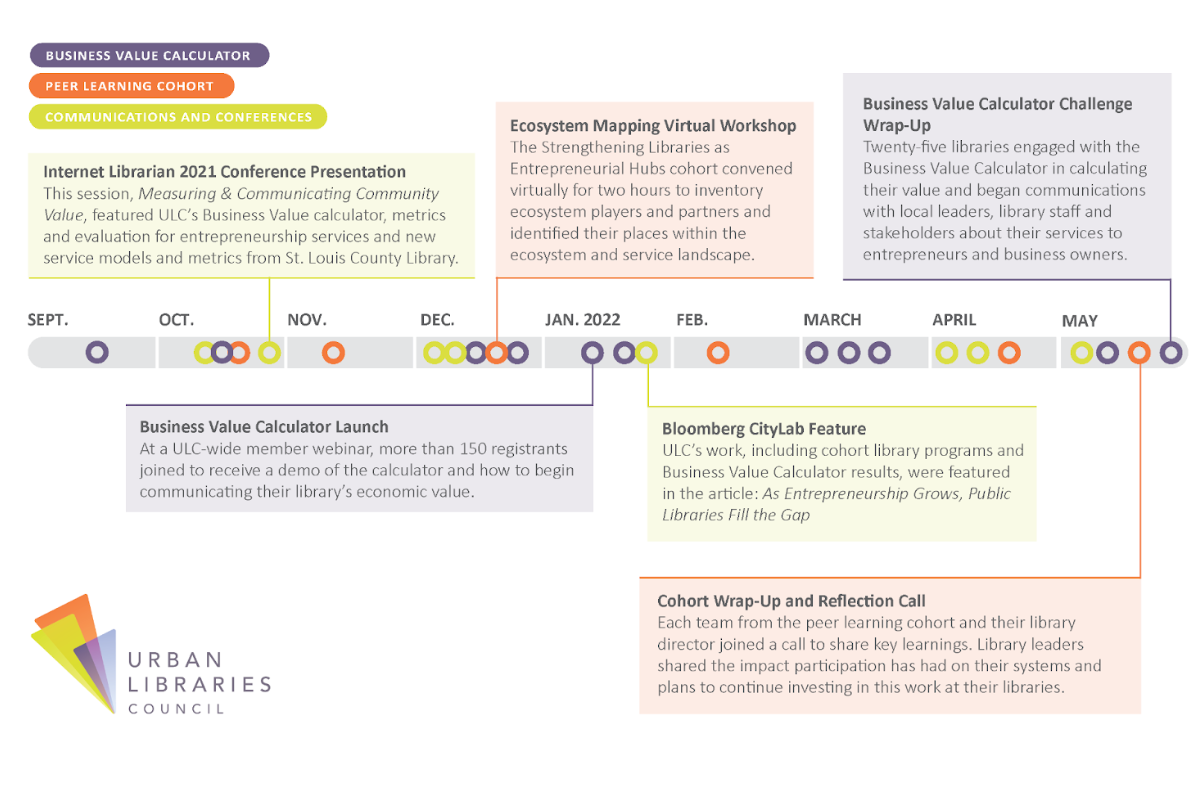 What is an Entrepreneurship Ecosystem?
As we began exploring entrepreneurship ecosystems, we had to first grapple with the question of "What is an Entrepreneurship Ecosystem?" We began with the definition provided in the Kauffman Foundation's Playbook: "An entrepreneurship ecosystem that allows for the fast flow of talent, information, and resources helps entrepreneurs quickly find what they need at each stage of growth. As a result, the whole is greater than the sum of its separate parts."
Through small group conversations, the library teams identified key opportunities for libraries as on-ramps, intersections and conveners to serve aspiring business owners. These teams also identified that entrepreneurship ecosystems operate in both formal and informal ways, depending on who they serve and the stakeholders engaged in ecosystem-building. And most importantly, as each community is unique, so is each entrepreneurship ecosystem. Libraries have found different roles for themselves based on the assets and needs of their community and the ecosystem roles of their existing partners and stakeholders.
Recognizing the uniqueness of these local ecosystems, we sought to work with each library team to craft an entrepreneurship ecosystem map. To understand the wide role of different stakeholders within an ecosystem, we developed a framework based on the three core needs of entrepreneurs: community, support and capital. This framework and exercise drew inspiration from the ChapCo (Chapman and Company) framework and other ecosystem maps from St. Louis (Mo.), Sacramento (Calif.) and Sioux Falls (S.D.).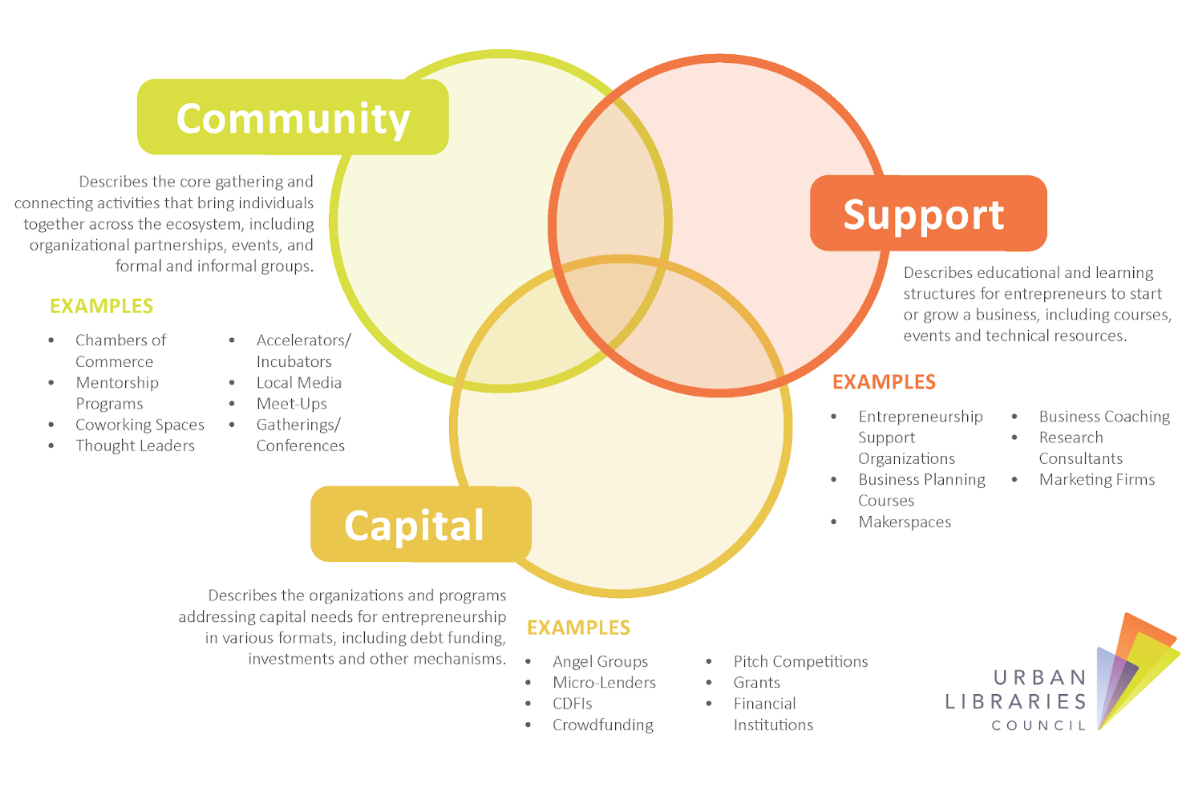 Where do public libraries fit in the Entrepreneurship Ecosystem?
Libraries used this framework to conduct an inventory of ecosystem players and partners, identify their location in the ecosystem and their relationship to other ecosystem players. Of the seven cohort libraries that mapped their library's ecosystem location, all library teams placed their library between support and community roles.
While we see similarities in where libraries identified their role, we also see slight differences (more focused on network and connections or education and training) which begin to highlight the unique roles and gaps these library systems are playing in their local entrepreneurship ecosystems.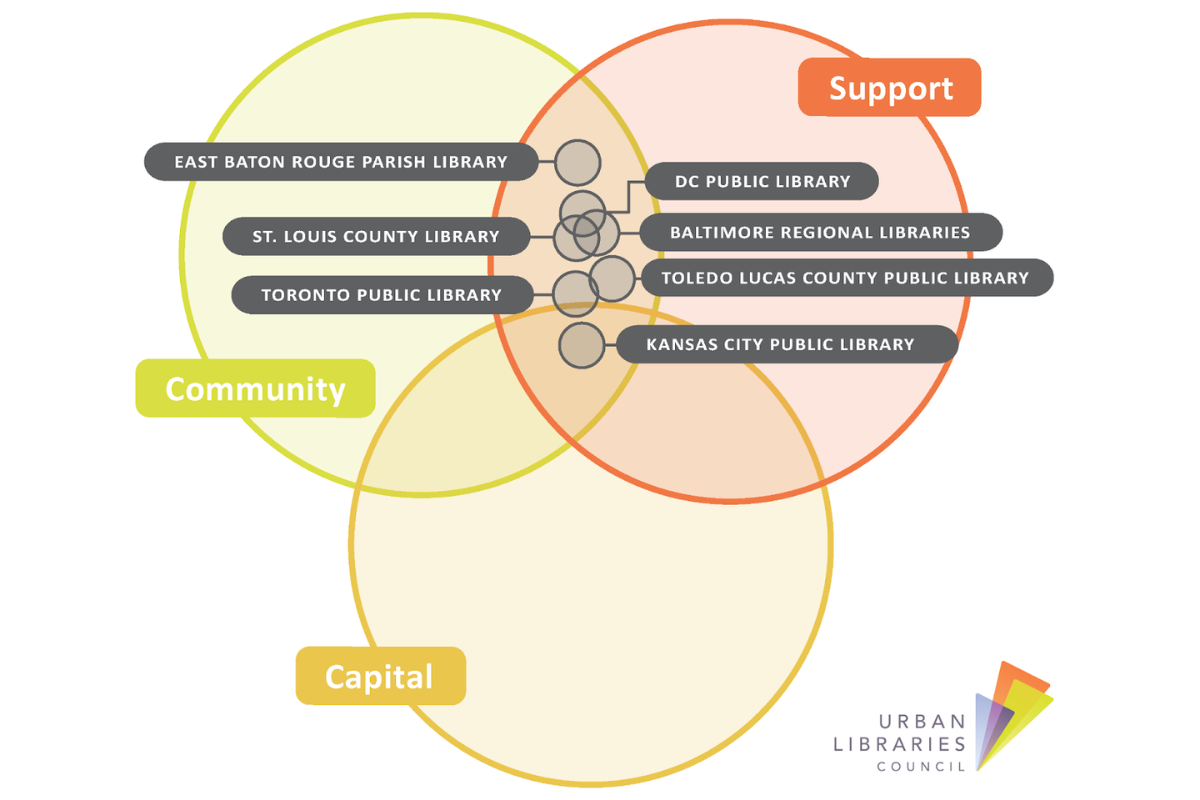 Beyond just their ecosystem locations, libraries described their roles differently. When asked to define their library's role in the entrepreneurship ecosystem in three words, library teams described themselves as:
Baltimore County Public Library: "Expanded, Responsive, Appreciated"
DC Public Library: "Hosting our Friends"
Mid-Continent Public Library: "Connecting the dots"
St. Louis County Library: "Welcome, Inform, Facilitate"
Toledo Lucas County Public Library: "Evergreen Starting Point"
Toronto Public Library: "Creating Meaningful Experiences"
What have we learned?
As I reflect on what we've learned from these twelve library teams, I can come up with a laundry list of projects and tools that would not exist without their contributions. Since this group came together they have informed a Leadership Brief, an interactive toolkit, the Business Value Calculator, a research study, and developed ecosystem maps, all with a pandemic turning their programs and services upside down. Most importantly, each of these library teams have continued to define their role in the entrepreneurship ecosystem by crafting new partnerships and finding new ways to serve the entrepreneurs who face the greatest barriers.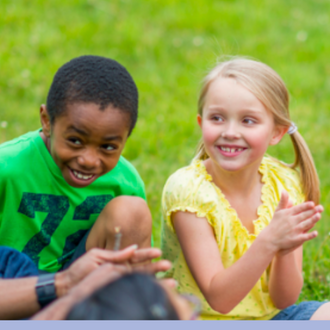 Discover the Power of Summer Learning
Urban Libraries Council
Discover how ULC, our partners and our member libraries are celebrating Summer Learning Week 2022.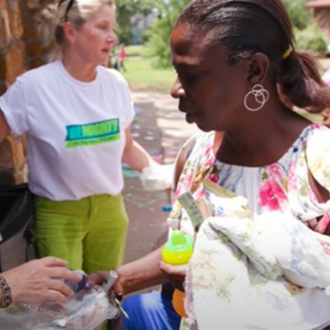 Parks and Recreation + Public Libraries = Partners in Advancing Community Well-Being
National Recreation and Park Association
National Recreation and Park Association Director of Health Allison Colman highlights how libraries and parks and rec agencies are increasingly leveraging their unique resources, strengths and assets to collaborate and work towards the shared goals of advancing equity, promoting health and wellness, closing the opportunity gap and building environmental and community resiliency.