Amplifying Summer Learning Through Youth-Focused Community Partnerships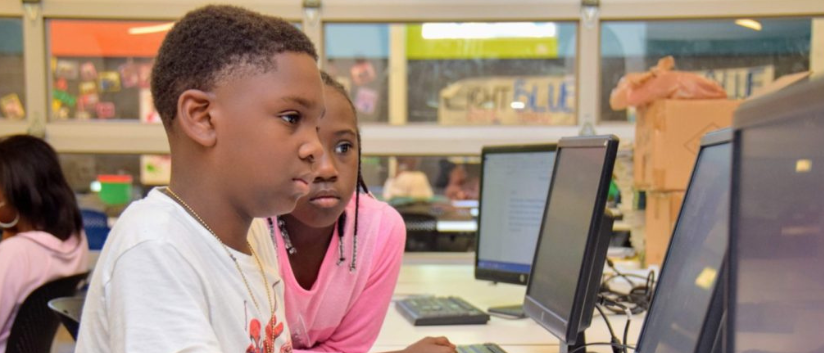 I've been involved in youth programming at the Central Arkansas Library System (CALS) for nineteen summers. In that time, I've developed a love/hate (but mostly love) relationship with summer. Whether it's a year where we rolled out a big new idea or stayed the course from previous years, I feel an underlying push to make each year our Best. Summer. Ever. Just as my mother says that she doesn't have a favorite child, I don't like to compare summer reading years as better or worse than the previous one — but Summer 2022 will always hold a special place for me.

Some of that comes down to timing. The two previous summers existed on an entirely different plane than whatever normal is, and Summer '22 marked the return to something much closer to pre-pandemic normalcy. While we maintained some offerings that had worked well from the previous two summers, there was a tangible shift back to more traditional, in-person programming and outreach. That shift brought with it an undeniable energy to our staff and we also felt that energy from our patrons and partnerships.
Another factor in making our 2022 summer so memorable was our system's participation in the ULC Building Equity: Amplify Summer Learning cohort. CALS applied to join this IMLS-funded collaboration among libraries, with the goal of developing a more intentional plan to engage middle school students during the summer. Even at our best, pre-pandemic level, we struggled to reach this group as well as we would have liked during summer — a fact that has only been compounded by the pandemic. The Amplify Summer Learning cohort pushed us to think more creatively about reaching and serving middle school students and being more open to trying a model that intentionally targeted groups of historically underserved youth.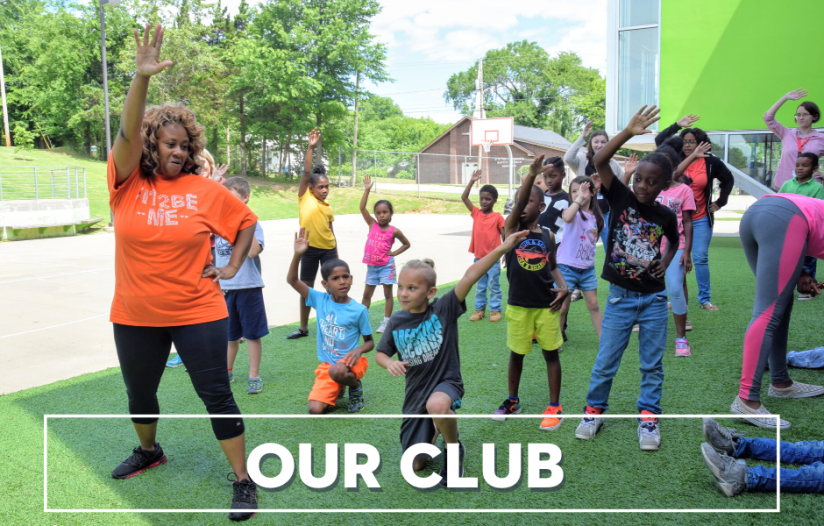 Image Credit: Our House Shelter
One of the ways that I chose to implement our plan was to connect with organizations already serving youth that might not have access to the library and to provide outreach to those sites. I found an eager partner in Our Club, an out-of-school time program housed at the Our House homeless shelter serving children and teens experiencing housing insecurity. Their program has many shared goals with the work we were trying to do through the Building Equity cohort. Our Club also valued STEM as one of their key programming areas and integrating youth voice in the design of their program. Working with their staff, we determined that a team of programming staff from CALS would provide weekly STEM and literacy enrichment to their middle school students over the course of their summer program.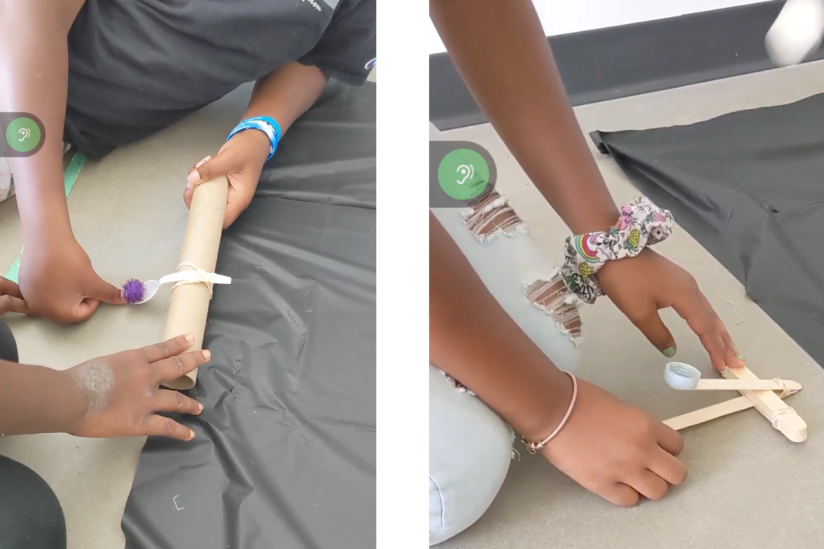 Pictured: Catapult engineering and design challenge

On our first visit, we set out to get to know the students and involve them in our summer plans. We worked on a community learning agreement to guide our interactions for the summer. We did not plan out each week's lesson in advance, but rather had a running list or menu of things that we could provide based on the time constraints and our resources. This allowed the students to guide what activities we engaged in throughout the course of the summer. For the most part, we chose to focus on activities that fit within the timeframe of a single session rather than ongoing projects that might have to be moved or stored or that might be started by a student who was not able to remain in the program for the entirety of the summer. The team of library staff who implemented the activities did a terrific job of building on the prior knowledge and experiences that the students gained from each week's sessions.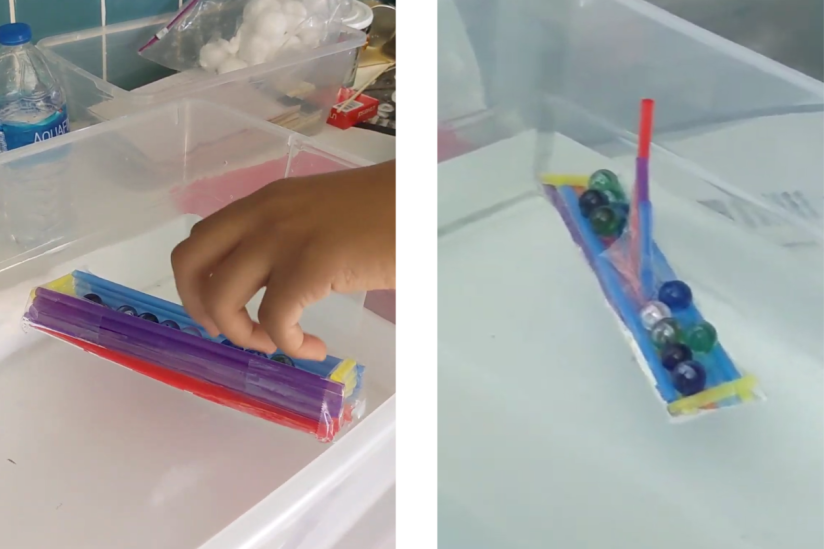 Pictured: Plastic straw boat design challenge

As with all plans once they get off paper and into the real world, things got messy. We had a few failures — activities that just didn't land like we had hoped. The students had expressed interest in technology-based activities, but in implementation, they weren't engaged to the same degree that we saw with some of the more low-tech, low-cost and physical activities. Anything that involved food or messiness was an immediate hit and they enjoyed several engineering and design challenges. Some of those things we could have predicted, but the students managed to surprise us along the way.

One of the most rewarding aspects of this project was the chance to get to know this group and their needs. We made time each week to check in with the students and reflect on activities. Some of our STEM programming team also came back on the literacy activity days, and they were able to form even closer bonds with the students that helped to create more successful interactions for both sets of activities.
After two years of very limited opportunities to engage directly with students in programming, our staff found this project energizing as well. Amanda Orgel, CALS Youth Projects Coordinator, was one of those staff members who visited Our Club most frequently. She shared this reflection on our summer: "It was wonderful to see students excited about learning in the summer — their enthusiasm was contagious and we had a great time with them." The staff at Our Club also seemed happy with our collaboration. Adrienne Dawson, the Youth Program Specialist at Our Club, described our summer this way:

CALS provided amazing experiences for the middle school youth of Our House this past summer. They brought fun, engaging literacy and STEM activities which allowed the youth to have fun, learn and help Our Club achieve its goal of preventing summer learning loss.
Adrienne Dawson, the Youth Program Specialist, Our Club
After our successful summer, we have continued our outreach and programming partnership with Our Club. Now, library staff makes weekly visits to their afterschool program for STEM and literacy activities with the middle school students, and we are working on plans for next summer as well.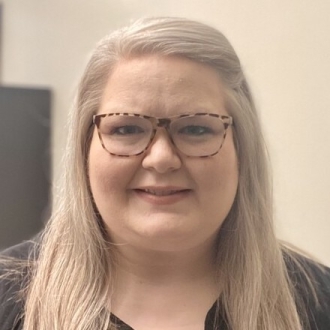 Ellen Samples
Youth Services Coordinator, Central Arkansas Library System
Ellen Samples is the Youth Services Coordinator for the Central Arkansas Library System, a fourteen-branch system serving Pulaski (Little Rock) and Perry counties. After beginning her career as a middle school teacher, Ellen transitioned to the public library and has worked in various capacities serving youth and families for nineteen years. She earned a Master of Library Science degree from Texas Woman's University in 2013. Outside of books and libraries, she enjoy cooking, being the cool aunt, and pretending to be interested in other people's pets.
About the Building Equity: Amplify Summer Learning Initiative
Funded in part by the Institute of Museum and Library Services and with the support of our partners — the National Summer Learning Association, the National Recreation and Park Association and STEM expert Bryan Wunar — ULC and its strategic partners will work with the learning cohort to design and implement quality STEM summer programming.


Discover the Power of Summer Learning
ULC libraries serve as essential summer learning leaders in their communities, providing active learning opportunities when schools are closed and the risk of falling behind is high. Discover how ULC, our partners and our member libraries are celebrating Summer Learning Week 2022.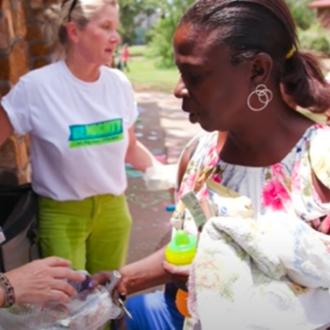 Parks and Recreation + Public Libraries = Partners in Advancing Community Well-Being
National Recreation and Park Association Director of Health Allison Colman highlights how libraries and parks and rec agencies are increasingly leveraging their unique resources, strengths and assets to collaborate and work towards the shared goals of advancing equity, promoting health and wellness, closing the opportunity gap and building environmental and community resiliency.