Over 100 Mayors and County Leaders Speak Out Against E-Book Publishers' Price-Gouging of Public Libraries
Feb 05, 2020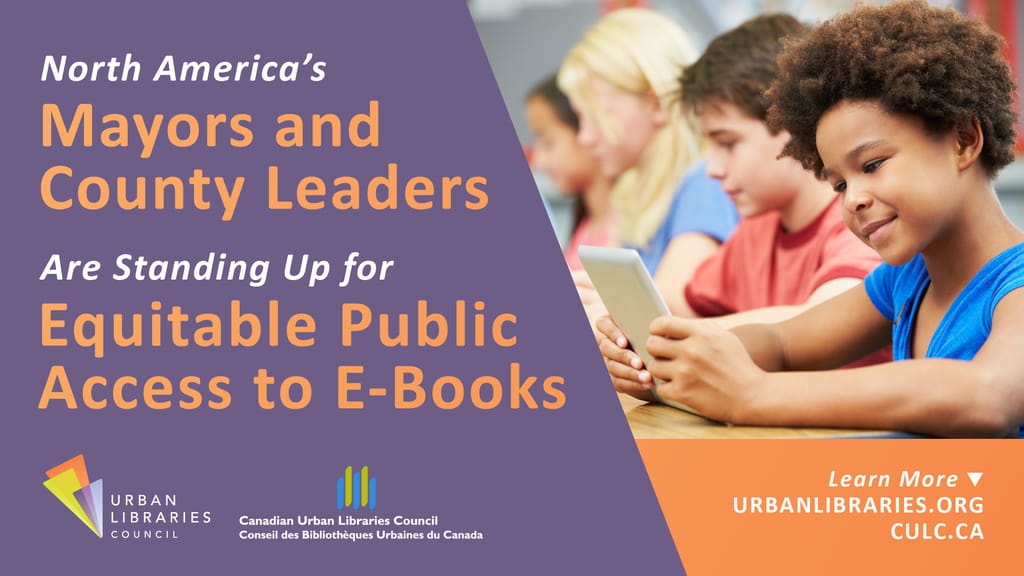 112 mayors and county executives have signed the Statement on Equitable Public Access to E-Books, taking a stand to support fair and reasonable e-book pricing for public libraries. These leaders represent many of the largest jurisdictions in the U.S. and Canada, and together they serve over 54 million citizens.
Launched publicly in November 2019, the Statement on Equitable Public Access to E-Books was created by the Urban Libraries Council and Canadian Urban Libraries Council as a platform to unify and amplify the voices of elected officials who are calling for e-book publishers to eliminate inequitable pricing policies. Several mayors and county leaders have also publicly commented on their strong belief in the importance of this issue for their jurisdictions, and for all communities in the digital age.
"Libraries connect all of us to knowledge and opportunity. Ensuring equitable access to this incredible resource, especially e-books and digital resources, is vital to the success of our community," said Saint Paul (Minn.) Mayor Melvin Carter.
"We must give our city's youth every opportunity to read often and everywhere. Equitable access to e-books at the library is essential to making that possible," said Rochester (N.Y.) Mayor Lovely Warren.
The Statement on Equitable Public Access to E-Books was issued in direct response to the embargo on e-book sales to public libraries implemented by Macmillan Publishers on November 1. Under the embargo policy, all public libraries – regardless of their size – may only buy a single copy of new e-book titles for the first eight weeks following the book's publication. This policy exacerbates longstanding barriers to e-book pricing and access for public libraries, which have included major restrictions to library lending by all "Big 5" publishers in the past two years, such as the introduction of licenses that expire after a limited time period or number of checkouts.
"With the now 100 signatories for our Statement on Equitable Public Access, mayors and county executives across North America are standing firm against the extreme restrictions placed on public libraries by multinational e-book publishers," said ULC President & CEO Susan Benton. "Price-gouging taxpayers and intensifying the gaps between the haves and have-nots in communities of all sizes with restrictive licenses and excessively high prices will no longer be tolerated. We look forward to continuing the fight on this vital issue for our public libraries and their communities."
If you are interested in having your library sign on to this statement, please contact Curtis Rogers at crogers@urbanlibraries.org.
Back to Press Releases