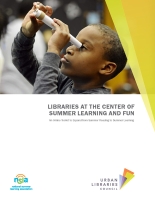 Gain Tips and Tools to Expand Summer Learning! ULC - NSLA Toolkit
Ready to expand your library's summer reading program into a more diverse summer learning program? ULC's Toolkit, Libraries at the Center of Summer Learning and Fun, is designed to provide you with the resources, ideas and strategies that can help! This toolkit includes links to tools and materials gathered from libraries across North America that are implementing summer programs designed to engage participants in active skill building, creative exploration and critical thinking — in addition to reading. The included resources can be used by library summer learning practitioners to enhance existing programs in ways that help summer program participants increase their love of learning and discovery and return to school ready to thrive.
The Toolkit includes:
Links to resources for making the case for library summer learning programs
Models of library summer learning with example programs and partnerships and links to useful tools
Five strategies for evolving summer reading into summer learning with links to resources
Additional resources focusing on sharing your summer learning story with key stakeholders, including assessing the effectiveness of your program and tips for communicating key message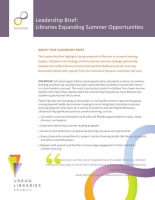 ULC Leadership Brief on Expanding Summer Learning Opportunities in Public Libraries
ULC's Leadership Brief, Leadership Brief: Libraries Expanding Summer Opportunities focuses on the progressive work of public libraries in providing summer learning programs that develop students' skills while maintaining the flexibility of active learning that is unique to the library experience. The publication builds on the findings of the Accelerate Summer strategic partnership between the Urban Libraries Council and the National Summer Learning Association with support from the Institute of Museum and Library Services.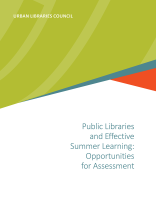 Public Libraries and Effective Summer Learning: Opportunities for Assessment
Do public libraries positively improve education outcomes for children and youth through their summer reading and summer learning programs? How will they know? These are the questions that the Urban Libraries Council had the opportunity to explore with diverse thought leaders from both inside and outside of the library field through the National Forum on Effective Summer Learning in Libraries, an initiative supported by funding from the Institute of Museum and Library Services. Working in partnership with the Metropolitan Group and the National Summer Learning Association, this project resulted in the publication, Public Libraries and Effective Summer Learning: Opportunities for Assessment, that discusses the diverse summer learning opportunities provided by public libraries and action steps for initiating assessment of their effectiveness.