Aurora Public Library, CO
Problem Statement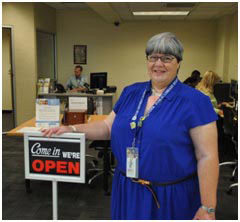 The Aurora Public Library saw a 50 percent funding reduction and closed four of its seven locations in 2010 due to city budget issues driven by the "Great Recession." With the advent of gradual recovery, Aurora City Council asked library staff to find new and innovative ways to bring library services to the citizens in a cost effective manner. Among the library's initiatives were adding public service hours at the Central Library via a "self service" model, creating public library PC centers in two recreation centers and reopening part of a closed library as a Library PC/Holds and Early Literacy Center and a teen center through a partnership with the city's Parks, Recreation and Open Space division. The "Colfax & Chambers PC Center" inside a Kmart is considered the most innovative service provision model implemented in this group of "outside-the-box" initiatives. We believe challenges present opportunities. The new partnership with a large retail store addresses the need to find new and original ways to bring library services to citizens in a per capita cost-effective manner that still meets the needs of residents, rather than existing traditional library service models.
Innovation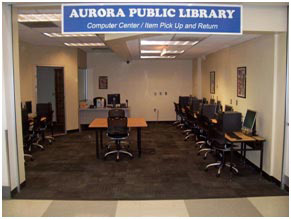 Exactly like banks and credit unions found in big box and grocery stores, the new library computer center sits immediately in front of the store check-out counters.
The key elements of this innovation are:
The PC Center's location within the store is a significant benefit due to the high foot traffic inside the Kmart.
The location of the PC Center and high foot traffic of Kmart helps the library reach our target market of the diverse and generally less-educated demographic in the area by providing exposure to library and literacy services, as well as computer classes to many who may never visit a traditional library location.
Because the new library computer center sits immediately in front of the store check-out counters, only one library funded staff person is required, essentially cutting labor costs in half as compared to an independent store front location where security can be a concern.
This model provides a clear example to citizens, civic and business leaders that public-private ventures in the library industry can be successful and mutually beneficial.
At this location, customers can print their computer work or web pages. Books and other library materials checked out at any library can be returned to this site. Customers can place library requests from any computer for any item in the Aurora Library System and many other Colorado library systems to be delivered to the Center for pick-up. A helpful library staff person is on site to assist customers.
Progress
This new location was an answer to the City Council challenge in terms of reaching large numbers of citizens in a cost effective way. What also makes this model particularly innovative is the low operating cost. Because of its location inside the Kmart store, only one staff person is needed to ensure staff and customer security, cutting staffing costs by half as compared to most small library sites in a retail setting. So far the center has achieved the goal of reaching and exposing citizens to the wide and beneficial services libraries offer to people who don't usually go to traditional libraries. The center had a door count of 10,000 in just four months in 2013 and 6,300 in January and February of 2014. Consider this traffic volume in a 600 square foot area with 12 public PCs open eight hours daily for six days a week! This concept was deemed so innovative in terms of the library reaching out to the community and positioning the libraries as a key player in the community that it caught the attention of Comcast (cable service provider) who approached the library proactively offering a $35,000 grant to benefit this site plus two other locations serving northern Aurora. The Kmart location will particularly benefit from the grant by opening on Sundays for at least three years and adding one Early Literacy Computer (AWE). Regarding lessons learned – we highly recommend this model and would do it again if the right location and opportunity presented itself!