Memphis Public Library and Information Center, TN
Problem Statement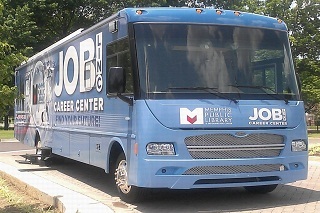 According to the Department of Numbers website, in October 2011, there were 65,118 unemployed people in Memphis. The city had an unemployment rate of 10.4 percent, which was 1.4 percent higher than the national average. The challenges that many citizens who are jobless often face include complicated life issues: lack of transportation, no computer at home, no access to the Internet, and often poor or nonexistent computer skills. To meet those challenges, JobLINC mobile career center travels to community centers, library branches, community agencies, grocery stores, malls, and other public areas to meet with people who are looking for employment. The bus remains at a location for up to a day if needed. Rolled out in 2012, customers can find information about companies searching for employees, online applications and there are at least two Library staff members available to help them with computer skills, resume preparation, and interviewing skills. Additional services include setting up email accounts, health information, assistance in filing for unemployment benefits, and higher education counseling. They can assist with test preparation and financial literacy – anything related to jobs and careers, JobLINC is there to help.
Innovation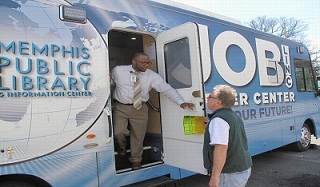 The JobLINC name was a natural extension of the Memphis Public Library & Information Center's LINC/2-1-1, which is an information clearinghouse for community social services in the tri county area. LINC is the acronym for Library Information Center; therefore, when the idea of a mobile career center was coming to fruition …Job + LINC – the bus was named. The key element of innovation with JobLINC is its ability to solve problems related to job searches – if a person is interested in options for employment, but, has no transportation – the bus will come to a central location with easy access. If he or she needs assistance preparing a resume or needs help with interviewing skills, again, there is Library staff onboard to help. With ten personal computer stations on the bus, jobseekers can access the Internet. Additionally, computer skills are taught, job postings can be found on the Internet, and applications can be completed online. It is a one stop shopping for the unemployed. The bus is eco-friendly with solar panels powering its electronics. The floor is composed of recycled material, it is completely ADA compliant, and it has a hybrid engine that runs on diesel fuel. JobLINC has been recognized by the Bill and Melinda Gates Foundation as a model for targeted employment outreach.
Progress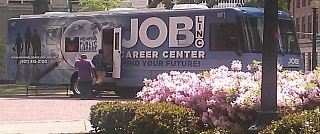 The JobLINC bus is proud to report that they assist between six and twelve thousand people every year. An average of in-depth counseling referrals numbers over 1,500 with online job searches at over 2,000. They schedule several appointments each month around the city of Memphis and in Shelby County, averaging over 150 each year. Anecdotally speaking, the Bus is sometimes flagged down en route by enthusiastic jobseekers, and sometimes is followed until it stops at the next appointment. Once an offender, housed at The Shelby County Criminal Justice Complex/Jail, and soon to be released, contacted a JobLINC staffer who mailed a package with information about job opportunities. While JobLINC staff does not track actual employment successes, due to confidentiality, several customers have contacted JobLINC staff after the fact to thank them for the resume tips and how it helped them become employed. The staff also says that they are gratified knowing that even the simplest help in setting up an email account, or assisting with a resume, renews their customers' confidence and sense of hope. Every day they are on the road, people are served. As is always the case with the Library, JobLINC is open to the public and there is never a charge for any of its services, nor is a Library card required.