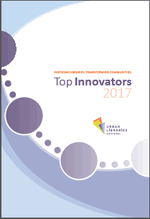 Congratulations to ULC's 2017 Top Innovators and Honorable Mentions! We are thrilled to celebrate your work on our website, in our annual Top Innovators publication and with the press.

The 2017 Urban Libraries Council Innovations Initiative showcases programs that provide lifelong learning opportunities, meet the unique needs of diverse audiences, leverage technology to connect people with each other and vital resources and address community issues. Today, the ULC website houses more than 1,400 leading practices that reflect library missions, strategies, achievements and community contributions. We thank you for contributing to this valuable resource.
2017 ULC Top Innovators
Take time to review, replicate and share these member Innovations.