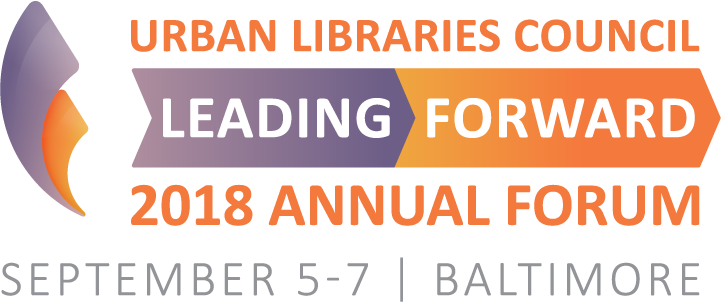 The Urban Libraries Council Annual Forum is an opportunity for library leaders from the United States and Canada to share and discuss ideas, strategies and innovations that have energized the library field over the course of the last year. This year's forum, entitled Leading Forward, addressed how public libraries can continuously enhance their role as valuable partners and leaders within the community.

Welcome
The conference began with Heidi Daniel, president and CEO of Enoch Pratt Free Library, and Paula Miller, director of Baltimore County Public Library, welcoming attendees to Baltimore and introducing Baltimore Mayor Catherine Pugh and Baltimore County Executive Don Mohler. Mayor Pugh's remarks focused on the power of the public library, helping people overcome barriers and inspiring people to seek opportunities for their future. County Executive Mohler spoke of the powerful cross generational appeal of libraries. ULC President and CEO Susan Benton shared her personal connection to Baltimore and its role in building her excitement for cities, and prepared library leaders for two days of listening, reflecting and recharging.
Leaders Spanning Boundaries
The facilitators of the conference were Jeffery Cufaude from Idea Architects and Darryl Spivey from the Center for Creative Leadership (CCL).
Darryl Spivey conducted the first of three training sessions, entitled Boundary Spanning, which is key to leading change and innovation. One of the lessons from the session is that leaders need to be forward focused and try things that have not been done before.
According to CCL research, boundaries fit into five categories — vertical (between myself and leaders), horizontal (between peers), stakeholder (external), demographic and geographic. Leadership is about aligning direction and commitment across diverse people and stakeholders.
Darryl introduced three strategies for managing boundaries: identifying boundaries, forging common ground and making room for innovation. He also identified the importance of mobilizing people and resources around a bold vision. Part of spanning a boundary is asking what the real problem is and clarifying the job to be done.
Leaders in the Spotlight: The Power of Collaboration
A panel discussion featuring several local leaders discussed how they reach across boundaries in their daily work. The panel included Heidi Daniel, Paula Miller, Calvin Butler of Baltimore Gas and Electric Company and Baltimore Commissioner of Health Dr. Leana Wen. Some key takeaway from the panel:
Libraries span boundaries in their cities, literally connecting neighborhoods and people. In Baltimore the libraries are the one institution that brings every community together.
Partnerships span boundaries by expanding the opportunity, reach and expertise of the library to provide services.
No problem is too big if you identify a role you can play today. Libraries do this by moving out of boxes they have been put into and collaborating on education, workforce development and health.
Calvin Butler discussed the investment made by BG&E in workforce development by sponsoring mobile units at the Enoch Pratt Free Public Library. The success of this partnership with the library was both the outcomes create for people and, as a result of those outcomes, the additional investment by other businesses in the program and the library.
Dr. Wen discussed the importance of actively working on the large-scale problems cities face. In 2009, Baltimore had one of the worst infant mortality rates in America, with African Americans facing rates five times higher than white Americans. The healthy babies partnership with the public library contributed to reducing infant mortality by 40% in seven years and cut the racial disparity by 60% in five years.
Paula Miller and Heidi Daniel discussed the importance of investing upfront in the heavy lifting needed to create successful partnerships. Not every interaction can be a win/win, some are win/lose and you have to be committed to the long-term outcomes.
Calvin Butler and Dr. Wen shared how they change organizational cultures and the importance of sharing a vision that goes beyond what you get paid to do. Always keep in mind the person who is in front of you and look to see what you can do right now to make a difference.
Leadership for Innovation
In the second of three training sessions focused on innovation, Darryl went into how innovation is a process and happens through cross-disciplinary collaboration. Traits of innovators include their ability to be keen observers. Participants identified traits of a strong team and their own working style as a team member across four types: clarifier, ideator, developer and implementor.
Leaders need to move beyond their preference and build teams to address their blind spots, leverage styles and listen to the collective voice of their team.
What are you as a professional most missing and what is most missing from your team?
Leadership, Risk and Innovation
Darryl Spivey interviewed Kurt Schmoke, president of the University of Baltimore and former mayor of the city of Baltimore.
President Schmoke shared his path to leadership which he said included an understanding that the key question is not what we want to be, but rather what we want to do. President Schmoke said to focus on the change you want to affect. Elected officials and leaders have to distinguish between ideas that sound good and ideas that are good and sound. He reminded leaders that the higher you go, the less constructive feedback you receive and the importance of really listening is greater.
He talked about leading Baltimore in a time of stress for urban America, which necessitated creative solutions. In the 1980s, Baltimore addressed critical problems including the spread of HIV/AIDS. By taking a risk and framing the war on drugs as a public health issue, Baltimore was the first city in the country to start a needle exchange program and successfully reduce the spread of HIV/AIDS.
Welcome
Jeffery Cufaude welcomed back attendees and asked them to reflect on their purpose as professionals and their institutions' purpose as public libraries.
Why does the work you do matter?
Why is this work important?
What value or meaning does it help create?
He introduced the idea of asking yourself why your work matters five times in a row to clarify the purpose. He also talked about the difference of expecting compliance and setting a vision for a team to provide meaningful engagement.
Leadership: Using Your Influence Voice
Darryl Spivey talked about the importance of building relationships, influence and voice in leadership. Leaders need to create opportunities for success and celebrate small wins. The workshop included an activity designed to explore the use of voice and influence. Reflections from the exercise included effective strategies, such as sharing facts, using the language of the people you are trying to influence and the power of a personal story.

Panel: Using Your Influence Voice
Jill Bourne, city librarian of San José Public Library, and Danielle McDonald, CEO of Ottawa Public Library, shared how they have each embraced the power and ability of the public library to influence critical issue in our cities.
Jill Bourne identified the importance of developing an education strategy for the city of San José's 19 school districts, especially for minority and low-income children. The city had no coordinated approach or direct leadership in the area, but it was a critical to the mission of the public library. Over five years, the public library evolved from being scared of taking on the issue to leading education policy for the city.
Bourne made sure public officials understood their children were failing and unable to find a job or buy a house in their community. She built influential partners and natural allies and tried to neutralize detractors. Key messages were crafted for each area of education policy.
Danielle MacDonald discussed the successful effort to create a central library worthy of a national capital. The new central library is a partnership with the federal government, Library and Archives Canada and the Ottawa public library system. This is the result of persistent work with the new mayor, including building credibility and a reputation of fiscal responsibility for the library. Ottawa public library did this by listening to the mayor's platform and showing him that libraries matter to people and to city partners. By using data and building business cases Ottawa Public Library was able to show it was going to cost more to stay in the current building.
Both leaders agreed it is important to have a bias towards action and an ability to more forward without clarity and take risks, as well as having the right team to do the work.
Guest Speaker: Using Your Influence Voice
The final part of the conference featured a surprise guest: March for Our Lives' Jammal Lemy, sharing his experience going from student to a leader in the national movement to end gun violence. After losing friends in the Parkland, Florida shooting, he and others decided to take action. He noted the importance of staying on message no matter who the audience is, saying the main message of their campaign is making sure more kids do not die. He noted that gun violence is ravishing the environments of black and brown communities and how the organizers of March for Our Lives had to learn on the fly about intersectionality and movement building.
2018 Annual Forum Photo Highlights