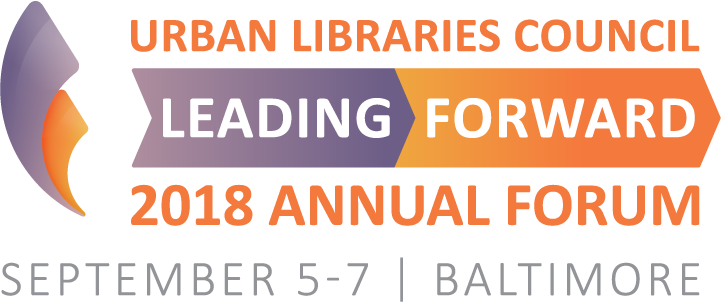 ULC's 2018 Annual Forum, Leading Forward, will focus on leadership in the community. Participants will gain valuable insight into how public libraries can position themselves as both key influencers in the communities they serve and essential partners to top elected and appointed leaders in their city/county. To emphasize this message, ULC has chosen the Center for Creative Leadership (CCL®) to lead three sessions during the Annual Forum:
Innovation
Boundary Spanning Leadership
Influence Voice
The Center for Creative Leadership is a top-ranked, global provider of executive education that accelerates strategy and business results by unlocking individual and organizational leadership potential. Founded in 1970 as a nonprofit, educational institution, CCL helps clients worldwide cultivate creative leadership — the capacity to achieve more than imagined by thinking and acting beyond boundaries — through an array of programs, products and other services.
Join the conversation on social media!
Share your excitement about the 2018 Annual Forum using the hashtag #ULCForum2018!
2018 Annual Forum Schedule
Wednesday, September 5

10 a.m.-5 p.m.
Registration open (fifth floor of the Renaissance Baltimore Harborplace Hotel)
1-4 p.m.
Member Group Meetup - CEOs
2:30-3:30 p.m.
Member Group Meetups (all groups except for CEOs)
5:30-7 p.m.
ULC Annual Forum Welcome Reception
ULC Annual Forum Welcome Reception Sponsor: Baker & Taylor



Thursday, September 6

8-9 a.m.
Member Breakfast
9 a.m.-Noon
Annual Forum Sessions
Noon-1 p.m.
Member Lunch
1-4 p.m.
Annual Forum Sessions
4:30-5:30 p.m.
Walk, Talk and Tour
5-6 p.m.
Tours of the Enoch Pratt Central Library Historic Restoration
6-7 p.m.
Wine and Cheese Reception on the Enoch Pratt Central
Library Rooftop Terrace
ULC Annual Forum Innovations Celebration Sponsor: Ingram Content Group



Friday, September 7

8-9 a.m.
Member Breakfast
9 a.m.-12:30 p.m.
Annual Forum Sessions
A special thank you to this year's ULC Annual Forum library partners, Enoch Pratt Free Library and Baltimore County Public Library, for all of their support and efforts. The Forum will take place at the Renaissance Baltimore Harborplace Hotel. ULC's room block rate closed on August 6.
ULC Member Rate: $545 per person.
ULC Corporate/Associate Member Rate: $995 per person.
Register Now
Top Five Reasons to Attend
1)
Network with Leaders from Top Libraries
Establish lasting business relationships and expand your professional network by connecting with your peer leaders from top North American libraries.
2)
Gain Expert Insight
Engage with subject matter experts during thought-provoking education sessions that will address the most pressing issues facing libraries and our broader society.
3)
Contribute to Lasting Progress for Libraries
Share your voice as a library leader to help develop conversations, initiatives and resources that will shape a brighter future for the entire library field.
4)
Be Inspired by Library Innovations
Join us in celebrating and learning from cutting-edge library innovations as ULC announces and showcases the winners of our 2018 Top Innovator awards.
5)
Make New Memories in Charm City
Experience one-of-a-kind social events in the company of fellow library leaders, while enjoying the hospitality and unique character of Baltimore and the esteemed public libraries that serve it.