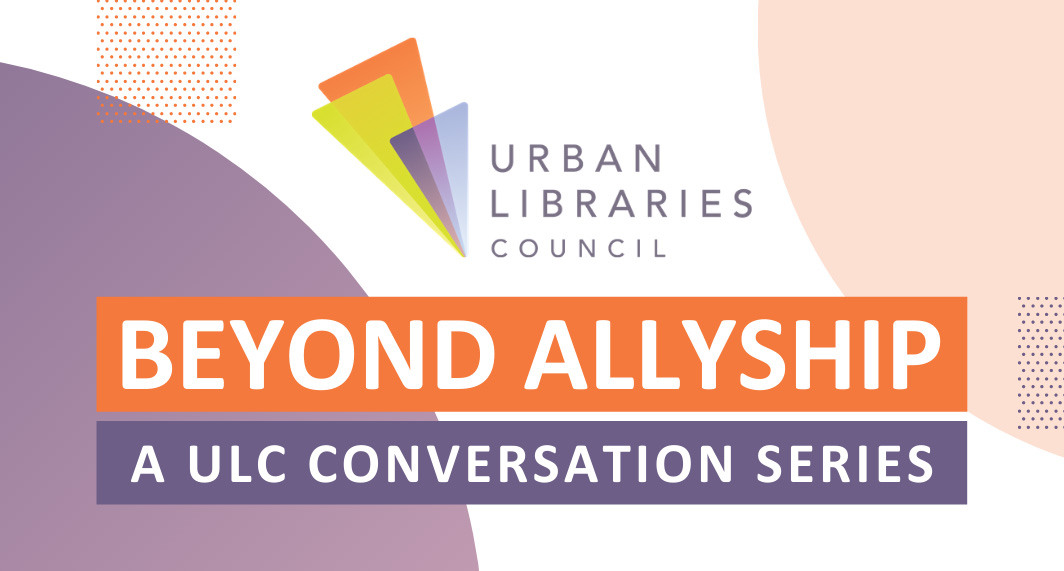 Join ULC members as we co-create strategies for strengthening race and social equity leadership during ULC's Beyond Allyship Conversation Series, held virtually this fall and through early 2021.
What does going Beyond Allyship mean?
Standing as an "ally" — a vocal supporter, open ear and continuous learner — in the fight for race and social equity is vital, but it is only the first step for leaders who are serious about creating change. ULC library leaders set the tone and model expectations for entire library systems and communities, and we have a responsibility to go beyond allyship and take on an active, lifelong and accountable leadership role as equity champions.
How can I join this ULC Conversation Series?
This ULC Conversation Series will be reminiscent of the annual in-person ULC Forum you've come to love. Registration for ULC's Beyond Allyship Conversation Series is free for members. Read below to learn more about our sessions and stay tuned for upcoming registration details.
Revisit Our Third Conversation
Caste: The Origins of Our Discontents — A Conversation with Isabel Wilkerson
Isabel Wilkerson, winner of the Pulitzer Prize and the National Humanities Medal, is the author of the critically acclaimed, New York Times bestsellers The Warmth of Other Suns, and Caste: The Origins of Our Discontents.
"Wilkerson's work," in the words of The American Prospect magazine, "is the missing puzzle piece of our country's history."
The Warmth of Other Suns won the National Book Critics Circle Award, among other honors, and was named to more than 30 Best of the Year lists, including The New York Times, the Los Angeles Times, The New Yorker and The Washington Post. TIME Magazine named it one of the "10 Best Non-Fiction Books" of the decade. The New York Times Magazine named Warmth to its list of the best nonfiction books of all time.
Her new book, Caste: The Origins of Our Discontents, was published in August 2020 to critical acclaim and became a Number 1 New York Times bestseller. Dwight Garner of The New York Times called it, "An instant American classic and almost certainly the keynote nonfiction book of the American century thus far." Oprah Winfrey chose it as her 2020 Summer/Fall book club selection, declaring it "the most important book" she had ever selected.
Wilkerson won the Pulitzer Prize for her deeply humane narrative writing while serving as Chicago Bureau Chief of The New York Times in 1994, making her the first black woman in the history of American journalism to win a Pulitzer Prize and the first African American to win for individual reporting. In 2016, President Barack Obama awarded Wilkerson the National Humanities Medal for "championing the stories of an unsung history."
As the historian Jill Lepore observed in The New Yorker: "What Wilkerson urges, isn't argument at all; it's compassion. Hush, and listen."

Moderated by: Roosevelt Weeks, Director, Austin Public Library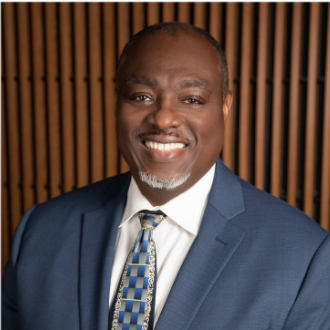 Roosevelt Weeks is the director of the Austin Public Library where he leads a dynamic team and library system. His responsibility includes 20 branch locations, the History Center and a new Central Library. Weeks joined the Austin Public Library team in September of 2017. Prior to this, Weeks served as chief technology officer for the Houston Public Library. Weeks is passionate about improving technology, literacy and education, both inside and outside of the library. He also works directly with community leaders to agree upon shared values, vision and measures of success. This furthers the combined goal of ensuring a future workforce capable of the complex critical thinking skills necessary to succeed in an ever-changing competitive environment.
Conversation sponsored by:
Revisit Our Second Conversation
Getting Serious About Institutional Equity
Imagine a workplace where people of all colors and races can rise to every level of leadership — and where the lessons we learn about diversity at work actually transform the things we do, think and say outside of our jobs. How do we get there?

ULC library leaders convened on November 19 for this vital conversation with UPS Manager of Executive Communications Janet Stovall. Stovall introduced a head-on approach she has developed to address systemic bias in the workplace and engage attendees in a dynamic discussion about strategies and straightforward solutions for dismantling institutional racism and inequity.
Presented by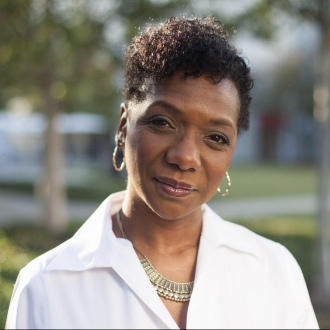 Janet Stovall
Manager of Executive Communications, UPS
As manager of executive communications for UPS, Janet Stovall serves as the primary speechwriter for the company's CEO and senior leaders. Her business approach tackles corporate racism head-on with a straightforward formula, creating an inclusive workplace where people feel safe and are expected to be their authentic selves. Diversity, she says, is a numbers game. Inclusion is about impact.

Stovall is one of the few executive speechwriters of color. A self-described cultural conversationalist, she is perhaps best known for her TED talk challenging business to get serious about inclusion, which has been viewed over 1.5 million times (watch the recording below). She talks to audiences about how the power of single-mindedness in business can dismantle racism, and challenges audiences to imagine a place where the lessons we learn in a diverse workplace transform the things we do, think and say outside of work.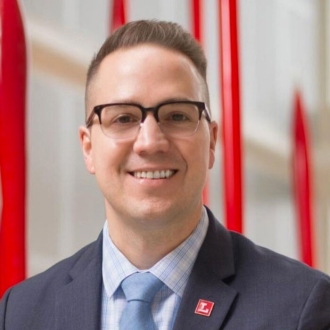 Jason Kucsma (moderator)
Director/Fiscal Officer, Toledo Lucas County Public Library
Jason Kucsma's 12 years of leadership in libraries comes after nearly a decade leading a nonprofit independent media organization and publishing an internationally distributed politics and culture magazine. He is director/fiscal officer of the Toledo Lucas County Public Library — an urban/suburban library system with 19 branches and a historic Main Library. He holds a master's degree in American Culture Studies from Bowling Green State University and an MLIS from the University of Arizona. Prior to moving to Toledo, Kucsma was the executive director of the Metropolitan New York Library Council.
Watch Janet Stovall's TED Talk:
"How to get serious about diversity and inclusion in the workplace."
Revisit Our First Conversation
Creating Space for Racial Healing: A Conversation with Prof. john a. powell
Systemic racism injures all of us — not just those who are being "othered" but also those who perpetuate that "othering." These painful injuries happen on many levels, including the individual, structural and societal spheres — so healing must also happen on many levels. But, we can't truly heal these deep wounds while racialized violence and discrimination are still being perpetuated.

ULC library leaders convened for a critical conversation on October 15 with Professor john a. powell, one of the world's most important, thoughtful scholars on civil and human rights. Professor powell will lead us in a vital discussion about the systemic racism embedded in the spaces we inhabit as leaders, library professionals and individuals, including how we can begin to co-create alternative spaces to enable real healing.
Presented by
john a. powell
Robert D. Haas Chancellor's Chair in Equity and Inclusion, University of California, Berkeley School of Law; Director, Othering & Belonging Institute
john a. powell is an internationally recognized expert in the areas of civil rights and civil liberties and a wide range of issues including race, structural racism, ethnicity, housing, poverty and democracy. He is the director of the Othering & Belonging Institute, which supports research to generate specific prescriptions for changes in policy and practice that address disparities related to race, ethnicity, gender, sexual orientation, disability, and socioeconomics. He is also a Professor of Law and Professor of African American Studies and Ethnic Studies at the University of California, Berkeley.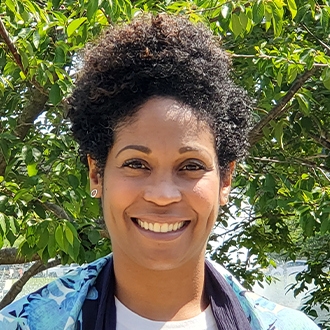 Sonia Alcántara-Antoine
Director, Baltimore County Public Library
Sonia Alcántara-Antoine began her tenure as director at Baltimore County Public Library in February 2021. Previously, she served as director of libraries and information services of Newport News Public Library since 2017. Before becoming a director, she held leadership positions at Virginia Beach Public Library and Enoch Pratt Free Library. She is a 2004 American Library Association Spectrum Scholar and is active in a number of professional association groups including the Urban Libraries Council and the Virginia Library Association. She holds a master's degree in library and information science from Florida State University and is currently working towards a master's degree in public administration from Old Dominion University.