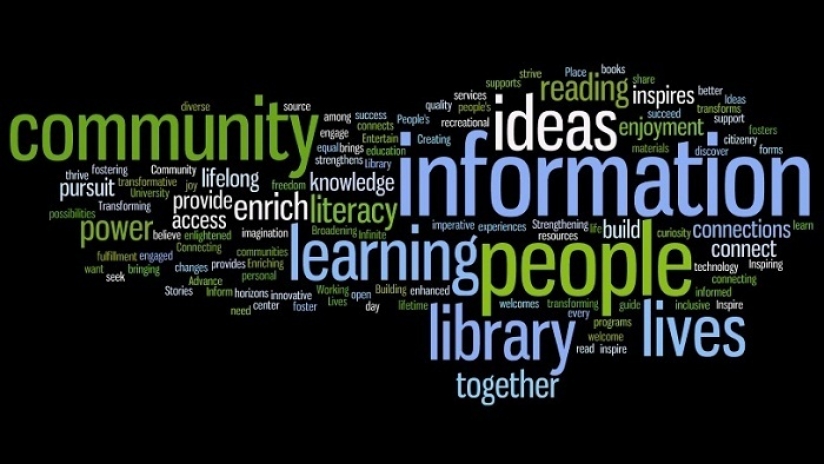 This word cloud image was created by our Library members' mission statements. The size of the words is determined by the frequency of mentions throughout all the mission statements.
Together, we create a common voice which we will continue to tweak, strengthen and grow.
Don't see your mission statement here? Email us to be included.
Member Library Mission Statements
Infinite possibilities for all to connect, share, succeed, thrive
—Alameda County Library (CA)
Providing opportunities to explore, learn, create, and connect
—Baltimore County Public Library (MD)
To engage our community in literacy and learning
—Carnegie Library of Pittsburgh (PA)
We create a community of readers and empower individuals with free access to information and the universe of ideas.
—Charlotte Mecklenburg Library (NC)
We welcome and support all people in their enjoyment of reading and pursuit of lifelong learning. Working together we strive to provide equal access to information, ideas and knowledge through books, programs and other resources. We believe in the freedom to read, to learn, to discover.
—Chicago Public Library (IL)
We are the People's University, the center of learning for a diverse and inclusive community.
—Cleveland Public Library (OH)
Advance literacy, guide learning and inspire curiosity.
—Free Library of Philadelphia (PA)
Connecting people to the transforming power of knowledge.
—Grand Rapids Public Library (MI)
We link people to the world.
—Houston Public Library (TX)
We deliver high-quality public education for all ages.
—Howard County Library System (MD)
To enrich lives, build community and foster success by bringing people, information and ideas together.
—Jacksonville Public Library (FL)
Lexington Public Library connects people, inspires ideas, and transforms lives.
—Lexington Public Library (KY)
Lincoln City Libraries fosters the power of reading and provides open access to all forms of information to enrich people's lives every day.
—Lincoln City Libraries (NE)
Madison Public Library provides free and equitable access to cultural and educational experiences. We celebrate ideas, promote creativity, connect people and enrich lives.
—Madison Public Library (WI)
Transforming Lives, Enriching Neighborhoods, and Preserving History
—New Orleans Public Library (LA)
Omaha Public Library strengthens our communities by connecting people with ideas, information, and innovative services.
—Omaha Public Library (NE)
Our Vision: Our Vision is an educated, connected community of readers, learners, doers, and dreamers. Our Mission: We transform lives by educating, inspiring, and connecting people.
—Pima County Public Library (AZ)
Connecting you to the joy of reading and to information for lifelong learning
—Pioneer Library System (OK)
Providence Public Library inspires lifelong education among all Rhode Islanders, fostering personal fulfillment and enhanced quality of life for an informed, enlightened and engaged citizenry.
—Providence Public Library (RI)
To provide experiences that Inspire, Inform and Entertain.
—Richland Library (SC)
We engage the community in lifelong learning through equal access to information, technology, gathering spaces, and expert staff.
—Rochester Public Library (NY)
We connect the people in Saint Paul with the imperative and joy of learning through a lifetime.
—Saint Paul Public Library (MN)
The San Antonio Public Library changes lives through the transformative power of information, imagination and ideas.
—San Antonio Public Library (TX)
Scottsdale Public Library fosters lifelong learning by providing access to information, knowledge and ideas.
—Scottsdale Public Library (AZ)
Building connections | Broadening horizons | Strengthening community The community source for literacy, technology and information
—Springfield City Library (MA)
Inspiring Ideas, Enriching Lives, Creating Community
—Stark County District Library (OH)
The Toledo Lucas County Public Library's mission is to provide information, education, and technology to help the community live, learn, and grow.
—Toledo Lucas County Public Library (OH)
Sparking curiosity and connecting our community through literacy and learning.
—Topeka and Shawnee County Public Library (KS)
Libraries Change Lives.
—Tulsa City-County Library
Transforming lives for a better community.
—Virginia Beach Public Library (VA)